The Jon Gruden era is set to enter a pivotal season, as Year 3 simply must show signs of improvement. The overhauled roster looks solid across the board, but like most teams, success will be determined through the air.
Quarterback Derek Carr once looked like the next perennial top-10 signal-caller, but he's been a middle-tier passer in each of the last three years. The Raiders have a chance to compete if he connects with the young playmakers, and then it will come down to the back seven's ability to slow down opposing passing attacks. The linebackers should be much better, and the secondary has been addressed with volume, so the range of outcomes is wide for the Raiders heading into 2020.
Subscribe to PFF's EDGE or ELITE subscriptions to get access to the following tools, charts, etc. 
– All Premium Article Content
– Fantasy Football Rankings & Projections
– Fantasy Football Draft Guide, Cheat Sheets & Advanced Stats
– Fantasy Football Mock Draft Tool (DraftMaster)
– Fantasy Football Strength of Schedule Matrix
– NFL Player Grades
– NFL Premium Stats
ADDITIONS/SUBTRACTIONS
Additions/players brought back:
LB Cory Littleton (signed for three years, $36 million)
LB Nick Kwiatkoski (signed for three years, $21 million, $13.5 million guaranteed)
CB Eli Apple (signed)
QB Marcus Mariota (signed)
TE Jason Witten (signed for one year, $4.75 million)
S Jeff Heath (signed for two years, $8 million)
EDGE Carl Nassib (signed for three years, $25 million, $17 million guaranteed)
WR Nelson Agholor (signed for one year)
DI Maliek Collins
CB Prince Amukamara
Losses:
S Karl Joseph
CB Daryl Worley
S Curtis Riley
QUARTERBACK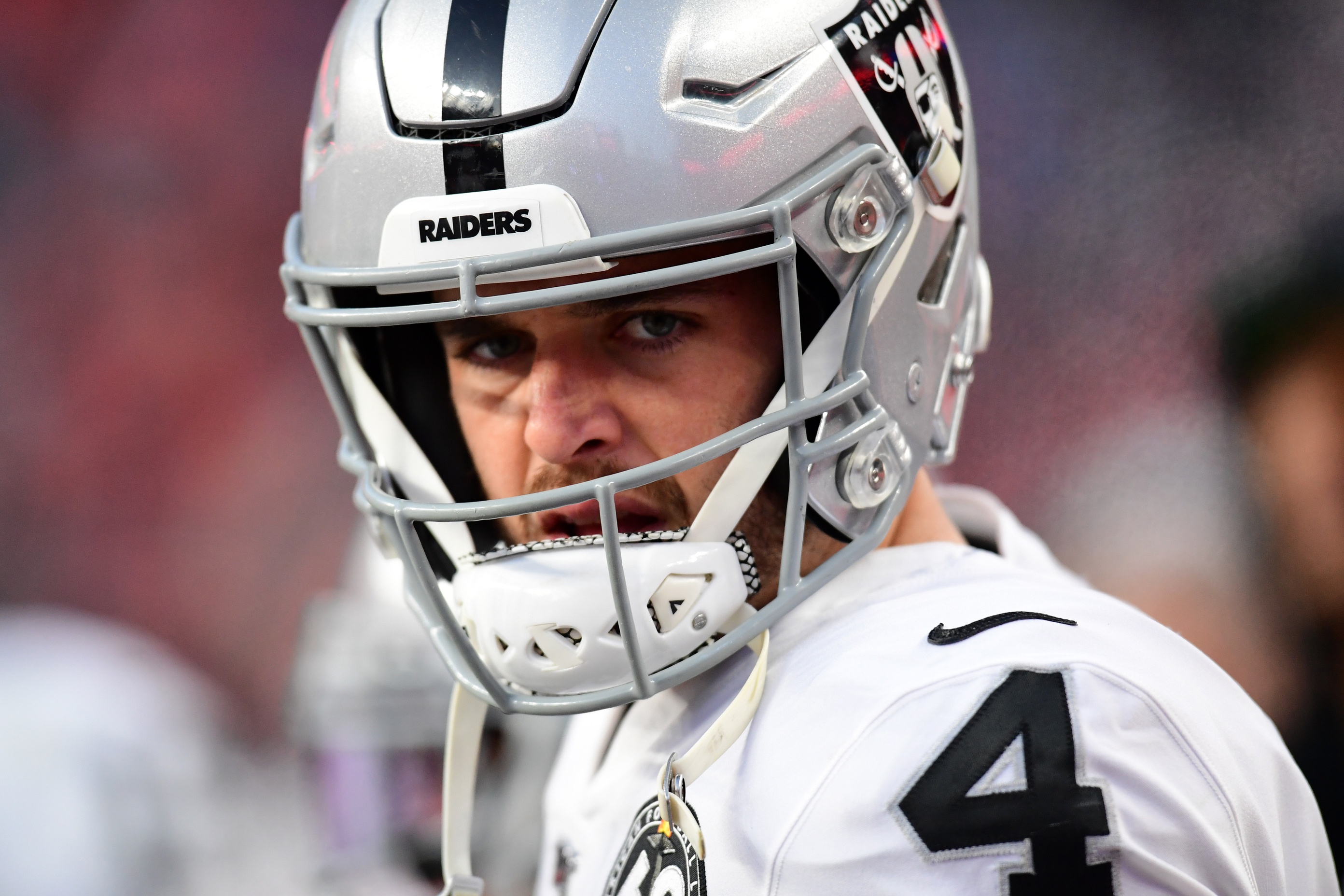 Here's what I said about Derek Carr after the 2019 season:
It was a good season for Carr, who finished with the second-best PFF grade of his career. He ranked among the league's best in accuracy and avoiding negatives while also doing a fine job of taking care of the ball despite a group of pass-catchers that was one of the biggest question marks in the league. Carr is more than capable of attacking down the field, but whether it's the system, lack of playmakers or simply a conservative nature, Carr finished with the third-lowest average depth of target in the league (6.9). Even in games that saw the Raiders fall behind early, Carr rarely pushed the ball down the field. He has the velocity, touch and accuracy to create big plays, but Carr has profiled as more of a game manager in recent years. Perhaps an influx of playmakers can unlock the potential that he flashed in his highest-graded season in 2016.
There's no denying Carr's ability to throw the ball accurately and with the requisite amount of velocity to every level of the field, and that's why I've advocated for a more aggressive approach to maximize the offense's effectiveness. The Raiders' offensive weapons aren't great, but the pieces are improving. If Carr takes advantage, he's capable of posting a top-10 season. He plays the game manager role just fine, but the Raiders can get more out of him and develop a high-octane offense at some point in the next few years.
RUNNING BACK
Rookie first-rounder Josh Jacobs produced a rushing grade of 86.9 last season, the second-best rushing grade in the league. He led the league with a total of 69 missed tackles forced as a rusher, as well.
Jacobs rejuvenated the Raiders' rushing attack, and he may have even more to offer as he showed excellent receiving skills at Alabama but was only targeted 26 times last season. Jacobs always made defenders miss when given an opportunity in the committee approach at Alabama, and his rookie season was no different.
He'll be backed up by Devontae Booker, who has earned a rushing grade of just 60.1 since entering the league in 2016. An intriguing player to watch here, though, is third-rounder Lynn Bowden Jr., who was mostly a wide receiver in college but did a fine job filling in at quarterback last year for Kentucky. Bowden's slashing running style brings a different dynamic to the backfield, and he averaged 8.2 yards per carry last season while forcing 55 missed tackles. His development could take this backfield to the next level, but with Jacobs as the anchor, the Raiders' running back unit are still one of the league's best.
WIDE RECEIVER
The Raiders receivers finished with a 62.8 receiving grade last season, second-worst in the league.
They had their pick of any receiver in the draft and went with the fastest option in Henry Ruggs III, who ran a 4.27 at the scouting combine. That speed shows up on the field, too, as Ruggs can get behind the defense or take it to the house on screens or slants. The question is how much he'll be fed and if he'll be treated like a true No. 1. Even if Ruggs is an 80-to-100-target receiver who creates big plays and alters gameplans, he'll add the proper first-round value, but Las Vegas' expectations might be even higher.
Hunter Renfrow was the highest-graded receiver on the team a year ago, at 75.5 overall, as the rookie caught 49 passes for 605 yards and became a valuable weapon in the slot. Tyrell Williams was signed to stretch the field, and he produced along his career baseline with a 66.7 receiving grade while averaging 15.5 yards per reception. He is a complementary piece who will be most effective if Ruggs does draw most of the defense's attention.
The other key draft pick is third-rounder Bryan Edwards, a physical 215-pounder with a great highlight reel who didn't create separation as well as the top receivers in the class. Zay Jones is also in the mix, though he's disappointed so far, earning receiving grades below 60.0 in two of his first three years in the league.
The Raiders have the speed in Ruggs and Williams to go with underneath options in Renfrow and Edwards, but the every-down consistency remains the biggest question for this receiving corps heading into 2020.
TIGHT END
One of the biggest stories of 2019 was Darren Waller emerging to produce the sixth-best receiving grade among tight ends, at 86.8. The college wide receiver showed flashes in 2018, but he put it all together last season, winning from various alignments and picking up 594 of his 1,146 yards after the catch to rank second at the position. Waller ranked just 40th with a run-blocking grade of 58.2, but his main role is creating mismatches, and he's been one of the best value steals in the league in recent years.
The Raiders also signed Jason Witten this offseason, though he was a step slow in his return in 2019, averaging a career-low 8.4 yards per reception and posting a 60.1 run-blocking grade — his lowest mark since 2006. Witton is set to battle Foster Moreau for those short-area targets after Moreau caught 21 of his 23 targets while averaging 8.3 yards per reception last year as a rookie.
Derek Carrier also returns after producing the top run-blocking grade among the Raiders' tight ends, at 68.7. As long as Waller continues his ascent to one of the NFL's most dangerous tight ends, the Raiders will rank near the top of the league, though they could use more juice among the backups.
OFFENSIVE LINE
The Raiders finished in the middle of the pack at No. 15 in our 2019 rankings, coming in 15th in pass blocking and 18th in run blocking. Left tackle Kolton Miller took a step forward to grade at 64.9 overall, good for 44th out of 89 qualifying tackles, a huge improvement over his No. 81 ranking as a rookie in 2018. At right tackle, Trent Brown signed a monster contract prior to the 2019 season, and he finished right above Miller at 69.1 overall — 35th-best among tackles. In the run game, both Miller and Brown are similar players in that they will miss their fair share of blocks, but Brown ranked fifth in percentage of positively graded blocks while Miller finished 17th, so Raiders running backs have opportunities to make plays on the edge.
On the interior, left guard Richie Incognito returned to the NFL after one year off to post the highest pass-blocking grade of his career at 88.5 — good for second-best among guards — while also ranking eighth in percentage of positively graded run blocks. He allowed just nine pressures on 432 attempts. Center Rodney Hudson allowed just three pressures, grading at 91.2 as a pass blocker to lead the league in that department for the fifth-straight season. Incredibly, Hudson has allowed just 11 pressures over the last three years, a number that would have been the 28th-highest total among centers last season. He has clearly established himself as the class of the league when it comes to protecting the quarterback at the center position.
At right guard, Gabe Jackson is coming off the lowest grade of his career at 61.8 — his 53.6 grade as a run blocker ranked 59th among guards. Jackson has always been a solid pass protector, and he had graded above 72.0 in three of his previous four seasons. A return to form from Jackson, combined with another step forward from Miller, should have the Raiders back in the top 10 among the league's offensive lines.
DEFENSIVE LINE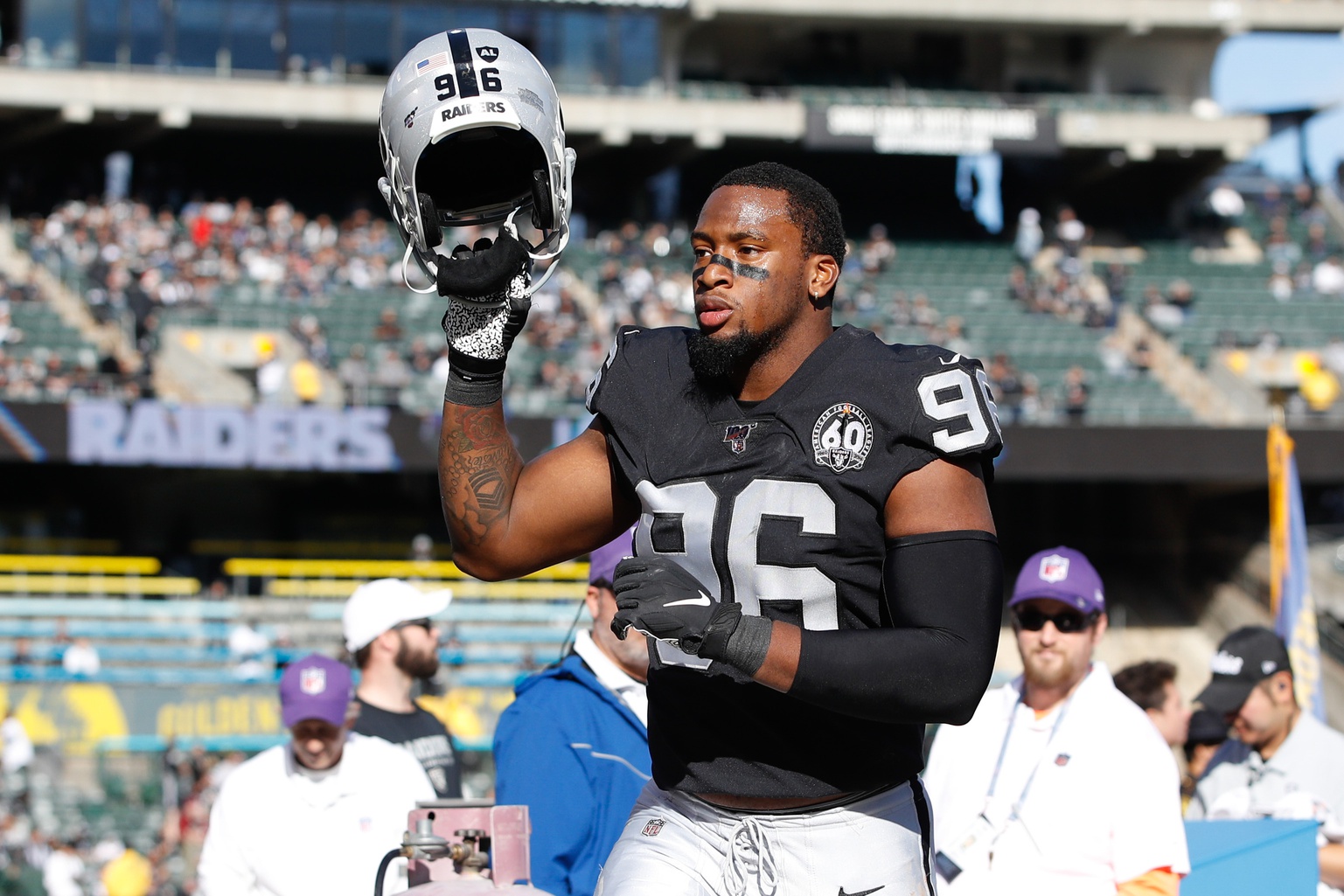 The Las Vegas Raiders begin life in a new city still trying to replace what they had in Khalil Mack. And while Maxx Crosby looked impressive as a rookie, a significant portion of his hype stems from the fact that he outperformed fourth overall pick Clelin Ferrell.
Crosby notched 45 total pressures as a rookie, but he rushed the passer 481 times and needs to build on that encouraging rookie year to match the hype in Year 2. Ferrell was a solid run defender but offered almost nothing as a pass-rusher, which is obviously an unacceptable return for the fourth overall pick in the draft.
Maurice Hurst was the team's best pass-rusher in 2019, and the former Michigan star may be about to enter a breakout year. Hurst is an undersized interior rusher, but his development has been impressive over two NFL seasons. Another step forward in his third year would see him emerge as one of the better interior pass-rushers in the league. Hurst earned a pass-rushing grade of 77.8 last season and racked up 38 total pressures in the process.
Maliek Collins comes on board from Dallas after four underwhelming seasons, though, to his credit, he has improved in every year of his career. Collins earned a good pass-rushing grade in 2019, notching 48 total pressures, and he could provide a formidable interior duo with Hurst if the pair continue to improve their game.
Edge rusher is the key to this team's performance, as one of their young players needs to become a force offensive lines fear. Arden Key was the other young option on the edge last season, but he logged just 179 snaps of playing time and has just 43 total pressures in two years.
LINEBACKER
It's an entirely new look for the Raiders at linebacker, as free agents Cory Littleton and Nick Kwiatkoski are slated to see most of the snaps this season. Littleton is a modern-day linebacker who can match up with running backs and make plays on the ball in zone coverage. His 90.3 coverage grade is fifth-best in the league over the past three years. The question for Littleton is in the run game, where he's graded at only 48.9 over that three-year span, but that hasn't hurt his standing as one of the league's most valuable linebackers.
Kwiatkoski is the opposite of Littleton — he loves to get dirty in the run game and can get after the quarterback as a blitzer, evidenced by his 81.8 pass-rush grade last season. Kwiatkoski is not as dynamic as Littleton in coverage, but he plays his role well and broke up three passes on just 34 targets a year ago. Nicholas Morrow rounds out the depth chart, yet has never graded above 53.5 in his three seasons in the league.
The other name to watch is third-rounder Tanner Muse, who played safety at Clemson. Muse crushed his offseason workouts and could add another athletic option for the Raiders after a solid college career in which he lined up all over the field. The Raiders invested heavily at linebacker this offseason, propelling them from one of the worst to one of the best units in the league.
SECONDARY
The best PFF grade among the Raiders' secondary players last season belonged to safety Karl Joseph, who the team was happy to offload once the year was over. So, Las Vegas enters the 2020 season with intriguing talent among the group but has major question marks all over.
Prince Amukamara has been the embodiment of an average corner over his time in the NFL. For his career, he has allowed a completion on 61.8% of the passes thrown his way for a passer rating of 89.6, both almost exactly average figures for a cornerback.
Trayvon Mullen flashed some ability as a rookie, though he earned a PFF coverage grade of just 61.4 and will now need to fight off rookie Damon Arnette. Arnette was a surprise first-round pick who has some intriguing tape and data in college. Arnette will likely be playing sooner rather than later — as is the case for most first-round rookies — and that trio will likely be fighting for two spots on the outside.
The Raiders persisted with Lamarcus Joyner as the nickel corner covering the slot last year despite all evidence that suggests he's much better suited to playing safety. Joyner earned the lowest PFF grade of his career last season after topping 90.0 at his peak with the Rams playing safety, and he could find his spot under pressure quickly from fourth-round Amik Robertson, who has incredible stats and tape but is small in stature.
Joyner is potentially the best member of this secondary if he was playing free safety, but GM Mike Mayock was such a huge fan of Damarious Randall when he came out that it likely gives Randall the inside track to start at free safety while Johnathan Abram plays alongside him. Jeff Heath also provides depth at that spot and adds special teams skills while players like Nevin Lawson and Ken Crawley give the team some solid depth beyond the starters at corner.
Expectations are often high for pass-rushers drafted at No. 4 overall, but Ferrell did not get off to a good start, ultimately closing out his rookie campaign with a pass-rush win percentage of 8.9% that ranked 105th among edge defenders.
Ferrell was a solid all-around player in college, though he wasn't a particularly dynamic pass-rusher. He is a solid run defender who can move around the defensive line, but Ferrell has to show that he can get to the quarterback if he's to prove his worth as a top-five pick. The Raiders have had one of the worst pass rushes in the league over the last two years — they need Ferrell to develop quickly.
DRAFT CLASS REVIEW
The Raiders properly addressed their wide receiver corps with speedster Henry Ruggs III in the first round and Bryan Edwards in the third round — and both players have a path to the field right away. The key to the draft may be the other first-round pick, cornerback Damon Arnette, who ranked just 88th on the PFF Draft Board. RB Lynn Bowden Jr. and S/LB Tanner Muse both bring athletic versatility to their respective side of the ball, and fourth-round corner Amik Robertson could be one of the steals of the draft given that he projects as a slot corner who plays with a linebacker mentality. 
BEST BET
The Raiders have been a team on the rise in the betting markets this offseason, but their win total of 7.5 doesn't fit with their implied probability to finish last in the AFC West. Gruden may have something brewing in Vegas, but from a betting perspective, it seems prudent to lay off this situation. Our simulation results find little value, but if offseason factors hold, the Raiders may be Public Betting Team 1 in 2020.