It was an odd season for the Green Bay Packers, a team that ultimately finished 13-3 and lost to the San Francisco 49ers in the NFC championship game.
The defense started well while the offense found little consistency, especially within the flow of games. The record was nice, but the Packers enter 2020 with plenty of questions marks over the key areas of the team, and none is bigger than the one that lingers over the direction of the offense.
The offseason hinted toward the Packers taking a more run-first approach, and when combined with the drafting of quarterback Jordan Love in the first round, questions abound about Aaron Rodgers' future in Green Bay.
More importantly, questions abound about what the Packers think the best way to win with Rodgers will be over the next two years — will a run-first approach allow Rodgers to play to his strengths, throwing the ball down the field? Do the Packers have enough playmakers to make that work? Are the Packers trying to emulate the 49ers and turn Rodgers into a complementary piece rather than the engine? Will the Packers defense step up in crunch time?
Green Bay enters the 2020 NFL season as one of the most intriguing teams in the NFL. They just implemented one of the most clearly defined offseason strategies of recent memory, and how their star quarterback handles change will determine whether or not they find themselves back in the Super Bowl hunt.
ADDITIONS/SUBTRACTIONS
Additions/players brought back:
LB Christian Kirksey (signed for two years, $16 million)
T Rick Wagner (signed for two years, $11 million)
TE Marcedes Lewis (re-signed for one year, $2.25 million)
WR Devin Funchess
Losses:
LB Blake Martinez
T Bryan Bulaga
CB Tramon Williams
WR Geronimo Allison
EDGE Kyler Fackrell
TE Jimmy Graham
 QUARTERBACK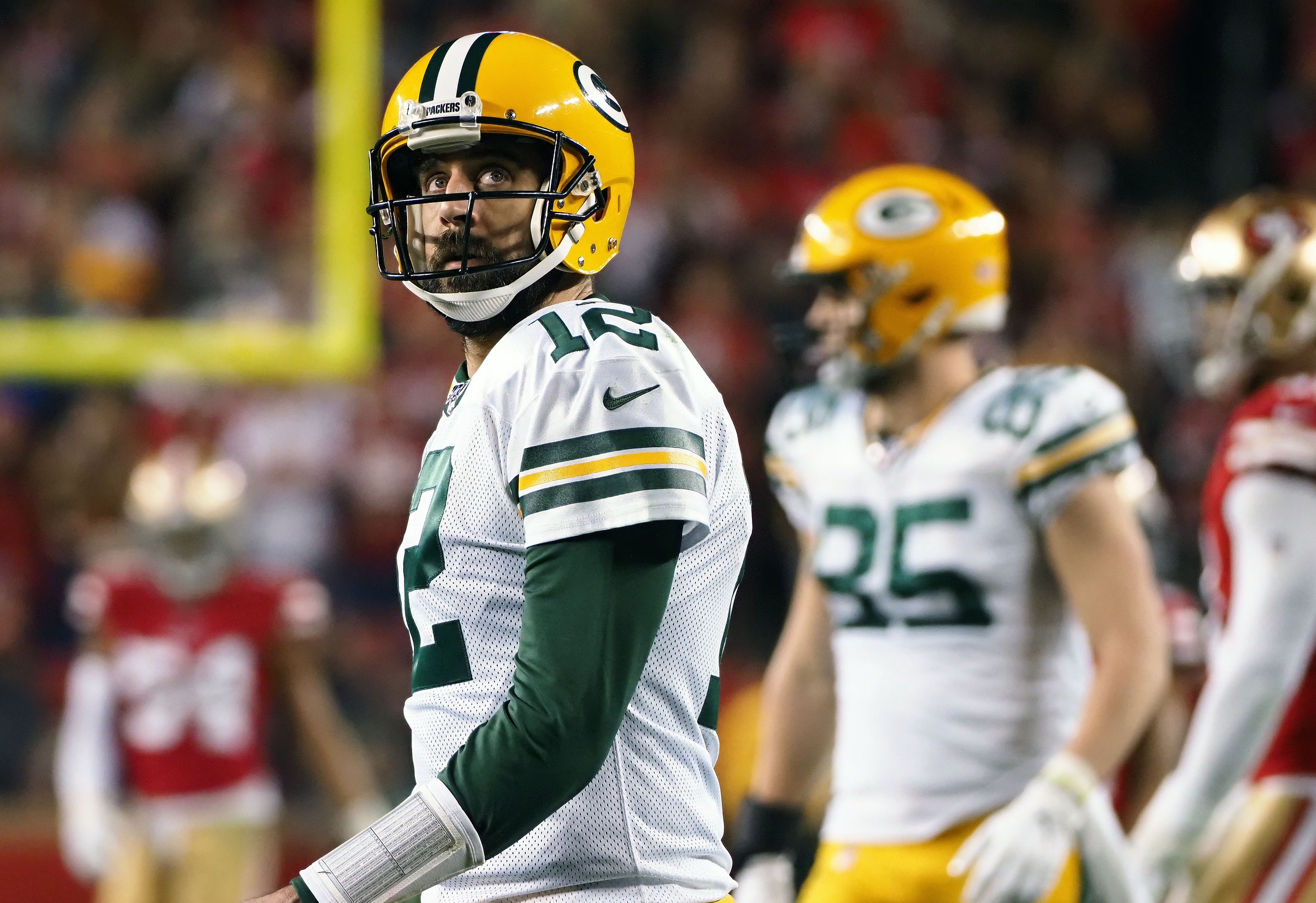 Here's what I said about Aaron Rodgers after the 2019 season:
One of the biggest offseason questions centered around Rodgers playing in a new system, and though he led his team to a 13-3 record and a first-round bye, Rodgers didn't exactly answer those questions with flying colors. He finished with a solid grade but also had multiple poor games, and he even produced the lowest-graded outing of his career in Week 12. There's no denying Rodgers' talent — and he's still one of the league's best at hitting big-time throws and avoiding turnover-worthy plays — but the thing that has made Rodgers one of the best quarterbacks of all time is his ability to hit the "easy" throws and avoid negative plays. Those elements of his game have taken a step back in recent years, and that trend has now stretched across multiple systems. Perhaps Rodgers can get back to his top-three self, but he'll have to improve his short and intermediate accuracy while cutting down on the pressure that he's invited in recent years.
We have a new question for Rodgers this offseason: Will a more run-heavy approach get the most out of him in his later years? That appears to be the Packers' plan given their draft strategy of adding run-game weapons instead of upgrading the wide receiver room, and perhaps that will play to Rodgers' strengths of getting the ball down the field. He's still shown to be capable of making the special throws and avoiding the disastrous ones — an excellent starting point for any quarterback — but Rodgers ranks just 26th in accuracy percentage on 1-19-yard throws over the last two years, so perhaps the Packers see this as an opportunity to take some of those plays off his plate. Even with Rodgers trending in the wrong direction the second half of the decade, he remains one of the best quarterbacks in the league and more than capable of creating chunk plays in a hurry.
RUNNING BACK
Over the last two years, Aaron Jones has the No. 4 rushing grade (87.7) in the NFL, and he's tied for fifth in the percentage rushes that resulted in either a first down or touchdown (25.4%).
Jones has led the Packers to one of the most efficient rushing attacks in the league. He grasped the role as the top ball carrier, with 235 regular-season carries last season, and he's also graded at 82.8 as a receiver last season, good for eighth-best in the league.
The Packers drafted A.J. Dillon in the second round of the 2020 NFL Draft to add a 250-pound complement to Jones. Dillon is a good athlete who ran effectively and earned a 90.1 rushing grade last season, though he doesn't add much flexibility to the passing attack. However, Jones' 2017 classmate, Jamaal Williams, is still in the mix and is coming off an excellent year catching the ball, earning an 89.7 receiving grade and coming away with five touchdowns.
If the team's offseason moves are any indication, this unit will be featured heavily in 2020. And led by Jones, they have one of the best groups in the league.
WIDE RECEIVER
Packers receivers finished just 25th with a receiving grade of 67.6 during the regular season, and they return much of the same unit from 2019.
Davante Adams is the clear No. 1 option; he and QB Aaron Rodgers have excellent chemistry, and Adams possesses one of the league's best combinations of line-of-scrimmage releases and overall route running. Adams ranked sixth in the league with 2.33 yards per route last season.
After Adams, it's all about size for Green Bay, and it starts with 6-foot-5 Allen Lazard, who ranked second among Packers receivers with a 69.1 receiving grade last season. He appeared to earn Rodgers' trust on his way to 513 yards and a passer rating of 116.7 when targeted. Green Bay also added 6-foot-4 Devin Funchess to the mix after he was limited to just 36 snaps last season with the Colts. Funchess was once a solid option for the Panthers, though, peaking with 919 yards on 67 catches in 2017.
The most tantalizing of the receivers may be Marquez Valdes-Scantling, yet another 6-foot-4 target, though he has 4.37 speed and 16.0 yards per reception in his career. Even with the big plays, Valdes-Scantling has two pedestrian grades of 57.0 and 60.4 in his two seasons, as he and Rodgers have not always been on the same page.
The size doesn't stop there, as Jake Kumerow is 6-foot-4 and Equanimeous St. Brown is 6-foot-5. Both players have also landed in the bucket of "flashed potential but lacked consistency" during their respective times in Green Bay.
When you add it all up, the Packers just need two of the options behind Adams to step up as more than just a flash of tools. And if they do, Green Bay's downfield passing attack is in good hands. The problem is how much Adams must be relied upon as the one receiver who can get open consistently, and this group of receivers does not have the versatility to win at all levels of the field or after the catch.
TIGHT END
Last season, Packers tight ends posted a receiving grade of just 57.0, which ranked 24th in the league. With Jimmy Graham moving on, 2019 third-rounder Jace Sternberger is primed to show off his route-running and seam-stretching ability. Sternberger didn't see action until Week 10 last season and was limited to just 99 snaps on the year.
Marcedes Lewis returns for Year 15 after catching 17 passes on 20 targets last season. Lewis is still a good in-line blocker who is closer to an offensive lineman than he is a receiving threat at this point in his career. Robert Tonyan could also see targets, as he's averaged 12.6 yards per reception on 14 career catches.
This group comes down to Sternberger, who looked like one of the best receiving threats in the 2019 draft, living up to that billing and becoming a middle-of-the-field weapon.
OFFENSIVE LINE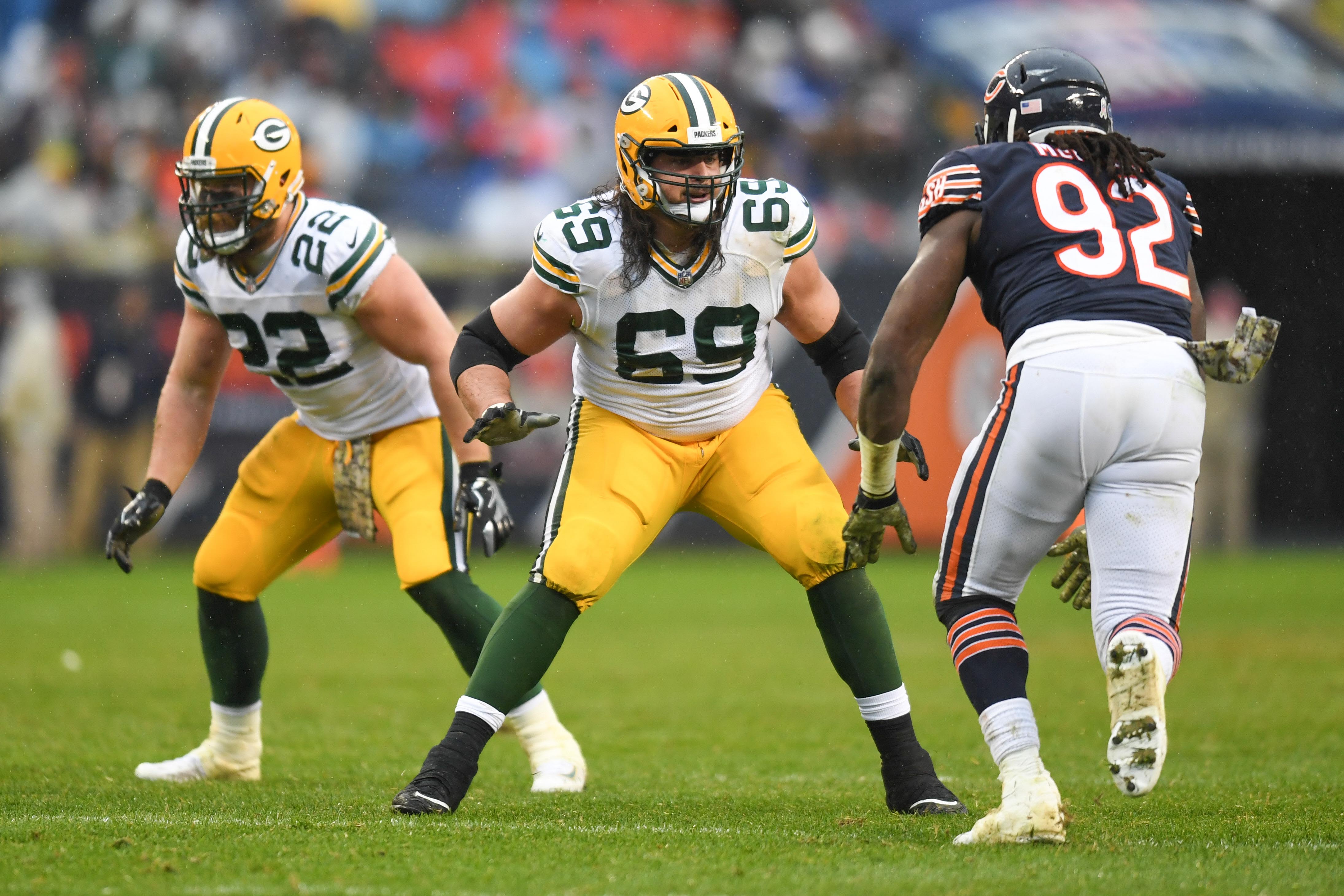 Green Bay's offensive line finished sixth in our 2019 rankings, anchored by left tackle David Bakhtiari, who has taken over for Joe Thomas as the best pass-protecting tackle in the league. Since 2016, no one comes close to Bakhtiari's 96.4 pass-blocking grade. His quickness, technique and anchor allow him to handle any type of pass-rusher. Bakhtiari is a good run blocker, ranking 35th with a 69.3 grade since 2016, but pass protection is his calling card. Rick Wagner will man the other tackle spot. He has earned a 70.0-plus grade in four of his six years as a starter, though he's coming off a career-low 59.0 grade in 2019. Bryan Bulaga had been Green Bay's starting right tackle since 2010, but injuries have plagued him throughout his career. Wagner has the pedigree to replace Bulaga's production, which ranks 22nd in the league since 2016, but last year's step back is a concern.
On the interior, 2019 rookie Elgton Jenkins stepped in as the starting left guard in Week 3, with his 69.1 overall grade ranking third among rookie interior offensive linemen. Jenkins replaced Lane Taylor, who put together three solid seasons of grades between 66.0 and 68.2. Still, it's difficult to see Taylor regaining his starting job with Jenkins in the mix. Look for Taylor to compete at right guard, where Billy Turner returns after his 63.0 overall grade in 2019 ranked 39th among 83 guards. Turner has improved over the past two years, but his track record suggests he is a below-average starter.
At center, Corey Linsley has the 10th-best grade among centers since 2016 — he's one of the best all-around options in the league. Green Bay has top-10 potential once again, as Bakhtiari and Linsley both rank among the best at their respective positions, but they need a bounce-back season from Wagner to maintain their standing near the top.
Green Bay Packers: Offensive tackle grades since 2016 (regular season only)
| | | |
| --- | --- | --- |
| Name | Overall grade | Rank |
| David Bakhtiari | 91.1 | 1 |
| Bryan Bulaga | 79.5 | 22 |
| Rick Wagner | 73.1 | 40 |
DEFENSIVE LINE
Kenny Clark has developed into the modern-day prototype for NFL nose tackles. The days of gargantuan run-stuffers that offered little, if any, impact in the passing game are long gone; today's nose tackles need to be able to rush the passer because nickel defense is played 75% of the time and obvious rushing downs are few and far between. Clark came into the NFL as a fairly one-dimensional player, but he has since developed into a true every-down force. In 2019, he notched 62 total pressures and a PFF pass-rushing grade of 87.0, the highest grade among all nose tackles.
Clark isn't alone, though, and the Packers' 2019 acquisitions of Za'Darius and Preston Smith give the team some real depth when it comes to rushing the passer. Za'Darius led the league in total pressures last season, with 93, while even a relatively quiet season from Preston saw him pressure the quarterback 55 times. The questions for this group come in the depth beyond that trio.
Dean Lowry is a former fourth-round pick who has dramatically outperformed that draft slot but may never be anything beyond just solid. Last season saw him earn a career-low PFF grade (59.0) even though he had the highest workload (726 snaps including the playoffs) of his career. Lowry can still be a solid contributor, particularly against the run, but he has yet to exceed 30 total pressures over a season. Tyler Lancaster is another run-first presence who has registered only 13 total pressures across two years and 323 pass-rushing snaps.
The team will also be hoping for a major step forward from last year's first-round pick, Rashan Gary. The former Michigan star played just 244 snaps as a rookie, and he was far from impactful, earning a PFF grade in the 50s. Despite his impressive athleticism, Gary's college career suggested he was a reach in the first round, so his development is a salient factor for this defensive front.
 LINEBACKER
Last season, Packers linebackers graded at just 58.2 overall, good for 21st in the league.
The big move this offseason is the addition of Christian Kirksey to replace departed Blake Martinez. Kirksey is an athletic linebacker with coverage skills, but he has just one year with a coverage grade above 60.0 — it came in 2015 when he posted an impressive 80.0 that ranked 11th in the league. Packers defensive coordinator Mike Pettine was the head coach of the Browns during that time, and the hope is that he can get the best out of Kirksey, who has played just 586 snaps over the last two seasons.
Oren Burks is the other projected starter, and he has just 195 career snaps with two years of grading in the 40s. Burks is an athletic player who played all over the field at Vanderbilt — from free safety to edge rusher to linebacker — and his NFL transition to linebacker has not gone smoothly.
No other Packers linebacker has any NFL experience, as 2019 seventh-rounder Ty Summers and 2019 undrafted free agent Curtis Bolton round out the depth chart. Keep an eye on rookie fifth-rounder Kamal Martin, who has a Burks-like given that he played all over the field for Minnesota, though his best college grade was a 70.6 mark last season. For this unit to go from weakness to strength, we need to see the old Kirksey and Burks needs to play up to his athletic potential.
SECONDARY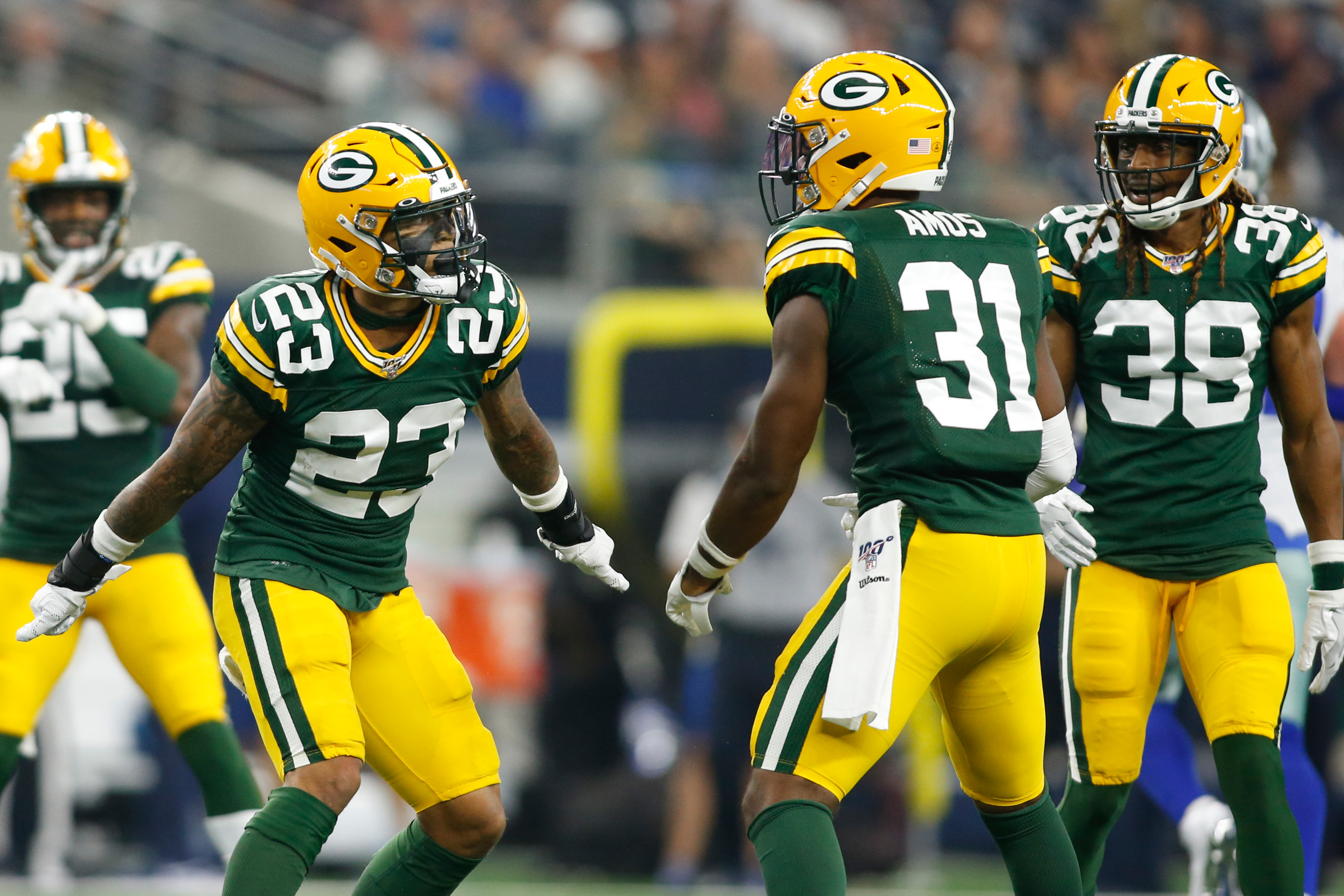 The limit for this Green Bay secondary rests a lot on the performance of their top corner, Jaire Alexander. Through the first three weeks of last year, he was looking like the best corner in the league, but that play was not sustained over the full 16-game season, and he had a game in which he surrendered 201 receiving yards as well as another where he allowed over 100 yards. Truly elite corners go years without surrendering 100 receiving yards, so Alexander needs to eliminate those inconsistencies from his game to be ranked among the game's best.
The Packers are still clinging to the hope that either Kevin King or Josh Jackson can develop into a solid No. 2 corner on the other side. And while King has incrementally improved each year, he has still yet to grade above average; he surrendered over 900 yards last season — including the postseason — and he also gave up four touchdowns.
Chandon Sullivan played almost 400 snaps last season between safety and the slot, and with the volume of dime (six defensive backs) defense the team employs, he will likely get significant reps again this year.
The Packers had nine defensive backs play more than 100 snaps last season, so players like Will Redmond, Ka'dar Hollman and Scott Vernon, among others, are all viable contenders to see playing time.
Adrian Amos and Darnell Savage are sure-fire bets to start at safety, though. Amos typifies the term "solid" and will make few mistakes, while much is expected of Savage in Year 2 after a rookie season in which he was relatively quiet but solid enough in coverage. Savage has game-changing skills, but we have yet to see those translate to the NFL, with just two picks and two pass breakups as a rookie alongside 14 missed tackles.
While 2019 first-rounder Rashan Gary is the obvious choice, Jackson developing into the ballhawk he looked like as a 2018 second-rounder would do even more for this defense.
Jackson has underwhelmed in his two years in the NFL, and last season he played just 102 snaps, but it took him a few years to get going in college, and a similar trend would add a much-needed playmaker to the Green Bay secondary. Jackson broke up 23.2% of his targets at Iowa in 2017 while posting an elite coverage grade of 94.3 — and those skills are needed on the back end for the Packers.
DRAFT CLASS REVIEW
The Packers made waves with their draft, starting with QB Jordan Love in the first round, followed by an approach to the rest of the draft that signaled a change to more of a run-heavy offensive approach.
Love has first-round tools and mid-round tape, making him one of the biggest wild cards in the draft. Obviously, if he develops, it was worth the first-round gamble, but there's also a world where the Packers left too many other good players on the table while Rodgers is still under contract. The Packers then added RB A.J. Dillon and TE/FB Josiah Deguara in the second and third round to go with three sixth-round offensive linemen. The theme of the Packers' draft was clearly defined as trying to get better in the run game.
BEST BET
Some team has to win the NFC North, but with no favorite emerging, this remains the most wide-open division in the NFL.
The Packers have flip-flopped with the Minnesota Vikings when it has come to picking the division favorite, but they currently have an implied probability of 36.4% that sits within one percentage point of our simulation results. And Despite no longer being listed as favorites to win the division, the Packers have the exact same odds as the Vikings in regards to making the playoffs.
No team-level bets are enticing for the Packers, but if the draft drama brings in-season turmoil, a worthwhile player prop could be Aaron Rodgers under 25.5 passing touchdowns. His fantasy projection (21.8) sits considerably lower than the market total, and it also affords the opportunity to join the Jordan Love bandwagon early.