The Tampa Bay Buccaneers are running it back — sort of.
Last season, the Buccaneers' road to the Lombardi Trophy was paved with the jersey colors of their opponents, steamrolled by the multiple tight end sets. Tampa could win in any variety of ways: a downhill run game, explosive play-action passes, pure dropback passing from the gun or any mixture of the three.
---
Click here for more PFF tools:
Rankings & Projections | WR/CB Matchup Chart | NFL & NCAA Betting Dashboards | NFL Player Props tool | NFL & NCAA Power Rankings
---
Tampa Bay Personnel Groupings | 2020-2021
| | | | | | | |
| --- | --- | --- | --- | --- | --- | --- |
| Season | Top Personnel Grouping | Offensive Grade | Second Personnel Grouping | Offensive Grade | Third Personnel Grouping | Offensive Grade |
| 2021 | 11 Personnel (69%) | 88.8 | 12 Personnel (19%) | 72.1 | 13 Personnel (5%) | 65.6 |
| 2020 | 11 Personnel (61%) | 82.4 | 12 Personnel (22%) | 89.7 | 10 Personnel (6%) | 78.3 |
This season, those personnel packages haven't returned the same kind of backbreaking results, and it's hindered this offense by a measure of approximately zero thus far. Comparatively, the 2021 iteration of this offense adds .108 expected points per play, compared to .096 over the course of last season.
Offensive coordinator Byron Leftwich is calling runs less often, and they're only marginally less effective — 3.7 yards per rush this year against 4.1 in 2020. Future Hall of Fame quarterback Tom Brady and this receiving corps haven't approached the year much differently either, with an average depth of target above nine yards in both seasons. Brady's 7.6 yards per pass almost perfectly mirrors last season's 7.8 mark.
Tom Brady | 2020-2021
| | | | | |
| --- | --- | --- | --- | --- |
| Season | Passing Grade | Yards per Attempts | Completion Rate | Passer Rating |
| 2021 | 81.7 | 7.6 | 69% | 108.3 |
| 2020 | 91.6 | 7.8 | 65% | 102.8 |
Given that Tampa Bay's 11 personnel package is the only one producing positive returns (in terms of EPA/play) thus far, what has kept this offense from becoming one-dimensional or reliant on Brady to the detriment of the unit?
It begins with an ability to control the flow of the game when Brady is taking the ball out of his own hands and giving it to running back Leonard Fournette. "Duo," a man blocking scheme designed to get as many double teams at the line of scrimmage as possible, has been Tampa Bay's bread-and-butter run concept, and it still is — 40% of 2020's runs and 39% of this season's attempts have been man schemes.
What's changed is the offense's use of outside zone, more than doubling its rate from last year (9%) to now (19%). With just 33 attempts in all of 2020, it's possible that Tampa can eclipse that total before next Sunday's action is finished. When focusing just on 11 personnel, outside zone makes up 28% of the run game, replacing inside zone as the counter punch to the downhill duo run scheme.
Tampa Bay Run Concepts | 2020-2021
| | | | |
| --- | --- | --- | --- |
| Season | Top Run Concept | Second Run Concept | Third Run Concept |
|  2021 | Man (39%) | Outside Zone (19%) | Inside Zone (16%) |
|  2020 | Man (40%) | Inside Zone (24%) | Outside Zone (9%) |
What's interesting about outside zone popping up as a large piece of this offense's 11 personnel run profile is not just how often it's been used, but when it showed up for this offense. The data tells a clear story — this wasn't part of the game plan until Tampa Bay traveled to face off against the Miami Dolphins. Prior to Week 4, the Bucs had called outside zone only three times. All came in Week 1, and none were in 11 personnel.
Outside zone has a value to Tampa Bay that goes beyond our typical measurables, but that's not to say the run is missing tangible value. Duo comes out ahead with more than five yards gained per carry, but outside zone trails just behind at 4.7.
What makes outside zone a viable changeup to duo is what kinds of blocks you get on the edge and different aiming points for the running back. No matter how devastating a run scheme may be, there are fronts and techniques to take away the play.
The best way to defend duo is to get more players at the line of scrimmage by running something like the 46 "bear" front or to rotate a safety down away from the point of attack, which will push the linebackers over one space in the defense where the run intends to go. A defense really wants to squeeze down the edges aggressively and try to make the play before a tank like Fournette is stepping on the chest of a poor cornerback.
When defending outside zone, you want more bodies at the second level than up at the line of scrimmage because of all the potential cutback lanes. On top of that, you'd like to play with wider edges up front to keep the play from stretching (pardon the pun) out away from flowing defenders. In terms of safety rotation, a defense would want to bring one down to the side the run is attacking, as an unblockable defender at the point of attack.
(Note: if you're interested in how safety rotation influences stopping the run, I brushed over some details here)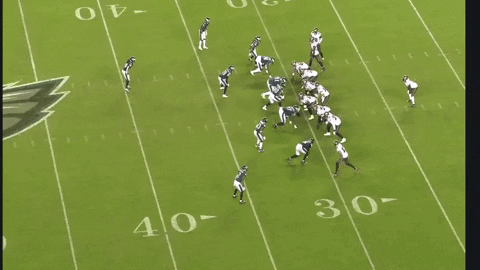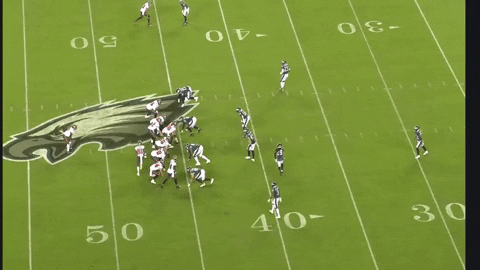 In those two schemes, it's clear what kind of dichotomy exists in terms of fitting the run, especially when both are options in the same personnel group. Add in a versatile skill player like slot receiver Chris Godwin or outside threat Mike Evans, who can eliminate run support as a blocker, and it becomes that much harder to draw tendencies based on how close or far receivers are aligned from the middle of the field.
| | | |
| --- | --- | --- |
| Player | Run-Blocking Reps (Man, Outside Zone) | Run-Blocking Grade |
| Mike Evans | 62 | 76.7 |
| Chris Godwin | 69 | 73.5 |
Knowing that the most popular method of play-action passes (bootlegs) don't mix best with Brady's athletic skill set, a look at how the passing game performs off play fakes may give valuable intel on whether this projects to be the new staple of head coach Bruce Arians' offense. If the Buccaneers can't move the pocket with Brady off play fakes, receivers have to run deeper routes and the GOAT will have to find them for explosive gains.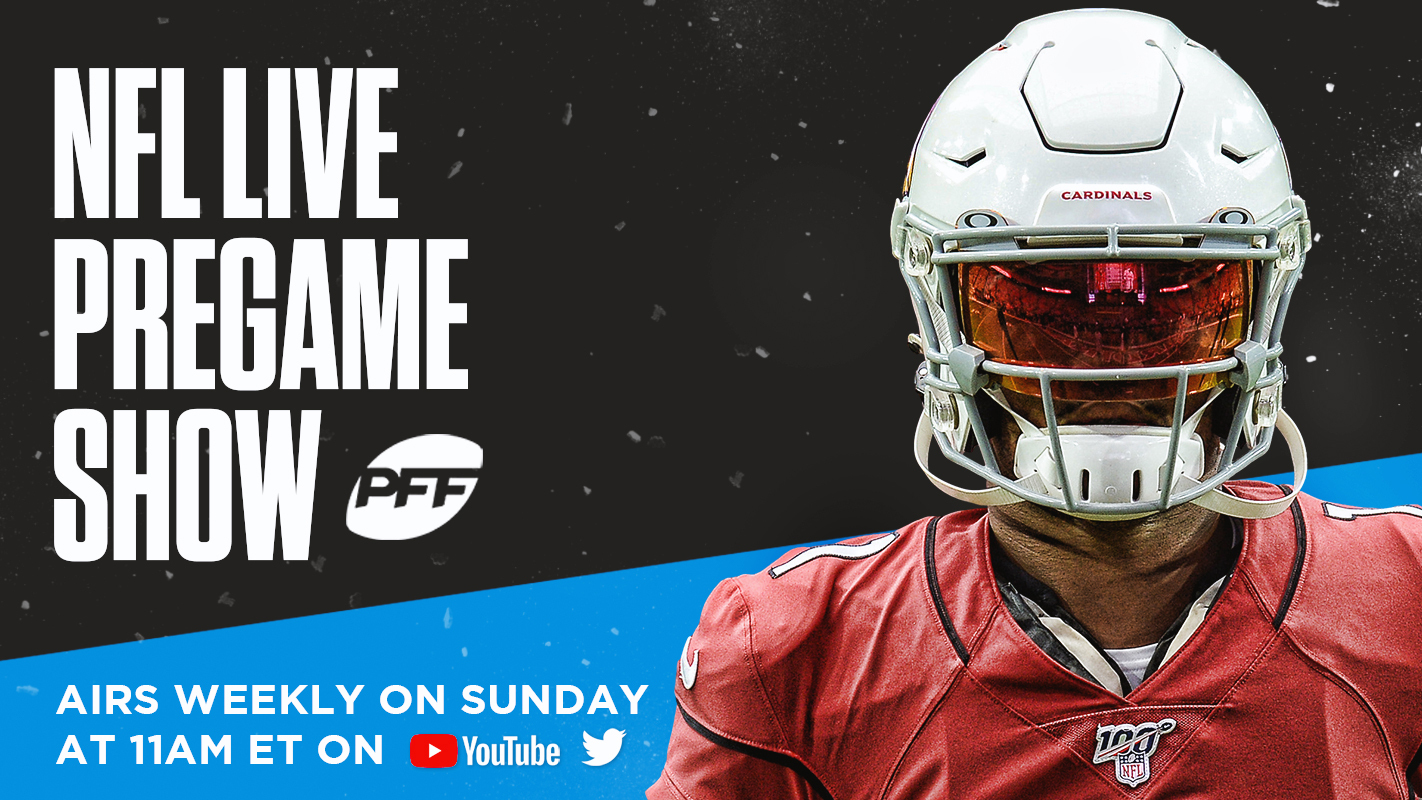 Given the recent development of outside zone as an efficient run call in Tampa, we will be focusing on what this offense has been from Week 4 until now. Over that span of time, the Bucs' 89.2 passing grade on 11 personnel play-action plays ranks sixth in the NFL, and they slot into 11th in expected points added per play (.355).
Tom Brady | Weeks 4-6
| | | | | | | |
| --- | --- | --- | --- | --- | --- | --- |
| Span | 11 Personnel Play Action Dropbacks | Completion % | Avg. Depth of Target | Yds Per Attempt | Passer Rating | Passing Grade |
| Weeks 4-6 | 19 | 83% | 10.0 | 11.1 | 149.8 | 89.2 |
The success of these throws isn't predicated on playing high-variance football with moonshots along the sideline or over the top of deep zone defenders but, rather, getting into formations that goad defenses into bringing defenders forward and/or making edge defenders get wider. From there, the run fake uncovers the intermediate areas of the field for over routes and other intermediate throws, and Brady is finding those throws with surgical precision. On these 19 play-action dropbacks, the Buccaneers have had the sixth-quickest time to throw in the NFL.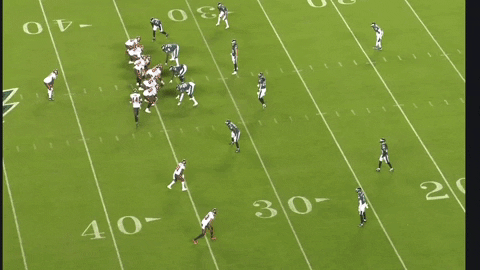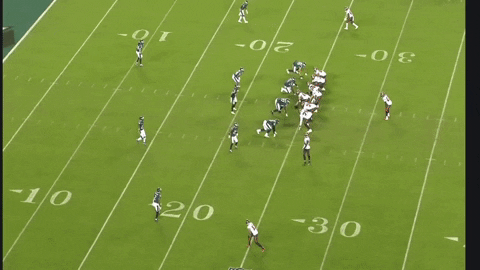 Tampa Bay can hit right behind the linebackers with "drift" routes and seam throws that effectively operate like pop passes, firing the ball right into areas vacated by second-level defenders. Or, Brady can hold for an extra beat and give time for crossing routes, out-breaking routes or the right one-on-one matchup to present itself.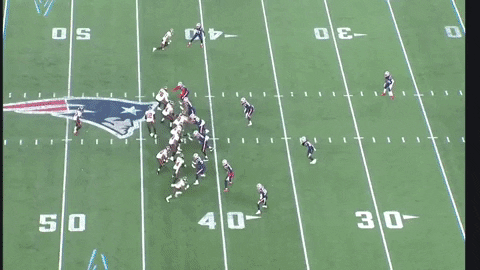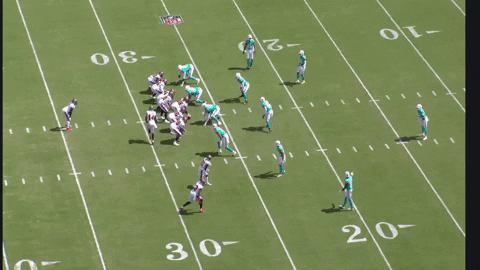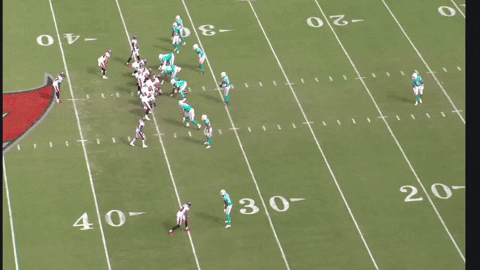 The Buccaneers lost a couple of miles per hour on last year's fastball, and instead of relying on Tom Brady to solve it all in the dropback game, the offense found another way to punish defenses and maintain machine-like efficiency.
What do you know? We both have the exact same surprised face.