Before Thursday night's matchup between the Tampa Bay Buccaneers and Philadelphia Eagles is upon us, let's take one last look back at the action that took place in Week 5 of the NFL season. 
The Kansas City Chiefs took a step backward in Week 5, while the Buffalo Bills and Baltimore Ravens made legitimate arguments for being best in the AFC for the time being. The defending champion Tampa Bay Buccaneers seem to be on a quiet waltz toward another deep postseason run, and the Dallas Cowboys are determined to meet them at the mountaintop of the NFC.
Click here for more PFF tools:
Rankings & Projections | WR/CB Matchup Chart | NFL & NCAA Betting Dashboards | NFL Player Props tool | NFL & NCAA Power Rankings
---
There was much more between the lines that deserves coverage, and the following likes and dislikes thread together PFF data and film review to identify the trends and tendency-breakers from teams across the league. Here are the likes and dislikes from Week 5.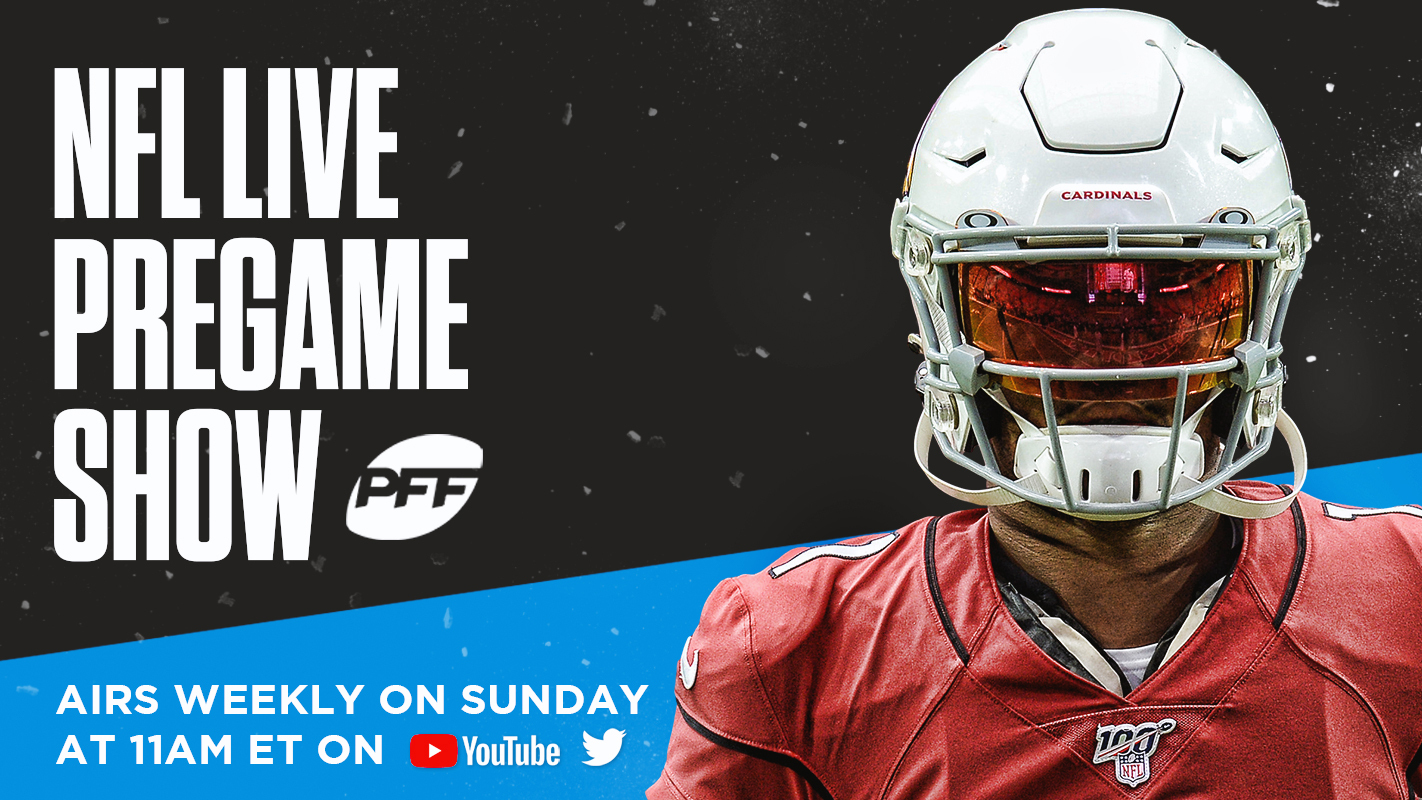 | | |
| --- | --- |
| Receiving Snaps | 37 |
| Receptions/Targets | 11/16 |
| Yards per Reception | 18.7 |
| Gains of 15+ Yards | 7 |
| Contested Receptions/Contested Targets | 3/4 |
Cincinnati seemed to know better than to try to live in single-high coverages or man-to-man against Green Bay's offense. When Aaron Rodgers dropped back on Sunday in Cincy, the Bengals were playing some form of two-high coverage 43% of the time. That helps to protect the seams and remove some of the conflict from linebackers in the play-action game, and there's little to protest in the logic behind calling those coverages.
Though it may have been a wise a choice from Tuesday through Friday, Matt Lafleur, Rodgers and Adams had the perfect game plan dialed up for split-safety coverages.
Adams is often used as an extension of the running game for Green Bay, eating up a large share of production on screens off of RPOs. Through Week 4, screens were his No. 1 route in terms of times targeted (seven out of 45 total targets). That went out the window against the Bengals, with only one of his 16 targets coming on a screen.
LaFleur wanted to use Adams to get into the holes of Cover 2 and Cover 4, sending him downfield and causing a jump in his average depth of target from 10.8 yards to 14.6.
| | | | | |
| --- | --- | --- | --- | --- |
| | Receptions/Targets | aDOT | Yards Per Reception | Receiving Grade |
| In Route | 3/3 | 15 | 23.0 | 95.1 |
| Post Route | 2/2 | 33.5 | 40.5 | 95.6 |
Where are those holes? Deep down the middle of the field. Adams' two highest-graded routes were posts and in-breakers, both happening well beyond the first-down marker and behind the eyes of zone defenders staring at Rodgers.
Adams was used as the "dig" route in "dagger" concepts, where the inside receivers cleared out zone defenders with flat routes and verticals, opening up a downfield window for the routes crossing the field.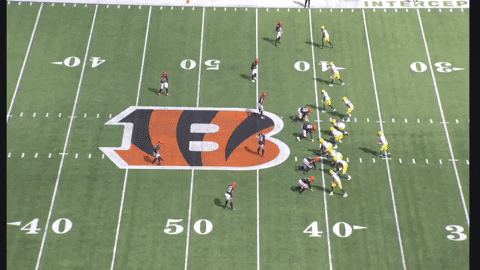 On play-action concepts, the Packers dressed up their downfield shot to Adams with jet motion to hold the eyes of the safety and get the corner back to expand. The receiver away from Adams is running a "lock" route, selling a vertical and sitting down to hold the corner and safety in place as well. This is what you'd call a designer play, set up over the course of the game.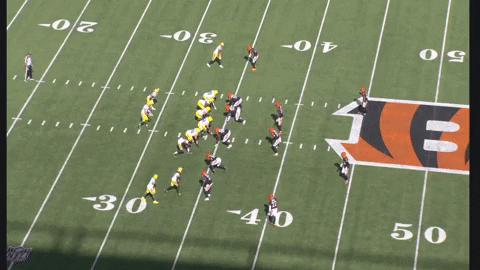 Of course, after using Adams as this explosive weapon, I fully expect him to go back to being Green Bay's speed back (in essence). However, to beat teams like Tampa Bay and Los Angeles in the postseason, the Packers needed to know it could still use Adams in this way.
Like: Atlanta Using Kyle Pitts Properly
| | | | | |
| --- | --- | --- | --- | --- |
| | Total Pass Snaps | Snaps as TE | Snaps as Slot | Snaps as Outside WR |
| Kyle Pitts Week 5 | 37 | 6 | 22 | 9 |
| Kyle Pitts at Florida in 2020 | 259 | 141 | 63 | 55 |
Through the first four weeks of the season, freak athlete Kyle Pitts was having a difficult time catching Matt Ryan's eyes working through the pass progression. Arthur Smith also seemed reluctant to ask the rookie to be the lead pass-catching threat so early, and it's fair to slow walk a young tight end through learning the offense. Aside from the quarterback, you can argue that no other player has to know as much about the offense.
Week 5 brought the Atlanta Falcons out to London to face off against the Jets, and there couldn't have been a better opponent to see what Pitts could do going down the field.
The top skill Pitts layers over his elite burst and change-of-direction is his ability to use his size to expand his catching radius. That buys him the flexibility to line up as a tight end and sell the run before running deep over-routes, warding off coverage players on his back to make catches on the sideline.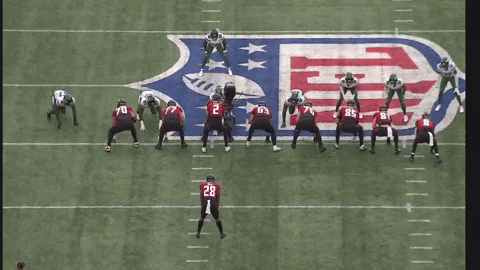 In the slot, Pitts makes for a perfect target on man-beater concepts, pressing into the leverage of defenders before snapping routes inside and boxing them out: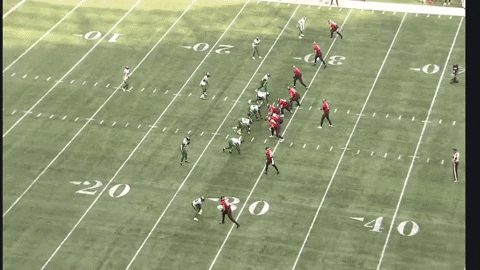 And outside, he's just as valuable as a true vertical threat as he would be as a decoy, with the top-end speed to get behind corners and safeties on play-action:
It's unfortunate for Pitts that he finds himself as the centerpiece of a major rebuild, because Falcons fans have to watch games like Sunday and wonder what this skill set may have looked like standing beside a player like Julio Jones.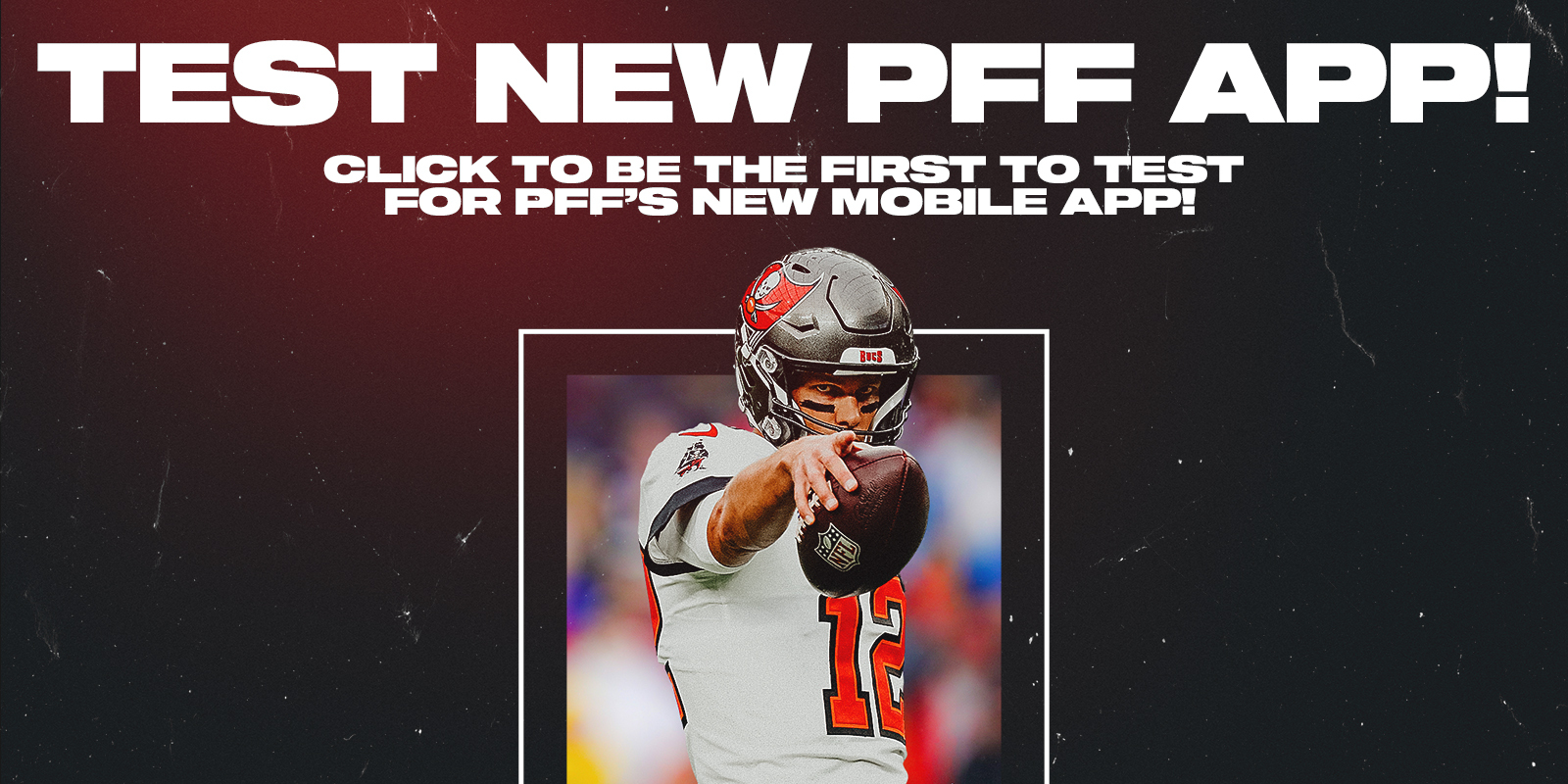 Dislike: Nate Solder in Pass Protection
| | | | |
| --- | --- | --- | --- |
| | Pass Blocking Snaps | Pass Block Grade | Pressures Allowed |
| Nate Solder | 41 | 15.8 | 8 |
Nate Solder needs a hug, his quarterbacks need a Tylenol and his position coach needs some paid time off.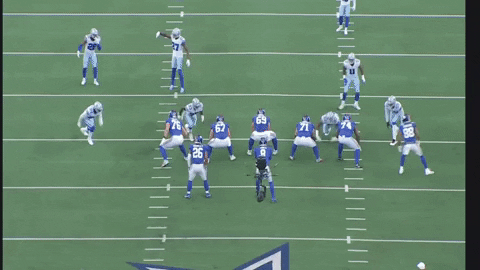 Solder had a tall task in front of him on Sunday — Randy Gregory and rookie Micah Parsons boast explosive first steps and long arms on the edge. Solder tries to pass set for depth early to get enough space and time to catch Lawrence coming into him. Lawrence puts his foot into the ground when it's clear he can't get the edge and converts speed into power. Solder lacks the strength to absorb the strike without retreating, and the pocket is crushed into Daniel Jones' lap.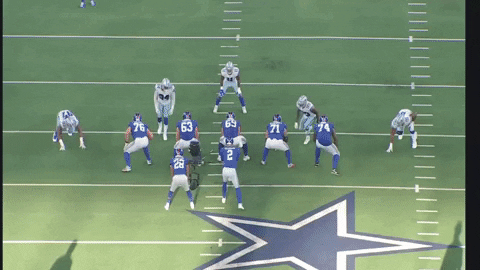 Solder adjusts on a later rep by trying to set closer to the line of scrimmage in hope of striking the edge rusher before he can work up the field. Setting without depth requires enough punching power and lateral agility to step back inside against pass-rush moves crossing the blocker's face, and when Solder is late and soft in his punch, the pocket is again compromised.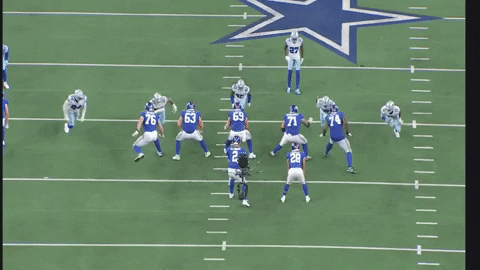 Finally, after losing to power and inside rushes, Solder tries to play the pass rush with a near vertical pass set and loses to a speed rush. The result of the play doesn't fall in his lap entirely — interior pressure keeps the QB from finishing his throwing motion and generating velocity, but the loss of this rep could have resulted in a strip sack had Mike Glennon not made a poor throw.
Dislike: Jared Goff's Arm Down the Field
Attempts
Completion %
Passer Rating
Passing Grade

Behind the LOS

6

100%

91.7

64.8

Short (0-9)

16

81%

102.1

78.6

Intermediate
(10-19)

5

40%

21.7

43.0

Deep (20+)

4

0%

39.6

28.4
I promise, I'm just as exhausted with the comparisons between Matthew Stafford and Jared Goff that still remain in the football geek community. Simply put, anyone with eyes and access to football games can tell you that the talent gap between the two is significant.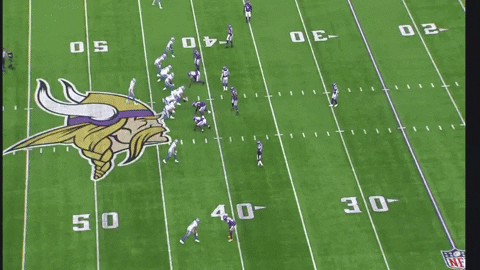 Here, Goff is seeing pressed corners and a single-high safety, with no pressure being shown. This is a clear tell that an offense is getting Cover 1, and the way to beat the call is with vertical throws outside. Credit to the Minnesota Vikings defensive backs for playing well in coverage, but Goff's attempt at a back shoulder throw wasn't competitive in a tight coverage situation.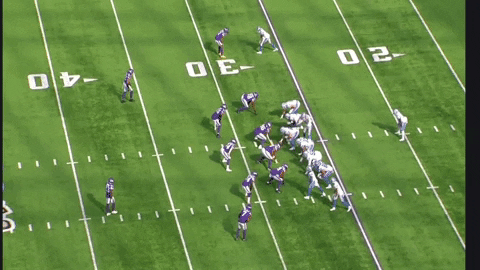 When Detroit called for a pass Goff would be comfortable with — a moving pocket off of play-action — Goff compounds a lack of blue-chip arm talent with poor and desperate decision-making, throwing a streak route that was never open and should have been intercepted.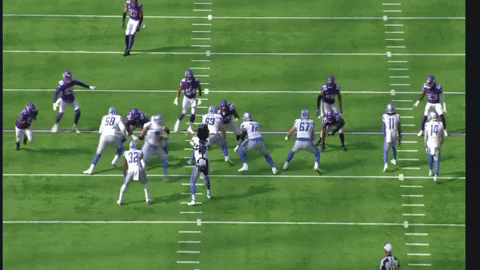 Goff's statline by targeted depth tells a clear story: If the ball needs to be dumped off, Goff is your man. But for about anything else, the Lions will have to wait until the 2022 NFL Draft to address it at quarterback,
Like: Running Away from the Safety Rotation with Cleveland
Browns Run Concept Production
| | | | | |
| --- | --- | --- | --- | --- |
| | Rushing Attempts | Yards Per Carry | First Downs Rushing | Rushes of 10+ Yards |
| Outside Zone | 17 | 8.7 | 5 | 4 |
| Power | 6 | 7.0 | 1 | 1 |
| Inside Zone | 4 | 1.8 | 1 | 0 |
| Counter | 3 | 2.7 | 1 | 0 |
When we talk about the run game, it's often first in terms of what happens at the point of attack — that is easiest to see and evaluate. Players make or miss blocks, running backs power or finesse through contact and we make our judgements largely on the production in the stat sheet.
On a conceptual level, though, you can sometimes judge a run on its likeliness to succeed based on an offensive coordinator's understanding of what a defense is trying to accomplish in its run fit.
In a game where Cleveland's rushers forced 16 missed tackles on 35 attempts and 87% of the Browns' 200-plus rushing yards came after contact, my chief takeaway is more about Kevin Stefanski's offensive design than Kareem Hunt and Nick Chubb. 
In order to be successful running the ball on outside zone, as Cleveland was, the offense has to avoid unblockable players coming into or near the box as run-support defenders.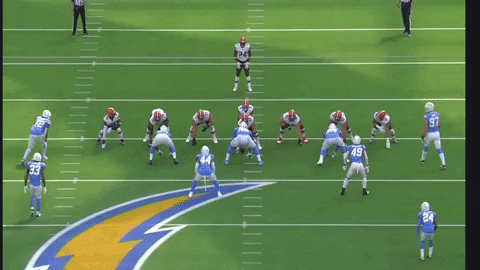 Let's take the above rep of the outside zone concept for example. With safety Nasir Adderley rotating back toward the middle of the field and Derwin James rolling down over the tight end, it was clear that the unblockable players would be James and potentially the inside LB. However, with the run going opposite, the offensive line has the numbers to get a hat for a hat in the blocking scheme and open up the lanes Chubb and Hunt needed.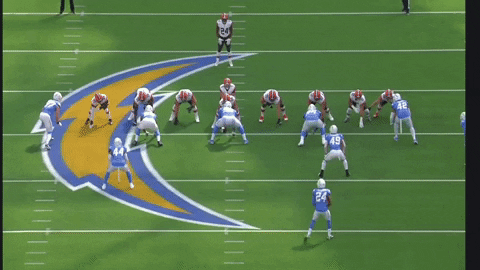 To give a clear picture on why safety rotation matters in the run game, the clip above shows Adderley as what appears to be a quarters safety (sometimes described as weak-side rotation). No offensive lineman is available to get all the way up to the safety in time to deny him from making the defensive stop. 
The Chargers' defense works hard to disguise rotation because it provides value in the run and pass game. However, when Stefanski and Callahan had the right call on outside zone away from the rolling defensive back, and no one was home to take on Chubb when he cut upfield.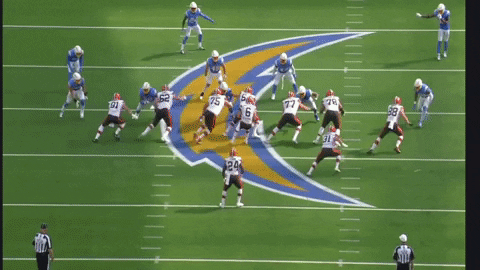 | | | | | | |
| --- | --- | --- | --- | --- | --- |
| | Coverage Snaps | Snaps in Press | Targets | Forced Incompletions | Coverage Grade |
| Marshon Lattimore | 48 | 30 | 9 | 7 | 91.7 |
A fully healthy Lattimore is still one of the best cornerbacks in the league, and he put on a press coverage clinic against the Washington Football Team in Week 5.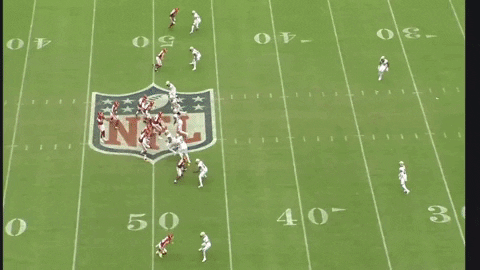 Playing bump-and-run coverage on the fade/go-route is the foundation of any defensive back's ability to stand up in press coverage, whether there's help over the top or not. Lattimore forces a "bubble" on the release, meaning the receiver has to lose ground or release wide and outside to get vertical, and everything from there is a foot race. Once he's "in phase," meaning he's stride for stride and in a position to touch him with his hands, he checks for the ball and forces a beautiful pass breakup.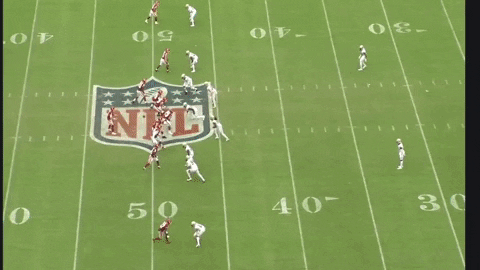 Typically, you'd tell a corner (at lower levels) that you can play the fade or the comeback out of press, but you can't deny both. In order to contest the comeback/stop route, a corner would have to do what Lattimore does on this rep: sit down low in your break, roll your hips through and back downfield, and drive toward the hip of the WR to force the ball to be thrown away from the defender. 
Lastly, elite press coverage means having a plan when the offense has you beat on the release. In the final example, Lattimore is covering a crossing route from a WR with a tight split, meaning he's disadvantaged in multiple ways in coverage. When Lattimore finds himself trailing, he gets in what I call the "jet stream," running directly behind the WR as he tracks across the field. This keeps defenders from running into rub concepts associated with beating man-to-man coverage. In the event that a defensive back can recover, there is likely an angle to undercut the throw, which Lattimore does again at an elite level.
Lattimore has battled injury and roster turnover, but one thing remains: When he's healthy and locked in, there isn't much in the way of a better option to have on an island in coverage.
Like: Lamar Jackson's Feet in the Pocket
| | | | | | |
| --- | --- | --- | --- | --- | --- |
| Quarter | Dropbacks | Passing Yards | Completion % | Average Depth of Target | Passing Grade |
| 1 | 7 | 27 | 60% | 4.2 | 44.1 |
| 2 | 7 | 80 | 83% | 12.5 | 85.7 |
| 3 | 15 | 141 | 92% | 8.8 | 84.7 |
| 4 | 16 | 146 | 86% | 5.7 | 90.7 |
| OT | 7 | 48 | 100% | 4.7 | 75.0 |
Before we get out of here, I would be remiss to go without mentioning the Monday night capper to a great week of football. 
After stalling out and turning the ball over in the red zone, Baltimore and Lamar Jackson went away from their game-planned approach of using the downhill running game to set up play-action shots behind the linebackers heads. The leaned into this in the second quarter with concepts like the one below, which you'd typically see in the west coast, zone-heavy offense: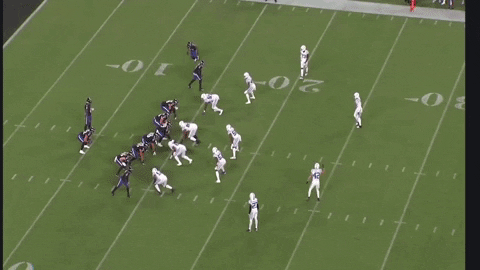 Going into the fourth quarter, when it was clear that Jackson would have to bring this team back on the strength of his arm alone, the Ravens let him cook. Jackson's 16 fourth-quarter dropbacks didn't come with a single one off of play-action.
Despite his reputation coming into the league, Jackson was always strong with his eye discipline down the field to work through his progressions —  it's a big reason why his interception rate has never been a problem. 
Where he would get into some trouble was with his feet not tying together with how his upper body moved to maximize his accuracy on throws to all areas of the field. On Monday, with some clean pockets late in the game, Jackson displayed a bit of his own development as a QB who continues to grow as a passer.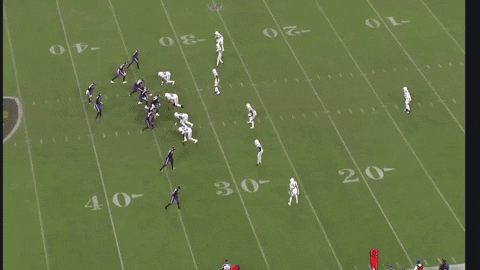 Jackson is able to work through a progression and find the secondary window on a route instead of dropping his eyes to run or checking it down.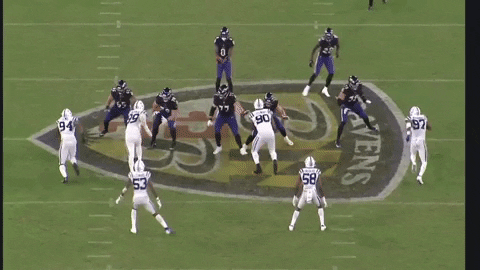 Even the short completions were evidence of good processes late in the game. Jackson is able to work from one side across, and find checkdowns and shallow crossers when that is the only option available.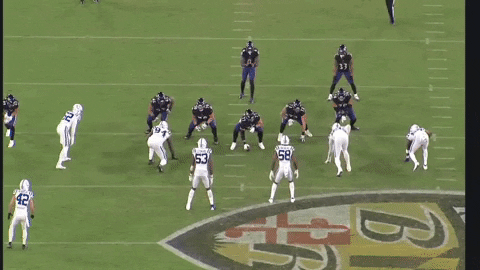 Jackson has had all manner of narratives attached to his name, but the tag of "winner" has eluded him publicly. With Jackson pulling this Ravens team toward contention by winning games late with his arm, in spite of all the injuries Baltimore has suffered, Jackson will be neck and neck with any MVP favorites not wearing No. 8.