Cleveland Browns' fans have been on the world's longest roller coaster ride. After riding through horrendous quarterback play and suspect coaching for many years, the Land finally found their duo late in the 2018 season (after the firing of head coach Hue Jackson) with the top-10-level play of then-rookie quarterback Baker Mayfield and fresh head coach Freddie Kitchens.
Or so we thought.
The last time the San Francisco 49ers even sniffed the playoffs, Jim Harbaugh was the 'Niners head coach and Johnny Manziel was the face of college football. In other words, San Francisco football has been in the dark days for quite some time now. With that and their 3-0 record to start 2019 against the conservative Buccaneers, winless Bengals and predictable Steelers, many were bullish on the 49ers entering Week 5 and weren't sold on their success. After last night's putdown on America's new team, San Fran proved they are a contender and not a pretender. 

With that said, using PFF's unique grades and advanced database, we give you the five biggest takeaways from the 49ers statement win over the Browns.
Kyle Shanahan showing why he is a top-five head coach
Prior to the start of 2019, PFF detailed how 49ers head coach Kyle Shanahan was one of the league's most underrated coaches, as his success is rooted in his ability to play to the strengths of his players. Last night was a testament to that. To start, let's examine his pre-snap adjustments against Cleveland.
At the end of their dominant win, over 83% of San Francisco's plays had some type of motion. That's the highest rate of motion we have seen in any regular-season game since the 'Niners eclipsed an 85% motion rate in 2017 Week 2 (under Shanahan, of course). What may seem like a minor adjustment to the casual fan, is actually something worth far more. Take Matt Breida's 83-yard touchdown run to start the game for example: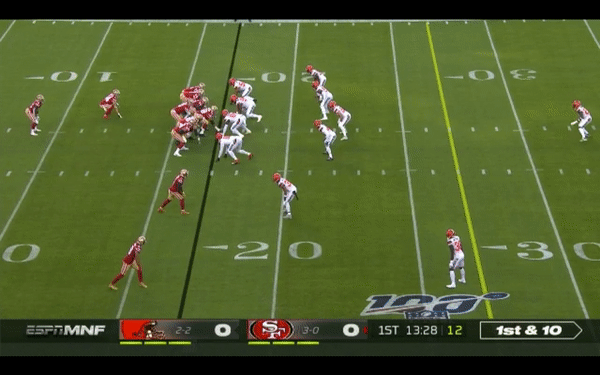 Shanahan brings fullback Kyle Juszczyk over, which, in turn, causes linebacker Mack Wilson to bite on the snap, leaving Juszczyk to block edge defender Olivier Vernon and tight end George Kittle to block cornerback T.J. Carrie, and that left this open hole for Breida: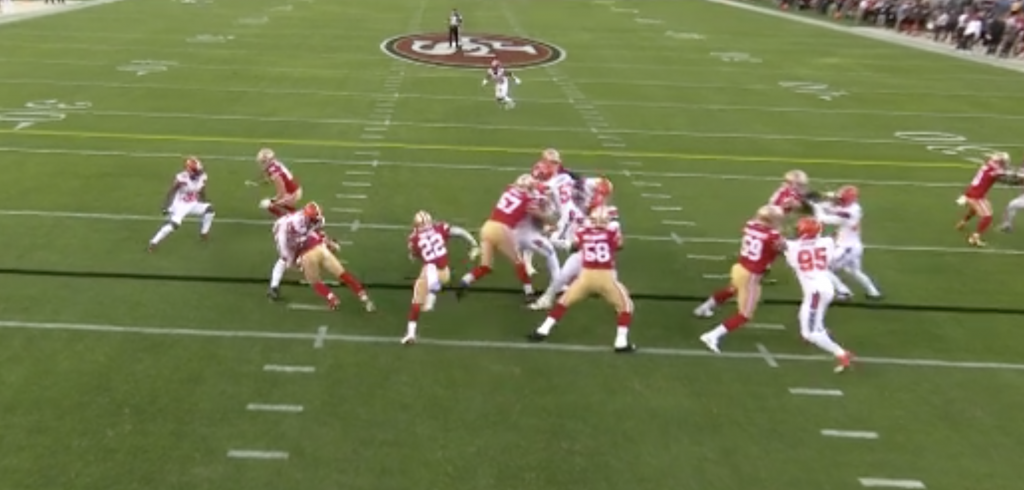 This was a common theme throughout the night and was a large reason the 'Niners ended the night with 160 yards before contact. Further, Shanahan went against the established order once again by using the league's most popular personnel package, 11 personnel (1 RB 1 TE 3 WR) just 25% of the time (league average in Week 5 was just over 57%). Instead, Shanahan used a mix of packages that went with a tighter formation (12, 21 and 22 personnel), whether it be a run or a pass – which brings us to our next example of Shanahan being an offensive mastermind.
After the game ended, offensive tackle Joe Staley, who was sidelined due to injury, broke down what occurred on the sideline during the Jimmy Garoppolo to Kittle touchdown early in the third quarter by saying:
"I didn't even know Kyle was next to me. I was right in front of him. And immediately when the ball was snapped, all I heard behind me was, 'Touchdown!' I looked and Kyle is walking away and the play is still going on. He's just walking away, I look at him and look at him, and it's a touchdown." (via The Mercury News)
So, how did Shanahan know this play was going to result in a touchdown? Through his beautiful mind of motion, of course.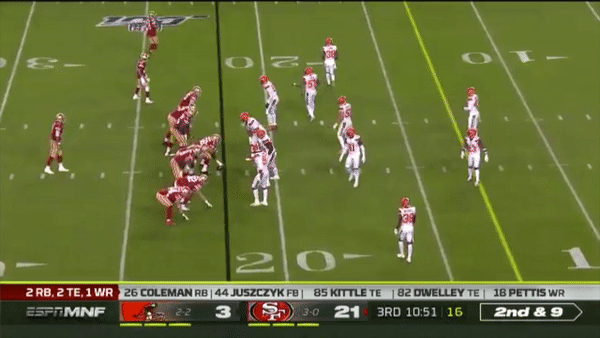 Coming out of the huddle, running back Tevin Coleman goes out to the slot bringing linebacker Adarius Taylor and safety Morgan Burnett his way. Almost immediately, Coleman goes back to the backfield to the right of Garoppolo, bringing Taylor and Burnett back in. Then Juszczyk goes from the outer tight end on the right side of the line to the far end of the left side of the line, bringing Taylor and Burnett back out. Right as Juszczyk gets set, Garoppolo hikes the ball, hitting a wide-open George Kittle who exploded down the seam on a pass that took less than two seconds to throw.
Shanahan and company beat the Browns through the quick passing game, which is, in fact, Garoppolo's greatest strength. Throughout his career, Garoppolo has been a far better passer on these quick passes. His 82.7 passing grade since entering the league on throws of 2.0 seconds or less is the sixth-best among qualifying quarterbacks, while his 74.2 passing grade on throws 2.1 seconds or more is 23rd among the same group. Simply put, Shanahan and Jimmy G put on a clinic in the quick pass game last night.
Nearly half of his attempts ended up being under 2.0 seconds, and Garoppolo came away with an 80.2 passing grade, one big-time throw, zero turnover-worthy plays, an 84.6% adjusted completion percentage, 7.1 yards per attempt and a 115.2 passer rating. There goes that man again – playing to the strengths of his players and making himself one of the top head coaches in the NFL.
Baker has yet to rise in 2019
This was far and away the worst performance of Mayfield's career. In Mayfield's rookie campaign last season, he finished with seven game grades above 80.0. Through five weeks in 2019, he has zero. 
In the blowout loss in the Bay, Mayfield had one big-time throw and three turnover-worthy plays (keep in mind, he had two interceptions in the box score, but only one of those was a turnover-worthy play: that red-zone interception should've been a touchdown, and it was solely on wide receiver Antonio Callaway). Taking out plays that negated by penalty, Mayfield dropped back to pass 26 times, and 14 of those he was facing some type of pressure. When under duress, Mayfield put up a 30.0 passing grade, 0.0 passer rating and completed 1-of-10 passes.
Nearly 50% of Mayfield's pressured dropbacks in 2019 have ended with him outside of the pocket (highest in NFL). His adjusted completion percentage on those passes is over 20% lower than any other quarterback in the league, and he is averaging just 1.2 yards per attempt. Last night, Mayfield had six dropbacks under pressure and outside the pocket, with one leading to a sack and the other five leading to incomplete passes. In other words, his offensive line is giving up a good amount of pressure and Baker is trying to overcompensate for it.
Nick Bosa had some flavor
The second-overall pick from the 2019 draft, Nick Bosa, entered Freddie's kitchen and came away full in his elite showing last night with a 92.3 overall grade. In his small, four-game sample, this was clearly the best we have seen of Bosa. The former Ohio State Buckeye got his revenge on Baker Mayfield from their college rivalry with a 91.0 pass-rush grade and nine quarterback pressures (five of which were a sack or hit). In addition, Bosa put together a pass-rush win rate of 36% and pressure rate of 36% (for perspective, Nick's older-brother Joey has never eclipsed a 36% pressure rate in his four-year career).
Bosa didn't need a blitz to have pass-rush success either. On those standard pass-rushes, Bosa finished with a 92.1 grade, 45% win rate and 45% pressure rate. Bosa wasn't too shabby against the run either, with a 78.9 run-defense grade and a run stop. All in all, Bosa was so good he claimed a spot on the PFF Team of the Week.
Not only was this the best game we have seen by a rookie from the 2019 class through Week 5, it was among the five highest-graded games we have ever seen from a rookie edge defender AND was also the highest pass-rush win rate recorded by a rookie edge in a single game in the PFF era (since 2006). The Bosa family may own two of the top five edge rushers in the NFL at the moment in Joey and Nick.
Cleveland's offensive line is a liability
As a whole, the Browns' offensive line gave up a horrendous 50% pressure rate and recorded a poor 52.2 pass-block grade – both of which rank among the bottom-six in a single-game by a Browns offensive line in the PFF era. The only person that can walk away and say they did a decent job was center J.C. Tretter, as he had a 77.5 pass-block grade and allowed one pressure. On the other hand, the rest of the line had little to no pass-block success.
Left guard Joel Bitonio (62.7 pass-block grade), left tackle Greg Robinson (48.2 pass-block grade), right tackle Chris Hubbard (47.2 pass-block grade) and right guard Eric Kush (48.5 pass-block grade) all each recorded a double-digit pressure rate by themselves. They were getting sliced and diced on the edge and in the interior. With Baker being as bad as he has been under pressure and his forcing of some throws under duress, this offensive line needs to clean up their act if the Browns want to be the Super Bowl-caliber team the public was making them out to be.