• The Seattle Seahawks are in good shape if their rookie tackles, Charles Cross and Abraham Lucas, build on an impressive first week of the preseason.
• Pittsburgh Steelers WR George Pickens lived up to the training camp hype with a promising preseason debut.
• Tennessee Titans WR Treylon Burks played into the fourth quarter in Week 1 but didn't haul in any catches or see any schemed touches.
---
We know, it's one preseason game. We won't overreact or make any proclamations about anyone's career outlook here. This exercise is more so for projecting who will be ready to contribute in Week 1 and in the early portion of the 2022 NFL season. With that said, let's get into the rookie stock report.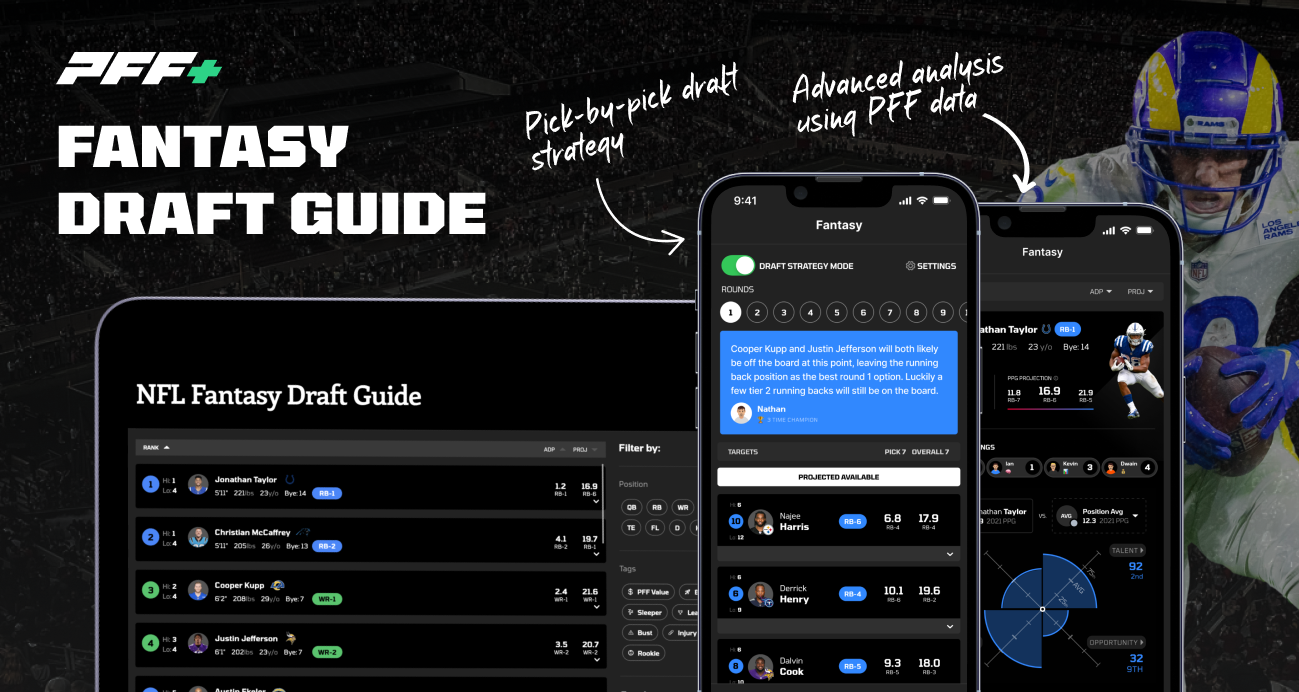 ---
Stock Up
We're looking at the Texans' RB1. That's not a title you expect from a Day 3 pick this early on in camp. Pierce's introduction to the NFL was all gas from start to finish. Agility, power, vision — it was all there on tape:
Dameon Pierce has the highest rushing grade of any RB in the preseason (90.0). 5 carries, 49 yards, 42 yards after contact. pic.twitter.com/CVk1oQh1l0

— Kevin Cole (@KevinColePFF) August 14, 2022
Oh, and he's living up to his billing as the best pass protector in the running back class:
Welcome to the Dameon Pierce (#31) experience pic.twitter.com/O2CsDyEpvA

— Winks (@HaydenWinks) August 14, 2022

That's how a rookie guarantees themselves a heavy workload early on.
Yet another fourth-rounder who already looks to be cracking the starting lineup, Doubs has been a vertical tree machine so far in training camp. He showed that once again in the Packers' first preseason game. He stacked 49ers corners on three separate occasions. One resulted in a score, another should have been a score with even an average throw and the last one earned an illegal contact penalty (although it should have been pass interference). While no one is going to be a Davante Adams replacement in the offense, Doubs could very easily be the Marquez Valdes-Scantling replacement this season.
Jordan Love to Romeo Doubs for the TD! The hype keeps growing pic.twitter.com/TxwcfFJ0ph

— Billy M (@BillyM_91) August 13, 2022
It's really a joy to watch a healthy Pickens. He looks like the dominant freshman we saw at Georgia all over again. He hauled in three catches for 43 yards and a score on only 14 routes in Week 1 of the preseason, and the touchdown was a thing of beauty:
GEORGE PICKENS WITH THE ELITE TOE DRAG SWAG pic.twitter.com/lGZzH2hLxL

— Robert Griffin III (@RGIII) August 14, 2022
His physicality and body control are both already showing as elite for the position. It remains to be seen how he'll consistently separate against NFL cornerbacks, but he's off to a great start.
Shakir didn't do much more than find space in zones to rack up his five catches for 92 yards against the Colts over the weekend. That also just so happens to be a big part of playing the slot in the NFL. What separates Shakir from a lot of slot receivers is his intelligence and ability to adjust to balls outside his frame. With Cole Beasley gone, Shakir could very well fill his shoes in the offense.  
Impressive day for Khalil Shakir.

✅️ Route Running
✅️ Footwork
✅️ Sideline Awareness #BillsMafia pic.twitter.com/Xcr1J6VbVi

— Dave Myers (@DaveMyersBIB) August 14, 2022
Tight end is one of those positions where you can see the players who have "it" right away. By "it," we mean the movement skills and dynamism to actually feature at some point in an offense. There just aren't a ton of human beings measuring in at 6-foot-3-plus and 240-plus pounds who look natural running in space. Likely is one of them. He caught all four of his targets for 44 yards and broke three tackles on only 17 pass routes. Likely looks like the perfect TE2 for the Ravens' offense.
It didn't take long to see that Smith was one strong SOB on his Tulsa tape. At the same time, it was Tulsa tape. He wasn't facing many future NFL-ers. Now in the league, Smith still looks strong. And not just "oh, he's strong enough to play in the league" type of strong, either. Rather, "he's going to manhandle dudes" kind of strong. Now, he just has to clean up the penalties. He committed two against the Broncos in Week 1 after racking up 16 last season.
Tyler Smith dropping ⚓️ pic.twitter.com/twQYS9bbcF

— Brandon Thorn (@BrandonThornNFL) August 16, 2022
Jurgens won't factor into the starting lineup for Philly anytime this season, barring injury. He's a center only and the heir apparent to Jason Kelce. If you squinted hard enough last weekend, you could have sworn Kelce was out there for the Eagles. That's how efficiently Jurgens moves on a football field. He's nothing short of an elite athlete at the center position, and the Eagles' offense took advantage of that by getting him out on the move often. He finished with an 85.2 run-blocking grade in what was a stellar performance.
Cam Jurgens was electric in his debut with the Eagles. A match made in heaven. pic.twitter.com/mAoTmafaQj

— Brandon Thorn (@BrandonThornNFL) August 14, 2022
Seahawks fans should be over the moon from what they saw from their first- and third-round picks. While teams around the league are paying top dollar for any semblance of competency at the tackle position, the Seahawks may have found that at both bookend spots for the next four years on the cheap.
Much was made of the fact that Lucas and Cross both hailed from Air Raid offenses in college and weren't asked to do much in the way of NFL blocking concepts. Well, Lucas' 81.5 grade on 52 snaps and Cross' 72.1 grade on 37 snaps looked more NFL-ready than some gave them credit for. That's not to say there won't be growing pains, but both looked ready to at least start Week 1.
I'll let Baldy break down the tape for you:
.@Seahawks are retooling their offensive line with 2 rookies at the OT position; @CharlesC_67 @XBigAbeX ( I think those are their handles) Cross & BigAbe looked good in their debut. Good looking Seahawks draft. #BaldysBreakdowns pic.twitter.com/6zDHdY2Axe

— Brian Baldinger (@BaldyNFL) August 14, 2022
---
Stock Down
It's one preseason game throwing to receivers who have already been cut. It's far from a death knell. But it's difficult to see Corral being ready to steal playing time from Baker Mayfield or Sam Darnold at some point this season given what he put on tape over the weekend. Corral just looked uncomfortable. While some of that can be chalked up to the line he was playing behind, it can't excuse just how ugly his ball placement was on quick, easy throws.
Safe to say things can only get better for Matt Corral pic.twitter.com/sYlLCnBghs

— Mike Renner (@PFF_Mike) August 15, 2022
Considering the offense Corral played in at Ole Miss, a healthy adjustment period was always going to be necessary. 
This one is partly performance and partly where Price-Davis falls in the pecking order. He was second-fiddle to 2021 third-rounder Trey Sermon, who infamously fell out of favor as a rookie and saw only 107 snaps on the season. Davis-Price still saw a hefty workload with 10 carries, but they went for only 36 yards en route to a 61.1 rushing grade. And he didn't do himself any favors by dropping his lone target in the passing game on a wide screen. 
Unlike the other first-round receivers, Burks was taking snaps well into the fourth quarter in his first preseason contest. Head coach Mike Vrabel expanded on why exactly afterward, calling Burks' performance "inconsistent."
Titans HC Mike Vrabel said that Treylon Burks preseason debut was "inconsistent."

Vrabel said that the things Burks learned in practice did not carry over to the game "enough." pic.twitter.com/QpyYt9r4HC

— NFL Rookie Watch (@NFLRookieWatxh) August 16, 2022
Burks didn't have a single catch on 19 routes run. While some of that can be chalked up to Malik Willis' hesitancy to let the ball go, one would think if Burks were really going to be a focal point of the offense, they'd have tried to scheme him up touches to get him going. 
Tolbert hauled in only two catches for 10 yards on six targets with a drop. The tape shows a receiver who had issues with NFL-caliber physicality out of the gate. He let defenders get hands on him too often and failed to get his body clean. That shouldn't be too big of a worry given the leap in competition from South Alabama, but with Michael Gallup still sidelined, it's not ideal for a Cowboys team in need of a No. 2 receiver.
Not only did Goedeke not run with the starters, but he also struggled to a 56.3 overall grade on 46 snaps in his debut. Goedeke struggling early on was always a strong possibility, though, given the competition he faced at Central Michigan and having to switch from right tackle to left guard. Those are two large changes for any rookie to deal with, but the Bucs don't quite have the time to let him grow into the role in Years 2 and 3.
It's worth noting that Penning looked like an absolute dude in the run game. The unbridled physicality we saw him dominate the FCS with has translated to the ground game in the NFL (albeit against backups). He makes this "Stock Down" list, however, because of his work in pass protection. He earned a 28.6 pass-blocking grade after allowing five pressures on 28 pass-blocking snaps — many in ugly fashion.
Ogbonnia Okoronkwo had anything he wanted against Trevor Penning. pic.twitter.com/UY79OFeYyV

— Austin Gayle (@austingayle_) August 15, 2022
Ogbonnia Okoronkwo is also a backup who pales in comparison to the likes of Brian Burns and Shaquil Barrett, who Penning will see four times in his own division. That's a worrisome proposition for quarterback Jameis Winston coming off an ACL tear.