The Seattle Seahawks were a delay of game penalty away from Marshawn Lynch getting the chance to register an earthquake in the Seattle area with a goal-line plunge to win the NFC West. Just a few plays later, Jacob Hollister was inches away from accomplishing the same feat in less poetic fashion. With that Week 17 game against the San Francisco 49ers being Seattle's 12th contest decided by one score or less this season, it wasn't unfamiliar territory. But losing the close game was unfamiliar territory. The Seahawks' five-point loss was just the second time in those 12 games that Seattle hasn't found a way to come out on top, and they have Russell Wilson to thank for that.
If it weren't for Ryan Tannehill's second-half-of-the-season push, Wilson would have finished the 2019 regular season as PFF's highest-graded quarterback. In what has been a tremendous career, this has been Wilson's best season, even if his MVP candidacy has lost its luster in recent weeks. He's been nearly perfect despite adverse conditions, and he's willed this overperforming roster to an 11-5 record. The problem for the Seahawks as the playoffs loom is that they can't afford for Wilson to not be the best player on the field. There's no margin for error.
A 112.1 passer rating under pressure was fool's gold
This should be prefaced by saying that Wilson is no stranger to pressure in the pocket. He's the only quarterback in the league to have been pressured on over 40% of his dropbacks since entering the NFL in 2012, and in the context of his peers, Wilson has thrived in those situations. His 79.6 passer rating under pressure since 2012 is first among 32 qualifying quarterbacks. No one has been in more bad situations, and no one has been better at making the most out of those opportunities.
As the Seahawks raced out to a 7-2 record over the first nine weeks of this season while Wilson built his MVP case, not much had changed. Wilson was under pressure on 41.6% of his dropbacks over that span. The difference was that he was simply playing on another stratosphere than the rest of the NFL. The Seahawks were averaging 6.1 yards per pressured dropback (tied for second best in the league), and as for Wilson himself, he paced the league by a wide margin with an 85.6 PFF passing grade and a 112.1 passer rating when under pressure. For context, the average passer rating when kept clean in the NFL this season is 99.8.
Seahawks' and Russell Wilson's performance under pressure by week
| | | |
| --- | --- | --- |
| | Weeks 1-9 | Weeks 10-17 |
| Yards per pass play | 6.1 (T-2nd) | 1.0 (32nd) |
| Wilson sack rate | 16% (19th highest) | 26% (6th highest) |
| Wilson passer rating | 112.1 (1st) | 49.4 (26th) |
We know that quarterback performance under pressure is significantly more volatile than performance when clean, so it was only a matter of time before those numbers took a dive. The Seahawks' first matchup with the 49ers in Week 10 served as the tipping point.
Since that game, the Seahawks have averaged a league-low 1.0 yards per pressured dropback. Yes, that is lower than the Devlin Hodges-led Pittsburgh Steelers and the David Blough-led Detroit Lions. Over that span, Wilson's sack rate jumped 10 percentage points, and his passer rating under pressure dropped all the way to 49.4 (26th among 32 qualifiers). I'd expect the results to level out somewhere in between those two extremes, but with Seattle's best lineman — Duane Brown — out for the season and defenders getting pressure early, the Seahawks need something closer to what we saw from Wilson early in the season.
Playing from behind is no recipe for success
The No. 4 seed-No. 5 seed matchup between the Philadelphia Eagles and Seahawks on Sunday is fitting, as they are the only two playoff teams this year to have played at least 500 offensive snaps when trailing. The Eagles rank ninth among all NFL teams with 592 snaps from behind, while the Seahawks rank 11th with 565. The next closest team is the Houston Texans at 499 snaps (18th most). That would seem to indicate that the Seahawks and Wilson have been effective at playing from behind.
Wilson is the highest-graded quarterback in the NFL when the Seahawks have trailed this season, recording a 91.9 overall grade in those snaps. He's thrown for 19 touchdowns compared to just one interception from behind. When the game has been put in his hands, Wilson has delivered. That's what you desire and expect from a franchise quarterback.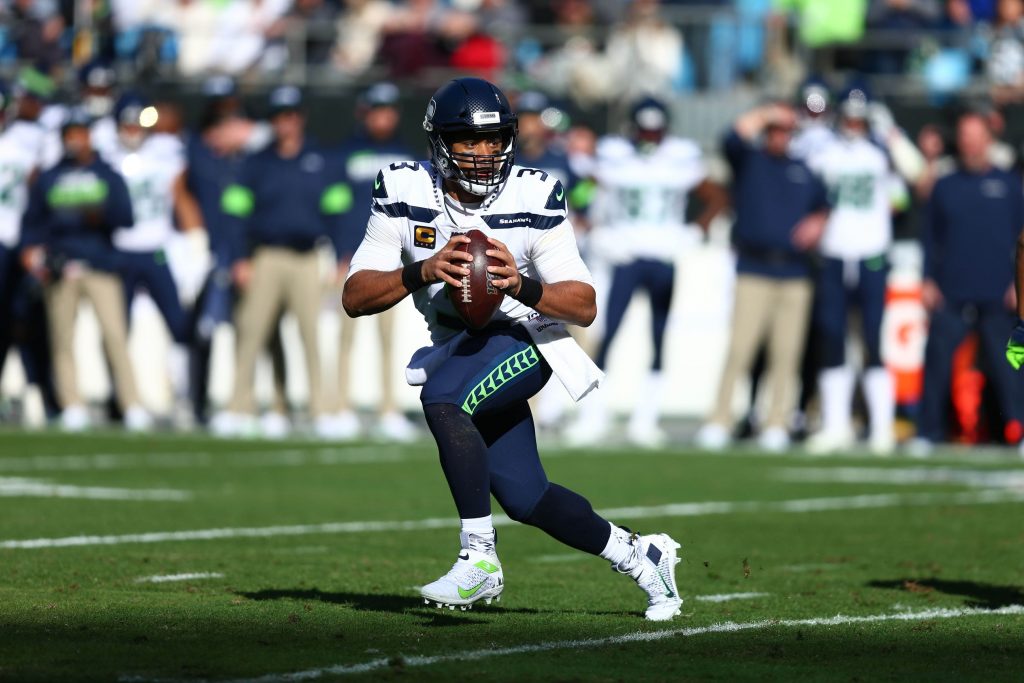 Jeremy Brevard/IMAGN
Just because Wilson can win games that way doesn't mean that it's going to continue to happen, though. Much like you would rather have Wilson throwing darts from a clean pocket, you would also rather have Wilson working with a lead. That entails leaning on him earlier in games than Seattle has been. The Seahawks have one of the game's truly elite quarterbacks, and yet, they wait to truly unleash him until they need to claw back from a deficit.
Wilson is good enough that he can succeed when asked to make something happen on third down, or when under pressure, or when trying to mount a comeback — but the more that he is forced into those situations, the smaller the margin for error becomes. That is the tightrope that the Seahawks are walking.
Seattle's defense is also surviving amid instability
Defense was a staple of the Seahawks' Super Bowl contending squads earlier in the decade, headed by the Legion of Boom with Richard Sherman, Earl Thomas and Kam Chancellor. Those guys are no longer manning the back end, and the decline has been noticeable. After ranking among the top-five defenses in the NFL in yards allowed per pass play every season from 2011 to 2015, Seattle has finished outside of the top-12 every season since 2016, with finishes outside the top-20 in each of the past two seasons.
In fact, their rank in overall yards per play allowed this season is just 27th. This is no longer a top-tier defense. In many ways, it's been a bottom-tier defense that is being saved by one thing: turnovers.
We've seen the turnovers story before. Forcing turnovers year-over-year and even week-over-week is not something that can be relied on. It's volatile. The 2017 Jacksonville Jaguars and 2018 Chicago Bears tell cautionary tales of how much stock we should put into the repeatability of turnovers in those kinds of numbers.
| | | |
| --- | --- | --- |
| | Offensive turnovers forced | Yards per play allowed |
| Pittsburgh Steelers | 37 (1st) | 4.3 (3rd) |
| New England Patriots | 33 (2nd) | 4.1 (1st) |
| Minnesota Vikings | 30 (3rd) | 4.9 (13th) |
| Seattle Seahawks | 29 (4th) | 5.5 (27th) |
If you look at the four teams that have led the league this season in offensive turnovers forced, you'll find the Pittsburgh Steelers leading the way with 37, the New England Patriots not far behind with 33, and then the Vikings (30) and Seahawks (29). The yards per play allowed of those teams in order is: 4.3 (3rd), 4.1 (1st), 4.9 (13th), and 5.5 (27th). Percentage of plays allowing a first down or touchdown tells a similar story, with the Steelers, Patriots and Vikings all residing in the top-12 teams while the Seahawks sit at 31st. The group contains two great defenses, an above-average defense and a bad defense that has been on the right side of turnover luck.
Is Wilson enough to take Seattle to a Super Bowl?
Wilson dropping dimes in the face of pressure and leading comebacks while his defense forces turnover after turnover is a fun brand of football. It's how the Seahawks sit at 11-5 despite a smaller point differential than the Tampa Bay Buccaneers in 2019. And with Wilson on the field, there aren't going to be too many contests where the Seahawks don't have the better player at the league's most important position.
The Seahawks have relied on that ace in their pocket to a fault, taking for granted that he can make a play against an oncoming pass rush or bring his team back from a deficit late in the game. The Seahawks should be using their best player on early downs and early in games to build a lead when the passing situations are more favorable. Otherwise, Wilson needs to be perfect for the Seahawks to win, and we've seen that situation before. That strategy with this roster will seal the coffin on Seattle's season.