• Cowboys rookie OT Tyler Smith playing admirably: The 21-year-old's high-end reps make you think he could be one of the special players at the position in time.
• Dameon Pierce a clear bell cow: Although two fumbles have brought down his overall grade, Pierce is averaging 4.4 yards after contact per attempt and has 16 broken tackles on 60 attempts.
• Jalen Pitre missing tackles but showing promise: The Houston Texans rookie hasn't graded out well as he struggles to finish plays, but that's correctable.
Estimated Reading Time: 8 mins
---
One of the problems with one overall grade getting attached to a football player is that it lacks the nuance of how that figure was composed. Every year there are players who flash obvious talent and promise in Year 1 but may not have that reflected in their grade because those positive plays are offset by correctable rookie mistakes. These are the rookies who fit that bill.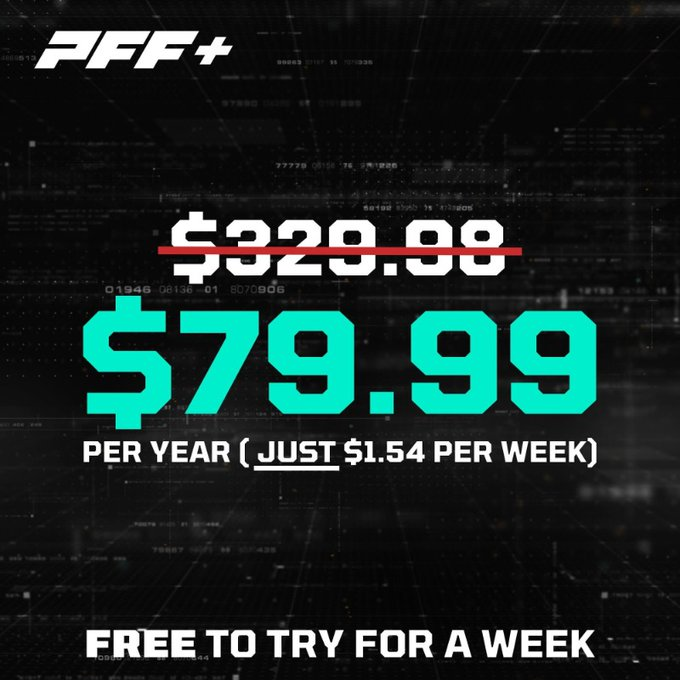 PFF Grade Through Week 4: 62.3
How one views the grading scale for rookie tackles shouldn't be the same as for veterans. That's because the learning curve is so steep — especially for one coming out of Tulsa. So, when one grades out even average like Smith has (62.3 overall), that's very encouraging for his future prospects. You see the high-end reps from him that make you think the 21-year-old could be one of the special players at the position in time. Of course, there's still the penalty concern that may not go away. He has three penalties already this season after leading all FBS tackles with 16 last year.
just watching the (should be) leader in the clubhouse for OROY: Cowboys LT #73 Tyler Smith pic.twitter.com/wUbeieqYke

— Nate Tice (@Nate_Tice) October 3, 2022
---
PFF Grade Through Week 4: 63.6
As an Air Raid tackle, Lucas wasn't supposed to be NFL-ready. Through four weeks, though, he's the highest-graded tackle in the rookie class. Lucas has allowed all of nine pressures on 152 pass-blocking snaps for a 63.6 overall grade. While he is on the older side for a rookie, turning 24 later this month, Lucas is already a competent starting right tackle in the league who will only get more comfortable.
Abraham Lucas has been the best rookie OT that I've seen in the NFL this season and he was the 7th OT and 15th overall OL taken in the draft. His play strength is serving as the foundation of his game & is really impressive. pic.twitter.com/k0FRVmSfIM

— Brandon Thorn (@BrandonThornNFL) September 30, 2022
---
PFF Grade Through Week 4: 70.9
Two fumbles have torpedoed Pierce's grade through the first four games, but I'm not as worried about that from a projection standpoint as I am about a back being able to pick up tough yards. Pierce has 100% shown the ability to do just that. He's averaged 4.4 yards after contact per attempt and has 16 broken tackles on 60 attempts. Both figures currently rank top five at the running back position. You're looking at a bell cow already.

---
PFF Grade Through Week 4: 66.7
Doubs' ability to win vertical is not something you see every day from a rookie. The 6-foot-2, 204-pounder almost had his breakout moment this past week when he left Jonathan Jones in the dust for a game-winning score, only for the ball to jar lose as he hit the ground.
Romeo Doubs has showed some awesome flashes the last couple weeks.

But he has to reel this one in. Perfect throw from Rodgers to get him open. pic.twitter.com/yIGV8dbo95

— Tyler Brooke (@TylerDBrooke) October 4, 2022
That ability to stack cornerbacks is something Doubs has shown on a weekly basis, a skill rookies often don't have a feel for. So far, he's hauled in 19 catches on 24 targets for 184 yards, but something tells me there are some big plays lurking out there for Doubs here soon.
---
PFF Grade Through Week 4: 71.1
Sauce may only have a 71.3 coverage grade, but this is as impressive as we've seen a rookie cornerback look in some time. Through four games, he has allowed a grand total of nine catches on 19 targets for 101 yards. The last corner drafted in the top five — Jeffrey Okudah — allowed more yards than that in the very first start of his career (121). The former Cincinnati cornerback has also added four pass breakups, which ranks second in the NFL. The Jets got themselves a building block.
Sauce Gardner got the best of George Pickens on this play ???? pic.twitter.com/Xchcfi3XAT

— NFL Rookie Watch (@NFLRookieWatxh) October 2, 2022
---
PFF Grade Through Week 4: 60.3
Sometimes, how a rookie "impresses" has as much to do with their expectations as anything else. Woolen switched from wide receiver to cornerback in the middle of the 2019 season. That's less than three years ago. Now, he's going toe-to-toe with the NFL's best and not flinching.
Woolen has allowed only nine catches on 17 targets for 138 yards on 141 coverage snaps this season. Anything under 1.0 yards per coverage snap is a great sign for a rookie cornerback. The only thing keeping him from grading better is penalties, as he's already committed five in four games. Many of those are a result of his lackluster ball skills and inexperience. That (hopefully) should improve over time with more reps.
Don't throw late against Tariq Woolen.

Don't throw late against Tariq Woolen.

Don't throw late against Tariq Woolen.

Don't throw late against Tariq Woolen.

Don't throw late against Tariq Woolen.

Don't throw late against Tariq Woolen.

Don't throw late against Tariq Woolen. pic.twitter.com/CmOFU6yVCU

— Brett Kollmann (@BrettKollmann) October 4, 2022
---
PFF Grade Through Week 4: 49.0
Pitre hasn't graded out well because of his inability to finish plays, not because of his inability to make them. I'll bank on the former getting figured out sooner than someone teaching him the latter. Pitre already ranks fourth among all safeties in defensive stops this season (9). He'd have the top spot on that list if he didn't have an absurd 13 missed tackles already on 42 attempts. His 31% miss rate is the highest of any starting safety in the league. While Pitre may never be an elite tackler, his missed tackle rate wasn't close to as big of an issue at Baylor, where it was exactly halved a season ago.
Jalen Pitre can really do it all!!#WeAreTexans pic.twitter.com/Ji3GmQc0mK

— 713HoustonSports (@713HSP) September 29, 2022
---
NFL Draft
First-Round Risers
I came out with my first mock draft of the 2022 season earlier this week. There were numerous players in the first-round mock draft who weren't even in the PFF top 75 prior to the season. I wanted to dig a little deeper into each than the paragraph blurb allowed.
The 6-foot-2, 201-pound cornerback has an ideal physical skill set for a position that is as physically demanding as any in the NFL. And through five games this season, he's already finding the ball better than he ever did at Colorado before transferring. He has notched his first career interception and three other pass breakups after having only four pass breakups all last season. He'll have no problem adjusting to bigger receivers in the NFL. Expect him to end up a first-rounder with top-10 potential.
Nice PBU by Christian Gonzalez. Stays physical and turns to find the football. pic.twitter.com/fAhgAqSfMp

— Jake Schyvinck (@JakeNFLDraft) October 2, 2022
Fashanu may not move like the top-end tackles we saw in last year's draft, but despite the weak tackle class, a handful of teams are still going to pull the trigger in the first round. Fashanu has the on-field track record to hear his name called despite being only five starts into his career. He plays with tremendous balance for a larger tackle (6-foot-6, 321 pounds) with one hell of an anchor in pass protection. That's all a very good starting point for the NFL. He's allowed only six pressures on 176 pass-blocking snaps this season with no sacks or hits. 
Penn State LT Olumuyiwa Fashanu

– 6-6, 321 RS Sophomore
– Only 85 snaps prior to 2022
– 0 pressures on 49 pass-blocking vs. Purdue
– Length/under control/powerful frame/+ balance pic.twitter.com/3Ng1IEmK6O

— Mike Renner (@PFF_Mike) September 6, 2022
Verse might be a first-round lock at this point with a good chance of going higher than even Jermaine Johnson II did last year (26th). That's because, comparatively, Verse is the much more sudden athlete. And we're seeing it on the football field. He already has 12 pressures, including four sacks, through four games this season for an 89.8 pass-rushing grade. His level of explosiveness doesn't last long in the draft. He could easily end up a top-10 pick.
#FloridaState Edge Jared Verse #5 terrorized the LSU backfield all night. Officially had 2.0 sacks but his impact was greater than that.

The Albany transfer is quickly establishing himself as one of the most disruptive pass rushers in CFB. pic.twitter.com/L1kRBmkZwm

— Dane Brugler (@dpbrugler) September 5, 2022
Wilson has the kind of frame that every defensive line coach would love to try to mold. The 6-foot-6, 275'pound Wilson has a wingspan over 7-feet long to pair with insane 35 5/8-inch arms. That's an even freakier build than last year's No. 1 overall pick, Travon Walker. And now he's finally starting to put it together on the field consistently. After recording 37 pressures on 352 pass-rushing snaps last year, Wilson already has 27 pressures on 120 pass-rushing snaps in 2022. More impressive, though, are his 15 run stops through five games. That kind of frame and all-around game won't last long in April, even if he is on the older side for a top prospect.
Perfect illustration here from last Saturday why length matters. @TexasTechFB DE Tyree Wilson (@tyreewilson77) arms are almost 36", which will put him among longest DL in next April's NFL draft, and he consistently makes disruptive plays w/ his reach.#TheDraftStartsInMOBILE™️ https://t.co/62jcav55zU pic.twitter.com/bmHKHzaxiJ

— Jim Nagy (@JimNagy_SB) October 3, 2022
Watching Adebawore move at 280 pounds is a sight to behold. He looks like an undersized edge rusher yet is built like a defensive tackle. It all adds up to a prospect who has given opposing linemen nightmares. His versatility will be his calling card, as he's spent 129 snaps inside the tackles this season compared to 183 outside and still earned an 80.3 pass-rushing grade. 
After being pretty low on him initially (63.9/100, spot starter), I've come around on Northwestern EDGE Adetomiwa Adebawore. With more film under my belt, his athleticism has begun to pop more than I initially thought. This play vs Rutgers showcases his short area COD. pic.twitter.com/BldPijU17P

— Nick Price ???????? (@PriceCheck3) August 23, 2022
When I flipped on the Alabama tape for Coburn, I couldn't believe it was the same player I watched last season. At 6-foot-2 and 343 pounds, he consistently reset the line of scrimmage against one of the best-coached offensive lines in the country. And as a pass-rusher, he was out for blood. The pop behind his hands and ferocity with which he attacks blocks is a sight for sore eyes. He may not be an every-down kind of player, but we've seen from his 83.8 overall grade this season that he can be effective on the nose.
#99 Keondre Coburn (@KeondreCoburn99) is someone @TexasFootball staff has been telling us about for couple years now and he shows his explosive knock-back here vs. Alabama. Looking for 340+ pounder to keep making more disruptive plays like this.????????3/3#TheDraftStartsInMOBILE™️ pic.twitter.com/jCiEn12W0n

— Jim Nagy (@JimNagy_SB) September 14, 2022