One of the biggest holdouts of the 2023 NFL offseason has finally ended, with the San Francisco 49ers and edge defender Nick Bosa agreeing to terms on a massive five-year, $170 million extension with $122.5 million in guarantees, per ESPN's Adam Schefter.
Bosa becomes the highest-paid defensive player and non-quarterback in NFL history by a fairly comfortable margin, surpassing Aaron Donald's $31.67 million per year average on his raise from last offseason. Bosa is now the 15th-highest-paid player in the entire NFL, quarterbacks included, in terms of per-year average. And he's earned every last dollar.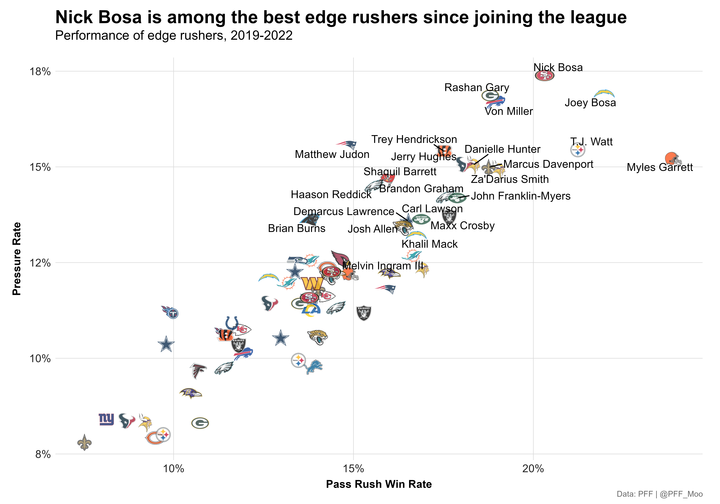 The first aspect of this deal that jumps out is Bosa was able to match the per-year average as a percent of the cap at signing that T.J. Watt got with the Steelers in 2021, with Watt's $28.001 million per year average on a $182.5 million cap worth about 15.3% of the salary cap in that year. What's really impressive here is that Bosa matched the percentage despite the fact that Watt's deal could be viewed as an outlier, with the 2021 salary cap dropping to $182.5 million as a result of the pandemic. Two offseasons later, with the salary cap back up to $224.8 million, Bosa's $34 million per year average is about 15.1% of the 2023 salary cap.
| | | | |
| --- | --- | --- | --- |
| Season | Overall Grade | Pass-Rush Grade | Run-Defense Grade |
| 2022 | 90.6 (3rd) | 90.6 | 80.1 |
| 2021 | 89.4 (7th) | 90.0 | 62.8 |
| 2019 | 89.8 (2nd) | 85.6 | 78.2 |
*Missed most of 2020 due to injury; Ranks among qualifying edge defenders
Based on the report, we would expect Bosa's new total guarantees to equal around $105 million, with the $122.5 million number also including his $17.859 million fifth-year option. In terms of total guarantees, Bosa's $122.5 million tops his brother Joey by over $20 million. If we look only at the presumed new total guarantees, Bosa's roughly $105 million is about $18 million more than his brother's previous record of $87.64 million. NFL agent Brian Ayrault negotiated both contracts for the brothers.
According to reporting from The Athletic's Joe Person, the Carolina Panthers are reportedly offering edge defender Brian Burns — taken 14 picks after Bosa in the 2019 NFL Draft — a deal worth around $23 million per year. It's understandable Burns chose to sit out from a few practices this week, as this reported offer is now $11 million per year below the top of the market.