The Seattle Seahawks have not made a decision on who will start Week 1 between Drew Lock and Geno Smith. 
Myles Gaskin could be the odd-man out of the Miami Dolphins' crowded running back room. 
The New England Patriots were fortunate to hold onto their wide receiver depth before Tyquan Thornton's collarbone injury.
---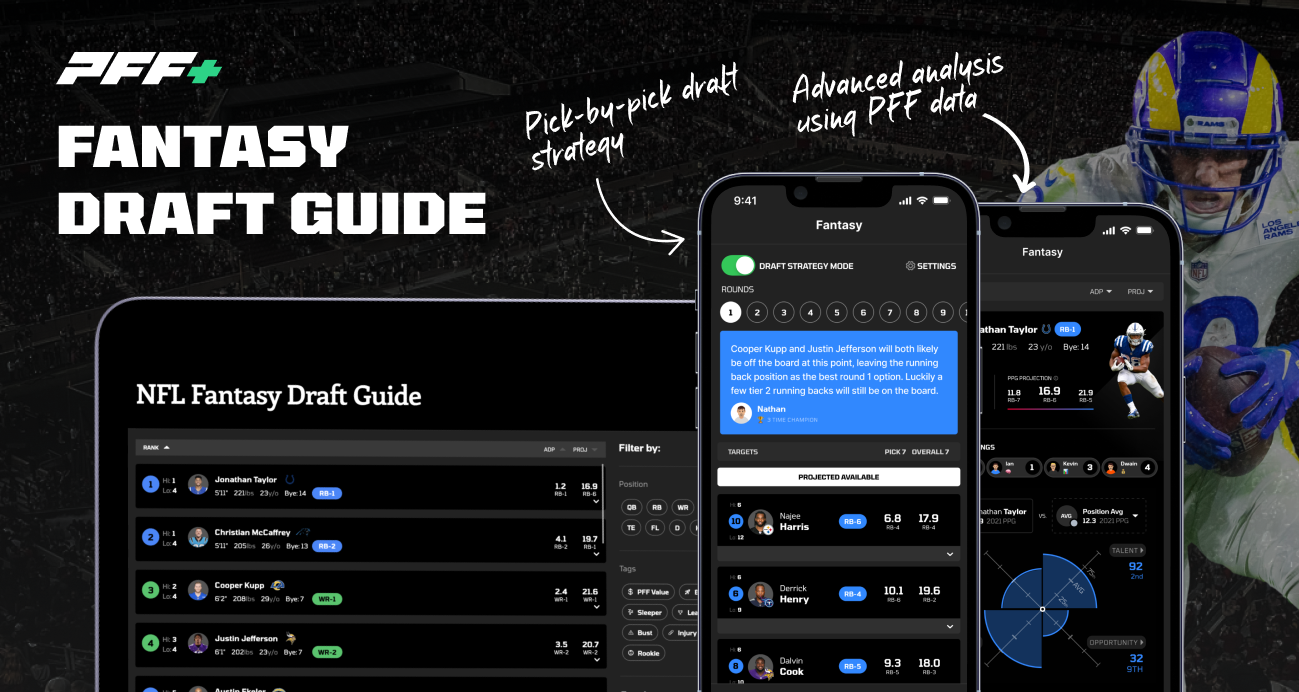 ---
QB BATTLE UNSETTLED IN SEATTLE
Just as Seattle Seahawks QB Drew Lock was set to start in Week 2 of the preseason, he tested positive for COVID and had to stay away from the team. Lock was back at practice Sunday and split first-team reps with Geno Smith.
The Carolina Panthers announced Monday that Baker Mayfield will be their starter, but the Seahawks truly have not made a decision on who will start Week 1 against Russell Wilson and the Denver Broncos, according to a team source. They also feel confident in whoever ends up taking the job, according to another team source.
Smith has played pretty well this preseason, earning an 89.9 PFF grade with five big-time throws and zero turnover-worthy plays in two starts. Lock went 11-of-15 for 102 yards with two touchdown passes in backup duty Week 1 of the preseason and earned a 63.3 grade. He didn't have any big time-throws or turnover-worthy plays.
Expect Lock to get a ton of work Friday in the Seahawks' final preseason game against the Cowboys. The Seahawks appear like they want to give him every possible chance to compete for the job, though missing last Thursday's game with COVID hurt his chances, according to a source.
Smith entered the summer as the favorite for the job, so Lock ultimately would need to excel Friday to start Week 1.
---
RUNNING BACK-NEEDY TEAMS SHOULD BE CALLING THE DOLPHINS
We knew the Miami Dolphins had a running back surplus this spring when they added Chase Edmonds, Sony Michel and Raheem Mostert to a group that already included Myles Gaskin and Salvon Ahmed. Coaches who come from Shanahan-style systems love to hold a variety of running backs, but five seems like too many even for new head coach and former San Francisco 49ers offensive coordinator Mike McDaniel.
So, who's the odd-man out? One AFC pro scout believes it could be Gaskin, the Dolphins' leading rusher in 2020 and 2021. Recent Dolphins 53-man roster projections, including this one by the Miami Herald's Daniel Oyefusi, have also left Gaskin off.
Gaskin then fumbled in Saturday's preseason game against the Raiders, and that same night ESPN's Marcel Louis-Jacques tweeted, "Don't sleep on Salvon Ahmed's chances of making the 53-man roster. Had a strong week of practice vs Tampa Bay and has looked sharp tonight."
Gaskin's best season came in 2020 when Chan Gailey was running his spread offense in Miami. Gaskin earned a 74.5 grade that season.

Ahmed has some history with McDaniel in San Francisco, where he entered the NFL as an undrafted free agent with the 49ers in 2020.

Michel comes from a similar system to the Dolphins' with the Los Angeles Rams, where he played under head coach Sean McVay. 

Mostert spent the last six seasons with the 49ers before being signed away by Miami. 

Edmonds signed a two-year, $12.1 million contract with the Dolphins this offseason and isn't going anywhere.
The Dolphins would save $2.54 million in salary cap space by trading or cutting Gaskin. Cutting or trading Michel or Ahmed would save them less than $1 million.
---
PATRIOTS WERE FORTUNATE TO HOLD ONTO WR DEPTH
The Patriots fielded calls from teams interested in trading for one of their wide receivers prior to Tyquan Thornton's collarbone injury suffered Friday night in Week 2 of the season, per source. Up to this point, New England has turned down any offers.
Jakobi Meyers ($3.986M), Kendrick Bourne ($5M) and DeVante Parker ($6.0625M) have the easiest contracts to move. Nelson Agholor, who has impressed the team in training camp after the Patriots made offseason tweaks to their offense, would come with a $9 million salary, which at least one source with a wide receiver-needy team said he would be hesitant to take on for a player who struggled last season.
It seems unlikely that New England would trade a wide receiver after Thornton's injury, which could keep him out a chunk of the season. Still, the Patriots have four starting-worthy wide receivers, two high-priced tight ends and solid running backs. There likely won't be enough snaps to go around for Meyers, Bourne, Parker and Agholor. They must decide between depth at the position (knowing they'll get Thornton back at some point) and salary cap space.
Bourne had an eventful week when he got ejected from last Tuesday's joint practice with the Carolina Panthers and sat out Friday's preseason game. It wasn't a "serious matter" according to one league source, and Bourne traveled to Las Vegas for joint practices with the Raiders.
Ex-New Orleans Saints wide receiver Lil'Jordan Humphrey has impressed this summer on offense and special teams in New England. The Patriots also possess solid depth at wide receiver in Kristian Wilkerson, who's currently missing time with a concussion suffered during joint practices with the Panthers, and Tre Nixon, a speedy slot option. Wilkerson would be popular as a waiver claim or a priority practice squad addition if he's ultimately cut. New England also has the ability to move Ty Montgomery around from running back to wide receiver.
---
WHO ARE THE WR-NEEDY TEAMS?
The Raiders, fronted by head coach and former Patriots offensive coordinator Josh McDaniels and general manager and former New England director of player personnel Dave Ziegler, should be keeping a close eye on wide receivers during those joint practices. They have an impressive top duo in Davante Adams and Hunter Renfrow. Then Mack Hollins, Keelan Cole and Tyron Johnson are the top options battling it out for the No. 3 spot.
The Panthers also have question marks at their third starting wide receiver spot. D.J. Moore and Robbie Anderson seem locked in as starters, but second-year pro Terrace Marshall has been plagued by injuries this summer. It was a lower leg injury earlier this summer, then a hamstring injury kept him out of Friday's preseason game against the Patriots.
Shi Smith, a 2021 sixth-round pick, has been impressing in practice. Rashard Higgins is also an option to start.