• Early 2023 NFL Draft QB Risers: Georgia's Stetson Bennett, once thought to be undraftable, is on NFL scouts' radars as he continues to shine.
• Bills Take Cautious Approach with WR Gabe Davis: Davis pushed to play on Monday Night Football in Week 2, but Buffalo held him out. There is optimism about his chances to play against the Miami Dolphins in Week 3.
• CB Kevin King Getting Healthy: Former Green Bay Packers cornerback Kevin King remains unsigned and is taking the season off to get healthy, sources told PFF's Doug Kyed.
Estimated Reading Time: 6 mins
---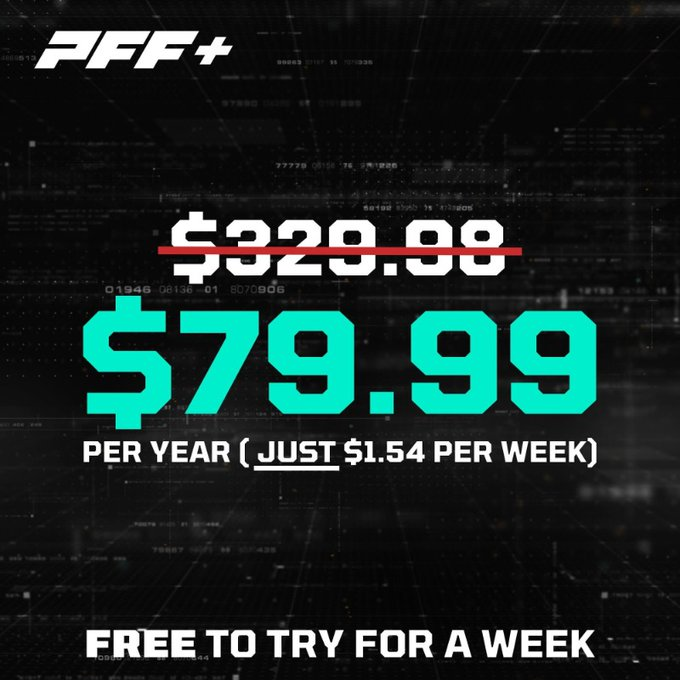 ---
EARLY RISERS AMONG 2023 NFL DRAFT QUARTERBACK PROSPECTS
It's still very early in the college football season, but let's check in on the 2023 quarterback prospects, which are expected to be much better than the 2022 class that saw just one signal-caller selected in the first round.
The most consistent quarterback prospects have still been Alabama's Bryce Young, Ohio State's C.J. Stroud and Kentucky's Will Levis, according to an AFC East scout. Young and Stroud are battling it out for the top spot in the draft, Levis also is expected to be a first-round pick, and Florida's Anthony Richardson is still an "X factor," according to a source, despite some recent struggles.
There's always been "intrigue" surrounding Richardson, per an AFC scout, and he had an impressive start to his 2022 campaign, completing 16-of-23 passes for 165 yards and picking up 104 yards with three rushing touchdowns on the ground in Week 1 while compiling an 80.0 PFF grade. But his performance has since fallen off with consecutive PFF grades of 40.6 and 42.2. He has five turnover-worthy plays, zero big-time throws and no touchdowns — either through the air or on the ground — in his past two games. He'll need an impressive finish to the season to regain some draft stock, but one source said he has the talent to be a first-round pick.
But what about some under-the-radar prospects?
Georgia quarterback Stetson Bennett has helped his draft stock through the Bulldogs' first three games of the season, two sources, including the AFC scout, told PFF. Bennett, who's undersized at 5-foot-11 and 190 pounds, wasn't viewed as draftable entering the 2022 college slate. Now he's on the rise after completing 65-of-89 passes for 952 yards with five touchdowns and zero interceptions to go along with seven carries for 48 yards with three touchdowns.
His 86.2 overall PFF grade ranks 20th among qualified FBS quarterbacks, and he's 33rd in passing grade and 11th in rushing grade. Bennett will be 25 years old in October as a sixth-year senior. He walked on to Georgia in 2017, transferred to Jones County Junior College in 2018, transferred back to Georgia in 2019 and became a full-time starter last season, leading the Bulldogs to a national championship. He earned an 84.0 PFF grade last season with a 78.5 passing grade and 78.9 rushing grade in 2021.
There are plenty of things working against Bennett, from his size to his age and pedigree, but he's at least on the radar of scouts after an impressive start to the 2022 season and has a chance to get drafted on Day 3 if he can finish strong. The AFC East scout noted he's seen significant improvement from Bennett this season.
"There's always going to be a fan club for winners who make good decisions," an NFC South scout said.
North Carolina State's Devin Leary (74.6 grade), Houston's Clayton Tune (70.6 grade) and BYU's Jaren Hall (72.9 grade) were also labeled as early risers this season by an AFC South scout. Purdue's Aidan O'Connell (74.7 grade) and Arkansas's KJ Jefferson (83.1 grade) have impressed the AFC scout, as well.
---
BUCCANEERS LOOKING AT OFFENSIVE LINE HELP
The Tampa Bay Buccaneers' offensive line has been ravaged by injuries, and we're only two weeks into the season. Guard Aaron Stinnie is out for the season, center Ryan Jensen is out for most of the season at the very least, starting left tackle Donovan Smith missed Week 2 with an elbow injury, and his fill-in, Josh Wells, didn't return Sunday after injuring his calf. Wells will likely miss Sunday's game against the Green Bay Packers, though the ailment isn't expected to keep him out for a long period of time, according to a source.
The Bucs turned to Brandon Walton, who split his preseason reps between tackle and guard, to protect Tom Brady's blindside in Week 2.
The Bucs worked out offensive tackles Christian DiLauro, Jean Delance, Brandon Murphy and Ben Petrula on Tuesday. They also have Fred Johnson on the 53-man roster and Dylan Cook on their practice squad. Tampa Bay is expected to add offensive tackle depth, though it likely won't be one of the players they worked out, sources said.
It should not come as a massive surprise that quarterback Brady has been less productive and efficient, earning a 71.7 PFF grade, so far this season due to the offensive line issues. The veteran's top wide receivers, Mike Evans, Chris Godwin, Julio Jones and Russell Gage, have dealt with injuries early this season, as well.
After Evans was ejected from Week 2 for getting into a scrap with New Orleans Saints cornerback Marshon Lattimore, Brady's receivers were Gage, Breshad Perriman, Scotty Miller, Jaelon Darden and Kaylon Geiger. Evans has been suspended for Week 3 but is appealing the discipline. The Bucs are expected to add veteran slot wide receiver Cole Beasley to their practice squad Wednesday.
---
Buffalo Bills wide receiver Gabe Davis, who suffered a low-ankle sprain Saturday, pushed to play Monday night against the Tennessee Titans during a morning workout, according to a source, but the team exercised caution and held him out. That was the smart move since Buffalo still beat the Titans, 41-7, while quarterback Josh Allen went 26-of-38 for 317 yards with four touchdowns and no interceptions. Davis suffered the injury leaping for a pass in practice and came down awkwardly on his foot.
Davis will again push hard to play Week 3, according to a source, but ultimately it's the Bills' decision whether to make him active. Bills head coach Sean McDermott said Tuesday that Davis is "improving." It is a relatively short week with a 1 p.m. game against the Miami Dolphins next on the schedule. It will be more important to have Davis on the field in January than in September, which is one of the reasons he did not play Monday night, but there is current optimism around the injury.
---
KEVIN KING TAKING TIME TO GET HEALTHY
Former Green Bay Packers cornerback Kevin King is one of the youngest, most experienced players still available in free agency at 27 years old with 2,689 career snaps under his belt, which begs the question of why he's still unsigned.
The answer: King turned down contract offers with the plan to take the season off to get healthy, according to sources. King has dealt with hip, knee, back, shoulder, groin, hamstring and quadriceps injuries over the course of his career. Last season alone, he dealt with a concussion, COVID-19 and hip, knee and shoulder injuries. There's always a chance King could change his mind if he's feeling better and the right opportunity presents itself — there are plenty of cornerback-needy teams out there, and King earned a 71.0 PFF grade last season — but the current plan is for him to rest this season and return in 2023. King is currently committed to his plan, according to sources.