At its heart, PFF is a player evaluation website, and the most interesting players to evaluate every year are rookies. These first-year players represent the weight of hope for their respective franchises and, depending on the team, can be shouldering the entire weight of that hope.
[Editor's Note: PFF's advanced statistics and player grades are powered by AWS machine learning capabilities.]
This season, more than most, the performance of these rookies is interesting to watch because none played preseason football to get their feet wet. Each has had to learn on the fly; some have seamlessly translated their game to the NFL level while others have floundered.
So, let's take a look at some rookie studs and duds in Week 5.
STUDS
Week 5 overall grade: 91.0
This one was pretty obvious, right? Steelers rookie receiver Chase Claypool was a one-man touchdown machine against the Philadelphia Eagles, scoring four touchdowns — three receiving and one rushing — and having a fifth nullified by a dubious pass interference call. Claypool's blend of size and speed was already formidable, but after just a few weeks with the Steelers, he has a clear array of nuanced route-running moves and releases off the line that make him a nightmare for defenses to cover.
That the Steelers then move him into the slot to give him a free release and matchups against linebackers just borders on unfair. For this game, Claypool averaged 5 yards every time he ran a pass pattern and was arguably the difference in the battle of Pennsylvania.
Week 5 overall grade: 91.0
Chase Claypool wasn't the only rookie receiver making noise this week, with CeeDee Lamb doing some impressive work for Dallas in a win over the New York Giants. Lamb led Dallas in targets (11), catches (eight), yards (124) and receiving first downs (six), doubling the next best mark in more than one of those categories.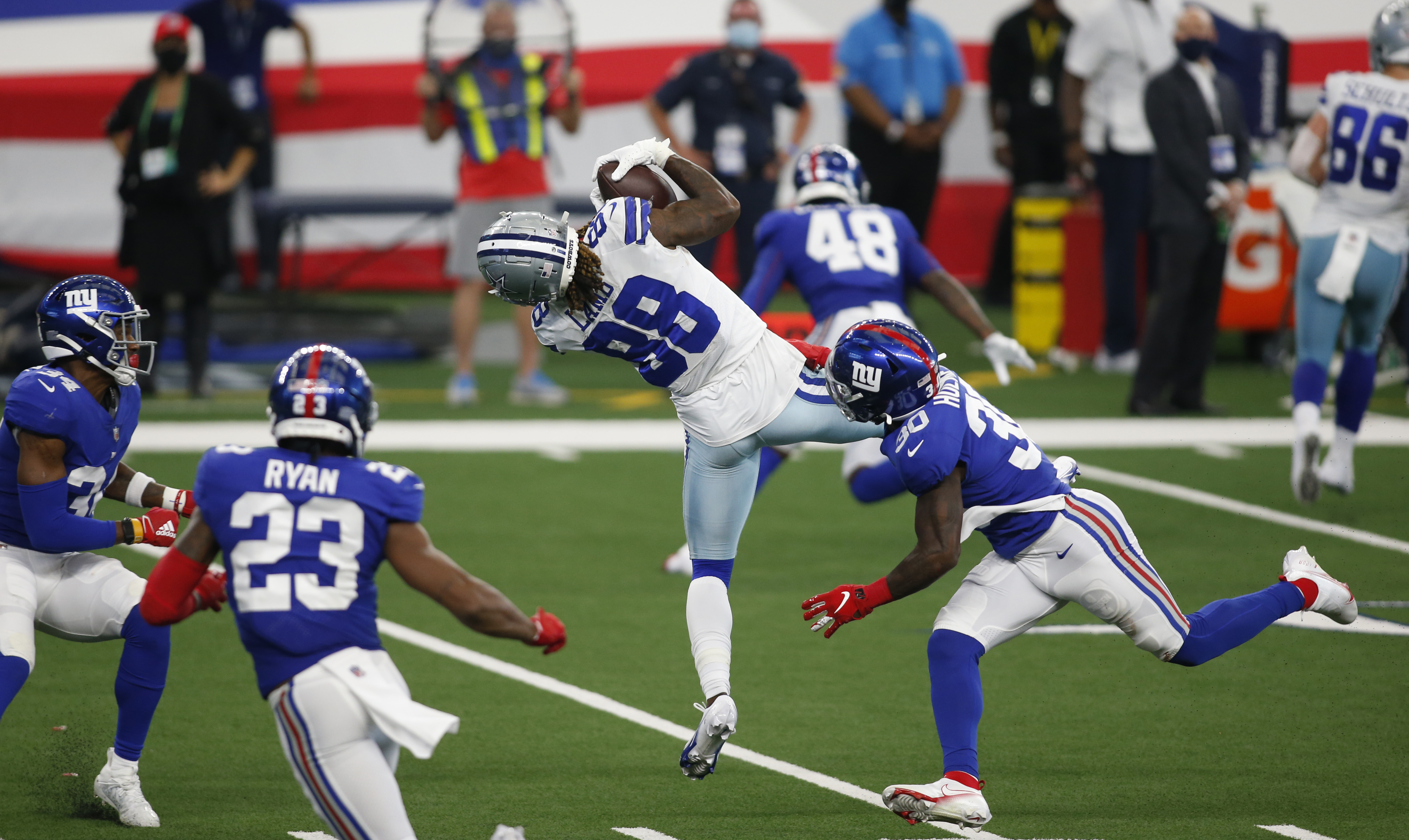 He also showed some impressive toughness, making a leaping grab in traffic up the seam before taking a hit from the Giants' secondary. Losing Dak Prescott is a horrible blow for the Cowboys' offense, but Andy Dalton represents a capable starting option in his stead and should be able to keep passes flowing in Lamb's direction over the rest of his rookie year.
Week 5 overall grade: 90.0
The only player on the Los Angeles defense this week with a better grade than sixth-round rookie Jordan Fuller was Aaron Donald. That's a pretty solid spot to be in. Fuller had a pair of pass breakups against the Washington Football Team, his first two of the season, and allowed only one catch and 8 yards on three targets into his primary coverage.
Fuller went the entire game without a negatively graded play and ended up with the best PFF grade of his rookie season, which was already more than solid.
Week 5 overall grade: 88.7
With the way Patrick Queen had been playing prior to Week 5 — involved in everything, good or bad — it felt like a dominant outing was just around the corner, and that's exactly what happened against Cincinnati. Queen was again all over the field, but this time, almost all of the plays broke his way.
He tied for the team lead with four defensive stops, had a pair of pressures on the blitz and lucked into his old college teammate Joe Burrow trying to escape the pocket right into a chasing Queen, who sacked him and forced the fumble. He was then rewarded even further with a defensive touchdown on a scoop-and-score.
Week 5 overall grade: 79.3
Coming off the worst PFF grade of his young season, Antoine Winfield Jr. bounced back with his best mark of the year against Chicago on Thursday night. He had a pass breakup in coverage, allowed just 8 yards on plays that he was in primary coverage for and avoided the negative plays that sunk his grade the week before.
Winfield looks like a true impact player for the Bucs' defense, flashing rare vision and the ability to trust what he sees to fly to the football and make plays. He has one ugly game so far this season but has now put together four separate performances with a PFF grade of 65.0 or higher.
DUDS
Week 5 overall grade: 42.6
Joe Burrow had been playing with fire for a while in terms of performing under pressure, and he was well and truly burned by the Baltimore Ravens this week. There is no doubt Burrow has a tough situation to work from this season with Cincinnati having one of the league's worst offensive lines, but the Ravens were also able to completely shatter the Bengals' protections and confuse Burrow when they did, leaving him few safe places to go with the football.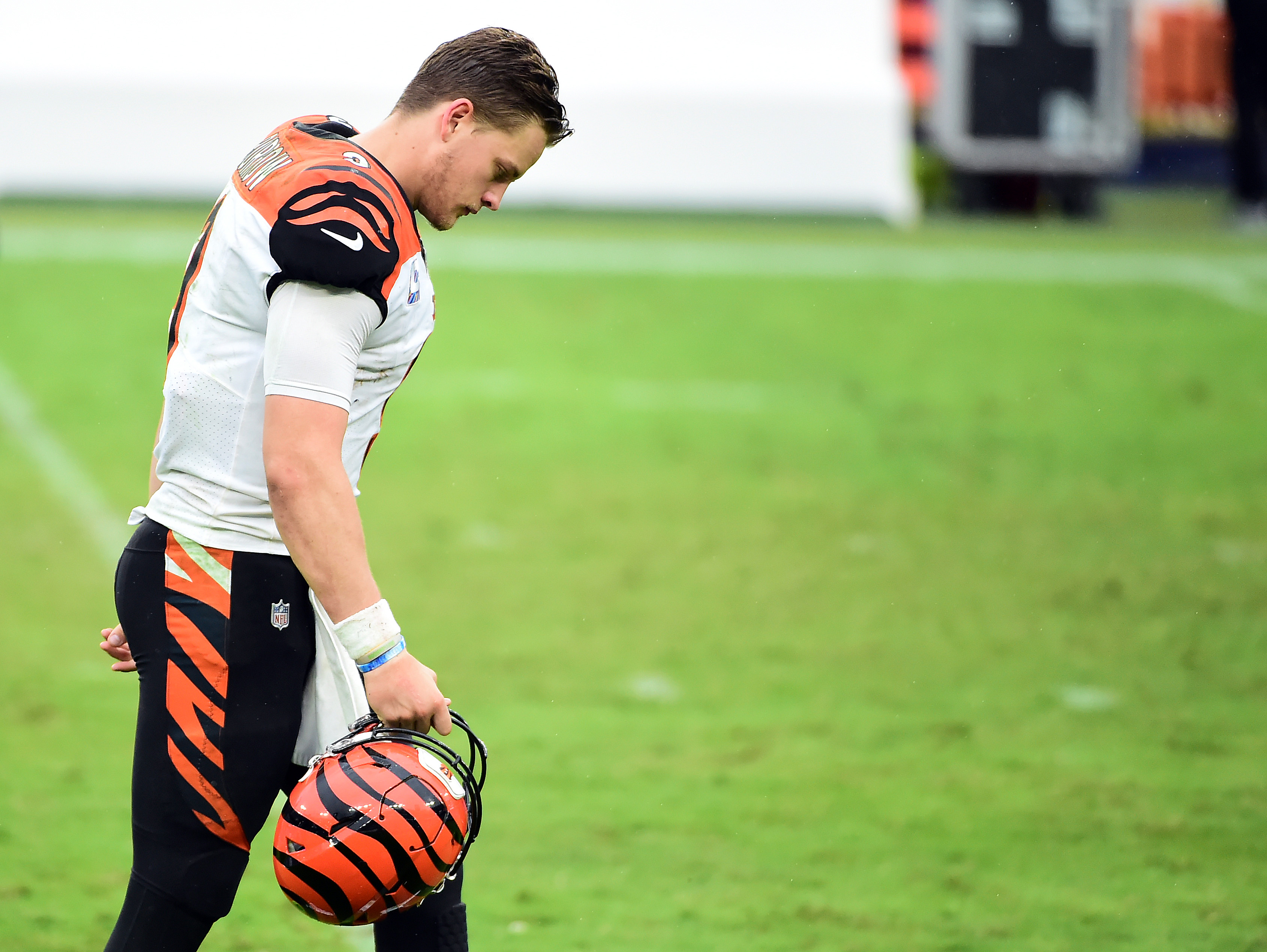 Burrow was pressured on more than 50% of his dropbacks this week and averaged just 1.6 yards per attempt in those situations. His attempt to escape the pocket and ensuing fumble was a particular low point. For a player who has made the studs list in this article on more than one occasion already, this was a low point of his rookie year.
Week 5 overall grade: 32.7
Cesar Ruiz played well in relief of injured starters on the Saints' offensive line coming into Monday night, but he had yet to face a player quite like Linval Joseph. The Chargers nose tackle was a problem for Ruiz all night long, beating him for a really decisive pressure at one point and generally making his night pretty miserable.
Ruiz surrendered three total pressures in the game, and his run blocking wasn't much better, with Joseph again being the primary source of his issues. Ruiz will certainly have better days at the office in his rookie season, and the fact that he has performed so well before this game suggests that this might have been a task he was surprised and overwhelmed by on this occasion.
Week 5 overall grade: 26.9
Giants linebacker Tae Crowder struggled against a Dallas offense that was able to put up a lot of points and big plays, and his woes were pretty much across the board, grading out under 50.0 in every facet of play we track.
Crowder missed a tackle, gave up 67 yards and a passer rating of over 100.0 when targeted in coverage and was routinely blocked out of the play in the run game. His worst play in that regard came when he was crushed at the second level by tackle Brandon Knight, but his day was a series of small defeats at the second level once Cowboys linemen got their hands on him.
Week 5 overall grade: 37.8
An undrafted rookie corner drawing an assignment to cover DeAndre Hopkins — arguably the best receiver in football right now — was always likely to result in an appearance on the duds list this week. To Jackson's credit, he was often in good position when the ball was put in the air. Unfortunately, he was still frequently dominated by Hopkins at the catch point.
He surrendered 118 yards and a touchdown to Hopkins alone but also gave up catches to four other receivers. This was a no-win situation for a young corner to be thrown into, and it had predictable results.
Week 5 overall grade: 44.4
Cameron Dantzler and the rest of the Vikings' defense had a pretty good start to the game against Seattle on Sunday night, but the wheels fell off late. And Dantzler's lapses in key moments were the difference in the game. He was going up against D.K. Metcalf for much of the game, which is a tough assignment for virtually any corner, but Dantzler in particular gave up around 50 pounds in weight in that matchup.
The rookie corner surrendered a touchdown and was also badly beaten on a key fourth-down play to extend a vital drive and keep Seattle's hopes alive. Overall, he allowed 91 yards and a 119.9 passer rating in a game that showed the narrow margins in playing cornerback.