After months of waiting, we have finally seen the light. The 2021 rookie quarterbacks have played real, live NFL football. It may just be preseason, but we can get a small glimpse into who they are from just a handful of dropbacks. Here's what we liked and didn't like about all 12 rookies who threw a pass in Week 1 of the NFL preseason.
Subscribe to
The First Round Picks
What We Liked: Poise and confidence
We expect these traits from Lawrence, and they showed up in his first live NFL action. The results weren't great, but he looked like the same player who has all the intangibles to be a future All-Pro.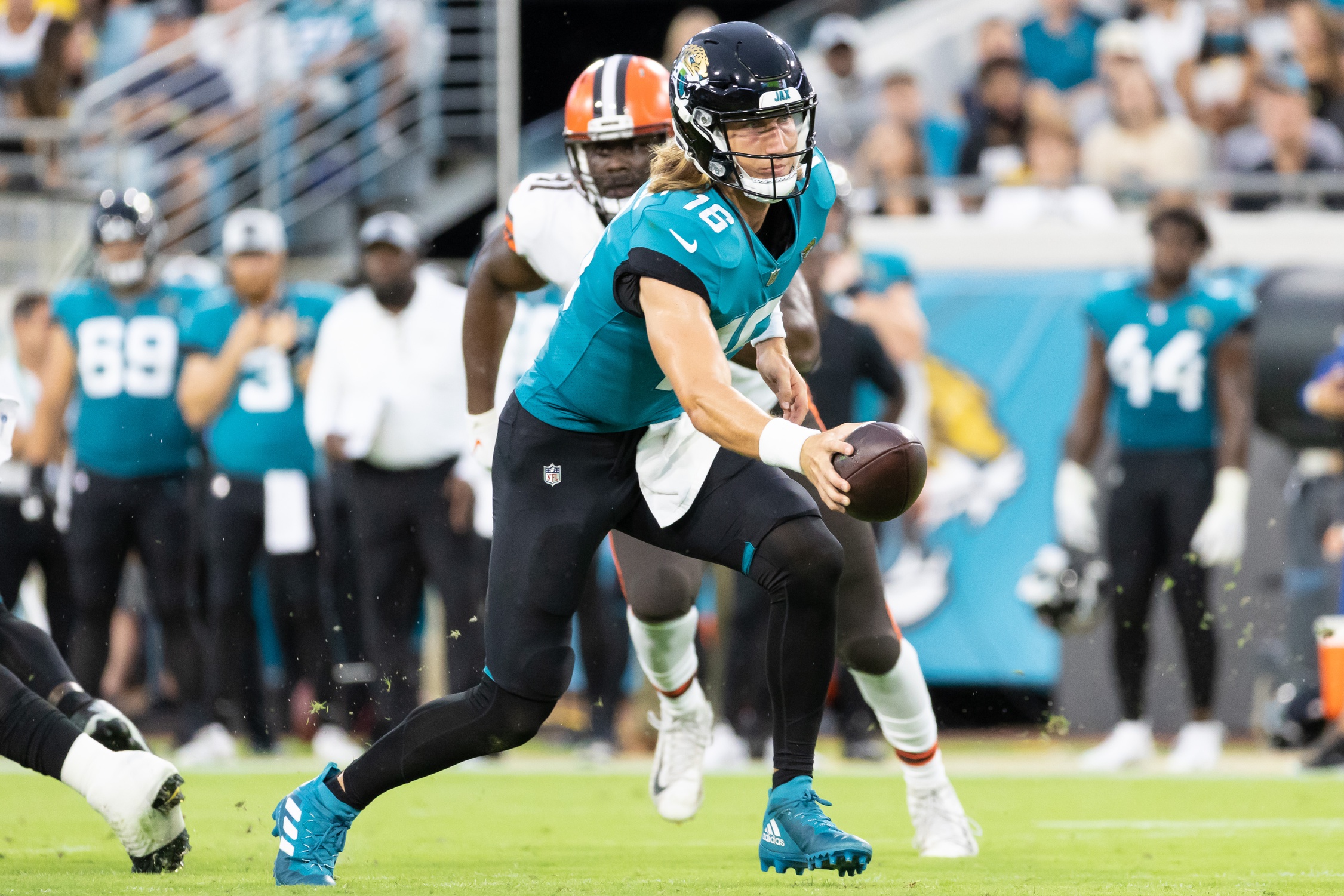 What We Didn't Like: Scheme
Just looking at the difference between what the New England Patriots had Mac Jones run and the Jaguars had Lawrence run, it's hard to even compare them. Lawrence was tasked with deeper developing plays and while, yes, you would have liked his accuracy to be a tick better, it was a tough set of concepts and plays for a first NFL outing. He seemed to make the right decisions, bar missing a quick in route early in the contest, so it's a step in the right direction.
What We Liked: Anticipation
Last time we saw Wilson, he was playing in the world's greatest pockets and could do whatever he wanted timing-wise. That won't be the case in the NFL, so him showing off really nice anticipation to go along with good accuracy bodes well for the future. His average time to throw was 2.4 seconds in Week 1 of the preseason, so he kept the offense moving. He didn't force any balls and took some short gains but put the ball on his receivers. 
What We Didn't Like: No difficult throws
One of Wilson's issues last year at BYU was an unwillingness to attempt difficult passes as part of the framework of the route concept, and he didn't have to do any of that in his preseason debut. So, we'll have to wait another week at least to see if he'll pull the trigger down the field, especially over the middle. 
What We Liked: Clean-pocket accuracy
Lance came out with some accuracy issues from his time at North Dakota State, but in his first outing as an NFL quarterback, he threw the ball extremely well. He was accurate when able to set himself in the pocket without pressure. However, one ball he probably wants back was late in the second quarter when he made the correct decision to read through his frontside route concept and reset to the backside, only to miss high to an open receiver. 
What We Didn't Like: Decision-making
The 49ers' offensive line let Lance down a bit. He was under pressure quite often, so it's hard to really gauge his ability in those scenarios. Still, we would have liked to see a better decision against a Cover 2 corner and a better decision against a Cover 0 blitz early in the game. He also could have better manipulated a hook defender, who almost crossed underneath his receiver and made an interception,  in the third quarter. That explains his 49.0 passing grade.
What We Liked: Accuracy
The good news is that, just like at Ohio State, Fields can put the ball wherever he wants. It was frequently on the money, whether he was in the pocket or on the run. We would have liked to see him attempt some "hole shots" against the Dolphins' Cover 2 defense that fooled him a couple of times and forced him to hold on to the ball, but considering how early it is in his development, it shouldn't be anything to worry about.
What We Didn't Like: Feet
Fields' feet were a little off in the pocket, which may have messed up the timing of some plays. He sometimes bounced around instead of hitching up and keeping the integrity of the route concept intact. The nice aspect is that his athletic ability allows him to make up for those issues right now, and he regularly made plays after escaping the pocket.
What We Liked: Command of the offense
The former Alabama signal-caller made the right decisions time after time. He threw the ball pretty accurately and didn't have a single turnover-worthy play on 22 dropbacks. He produced the highest passing grade by a rookie quarterback in Week 1 (82.0). 
What We Didn't Like: Lack of pressure
Jones' average time to throw was a low 2.56 seconds, and that was due to the scheme and concepts being called for him. It allowed him to throw the ball and complete passes, but we didn't see a lot of deeper concepts where he had to sit around in the pocket and feel real pressure. He completed 13 balls for only 4.6 yards per attempt.
Later Round Picks
What We Liked: Decision-making/Escapability
The Broncos did a solid job in coverage, and there's a chance that "Aggie" Mond might have decided he was still going to throw into that coverage. This new and improved version of Mond took what the defense gave him for the most part. He missed an open running back on a key fourth-and-goal but otherwise made the right decisions — including in collapsing pockets. He was able to maneuver and find his check-down targets when he felt pressure. He also escaped for a few yards with his legs a couple of times.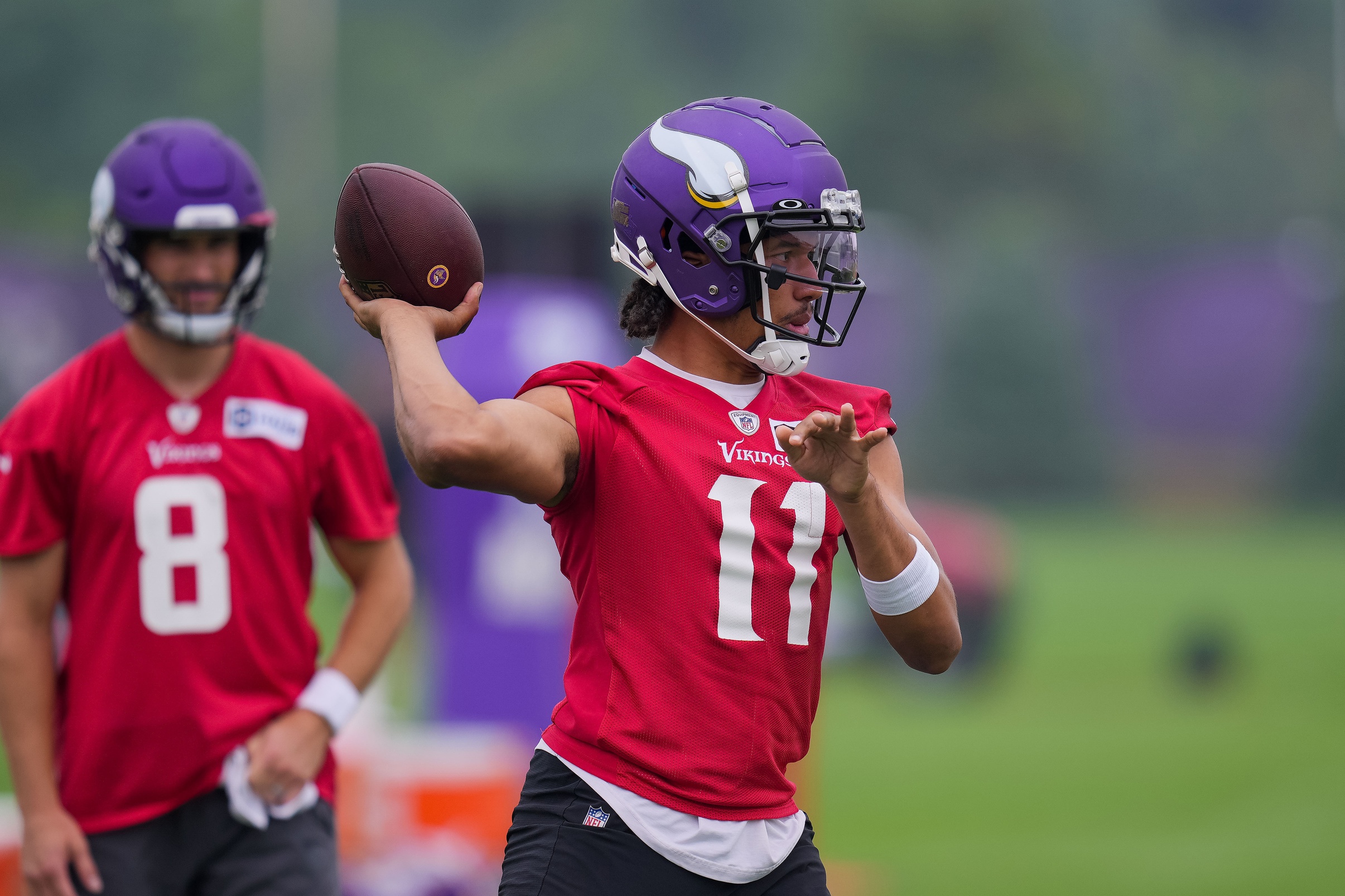 What We Didn't Like: The final output
The numbers — a 53.5 passing grade and just 3.3 yards per attempt — probably don't do Mond's performance justice. It wasn't great, but it also wasn't horrible — and that's not bad news for Vikings fans. Still, football teams don't win a lot of games when their quarterback completes only six of 16 passes. 
What We Liked: Everything?
In what was probably the most surprising performance of Week 1, Mills was really good. He threw the ball on time to the right receivers and took some chances on more difficult concepts. The ball was accurate, especially in tight situations. His interception came on a poor play by a wide receiver who brought his defensive back into the play on a bad route. 
What We Didn't Like: Pressure situations
This is nitpicking a bit because Mills was very good, but the Texans' offensive line shockingly played well in front of the rookie quarterback. So, we would have liked to have seen how Mills dealt with pressure. With that said, because of the timing he showed off, he was also responsible for not having to deal with that pressure. 
What We Liked: Deep shots
Ehlinger was one of the few rookie quarterbacks to take some downfield shots in his debut, and it paid off. He went 2-for-3 for 72 yards on throws beyond 20 yards and just barely missed his running back on a nice wheel route for a touchdown on the only incompletion. You love to see quarterbacks take shots when they aren't directly schemed for them on throwbacks or double-moves. Ehlinger read the defense and took chances.
What We Didn't Like: Not much
Ehlinger had a good command of the offense. At one point, he sniffed out a nickel blitz and set his protection accordingly. He didn't force any throws from the pocket and threw the ball accurately. He also scrambled when he had to and picked up some nice yardage. Ehlinger did throw behind a moving receiver while on the run, but besides that, it was a nice debut.
What We Liked: Decisiveness
One of Book's biggest issues at Notre Dame was his complete aversion to playing with any kind of timing within the offense. But he looked much better in his NFL debut with New Orleans. Book is just accurate enough to get completions when he throws the ball on time and to the right player, but he won't be able to get away with holding onto the ball for three-plus seconds on every dropback in the NFL.
What We Didn't Like: Holding on to the football
While there were some plays that showed off his improved decisiveness, the old Book was still present. He probably won't be able to buy the kind of time he did in college behind an elite Notre Dame offensive line, and he's not quite a great athlete, either. Book took a bad sack when he tried to scramble around in the backfield for too long. He was better but still not great. 
What We Liked: Pocket movement
The immobile Trask actually moved quite well in the pocket, getting around rushers and making plays. His lone touchdown throw was on a scramble, and he created more in the pocket than we are used to seeing from him.
What We Didn't Like: Accuracy over the middle
Trask threw some really nice balls down the sideline, including a good hole shot against Cover 2, but everything else felt a bit off. Some 43% of his passes were deemed uncatchable, and if that trend continues, it's not going to be possible for Trask to survive in the NFL. He doesn't have the athleticism to mitigate those issues.   
What We Liked: Rushing ability
You won't mistake Franks for Lamar Jackson any time soon, but the rookie was able to escape from bad pockets and make plays with his legs. He currently sits fourth in the NFL in preseason rushing yards. He needed to gain some yards on the ground because throwing from the pocket was more of a chore for him. 
What We Didn't Like: Accuracy
There was a drop on Franks' best throw of the evening. Although you could make a small case that he put the ball a little too out in front of his receiver, everything else felt off. Coming from the bombs-away Arkansas offense to a more under-center, bootleg and dropback passing offense under Arthur Smith is going to be a challenge. Franks is a work in progress.
What We Liked: Progression
Buechele got better as his one quarter of action went on. His accuracy increased, and he felt a little more comfortable in the pocket. He ended up with some nice throws against the 49ers' blitzes, but his overall accuracy wasn't great.
What We Didn't Like: Footwork
It felt as though Buechele was second-guessing himself in the pocket often with how jumpy his footwork was. That led to numerous inaccurate throws. Some of it had to do with the Kansas City backup offensive line not giving him a lot of help.