The 2021 Senior Bowl is now in session, so what better time to take a look back at the 2020 event to see who performed well and if any standout performances offered us a glimpse into the future for the incoming rookies.
We at PFF have charted the one-on-one matchups between offensive and defensive linemen, receivers and defensive backs and running backs and linebackers. This article highlights some past standouts from this data and looks at how those appearances — sample size aside — translated to the NFL. 
Quarterbacks
Five of the six quarterbacks from last year's Senior Bowl class showed out during their one-on-one period, but one signal-caller stood out above the rest — Oregon's Justin Herbert. Herbert's adjusted completion rate was a group-best 81.1%, beating second-place Jordan Love (72.7%) by over eight percentage points. And if the throws he put on tape were in-game throws, he would have graded out to 82.5, better than second-place Anthony Gordon's 78.4. Herbert went on to have one of the best rookie quarterback seasons of all time and looks sure to win the NFL's Rookie of the Year Award. 
This was the last competitive action we would see from eventual first-round pick Jordan Love. He didn't play a single snap in the regular season or postseason, and the world hasn't seen the Green Bay Packers project throw since. 
The only other quarterback who ended up playing significant snaps in the NFL this past season was Jalen Hurts. And the new Philadelphia Eagles quarterback actually came away with the highest percentage of accurate passes thrown in these Senior Bowl sessions, at 87% (Love was at 86% while Herbert was 84%). While Herbert finished the NFL season with the 14th-highest percentage of throws charted as accurate anywhere on the field, Hurts languished in 39th place among quarterbacks who attempted at least 100 passes.
Receivers vs. Defensive backs
The only receiver to win all of his one-on-one reps was Texas' Collin Johnson, but we also credited him with two dropped passes. Fortunately for Johnson, drops were not a recurrence for him with the Jacksonville Jaguars in 2020, where he only dropped one of his 20 catchable targets in what was a successful rookie season.
Rookie sensation Chase Claypool certainly looked the part in Mobile, winning 81% of his reps without any drops. The now-Steelers receiver finished the 2020 season with a receiving grade of 76.1, the fourth-highest mark among rookie receivers in 2020 and first among 2020 Senior Bowl attendees. 
On the opposite end of the spectrum was Florida product Tyrie Cleveland, who finished last in the group with a win rate of only 44%. The Denver Broncos ultimately drafted Cleveland with the 252nd overall pick of the 2020 NFL Draft, but he totaled just 72 snaps the whole season, mostly coming on run plays.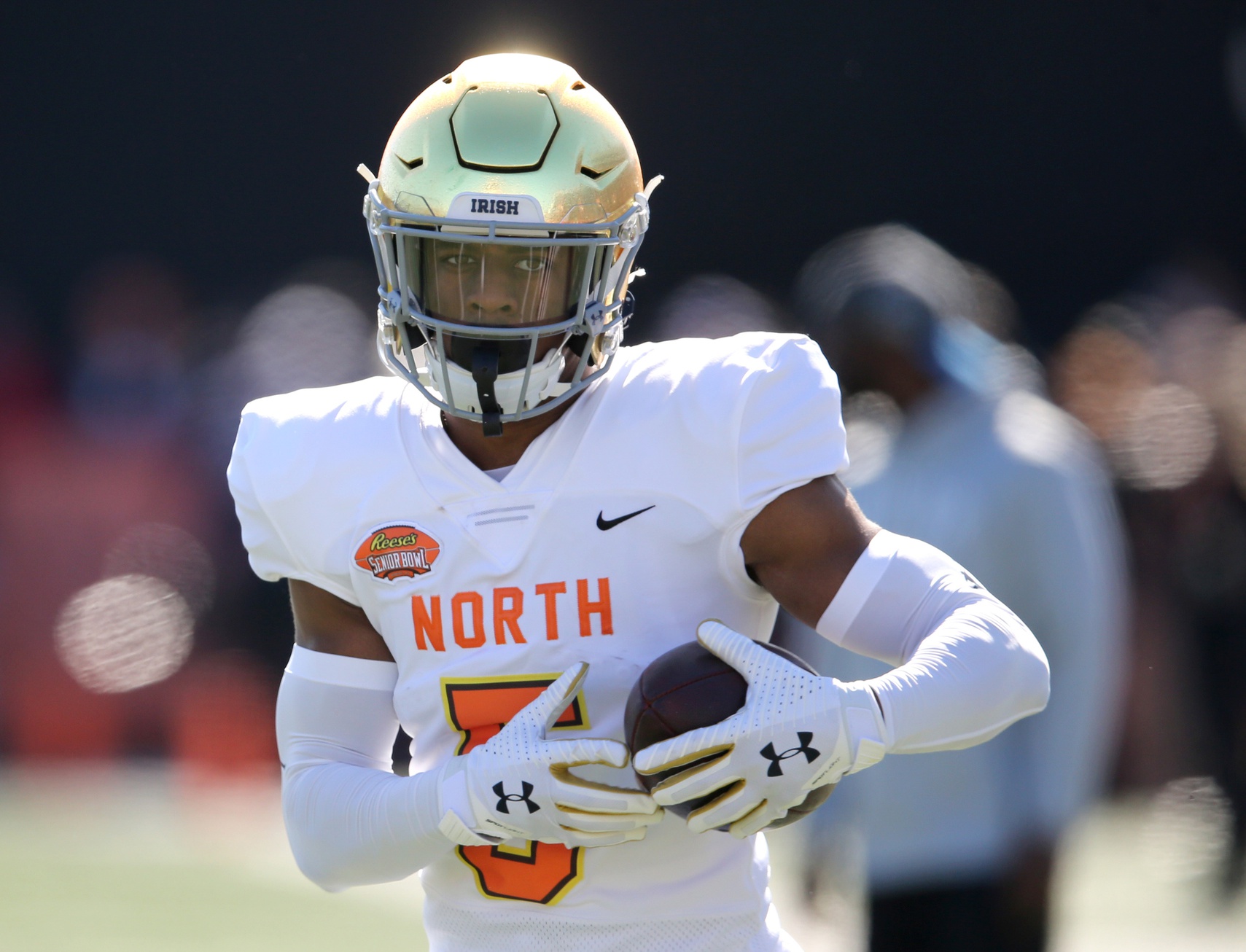 On the defensive side, only three players recorded a win percentage above 50% against receivers: Southern Illinois' Jeremy Chinn and Notre Dame's Troy Pride Jr. at 50% and Clemson's K'Von Wallace at 75%.
Pride was the only one who actually played cornerback, and it ended up being a wash of a rookie campaign for him in Carolina. He allowed 69.2% of passes to be caught in his coverage, with 19 of those 27 catches going for first downs. Making matters slightly worse, he only forced two incompletions on 39 total targets.
Chinn had an up-and-down rookie campaign at safety for the Panthers but graded above 75.0 in four games. He stuffed the stat sheet throughout the year, recording 14 total pressures, 89 solo tackles and 30 defensive stops, so the future looks bright there. Meanwhile, Wallace only played 203 snaps for the reeling Philadelphia Eagles.
Michael Ojemudia won only 11% of his reps in the one-on-ones. His luck didn't change all that much at the pro level either,  as he was forced into the Denver Broncos' starting lineup and gave up 50 catches on 78 targets en route to a 49.9 PFF coverage grade for the year.
Tight Ends and Running Backs vs. Linebackers
Passing one-on-ones are always a tough ask for the defensive player, and it's going to be even worse for the linebacking crew to stick with the athletes at tight end and running back.
Only one player from this group lost more than half of his reps in these periods, and that tight end was Jared Pinkney, who went undrafted before signing with the Atlanta Falcons. He didn't play a single snap in 2020 and is now on a futures contract with the Tennessee Titans.
Harrison Bryant was one of four players to win every rep he took and then ended up playing quite a bit for the Cleveland Browns as a rookie, catching 24 of his 27 catchable targets, though he fumbled twice and failed to make a contested catch. Bryant also won all four pass-protection snaps he took in Mobile.
Josiah Deguara was also one of the 100-percenters, but he ended up only playing a handful of snaps for the Green Bay Packers in two games before an ACL injury derailed the rest of his season. Deguara had trouble with speed rushes at the Senior Bowl practices, losing both reps when the rushers went outside, but he did win every other rep.
Running back Darius Anderson won all of his reps but didn't see the field this season. Joshua Kelley won 83% of his reps and went on to record a 73.2 receiving grade in 2020, the fourth-highest among rookie running backs and the highest among the group of Senior Bowl participants. Kelley was targeted 24 times and came down with 24 catches.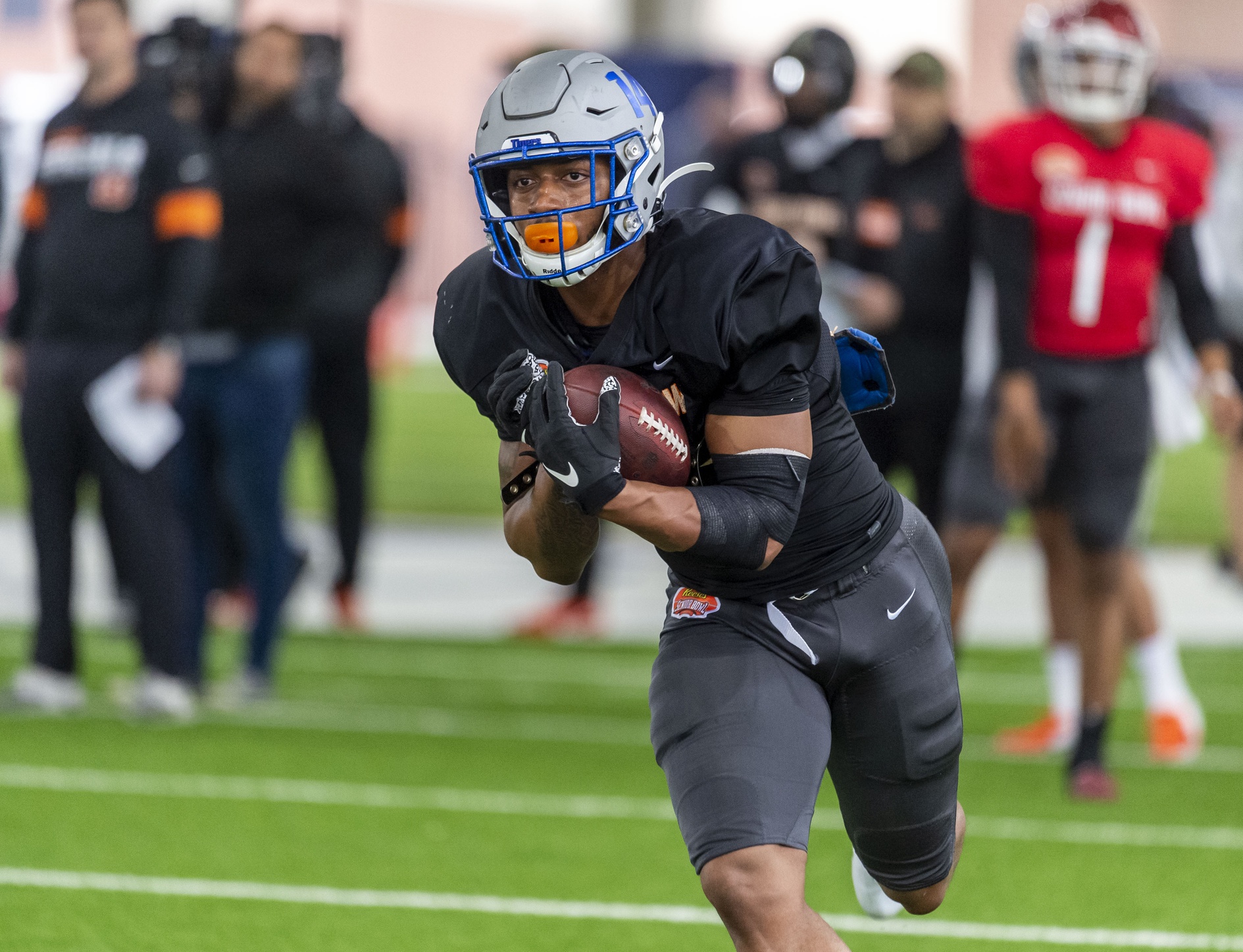 Do-it-all running back Antonio Gibson won 86% of his reps and then followed that up with a 36-catch season for the Washington Football Team, earning an 80.9 PFF grade in the process.  
It was not very pretty for the linebackers and safeties. Eleven players didn't win a rep, though a player like Terrell Lewis was never a coverage player to begin with.
Akeem Davis-Gaither only won 30% of his reps but had two forced incompletions and then ended up playing a lot for the Cincinnati Bengals in his rookie season. The Appalachian State product notched three forced incompletions on 23 targets as a rookie.
Kyle Dugger impressed in man-to-man coverage in Mobile, winning 40% of his matchups, the fifth-highest rate among the group of safeties and linebackers. He also forced two incompletions before playing a lot of snaps for the New England Patriots as a hybrid safety-linebacker type. He finished the season with a respectable 64.1 PFF grade and tallied 22 total defensive stops. 
Offensive Line vs. Defensive Line
Defensive players usually win the trench-battle one-on-ones, so the offensive linemen who hold their own usually garner their fair share of recognition.
Lloyd Cushenberry III, a center by trade, won 70% of his reps there and then won both of his reps at right guard, as well. He would go on to start for the Broncos at center, although he did allow 34 total pressures on the season.
Cushenberry's former teammate Damien Lewis also stood out, winning 67% of his snaps at right guard and then his lone snap at center. Lewis would go on to start for the Seattle Seahawks at both guard and center and put together a solid 81.5 run-blocking grade, but his work in pass protection still needs some seasoning. The LSU product's 48.4 pass-blocking grade ranked 18th among 22 qualifying first-year linemen.
Among the rookies who played at least 100 snaps in pass protection in 2020 and participated in the 2020 Senior Bowl, the highest-graded pass protector was the Patriots' Justin Herron (60.0), who played 194 pass-blocking snaps for New England. He played guard at the Senior Bowl but played both tackle spots for the Patriots. He won 54% of his reps in Mobile.
Four defensive players won at least 70% of their reps: Zack Baun, DaVon Hamilton, Jonathan Greenard and Anfernee Jennings. That foursome produced mixed results at the next level.
Baun played more snaps as an off-ball linebacker for the Saints but didn't see the field that much.
Hamilton only created 12 total pressures in the middle of the Jaguars' defense, and his 7.5% pass-rush win percentage ranked fifth among the 13 qualifying first-year players at the position.
Greenard's win rate was better (12.5%), but he only created six total pressures for the Houston Texans. Meanwhile, Jennings played a lot of snaps in a lot of different spots for the Patriots, including 22 as a slot defender, but he did well when rushing the passer with seven pressures on only 50 pass-rush snaps. 
First-round pick Javon Kinlaw won 57% of his reps at the Senior Bowl, 12th-highest during the practices. He started for the San Francisco 49ers and looked good at times as a pass-rusher, recording a win percentage over 10% in five games and ending the season with 19 total pressures.