Through Week 4 of the 2023 NFL season, just two teams remain without a single victory: the Chicago Bears and the Carolina Panthers. The 2024 first-round draft picks for both clubs belong to the Bears, and while there is still plenty of football to be played, they are technically slated to select No. 1 and No. 2 overall next April. 


Chicago, and quarterback Justin Fields in particular, showed signs of life in a dramatic Week 4 loss to the Denver Broncos. Fields had a nearly flawless first half, completing 16 of 17 passes while matching his three passing touchdowns through Week 3 and throwing for more yards (231) than he had in any full game. Fields completed eight passes targeted 10-plus yards downfield in the first half after just seven such completions on the season heading into the game.
Is the Broncos' defense the worst in the league in terms of expected points allowed per play? Yes. Are they the worst defense in the league in terms of expected points allowed per dropback? Also yes. Nonetheless, Fields and company were dealing. In the end, Chicago was dealt a gut-wrenching defeat after leading 28-7 in the third quarter, a loss that may have been the final nail in this season's coffin.
A Week 5 Thursday Night Football matchup with the Washington Commanders was probably a game fans had circled as a potential win coming into the season, but Chicago is currently a full touchdown underdog on the road — although that's not to say the team can't pull of the upset. The Bears may not be favored again until they host the aforementioned Panthers in Week 10. The good news for that game, at least, is any result is a good result for draft pick implications. 
Despite a strong first half against Denver, the fact of the matter is this: It's becoming increasingly likely we see a new starting quarterback for the Bears in 2024. Could Justin Fields go on to thrive elsewhere? Certainly. Chicago's offensive line has allowed pressure at the seventh-highest rate in the NFL, with Fields under pressure on 47.4% of dropbacks, which is the highest of any quarterback through Week 4. However, the rate of pressure allowed by the line plummets to 23rd in the NFL when looking at only true pass sets (no screens or play action and a time to throw between two to four seconds). 
Fields has been charted as partially responsible for pressure at the fifth-highest rate among quarterbacks, and his pressure-to-sack rate is the eighth highest. He is not blameless in the equation. He ranks outside the top 20 in PFF passing grade when kept clean, so it's not as if he's lighting the world on fire from a clean pocket. On throws 10-plus yards downfield, Fields' 29% accurate throw rate, per PFF charting, ranks tied for 28th out of 31 qualifying quarterbacks. There is no question the offensive scheme built around Fields heading into 2023 was confusing to fully understand, but his talents are not being properly utilized and a fresh start may be best for him first and foremost. 
Read more: What's next for Justin Fields amid the Bears' tightening grip on the No. 1 pick in 2024?
Chicago's offense ranks 24th in expected points added per play and 26th in expected points added per dropback. The coaching deserves blame, the supporting cast deserves blame and Fields shoulders some, as well, but as he enters an offseason where his fifth-year option decision looms, the team may look to hit the reset button at quarterback largely for contractual purposes. So, how should they approach it?
---
Trade deadline
Chicago has already stripped this roster down to the studs to a degree, with deals sending linebacker Roquan Smith and edge defender Robert Quinn out at last year's deadline to jumpstart that process. Unfortunately, the player they sent the 32nd overall pick to acquire less than a year ago, wide receiver Chase Claypool, needs to be traded away for anything of value. It seems possible, if not likely, that he is ultimately waived. Getting sophomore wide receiver Velus Jones Jr. and rookie wideout Tyler Scott more snaps is a benefit, however. Plus, D.J. Moore and Darnell Mooney are still a better top duo than what many teams have.

Chicago could look to move a few more pieces, with bigger names in Mooney and cornerback Jaylon Johnson both in contract years. Realistically, the team doesn't need to undergo a firesale this time around. Depth running back D'Onta Foreman put a lot of good football on tape to close out 2022 with the Carolina Panthers and could perhaps return a Day 3 pick for a team that wants to bolster its running back room. Foreman has been inactive on gameday the past several weeks with the emergence of rookie Roschon Johnson.
Chicago has extra draft capital at its disposal already and is projected to have more than $100 million in 2024 cap space, trailing only the New England Patriots (who need to replace their own 2021 NFL Draft quarterback). 
---
Head coach
Six current NFL offensive coordinators would sit atop the Chicago Bears' wish list should the Bears go in another direction at head coach next year, with president Kevin Warren and/or general manager Ryan Poles looking to pair an offensive mind with a franchise quarterback.
Chicago has appointed external search committees of sorts in past years but needs to let its internal football people make the football decision this time around. Am I going to consider only NFL offensive coordinators under the age of 45 with extensive experience coaching quarterbacks and/or successful play-calling ability over an extended period of time? Yes. 
1. Detroit Lions offensive coordinator Ben Johnson
This graphic from this year's PFF QB Annual is a great way to frame the benefits of the Ben Johnson offense, and the results have continued into 2023.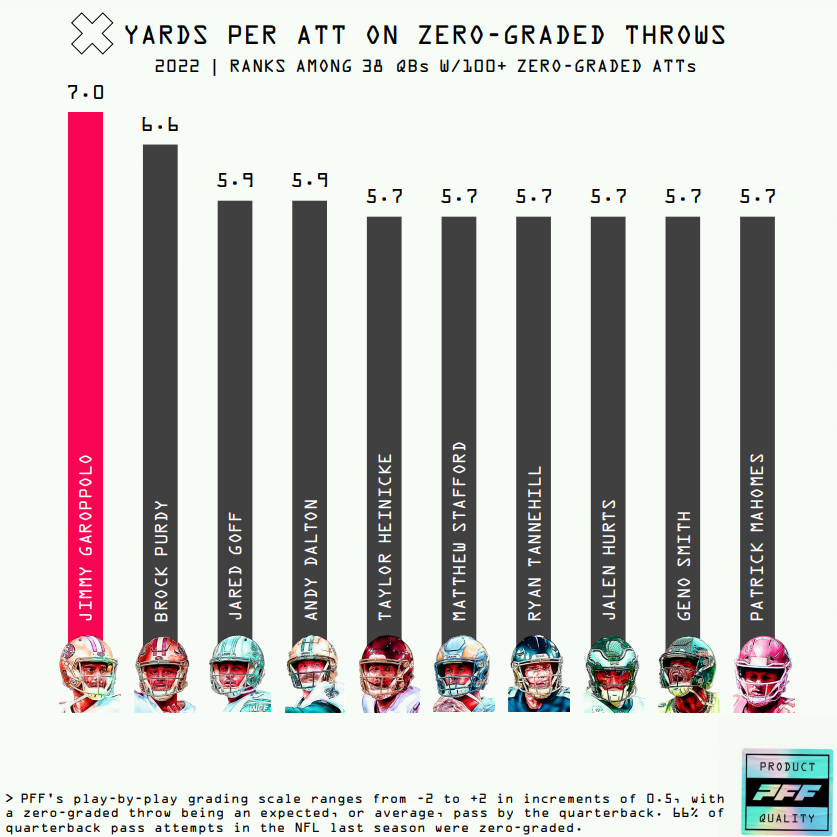 Here are a handful of other great stats for Johnson's Lions offense over 2022-23:
5.8 yards after the catch per reception (4th)

6th in expected points added per play per play (.066) and success rate (45.8%)

5th in converting to a new series of downs (31.9%)

20 turnovers (3rd fewest)

29 sacks allowed (3rd fewest)

0.264 expected points added per play action play (3rd)

50-of-136 conversion rate on third- or fourth-and- 7-plus (4th)
Johnson turned down head-coaching opportunities last offseason and likely knows he can wait for the right situation. The opportunity to work with Caleb Williams or Drake Maye in Chicago could perhaps fit that bill. 
2. Houston Texans offensive coordinator Bobby Slowik
What Slowik, rookie quarterback C.J. Stroud and the Houston Texans' offense have been able to accomplish through four weeks is nothing short of extraordinary. Houston started four third-string offensive linemen in Week 4 against a Pittsburgh Steelers defense that ranked ninth in pressure rate headed into the matchup, and Stroud was not sacked a single time while putting up more than 10 yards per attempt and 30 points. Stroud's 80.4 passing grade on third- and fourth downs ranks fifth, and his 9.2 yards per attempt is second to Patrick Mahomes.
The Texans' offense currently trails just one team, the high-flying Miami Dolphins, with 576 yards after the catch and 6.1 yards after the catch per reception through Week 4. If the offensive success continues in Houston, Slowik may only need one season out from under the shadow of Kyle Shanahan to earn a top job in the NFL. Slowik's father Bob, a longtime defensive coordinator in the NFL, was the Chicago Bears' defensive coordinator from 1993 to 1998 and still coaches in the CFL, so he has a connection to the organization and deep football roots. Slowik appears to have soaked up all of that knowledge on the other side of the ball and has learned how to attack weak spots at an extremely high level. 
3. Arizona Cardinals offensive coordinator Drew Petzing
The Arizona Cardinals rank eighth in expected points added per play through Week 4, and that's after playing the Dallas Cowboys' and San Francisco 49ers' defenses over that stretch. Arizona's 23.9% new series conversion rate on first downs is the fifth-best mark in the NFL, so they are actually pushing the ball and not just playing scared and "staying ahead of the chains." Journeyman quarterback Joshua Dobbs was acquired via trade on Aug. 24 and made his first start on Sept. 10 but has nevertheless overseen a consistent and largely efficient offense. 
Arizona also leads the NFL in yards before contact per rushing attempt through Week 4 at 2.4 yards, almost a half-yard ahead of the Philadelphia Eagles in the second spot. This is, of course, an offensive line stat, but also largely a run scheme stat. Petzing is creating free lanes for James Conner and others to explode through on a regular basis. 
Petzing was the Cleveland Browns' quarterbacks coach in 2022, under whom Jacoby Brissett earned the highest grade of his career (82.6) while averaging 7.1 yards per attempt, another career high.
Johnson took over under center for the Utah Utes' offense in 2005 after Alex Smith was drafted first overall by the San Francisco 49ers, played one year in the United Football League in 2009 and was promptly hired as Utah's quarterbacks coach in 2010 at just 23 years old. He was the offensive coordinator by the age of 25. After stops at Mississippi State, Houston and Florida, Johnson joined the Eagles as their quarterbacks coach in 2021. 
At Mississippi State, Johnson was the quarterbacks coach for Dak Prescott's final two seasons. At Houston, he coached Kyle Allen and D'Eriq King. At Florida, Johnson coached Kyle Trask and Anthony Richardson. Last but certainly not least, Johnson helped coach Jalen Hurts during his ascension to becoming a clear-cut top-10 quarterback in the NFL.
So far in 2023, the Eagles rank eighth in expected points added per play and success rate, and when you watch the film, you see areas where even more production could be easily attained. For example, Philadelphia ranks 30th in the rate of first-down plays they convert into a new series of downs but place fourth in the NFL at converting second downs into a new series of downs.
Jalen Hurts Under Brian Johnson

Johnson has overseen quarterback growth in every year of his coaching career. At a certain point, there's a common denominator. The quarterback coaching phenom may already be prepared for a top job, and pairing him with a promising rookie quarterback figures to make a whole lot of sense. 
5. Seattle Seahawks offensive coordinator Shane Waldron
Waldron cut his NFL teeth with the New England Patriots back in the early 2000s before working his way up the ladder with the Los Angeles Rams and Sean McVay, ultimately earning the Seattle Seahawks' offensive coordinator job in 2021. Waldron has overseen the Geno Smith resurgence and leads an offense that ranks in the top 10 in expected points added per play and success rate since 2022. 
Seattle's offense was working behind two rookie tackles in 2022 and didn't miss a beat, and the offense has continued to hum along in 2023 despite the offensive line unit dealing with a bevy of injuries, including to both of the aforementioned young tackles. In 2022, Seattle and Geno Smith had 99 pass plays of 15-plus yards, the seventh most in the NFL. Smith's 30 completions on throws 20-plus yards downfield ranked third among quarterbacks. This is an explosive, efficient and balanced offense that has proven able to overcome a lot of issues across the lineup.
We're very early into Canales' tenure with the Tampa Bay Buccaneers, but another quarterback resurgence is underway with yet another offensive line that has injuries or question marks at every spot but left tackle. Canales took over an offense that ranked dead last in play-action rate in 2022 and currently leads the NFL in play-action rate through Week 4, scoring 26 points in Week 4 against a New Orleans Saints defense that hadn't allowed a team to post more than 20 points in 11 consecutive outings. 
Tampa Bay's offense was effectively stifled in a Week 3 matchup with the Eagles' defense and has relied on explosive plays with a success rate that ranks 25th in the NFL. But Canales has completely transformed the offense with a new quarterback in one offseason and will be an interesting name to monitor over the rest of the year. 
---
2024 NFL Draft
The 2024 PFF big board is unsurprisingly led by USC quarterback Caleb Williams, but North Carolina quarterback Drake Maye is at No. 3 and eight more quarterbacks land in the top 65 of the current rankings. Every quarterback playing well is good news for the Chicago Bears, and not just because you never know if you may win a few games late in the season — how Chicago earned the No. 1 overall pick last season. The Carolina Panthers are the only other team currently sitting at 0-4, with not many reasons to believe things will turn around quickly, and Chicago has possession of their 2024 first-round pick. 
The earlier that extra draft pick is, the bigger a potential haul could be. This is the part of many articles where the idea of drafting two top-five quarterbacks is suggested, but with every extra first in the future you gain, you're buying more and more potential outs. You don't need to double-dip right away. As impressive as the 2024 prospects have been, even the top prospects struggle in their rookie seasons, so odds are you'll have even more ammo coming your way. 
Last but not least, if Chicago does elect to move on at quarterback, teams such as the Atlanta Falcons or Las Vegas Raiders, among others, could entertain a potential trade for Justin Fields. This decision is not solely based on Fields' performance to this point, which has certainly displayed remarkable flashes often amid league-worst surrounding conditions. There is also a contract component to this move, with the fifth-year option for 2021 first-round quarterbacks due this upcoming offseason. Fields is set to earn above $20 million fully guaranteed on a hypothetical 2025 option year. 
Once the quarterback position is settled, Chicago must pour resources into the trenches on both sides of the ball, namely across the defensive line, which ranks 32nd in pass-rush win rate (29.5%) through Week 4. Florida State's Jared Verse, UCLA's Laiatu Latu and Washington's Bralen Trice are some of the many potential prospects at edge defender. At interior defender, Illinois' Jer'Zhan Newton and Miami's Leonard Taylor III are names to know. At wide receiver, Ohio State's Marvin Harrison Jr. tops a list with six other wide receivers ranked in the top 40, and Bears fans should become familiar with LSU's Malik Nabers, Florida State's Keon Coleman and Washington's Rome Odunze, among many others.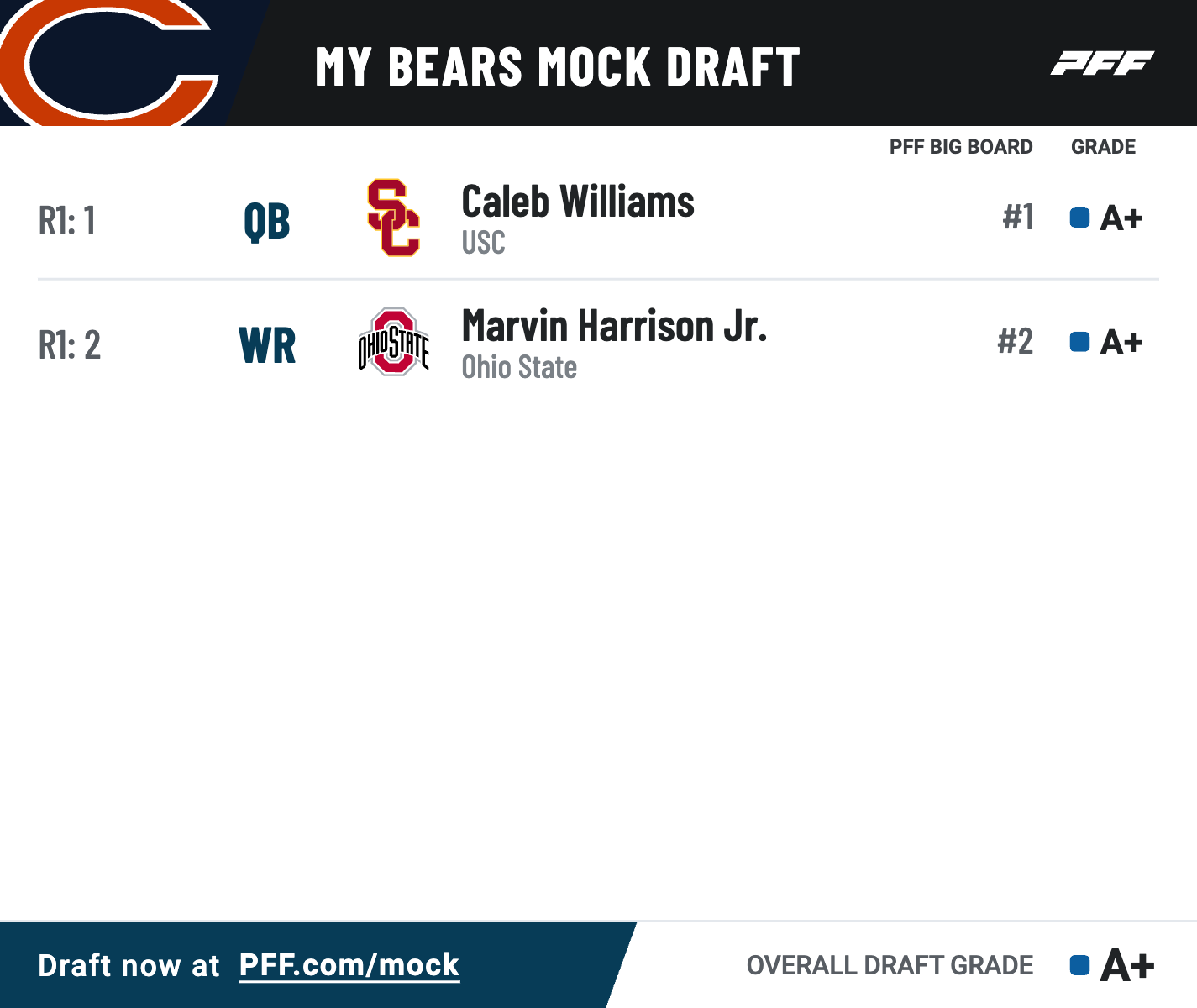 ---
Free agency
While there are always franchise tags to come, the free agent classes at edge defender and wide receiver are as strong as they've been in years as things stand. Carolina's Brian Burns and a Washington duo of Montez Sweat and Chase Young top a list filled with solid veterans sprinkled in throughout. At wide receiver, Cincinnati's Tee Higgins and Indianapolis' Michael Pittman Jr. spearhead a group that also includes Marquise Brown, Calvin Ridley and many other solid options. 
Chicago has no need to completely splurge in free agency, but a few key moves to fill out a roster with a lot of young talent could provide the next rookie quarterback with an infinitely better situation than the one Fields stepped into. 
Building the entire operation around the success of the next quarterback, from the coaching staff down to roster construction, is the only way the last remaining franchise without a 4,000-yard passer or 30-touchdown thrower gets it right once and for all.