Ranking cornerbacks is one of the hardest things to do. The position is so dependent on a whole host of factors that a defensive player of the year one season can slip to being middle-of-the-pack the next, based on little within his control but everything else that impacts his position. So, instead of tying ourselves in knots trying to quantify the myriad of factors involved, including the period of time we're looking at, let's just see how the top corners in the game fare according to PFF's grades through seven weeks.
PFF grades are the output of play-by-play grading of every player on every play of every game in the NFL, and while they can't tell you the whole story in and of themselves, they can take you a lot further than gut feel and bring some unique aspects to the table.
So, here are the top-graded cornerbacks in the league through seven weeks.
Alexander has flashed this level of play before, but this time it seems to have some staying power. In the past, he was always just around the corner from a game in which he surrendered a lot of yards, but so far, those haven't been there in 2020. The most receiving yards in a game he has allowed was 66 in Week 1 against the Vikings, and he had an interception in that game to offset that damage. Since that game, he has allowed 56 total receiving yards across five games, including two full games with zero or negative yards allowed.
Carlton Davis gets most of the attention in Tampa Bay's secondary, but third-round pick Jamel Dean has arguably outplayed him throughout their respective careers. Dean is a pass-breakup machine and ended last season with 10 of them, despite playing only 372 snaps. With another 303 snaps this season, Dean has five more pass breakups. He already has more defensive stops than last season and is allowing just 9.4 yards per reception, 3 full yards better than his rookie season. With Dean and Davis, the Bucs secondary is looking good for the future.
Stephon Gilmore is the best player in New England's secondary, but it would be remiss to ignore the coverage numbers J.C. Jackson has put up during his time in the NFL, and this season the PFF grade is joining them at elite levels. Jackson has three interceptions and four pass breakups from only 19 targets in coverage, and he has allowed a passer rating of just 38.9 when targeted over his career — a mark just slightly lower than the one opposing quarterbacks would produce if they just threw the ball into the dirt every play instead.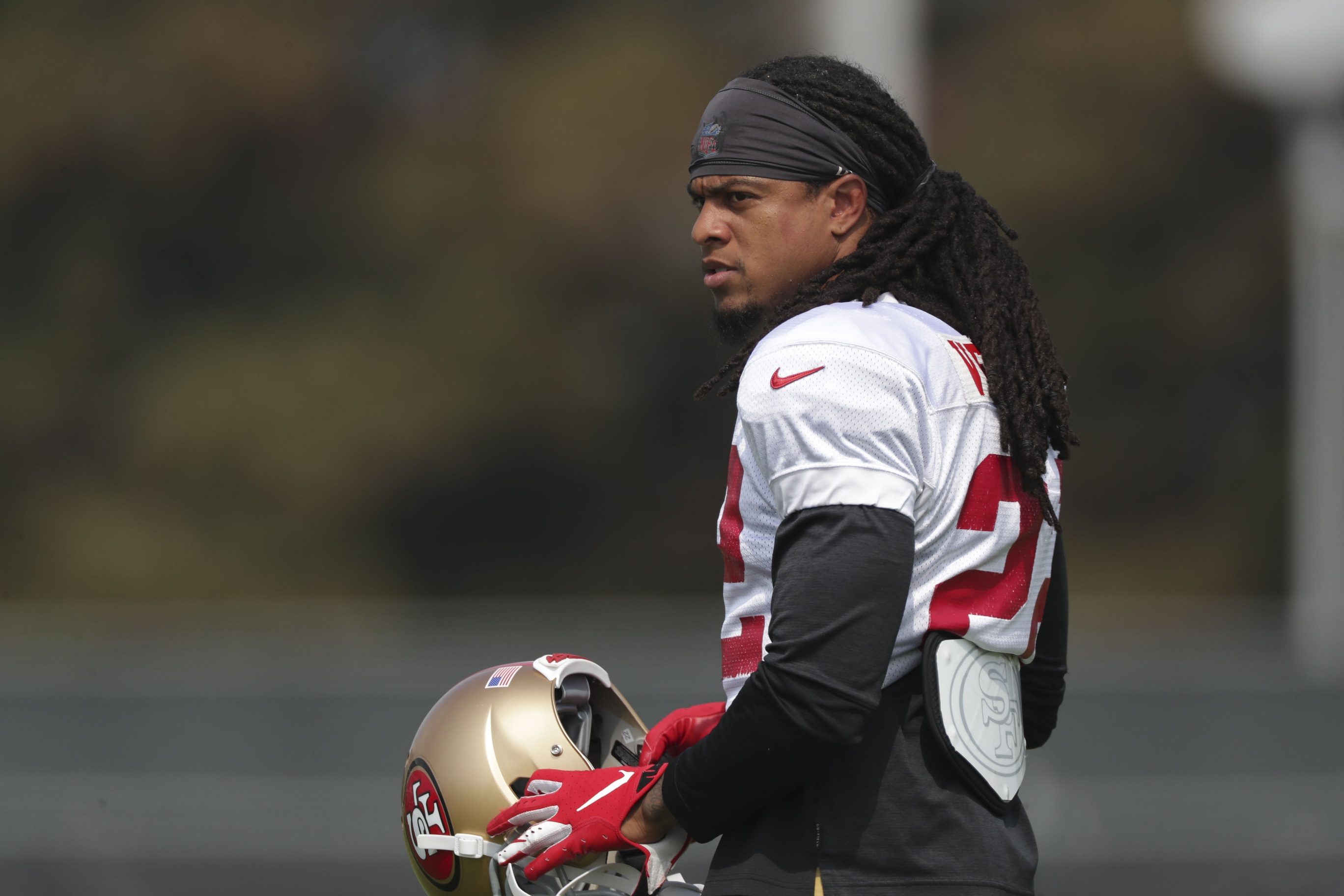 One of the most incredible comeback stories in recent NFL memory is underway in the form of 49ers cornerback Jason Verrett. Once on his way to being one of the best cover guys in football, Verrett's career was torpedoed by a series of injuries that limited him to only 327 snaps in the last three years before this season. This year, he has been a much-needed boost to the 49ers' secondary and is currently allowing a passer rating of just 23.2 when targeted, as well as fewer than 50% of passes thrown his way to be caught. He has All-Pro numbers and is playing like the player he was half a decade ago.
A big-money contract extension has shone a little more limelight on Marlon Humphrey, one of the best and most versatile cornerbacks in the game. If Humphrey was just tasked with being a shutdown perimeter corner in man coverage, we might think of him the way we do Stephon Gilmore, but Baltimore asks so much more of him and has repeatedly tasked him with covering the slot, which he has done to great effect. This season, 256 of his 412 snaps (62%) have come inside, and he had yet to surrender a touchdown despite the more difficult coverage assignments of receivers who have a two-way go from that slot alignment.
The idea of Rhodes ranking this highly would seem like madness to anybody who watched him closely over the past two seasons in Minnesota, but this is an example of how much playing hurt and being hung out to dry by a scheme can impact a player's performance. In Indianapolis, Rhodes has been a revelation and surrendered a passer rating of just 46.6 when targeted, allowing only 41.4% of the passes thrown his way to be caught by their intended receivers. Rhodes are once again closed; all that remains is to see if this is a temporary closure or a more permanent fixture on the NFL roadmap.
Bradberry had one of the toughest gauntlets of receivers to cover during his career with the Panthers, so the chances were always likely that his overall play would improve in New York, and that's precisely what we have seen. Even with those expectations, Bradberry has been better than most anticipated, and he has been tested plenty. Bradberry is tied for the league lead in combined interceptions and pass breakups with 11, and he has yet to be beaten for a pass longer than 28 yards over the course of the season, despite 41 targets coming his way.
Typically a pure slot corner, Bryce Callahan has had to man the outside positions for much of this season due to the situation in Denver. For the first three games of the year, he was almost exclusively a perimeter corner before splitting time evenly in Week 4 and then moving primarily inside over the past two weeks. His performance has ticked up as he transitioned back to his natural position, but the fact that he was able to perform as well as he did outside speaks volumes about his ability as a cover guy. Over the entire season, he has allowed only 166 yards in coverage.
Miami's Xavien Howard has been an inconsistent player for most of his NFL career, but he is well-suited to the scheme they want to play in South Beach. Howard is on course for by far the best PFF coverage grade of his career (81.1) and has allowed just 46.2% of passes thrown his way to be caught this season for a passer rating of only 49.0 thanks to four interceptions against only one touchdown. Howard has three games this season in which he has allowed a passer rating of 0.0 when targeted, and in those games, he intercepted three passes from 11 targets with the intended receiver coming up with none of them.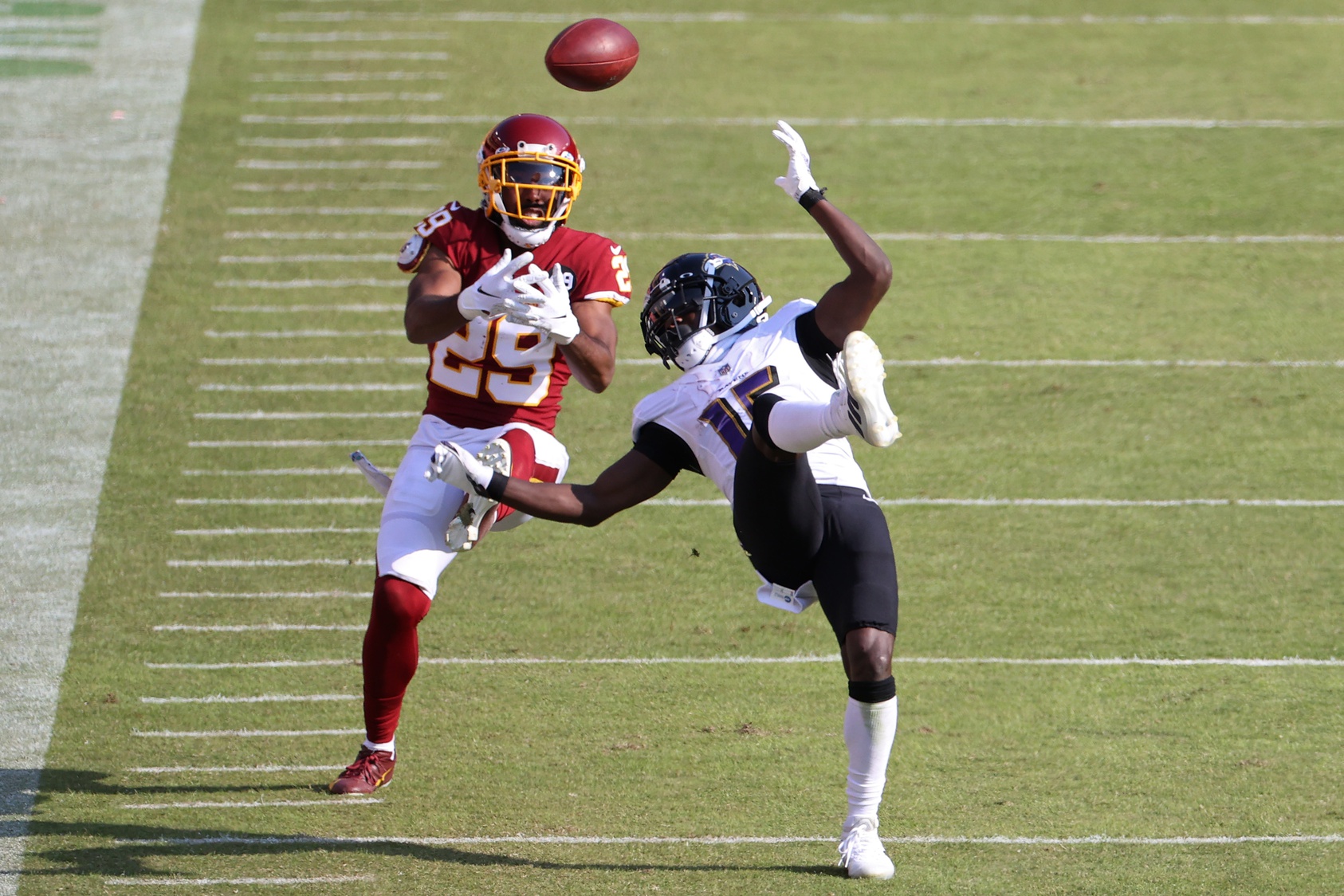 Apparently, it's 2017 all over again for Fuller and Washington. Fuller is posting the best level of performance we have seen from him since that phenomenal season in which he earned an overall PFF grade of 90.6 and got a big move to Kansas City, which didn't work out for anybody. Fuller has four picks and two pass breakups already, despite just 17 targets into his coverage, and he has actually caught only two fewer passes himself than he has allowed opposing receivers to come down with. Fuller is playing some excellent football again this season, showing that that player still exists within him.
Nobody will notice because of the flames rising all around the franchise, but Poole has actually been playing very well for the New York Jets so far this season as their slot corner. The worst games of his season have come against one of the best slot receivers in the league (Cole Beasley), and overall, he has two picks and two pass breakups to generate a passer rating of just 67.1 for opposing quarterbacks. Throwing the ball at Poole is resulting in a passer rating around 30 points lower than it is when throwing it at the rest of the Jets defense this season.
Jimmy Smith has become one of the old guys on campus for the Baltimore Ravens. In the league since the 2011 season, Smith is showing he's still capable of plus play within one of the best defenses in the game. Smith's role has been a little fluid this season, with some snaps at safety and corner, but he has surrendered only 68 yards in coverage and has yet to be beaten for a pass longer than 17 yards across six games of action. His grades are on course to be the best figures we have seen from him since 2017.
One of the best emerging young cornerbacks, Carlton Davis has been impressive for the Tampa Bay defense that is aggressive and formidable for opposing offenses to content with. Davis was the man making the pass breakup on a throw from Aaron Rodgers to Davante Adams on a well-thrown slant to cause an interception on the ricochet and start the rout against Green Bay, and he is tied for the league lead with a combined 11 pass breakups and interceptions. Throwing the ball into his coverage this season is generating a passer rating of just 51.6.
Desmond King was switched to safety in the offseason with the addition of Chris Harris Jr. to the Chargers roster, but injuries have forced some reshuffling. For the past four games, King has been playing back inside covering the slot, where he has been one of the best players in the game since he came into the league. This year, King is allowing just 6.0 yards per reception and hasn't surrendered a catch longer than 15 yards all season long. However, he has yet to intercept a pass or register a pass breakup, something inevitably on the horizon.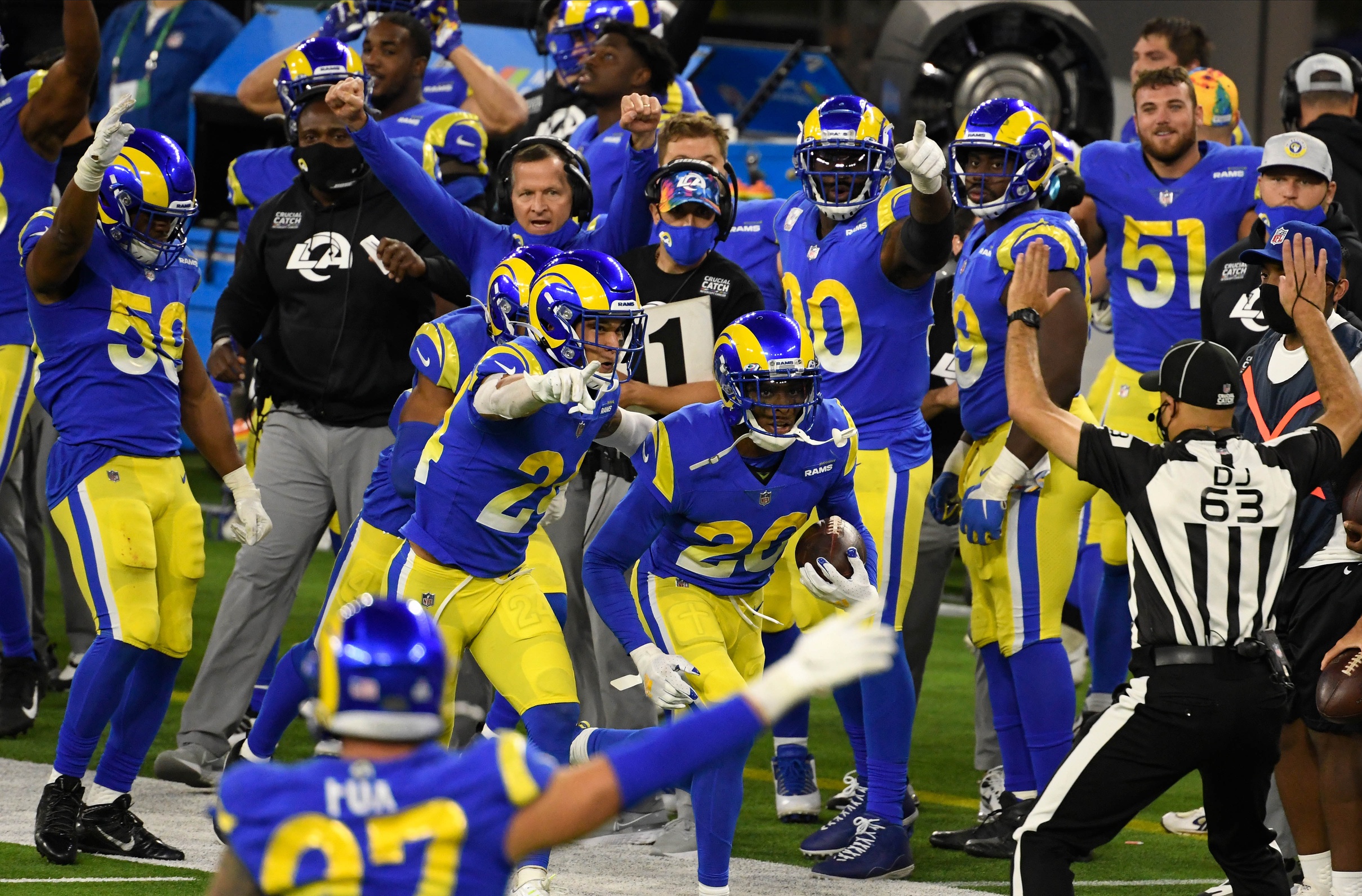 Jalen Ramsey is a transformative talent for a defense — a physically imposing player at cornerback who can line up against the league's freakiest receivers, allowing the rest of the Rams' secondary to worry about guys they can actually contend with. And Ramsey is on his way to the best PFF coverage grade since his incredible 2017 season in Jacksonville. Quarterbacks have targeted him 30 times this season for just 16 catches and 160 yards, and despite his incredibly physical play, he has been flagged only once this season.
Denzel Ward is a great example of how coverage numbers can be at the mercy of the opposition or even just the bounce of the ball. Ward has allowed four touchdowns this season, but three have been tight coverage and contested at the catch point, with only one really bad play in there against James Washington and the Steelers on a double-move. He has developed into one of the league's better cover guys but can lose out at the catch point at times. PFF grades account for the small plays that are often forgotten, so Ward's grade is more impressive than those numbers skewed by touchdowns.
During William Jackson III's first season of playing time, it looked like he could be a special cornerback in the NFL, but he has never really returned to those heights. That remains true this season, but this is his best PFF coverage grade since that year, albeit still some 15 grading points lower than that. Jackson has allowed just 10.9 yards per reception, again the lowest figure since that first season of play, and an 82.4 passer rating when targeted He has also yet to miss a tackle despite having 23 solo tackles and 10 defensive stops to his name.
This is on track to be the highest-graded season of Donte Jackson's career, albeit marginally. He has yet to be beaten for a pass longer than 23 yards this season, which is almost entirely the difference between this year and previous seasons that have each featured at least one big play against him. Jackson has allowed catches this year, but they have gone for only 8.5 yards on average. He and the Panthers' defense have been far better at keeping things in front of them rather than getting beaten for big plays over the top.
Missed time means we are dealing with just four games of action for Janoris Jenkins, and even those few outings have been something of a rollercoaster. Overall, his numbers are good. He has been beaten for just a 58.0 passer on the 24 targets that have gone his way, but some of his worst plays on tape have been unpunished by the quarterback and receiver unable to make the connection on the throw. Those are plays that show up in the grading but not in the stats.
Somehow, Johnathan Joseph is still playing football at a pretty high level despite being 36 years old. This time with Tennessee, Joseph has struggled some — notably against Minnesota in Week 3, when he was torched for over 100 yards and two touchdowns — but he has made some plays of his own as well, notching three pass breakups and an interception. We have definitely reached the realm of players who are solid rather than excellent in the rankings, however.
Another player with improved play in new surroundings, Rasul Douglas is on his way to the best season of his career in Carolina after his time in Philadelphia came to a close. Douglas currently has a 75.6 PFF coverage grade, which would represent more than a five-point jump from his best year with the Eagles. Douglas has also yet to be beaten for a touchdown and is allowing the lowest passer rating (74.0) of his career, including five pass breakups, even if he is still waiting for his first interception.
Rashad Fenton has been quietly solid at cornerback for the Kansas City Chiefs for as long as he has earned playing time dating back to last year. That's not to say there aren't bad games in his portfolio, but his overall play is encouraging. This season, he has four pass breakups and a pick to his name but has been beaten for two touchdowns. Fenton has yet to surrender more than 50 receiving yards in a game this season and hasn't yet been called for a penalty.
A surprise performer in the Rams' secondary, Darious Williams was impressive enough on limited snaps last year to fight his way into a bigger role and become a starter in 2020, kicking Troy Hill inside to the slot while he mans the other outside position alongside Jalen Ramsey. Williams boasts some huge plays on his tape this season, with two picks and three pass breakups. His diving interception to seal a win against the New York Giants back in Week 5 was one of the plays of the season so far by any defensive back.
Michael Davis may be the least-heralded player in the Los Angeles Chargers' secondary, but he is putting together another solid season at cornerback. While he has allowed some catches, he has been pretty good at limiting the damage and keeping receivers in front of him, notching multiple defensive stops in four of his six games this season. Davis has been beaten for only one touchdown all season, and that came this past week against the Jaguars.
Bradley Roby — and the entire Houston secondary — has given up some big plays this season. Roby has been beaten for a 106.4 passer rating when targeted thanks to three touchdowns into his coverage and only one pick to offset them, but he has also held receivers to just 9.5 yards per catch while not allowing a reception longer than 29 yards across seven weeks of play. Roby isn't playing at the same level of his best seasons, but it's been a solid performance in a league that is lighting up secondaries in 2020.