Statistics such as quarterback pressures and hits are meant to go one step beyond simply using sacks to measure a pass-rusher's production. PFF pass-rushing grade goes another step further to speak to the quality of a pass-rusher's wins and how quickly they can beat their blocker. I wanted to take that even further here by looking at which players graded highest in certain situations last season. 
Aaron Donald's 93.6 pass-rushing grade led the way on all defensive snaps, followed by Chris Jones (92.8) and Khalil Mack (90.8). But which players were most effective in the red zone or at getting after the quarterback as a blitzer? 
Spoiler: Donald still makes multiple appearances, starting with plays that qualify as true pass-rushing snaps.  
Runners-up: Chris Jones, Kansas City Chiefs and Carl Lawson, New York Jets
Not all pass-rushing opportunities are created equal. PFF's Eric Eager explored a subset of pass-rushing snaps labeled "true pass-rush snaps" last offseason, finding that it was a good rule of thumb when evaluating a player's true pass-rushing ability to eliminate plays where:
A screen pass is called
The offense uses play action
There is a designed rollout
Time to throw is very quick (under two seconds) or very slow (above four seconds)
The defense is dropping eight or more into coverage or rushing five-plus players
Those were the parameters for this subset of plays. Shockingly, the league's best pass-rusher over the last five years found himself at the top of the list again in 2020.
Donald recorded a league-high 94.0 pass-rushing grade and 41 quarterback pressures on nearly 200 true pass rushes. You're not going to find many situations where Donald isn't one of the league's best at getting after the quarterback.
Jones (93.4 pass-rushing grade) and Lawson (92.1) round out the list. Jones isn't necessarily a surprise here, but Lawson's inclusion might surprise some. It shouldn't. He comes in with a pass-rushing grade in the 96th percentile among all edge defenders on true pass rushes since entering the league in 2017. He gives the Jets a legitimate threat off the edge, something they haven't had for years.
Runners-up: Bobby Wagner, Seattle Seahawks and Devin White, Tampa Bay Buccaneers
You can make a strong case that Adams — a safety — was Seattle's most effective pass-rusher for a significant portion of last season. His 25 pressures through Week 13 were more than anyone else on the defense.
Many of those opportunities came as a result of Adams getting through the offensive line untouched, but he did grade higher than any other qualifying off-ball linebacker, cornerback or safety when coming as a pass-rusher on the blitz (86.0).
Wagner, Adams' teammate, actually came in second on the list with an 84.1 pass-rushing grade. It's just another sign that Seattle's only real recourse to a non-existent pass rush, especially early in the season, was to send extra rushers.
White rounds out the list for the contributions he made as a pass-rusher in Todd Bowles' blitz-heavy scheme. When blitzing, only Adams tallied more sacks than White (seven), who was regularly able to use his speed to disrupt plays in the backfield. There's no reason not to expect more of the same in 2021.
---
Runners-up: T.J. Watt, Pittsburgh Steelers and Stephon Tuitt, Pittsburgh Steelers
The red zone isn't a portion of the field where pass-rushers will get many reps — Jeffery Simmons was the only player in the NFL with at least 100 regular-season pass-rushing snaps (110) while the opposing offense was in the red zone last season. It is a valuable area to be able to turn the heat up defensively, though. Pressure leads to mistakes, potentially taking points off the board.
No one graded higher as a pass-rusher in the red zone than the No. 2 overall pick in the 2020 NFL Draft.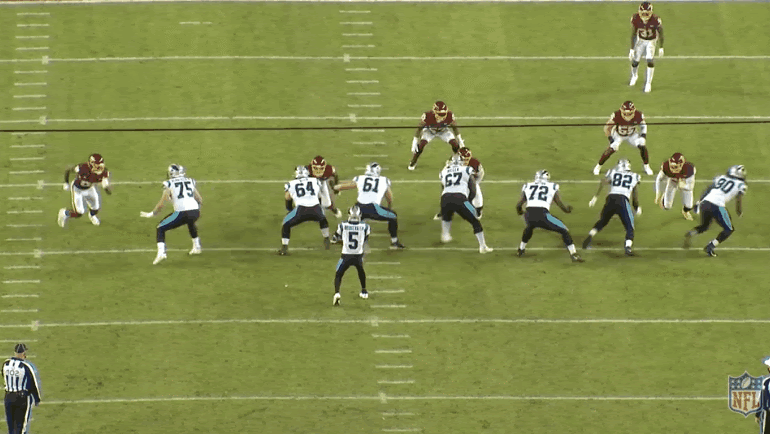 Young's 92.0 pass-rushing grade narrowly edged out two members of a talented Steelers pass rush: Watt and Tuitt. Watt and Tuitt's contributions were a big reason why Pittsburgh had by far the league's highest pressure rate in the red zone as a team. The Steelers generated pressure on 60.0% of their pass-rushing snaps in the red zone over the regular season. Washington sat in second at 39.3%.
Those two defensive fronts will be at the forefront of the conversation for the league's best again in 2021.
---
Runners-up: Chris Jones, Kansas City Chiefs and Khalil Mack, Chicago Bears
The highest-graded third-down pass-rushers were simply the league's highest-graded pass-rushers overall last season, which shouldn't be all that much of a surprise. There are more obvious pass-rushing situations on third down, and it's a larger sample of plays than some of the other subsets, giving more opportunity for the cream to rise to the top.
Donald was one of two players in the league, along with Shaquil Barrett, with over 30 third-down pressures in 2020. He now has over 30 more third-down pressures than any other defender in the NFL over the last five seasons.
Most third-down pressures since 2016
Donald always has to be accounted for, but offenses would be remiss not to pay him additional attention on third down. His teammate, Leonard Floyd, isn't on this list, but he picked up a league-high seven sacks on third down, as well, partially thanks to the disruption that Donald caused.
---
Runners-up: Chris Jones, Kansas City Chiefs and Carl Lawson, New York Jets
The runners-up here are the same as in true pass-rush situations. There is a new name at the top of the list this time, though.
Reddick's late-season surge drove his league-high 92.8 pass-rushing grade in two-minute drill situations at the end of either the first or second half. It also helped earn him a one-year, $6 million contract with the Panthers this offseason.
Reddick's 25 pressures over the final four games of the campaign were the second-most in the NFL over that stretch, behind only Donald and Lawson. To put in perspective just how much of an outlier that was compared to the rest of his career, those 25 pressures were also more than Reddick had recorded in any single season before 2020.
A big part of that was his hybrid, off-ball role in previous seasons, making it interesting to see how he transitions to his role on a young Carolina defense.