The assault on traditional boxscore stats continues as we dive into PFF's play-by-play grading to show which quarterbacks have inflated stat lines through five weeks of the season. When it comes to the passing game, most fans and analysts look to five stats (completions, attempts, yards, touchdowns and interceptions) and the resulting stats that are based off those five (completion percentage, yards per attempt and passer rating) to paint the picture of a quarterback's performance.

While the quarterback is still the main driver of those stats, the play-calling, supporting cast and opposing defense all have huge parts in influencing the numbers, especially in small sample sizes. Even with more advanced stats that try to add more context to the numbers, many still fall into the "team stat" category, and isolation of a quarterback's role in each play is difficult without PFF grading and play-by-play context. The other piece of a quarterback's stat line that is rarely mentioned is fumbles, and many of the following examples involve players who have shown poor ball security and put the ball on the ground, but unlike interceptions, these plays do not affect the traditional stats. Let's take a look.
Stats inflated (min. 100 attempts)
PFF passing grade: 73.3 (11th)
Passer rating: 115.9 (2nd)
Watson has had some spectacular plays this season, as evidenced by his No. 2 ranking in big-time throw percentage (8.2%). He's created big-play opportunities down the field, and he ranks sixth in adjusted completion percentage on deep passes throws at 64.3%. The discrepancy in the grading comes more from the negative plays, as Watson's worst plays have rarely shown up in the stats. He has the 13th-highest percentage of turnover-worthy plays (out of 38), yet only one interception on the stat sheet to show for it.
Of his eight turnover-worthy plays, he's thrown two interceptions that were negated by penalties that didn't affect the play to go with multiple poor fumbles in the pocket, multiple missed throws for dropped interceptions and one of the worst plays of the season against the Chargers in Week 3. None of these plays show up in the 115.9 passer rating that ranks second in the league, but they all receive heavy downgrades in the PFF system, as Watson is just lucky that he is not among the league's leaders in turnovers through five games.
Here is Watson attempting an ill-advised backward pass. He's unable to hold up on the throw, and the result is an ugly fumble and a turnover.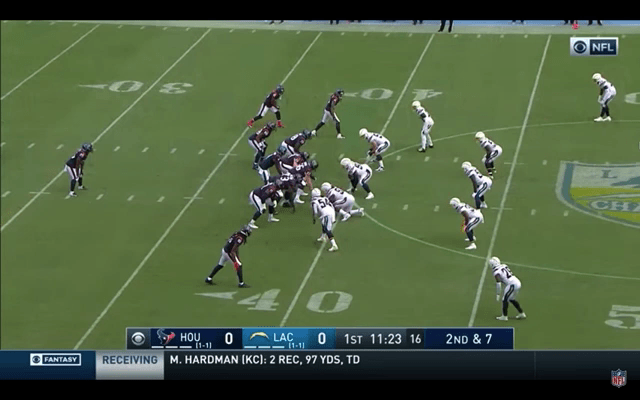 Here's a poor decision late in the play for an easy interception that was ultimately negated due to a penalty.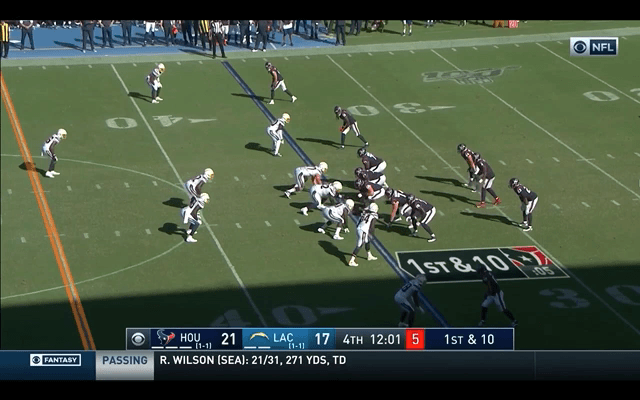 Below, this pass was left low and behind for an easy interception opportunity that is dropped.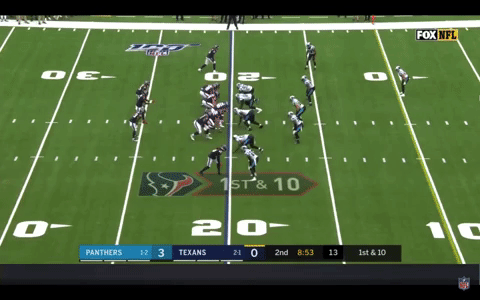 PFF passing grade: 68.4 (17th)
Passer rating: 103.0 (7th)
While many have cited that Mariota is the only quarterback without a turnover this season, he actually ranks 15th with six turnover-worthy plays, so that stat is both irrelevant and the result of good luck. Among the six are three fumbles that should have been avoided, either due to poor ball security or poor awareness in the pocket.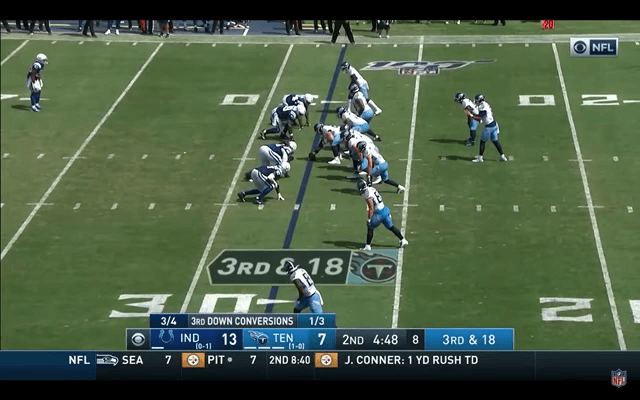 Mariota has also had a couple of errant throws into the hands of defenders, most notably a lofted underthrow against the Jaguars that should have been an easy interception.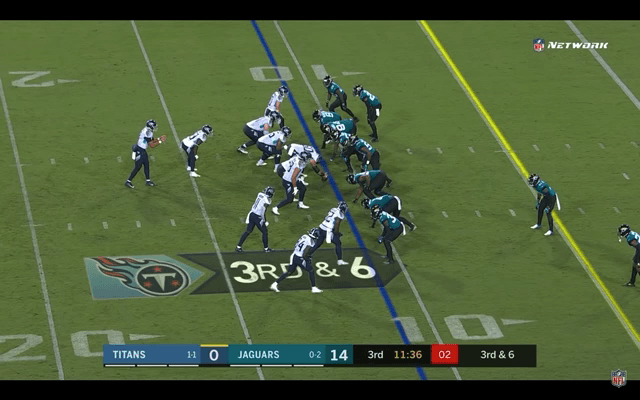 While Mariota has had spurts of good play, this season has been marred by taking far too many sacks, as 34.4% of his pressured dropbacks have resulted in a sack so far, the second-highest in the league behind only Luke Falk. Between the sacks, dropped interceptions and poor fumbles, Mariota's 103.0 passer rating is not a good indicator of his on-field play in 2019.
PFF passing grade: 64.8 (20th)
Passer rating: 100.1 (10th)
Another player where terrible fumbles are getting hidden behind the passing stats, Cousins is off to a poor start despite what his No. 10 ranking in passer rating may indicate. He has six turnover-worthy plays and only two interceptions to show for them, but for Cousins, it's been more about the poor quality in each of these plays. Against the Packers in Week 2, Cousins put the ball on the ground twice, while also heaving a prayer into the end zone for an interception with the game on the line.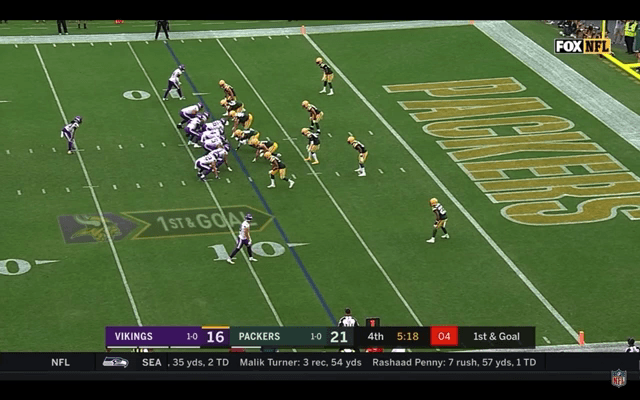 He had multiple other passes that should have been picked in that game alone, while the fumbling issue came back in Week 4 against the Bears, thwarting another comeback opportunity.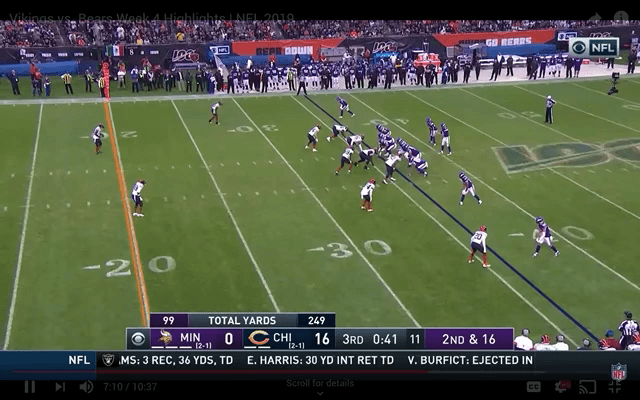 In addition to the turnover-worthy plays, Cousins has been aided by 55.2% of his yards coming after the catch, second-highest in the NFL among quarterbacks with at least 100 attempts. Turnover luck combined with above-average production (due to his playmakers and scheme) has led to a 100.1 passer rating that is not even close to telling the story of Cousins' season through five weeks.
PFF passing grade: 60.9 (24th)
Passer rating: 97.2 (15th)
Annually one of the most volatile quarterbacks in the league, Winston is always at the high end of positively graded and negatively graded throws, and this year is no different. He ranks fifth in positively graded throws and sixth in percentage of negatively graded throws, with the other constant being Winston's turnover-worthy throw percentage, which is tied for first at 6.1%. Winston has 13 turnover-worthy throws with only five interceptions to show of them, and that is aiding in his 97.2 passer rating this season. 
Like the others on the list, Winston's ball security has been an issue in the pocket as he has multiple bad fumbles that will not show up in the stats.
And Winston has made his fair share of poor decisions. 
Here, he throws late in the end zone for what should have been an easy interception.
Not all interceptions are created equally, and this decision under pressure is as bad as it gets for Winston.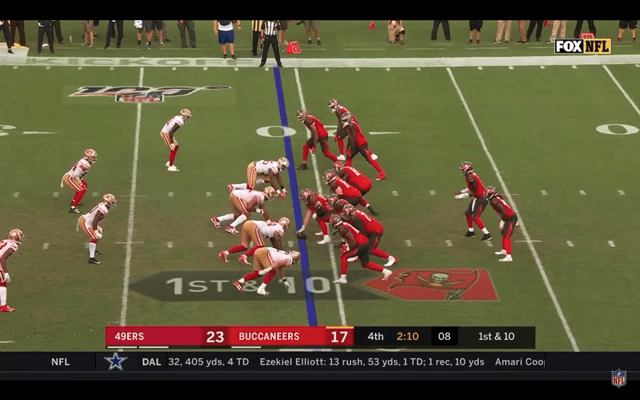 And here's one that Winston got away with, throwing another poor pass for a dropped interception that easily could have been a pick-6 if it was caught.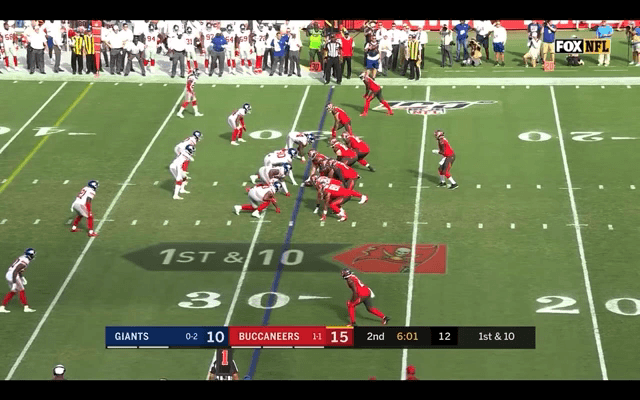 Winston's aggressiveness continues to give Tampa Bay to chance to win every week, but it also leads to a number of risky plays, many of which have been on the lowest end of the PFF grading scale so far this season.
Playing better than stats
PFF passing grade: 88.4 (2nd)
Passer rating: 94.3 (19th)
Let's take a look at one quarterback at the other end of the spectrum. So far this season, there aren't many quarterbacks who are playing much better than their stats would indicate, but Carson Wentz does stick out as his PFF grade is far better than his No. 19 ranking in passer rating. As we highlighted last week, Wentz has had incredibly bad luck, as many of his best throws have fallen incomplete thus far this season. He has the most positively graded throws that have fallen incomplete, including five big-time throws. Those five accurate big-time throws would move Wentz up about 10 spots in passer rating, highlighting just how significant just five plays can be in shaping player perception.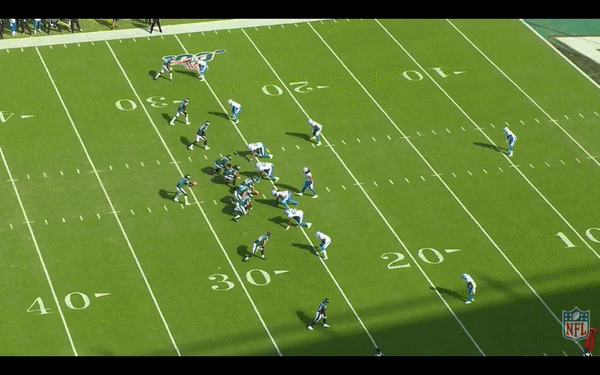 Final Word
At PFF, we take every play very seriously, and each quarterback throw is considered with great care with regard to the quarterback's execution and how everyone around him on both sides of the ball affected the outcome of the play. For that reason, be sure to stick with PFF grades as we look to add proper context to each player's performance and separate it from the five traditional stats that are perception-shapers, but often noisy.