PFF Analysts Steve Palazzolo and Zac Robinson give you an overview of every team's quarterback, and where they rank in terms of overall PFF grade as well as detailed notes on a select few who stood out for good, or bad, reasons in Week 16. These rankings are based on their overall grades after Week 16, and can be found as a part of the PFF Edge subscription.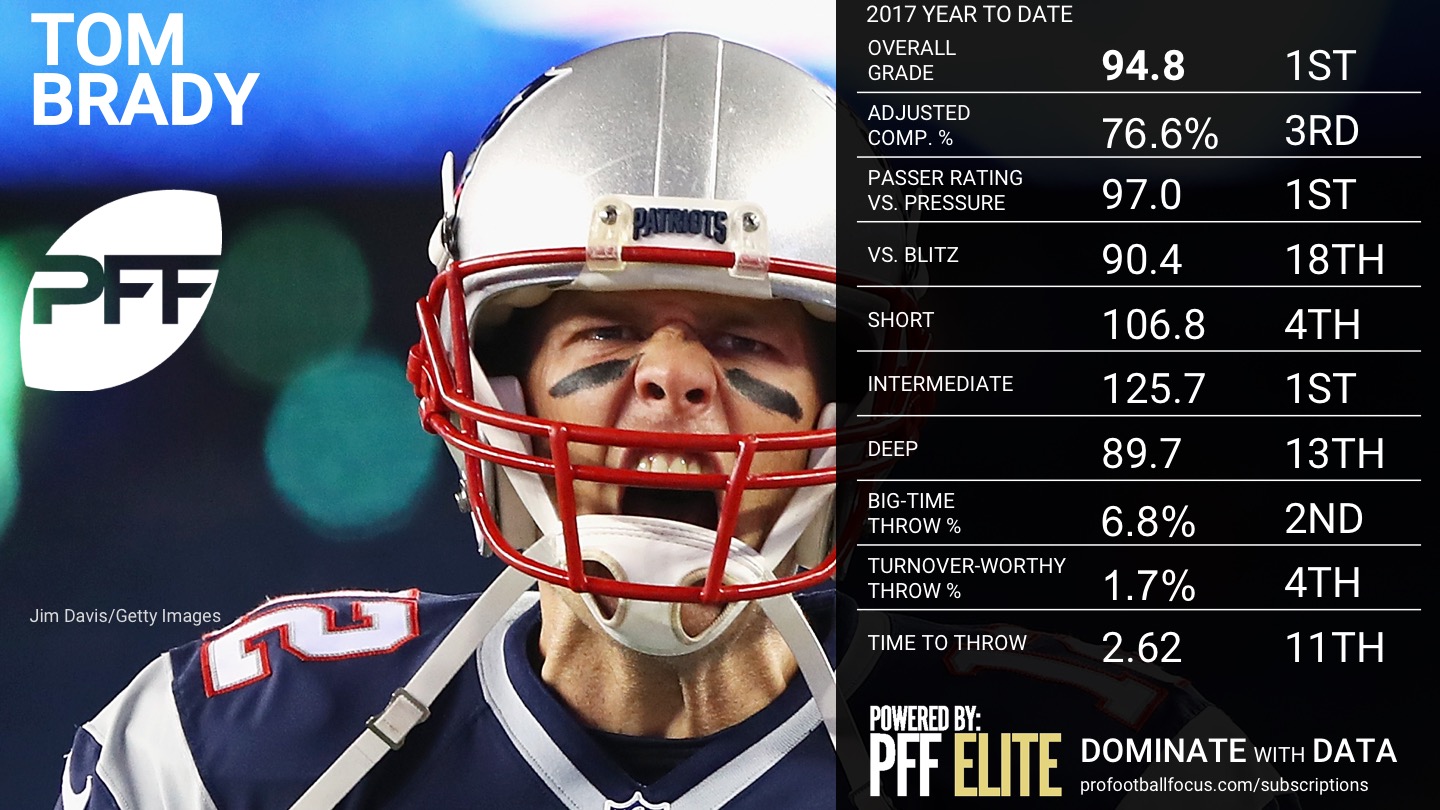 It was a solid but unspectacular game for Brady who was off a bit with his accuracy at times in the first half. Brady threw a first half interception that can be pinned on newly-acquired WR Kenny Britt, who badly drifted up the field on his shallow cross route allowing safety Jordan Poyer to step in front for an interception and return it for a touchdown. The Bills did a good job of keeping the ball in front of them in their zone coverages and limiting big plays at the intermediate and deep levels that you typically see, with Brady going just 5-of-11 for 74 yards on throws traveling 10-plus yards. Brady stayed patient with the bend-but-don't-break mentality from the Bills, playing well in the second half and finishing the game completing 16-of-17 on throws under 10 yards.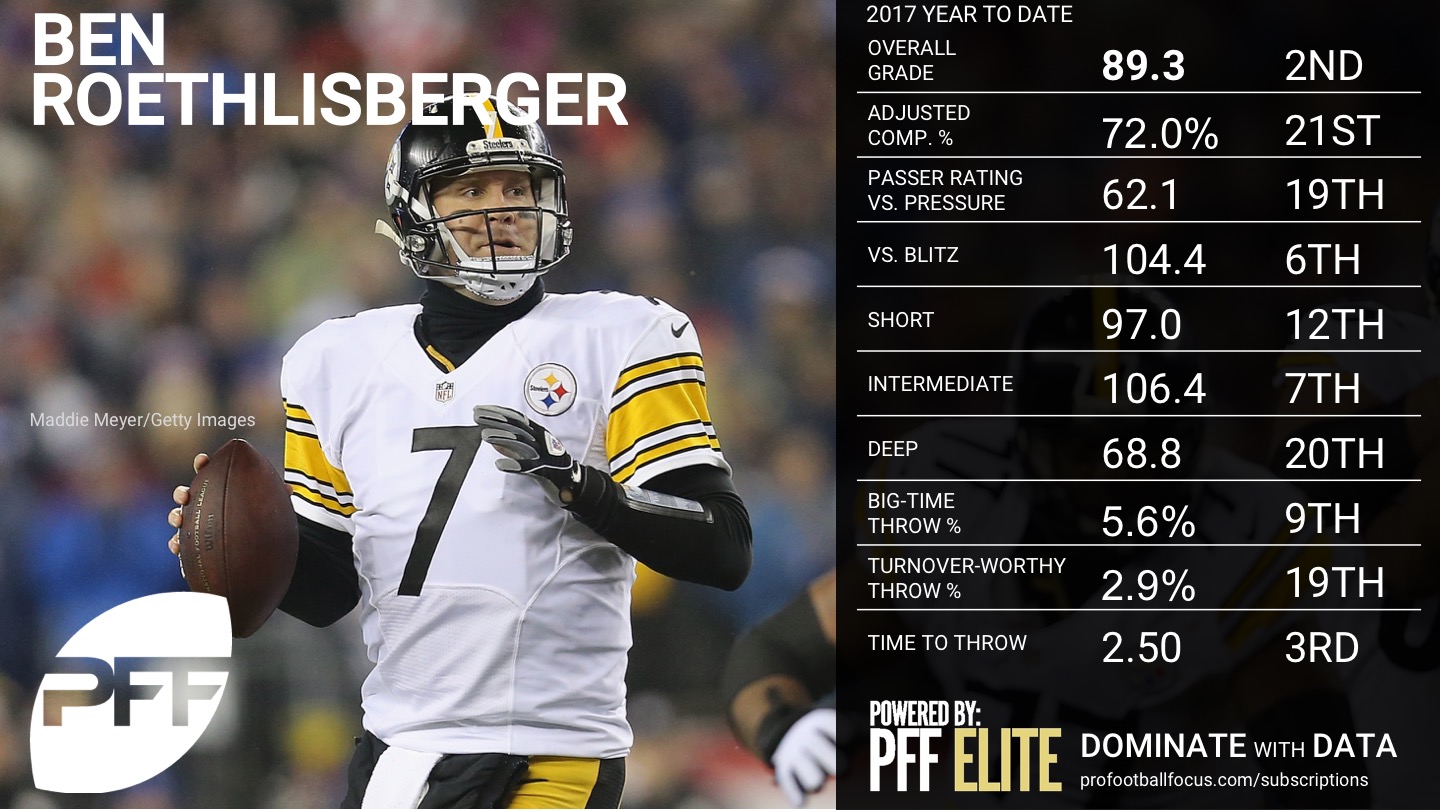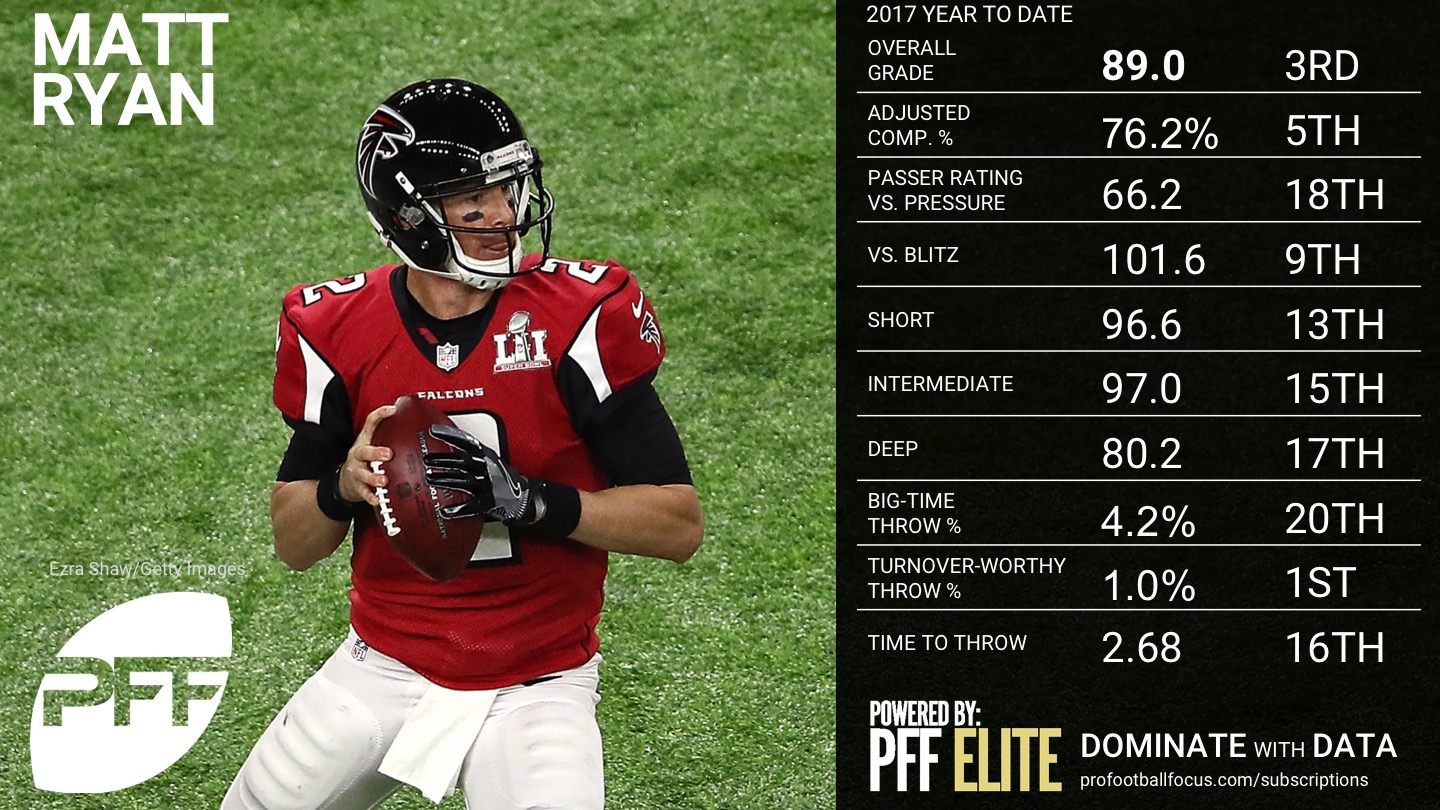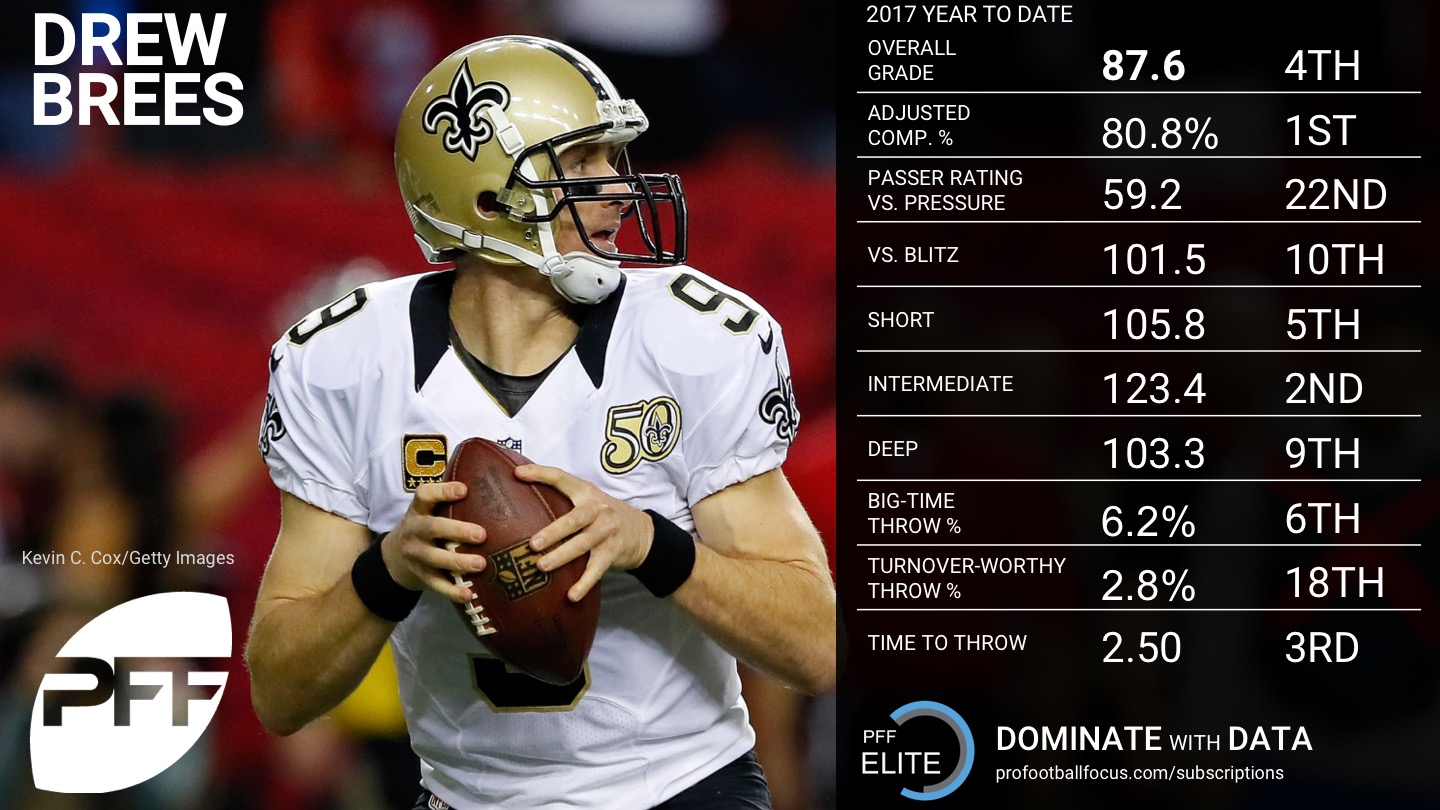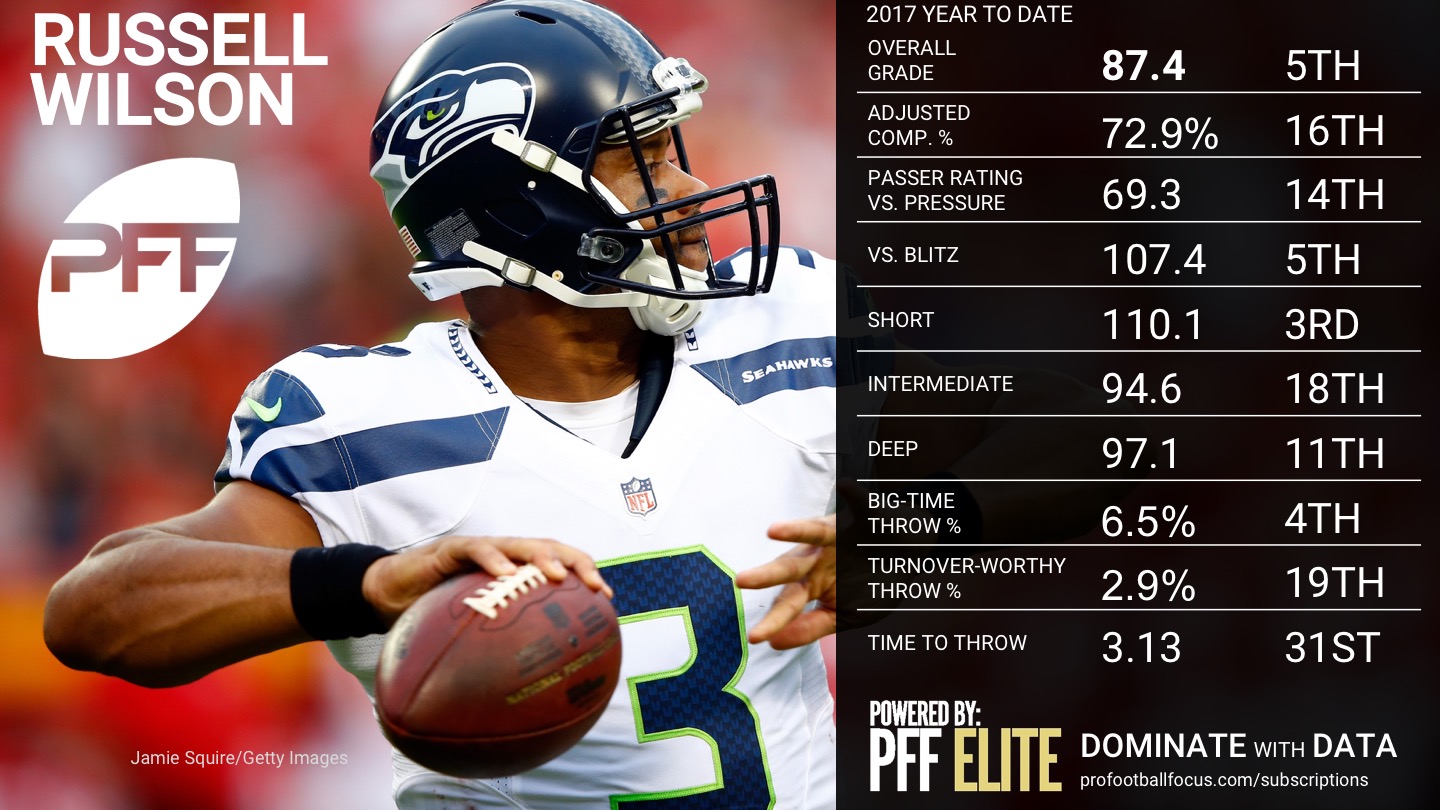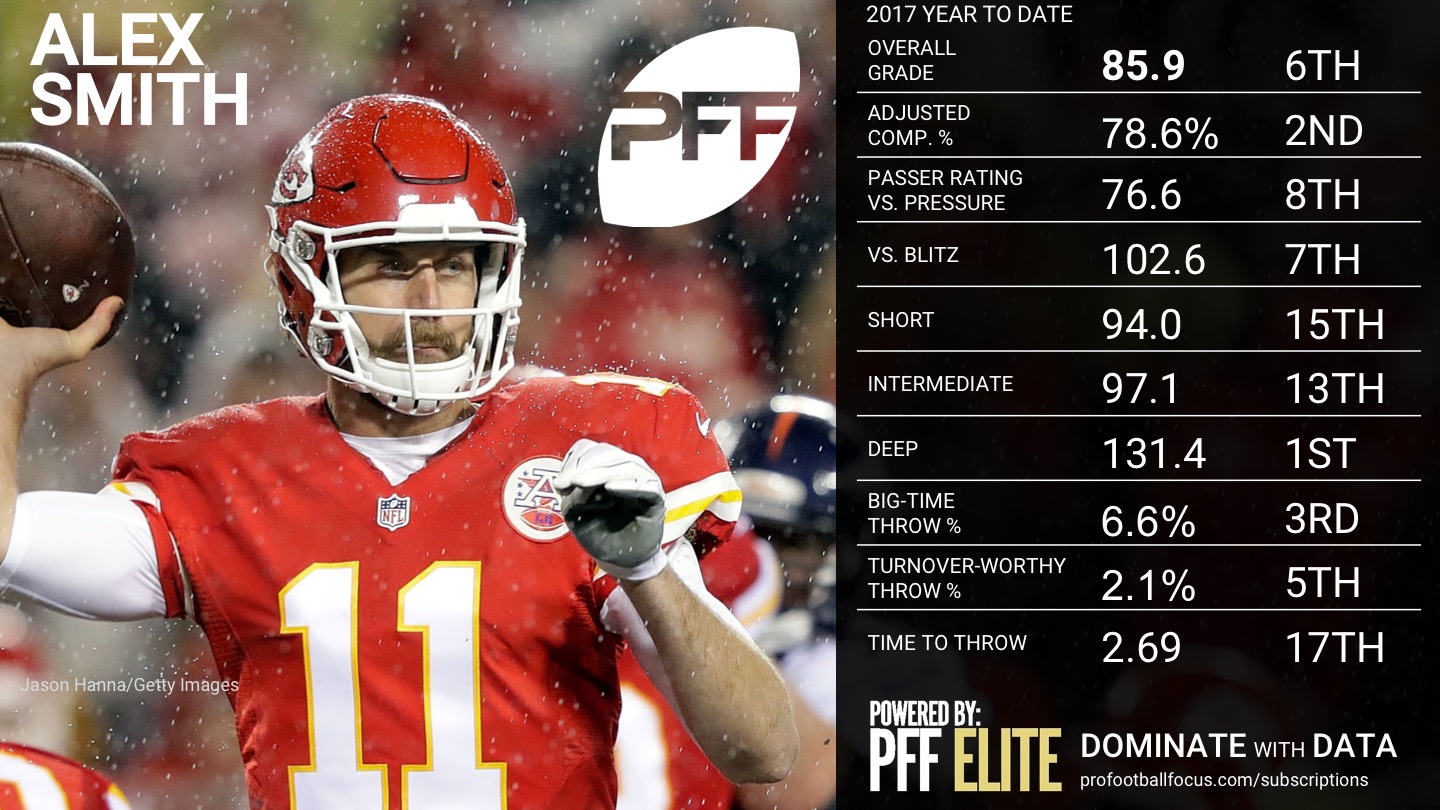 Smith put together one of his best games of the season, though it didn't always show up on the stat sheet. He made some fine throws down the field, finishing 3-for-6 for 120 yards on deep (20-plus yard) throws, with his best throw of the day being a perfectly-placed strike up the seam that should have been a 65-yard touchdown had WR Albert Wilson not dropped it. Smith should have had another touchdown, but WR Tyreek Hill was ruled out of bounds along the sideline in the end zone, so it was an efficient day for Smith (25-for-39 for 304 yards, one touchdown, zero interceptions) but it could have been even better with some help from his receivers.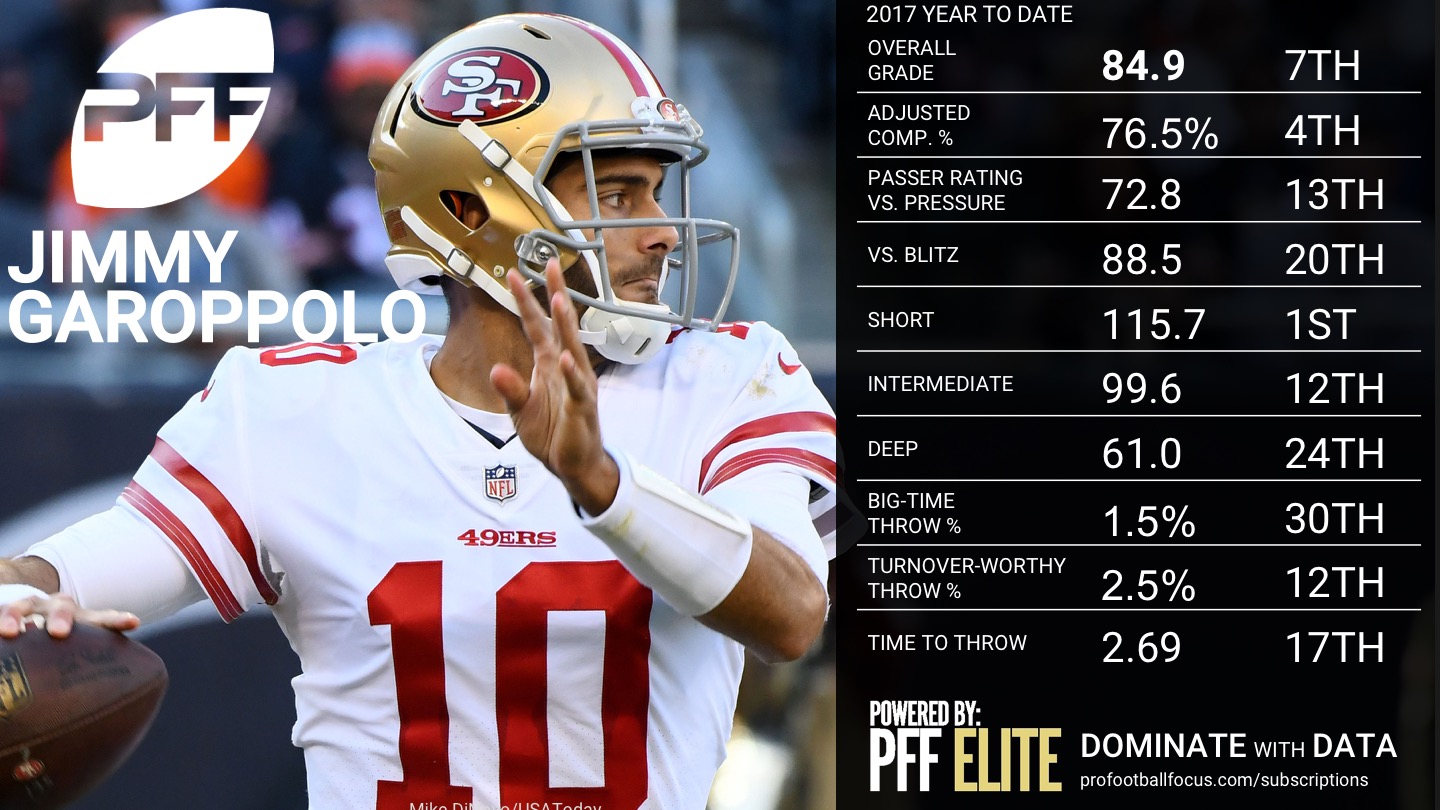 Garoppolo was completely unfazed by the Jaguars defense that has made it tough on quarterbacks all season long, notching another win for the 49ers as they're 4-0 since he took over. He played the game with the style we have been accustomed to seeing, working the pocket well and throwing with precision at the short and intermediate levels particularly in between the numbers, where he finished 11-of-14 for 126 yards and a touchdown in that area. Garoppolo has been able to handle pressure well since he took over in Week 13, throwing for more yards under duress than any quarterback in the NFL in that timespan, with 401 yards.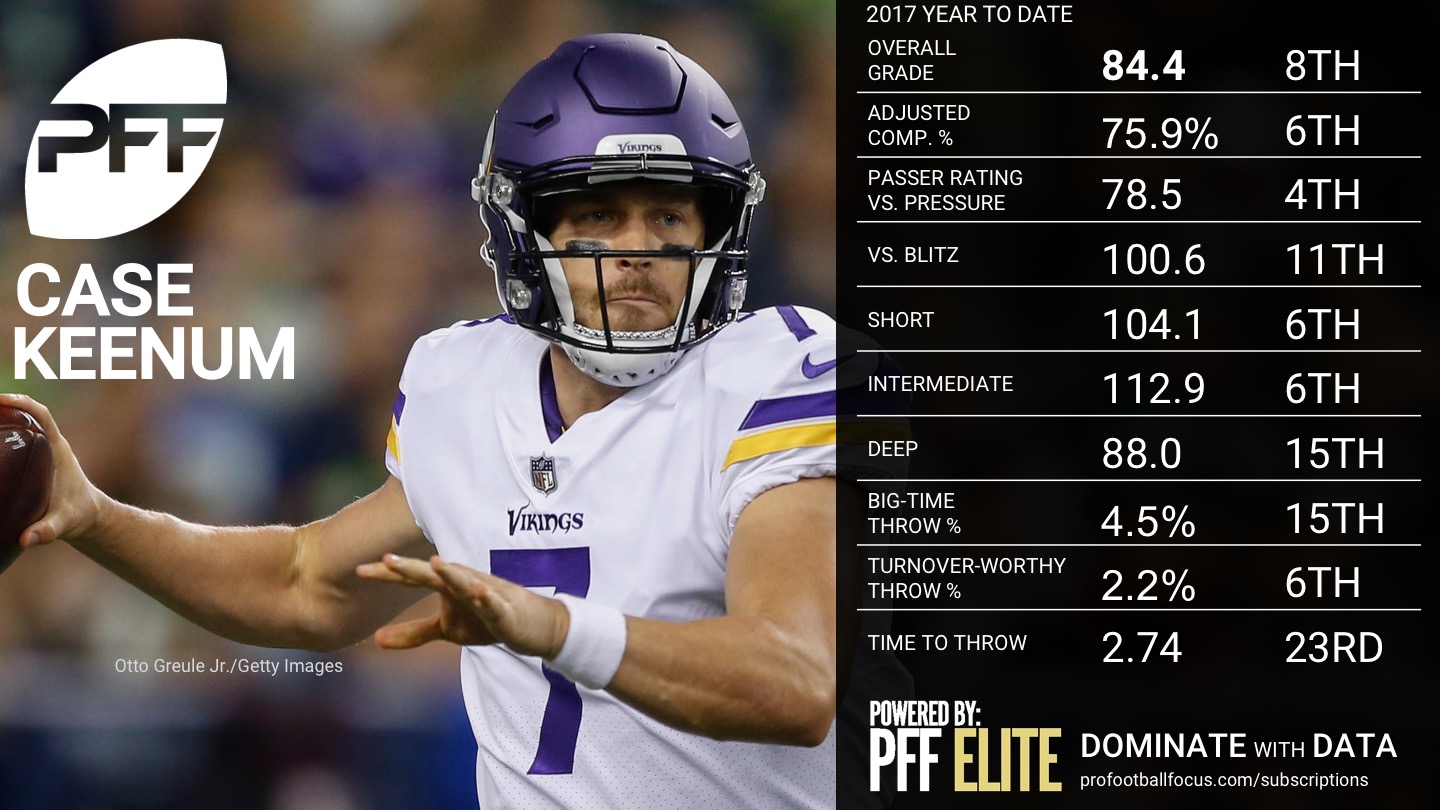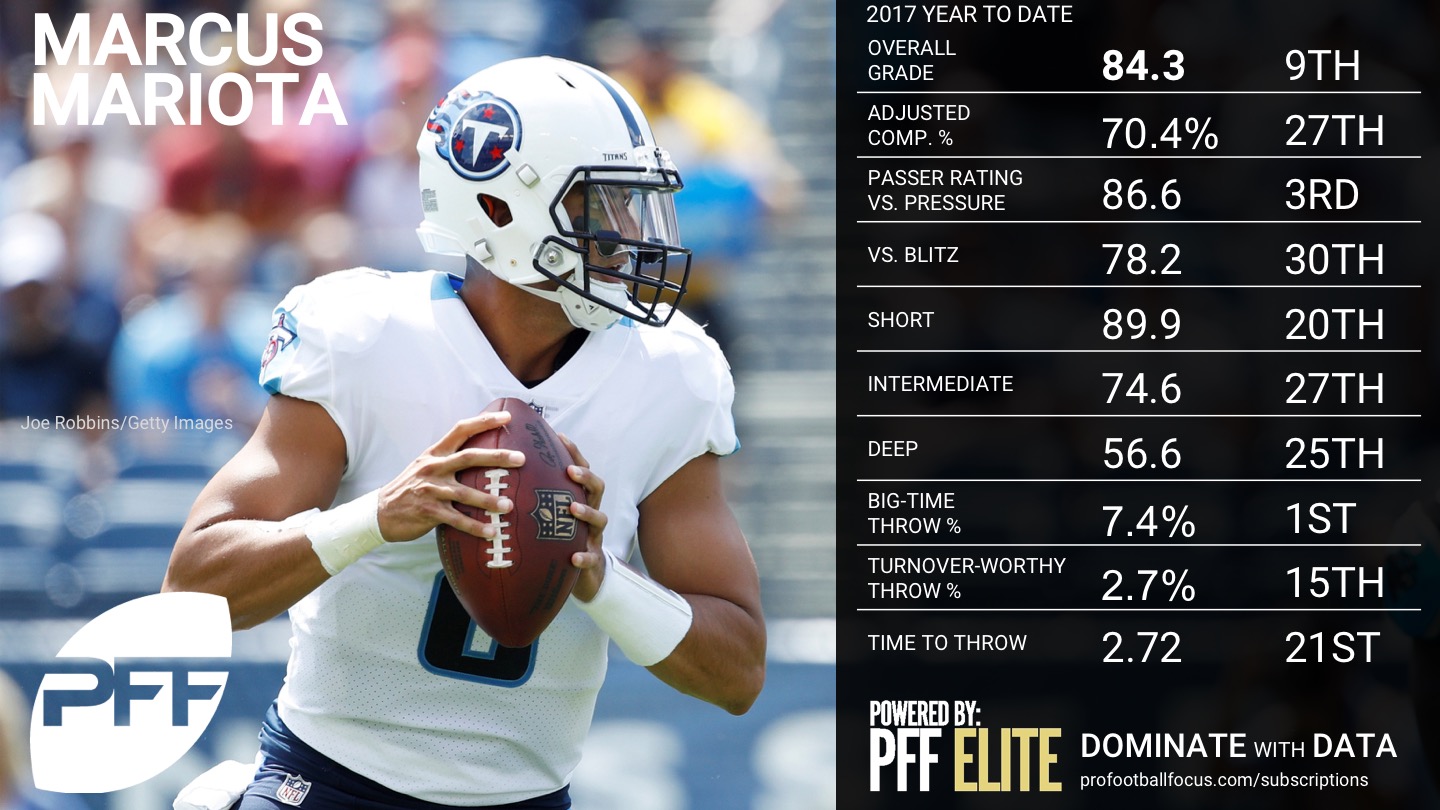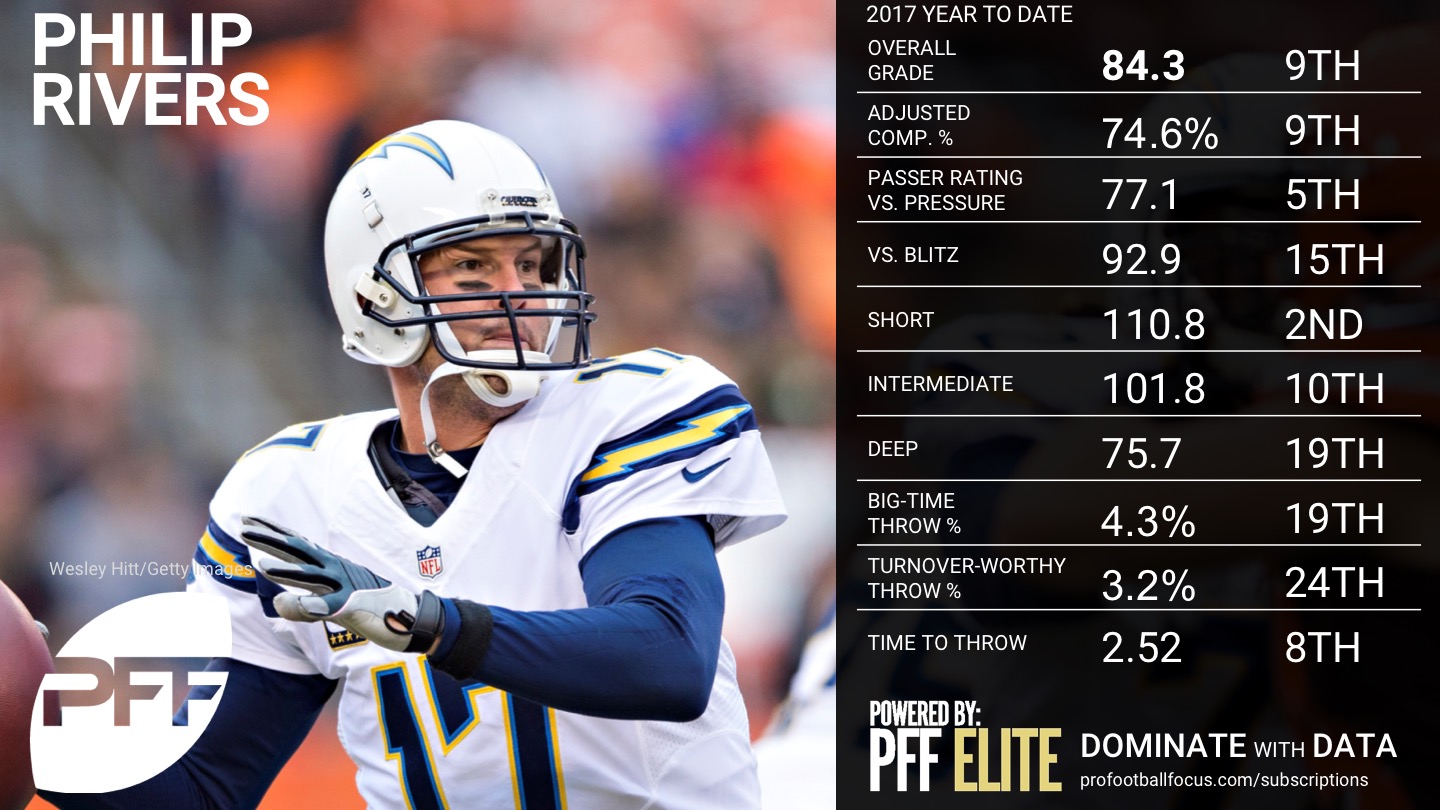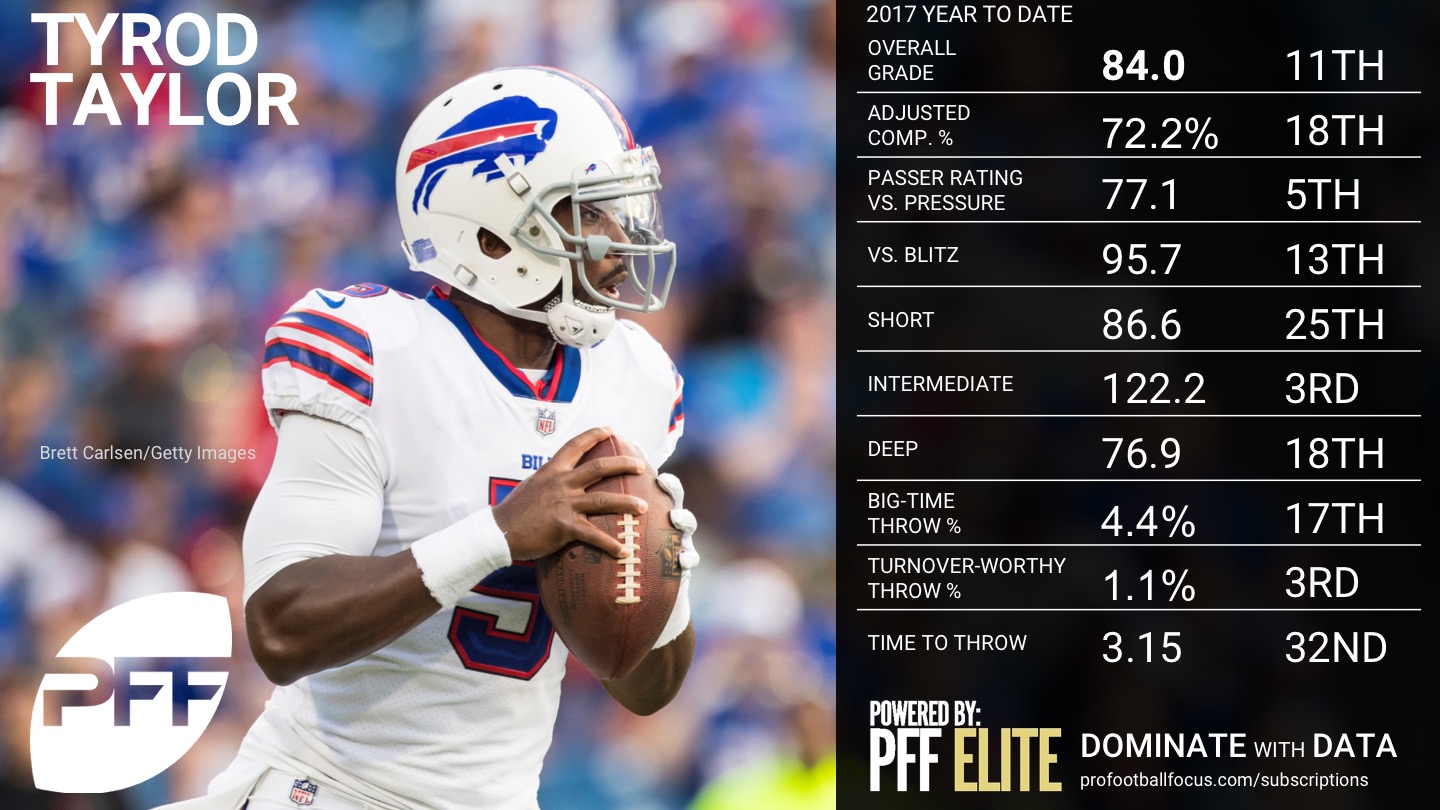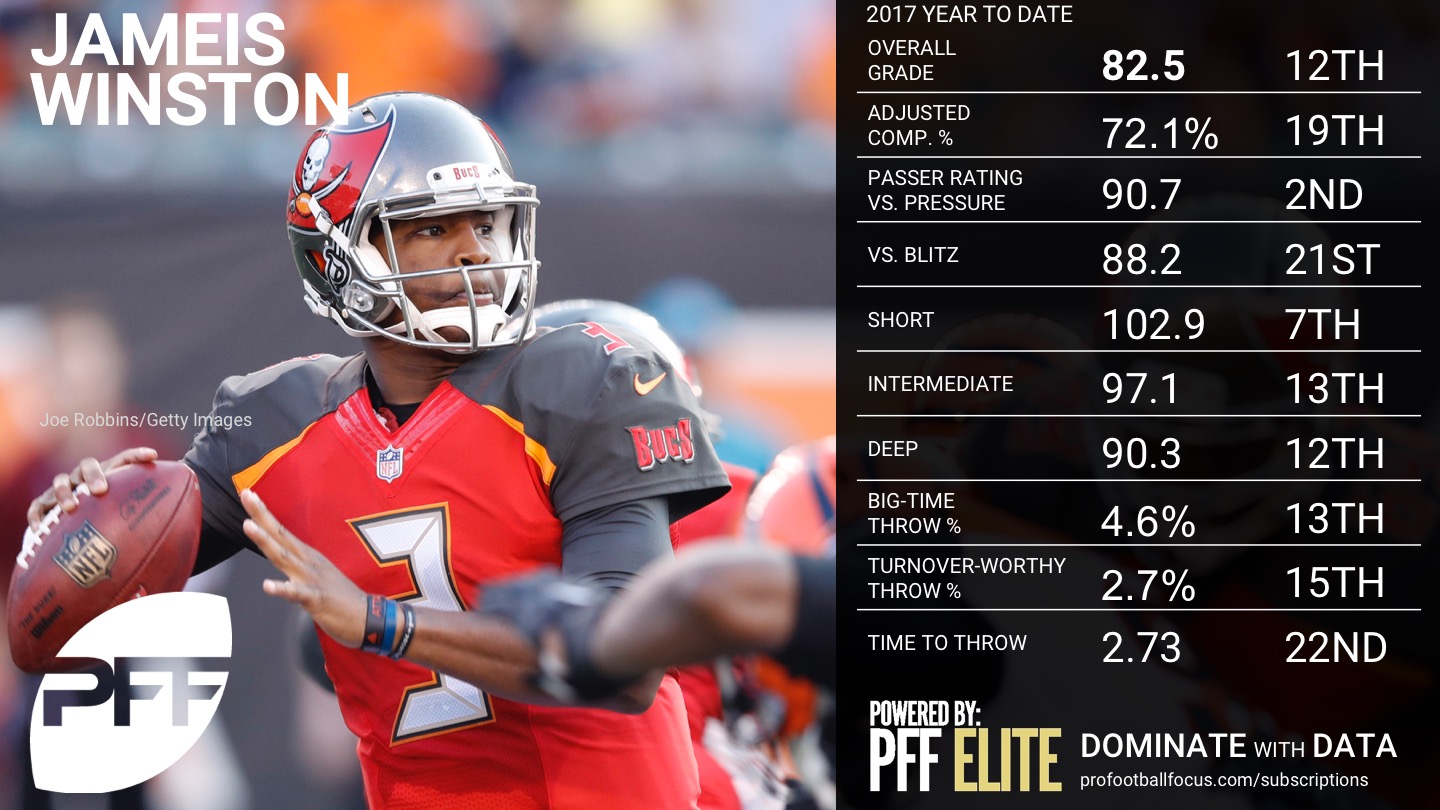 It was an odd game for Winston who finished with a gaudy stat line: 21-for-27 for 367 yards, one touchdown, no interceptions, 131.1 passer rating. He threw the ball extremely well, completing 12-of-16 passes beyond 10 yards, though the stats were inflated a bit by impressive YAC plays and a jump ball win by WR Adam Humphries. Though it was one of his best games from a pure passing standpoint, it will likely be remembered more for untimely sacks, including two bad fumbles, one of which clinched the game for the Panthers. Winston then lost his cool at the end, picking up an unsportsmanlike penalty and making a big scene on the field, perhaps taking away from his mastery of Carolina's blitzes and an excellent performance when facing pressure.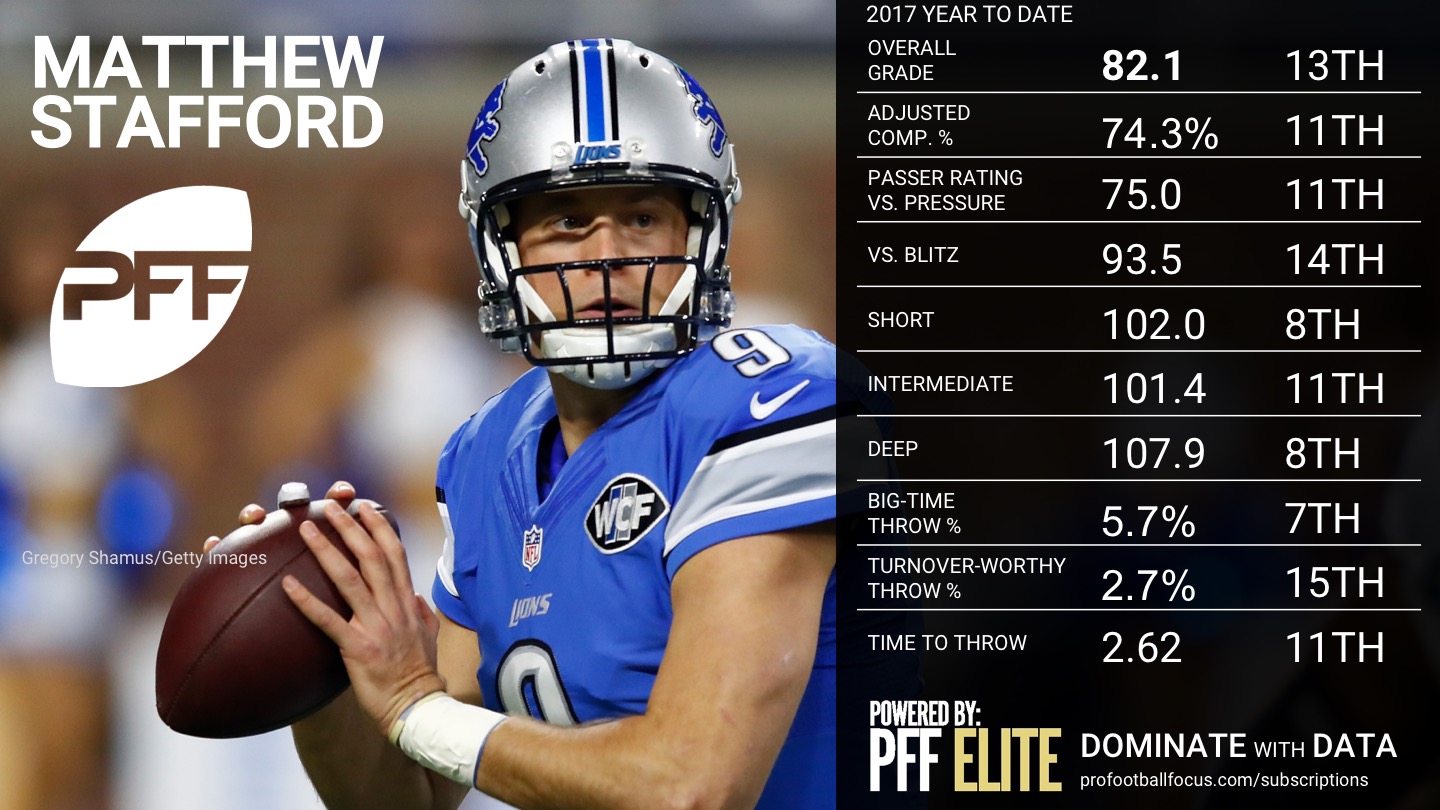 Stafford hit a couple of #bigtimethrows, including a perfectly-placed deep ball for an early touchdown and a deep crossing route that hit TE Eric Ebron in-stride despite an extremely tight window. It was a solid overall game for Stafford as he didn't miss many throws, but he was forced to throw a number of low-percentage, 50/50 balls and the results just didn't go his way this time around. His interception came due to heavy pressure as he was a tick late on a seam route, but he got smacked right as he threw and the result was an easy interception on a pass that normally falls incomplete. While Stafford has generally had favorable luck and help statistically this season, this game went the other way, and he simply wasn't able to pull of the fourth quarter magic that has helped Detroit overachieve over the last two years.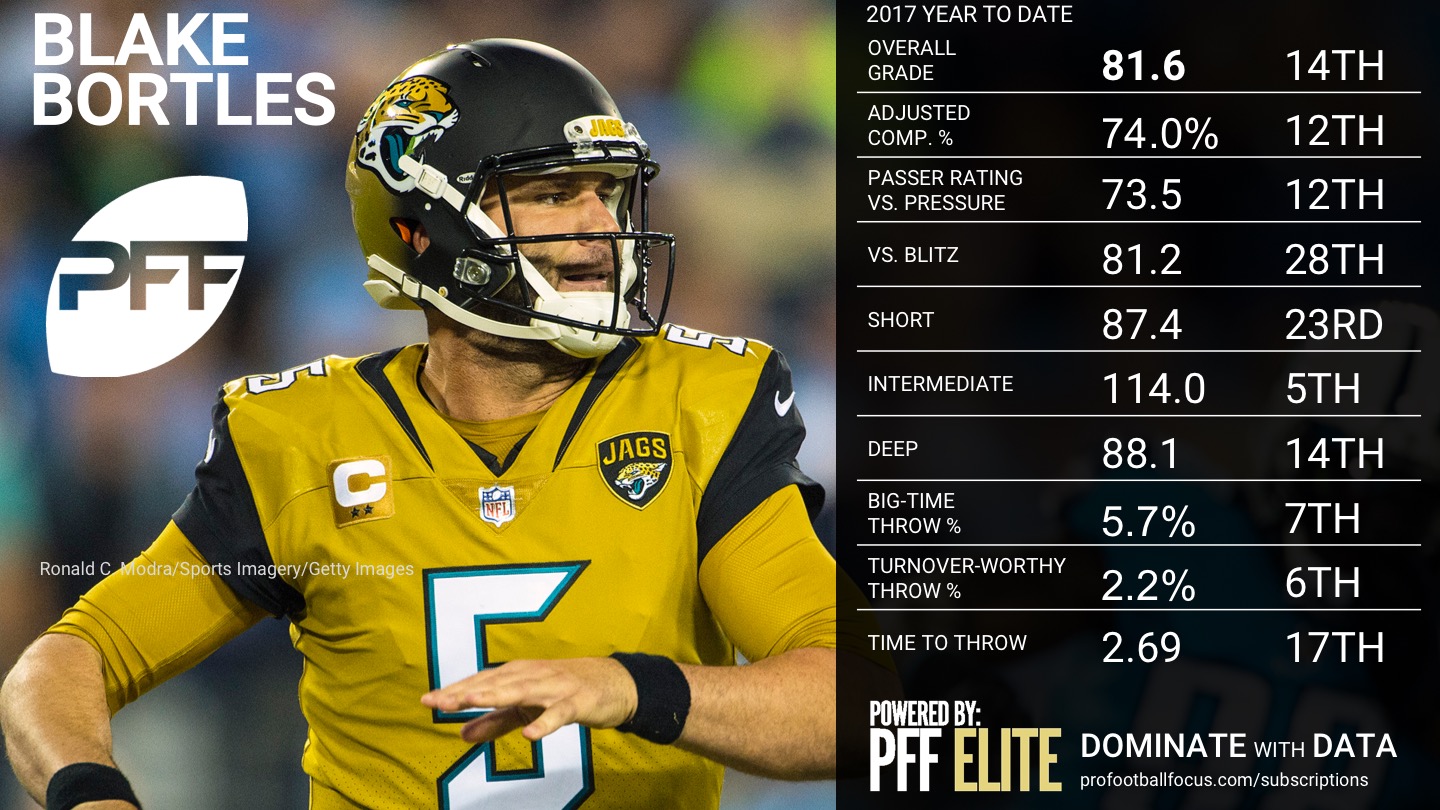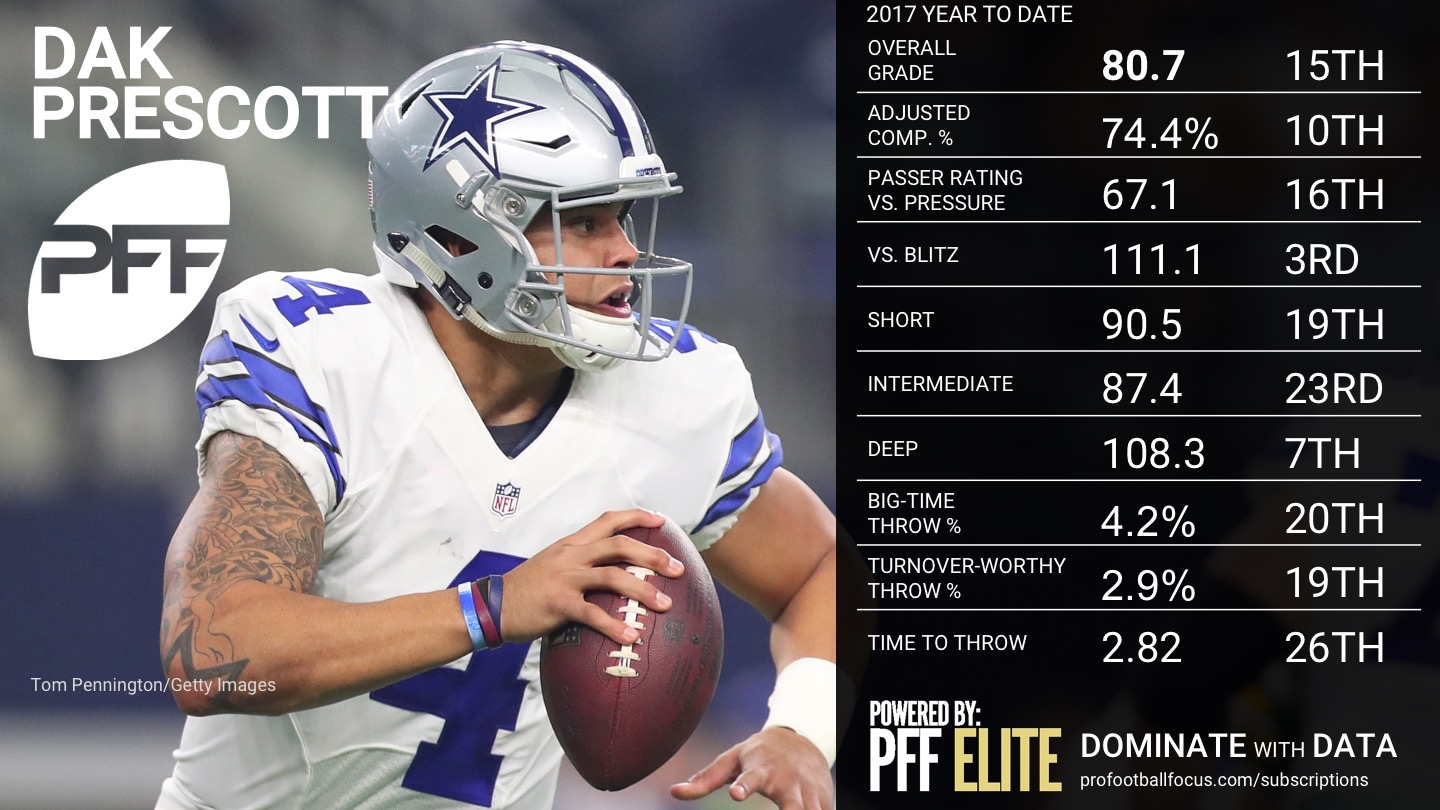 It was expected for Prescott's play to take a leap with the presence of Ezekiel Elliott back on the field, combined with facing a struggling Seattle defense, but that was not the case on Sunday. The offense looked stale in the running and passing game as Prescott couldn't find much rhythm to get things going. The passing game lacked explosion with Prescott attempting just six passes over 10 yards, completing four of them for 72 yards. He was off with accuracy often, including a poor overthrow trying to get to a checkdown that sailed over Elliott's head and was intercepted for a touchdown the other way. Prescott has attempted the third-fewest percentage of deep passes on the season with just 8.7 percent of his attempts thrown over 20 yards, something that has hurt the Cowboys as the offense has not played with the same type of precision in the short and intermediate range that it did a year ago.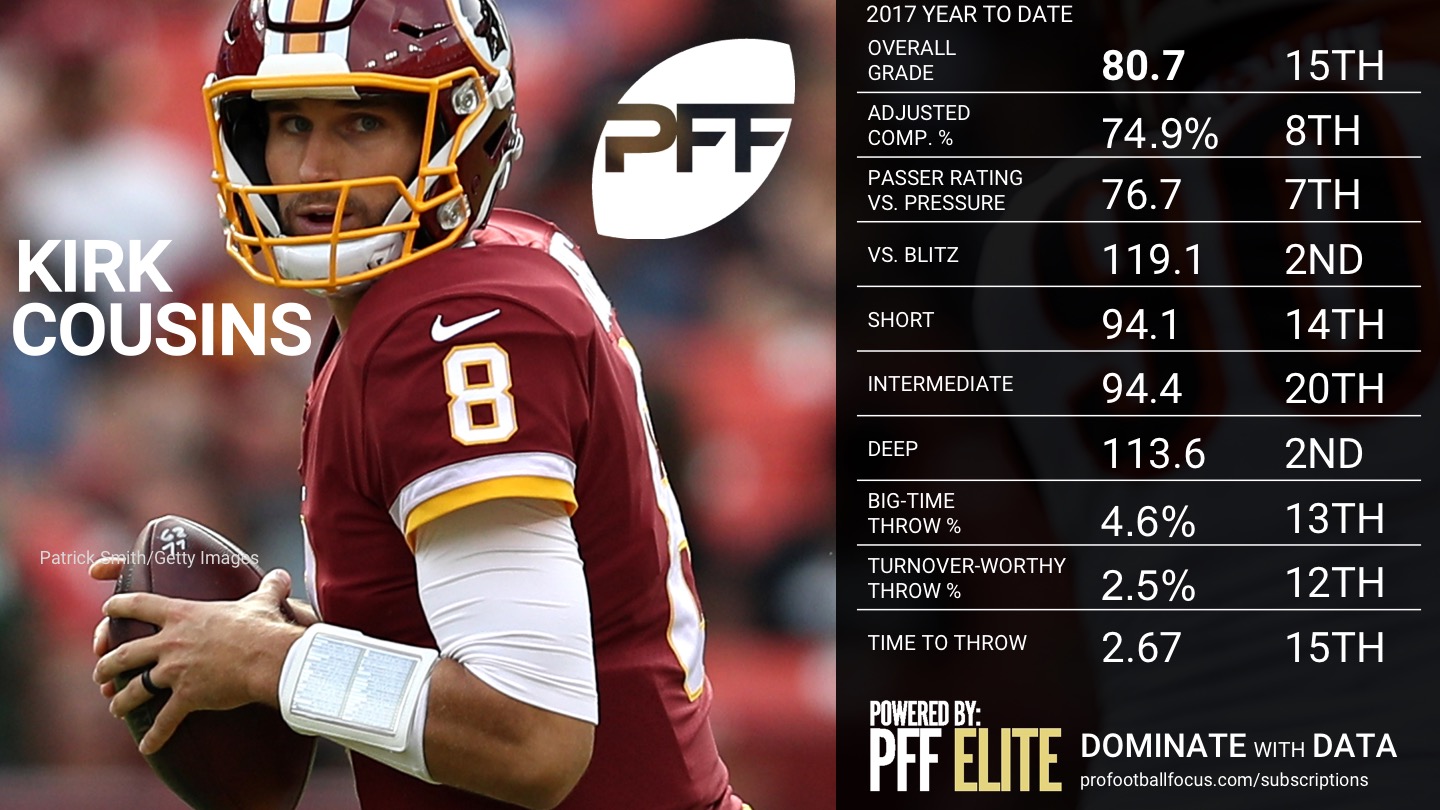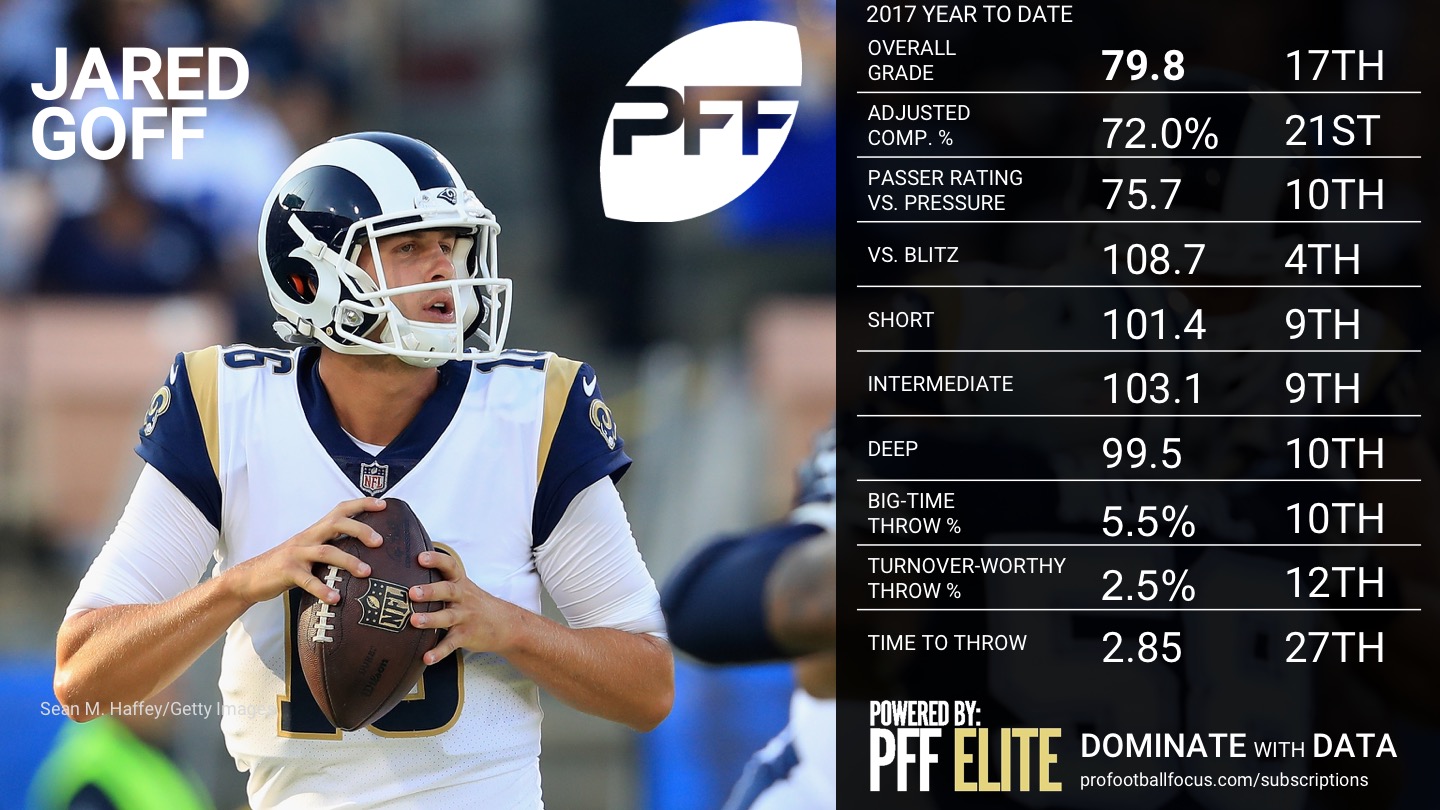 Goff had another solid game, though the stats look extra pretty due to an 80-yard screen pass for a touchdown by RB Todd Gurley as well as an easy flat route for a score to Gurley on a busted coverage. On the day, Goff finished 6-for-10 for 97 yards on 10-plus yard throws, including perhaps his best throw of the day, a well-placed corner route to WR Cooper Kupp for a 14-yard score. The one complaint about Goff in this one was his work maneuvering the pocket as held the ball too long on a bad fumble and he finished just 2-for-12 for 25 yards when pressured.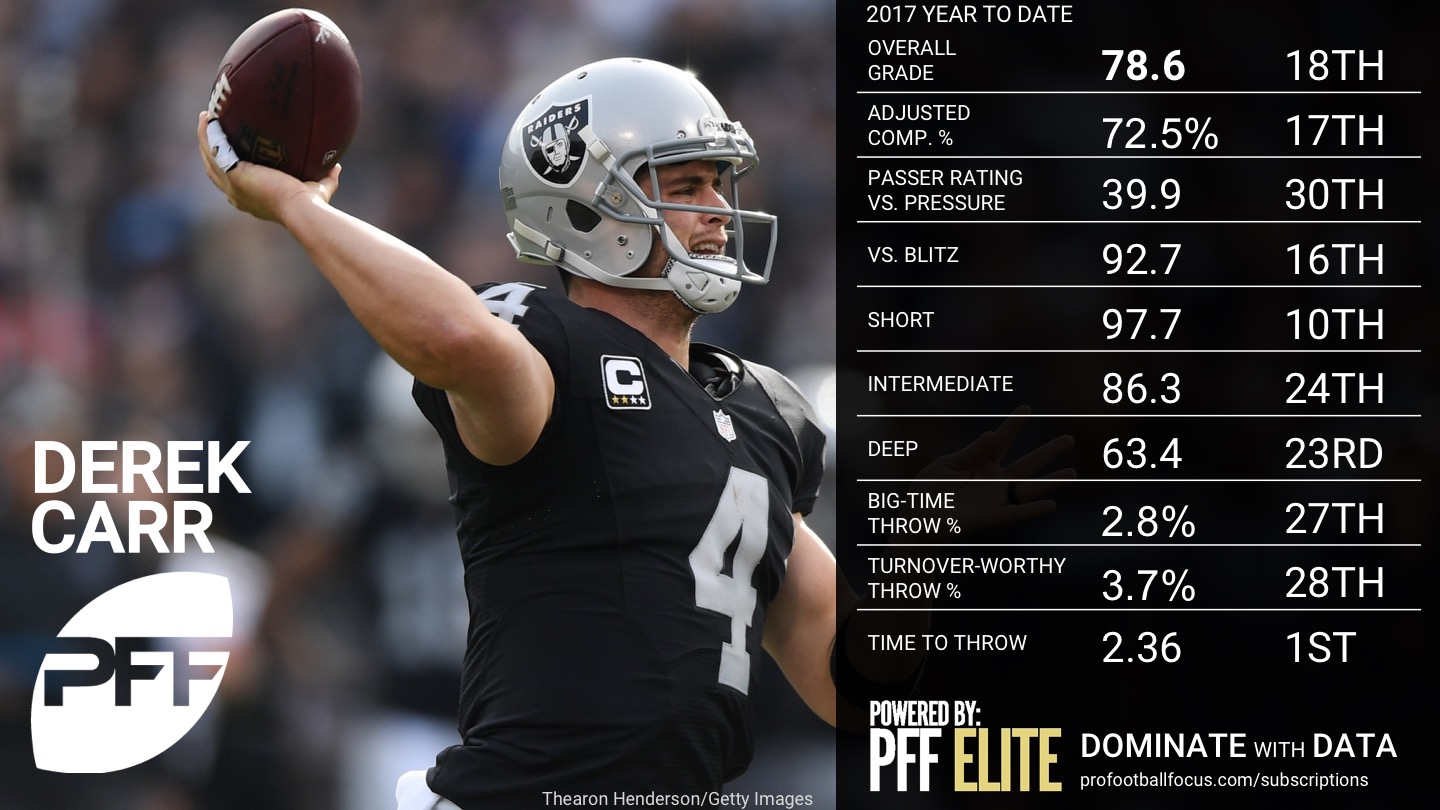 Carr's up-and-down season continued with another poor outing. Outside of a long touchdown pass on a double move to Amari Cooper, Carr and the offense struggled to get anything going. While there were many parts to his game that didn't fare well, Carr's play under pressure saw him go just 2-of-12 for nine yards two interceptions, all for a 0.0 passer rating. As we have seen all season, Carr also struggled on longer-developing plays, completing just 4-of-12 passes on plays lasting 2.6 seconds or longer, bringing his season total to a 43.9 percent completion rate, second to last in the NFL among qualifiers.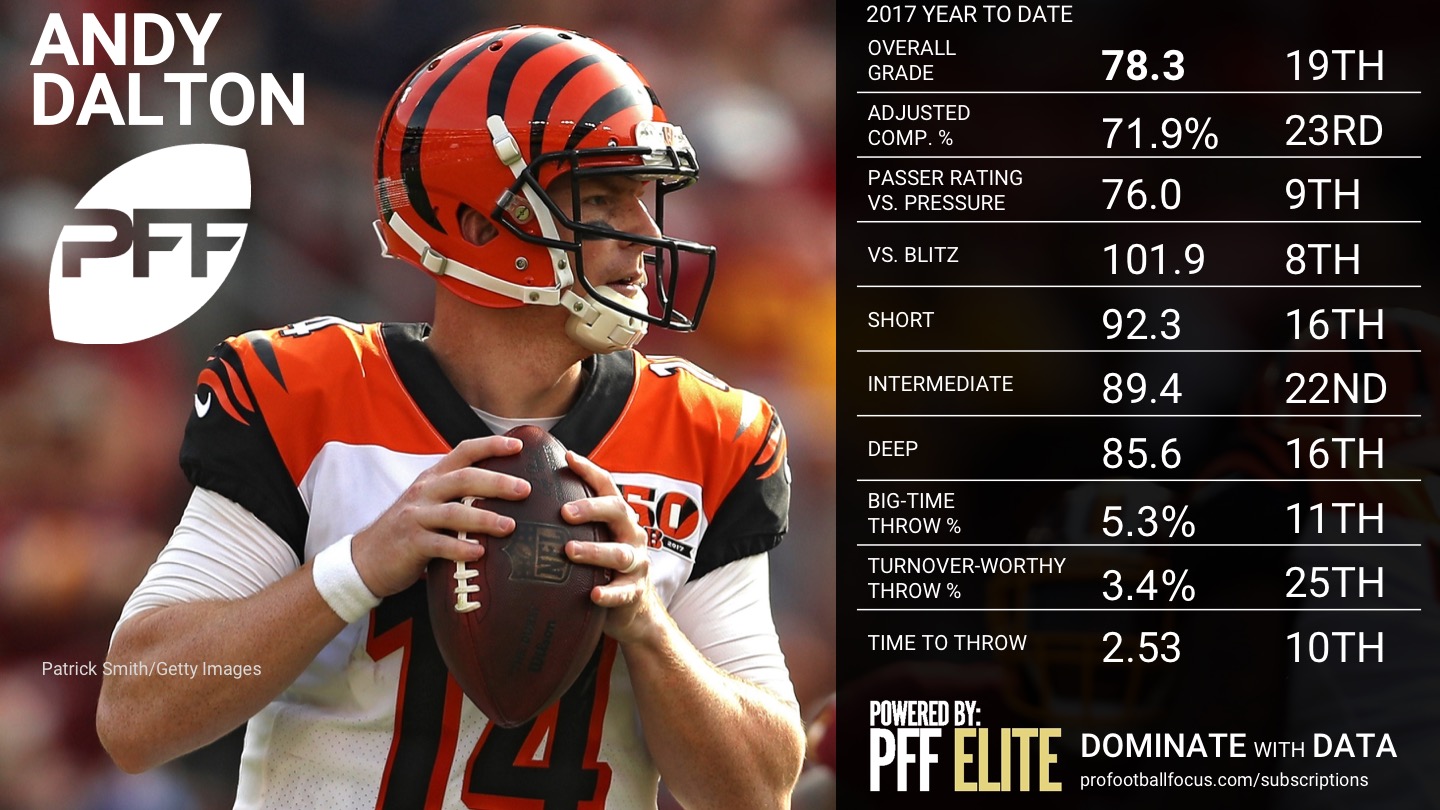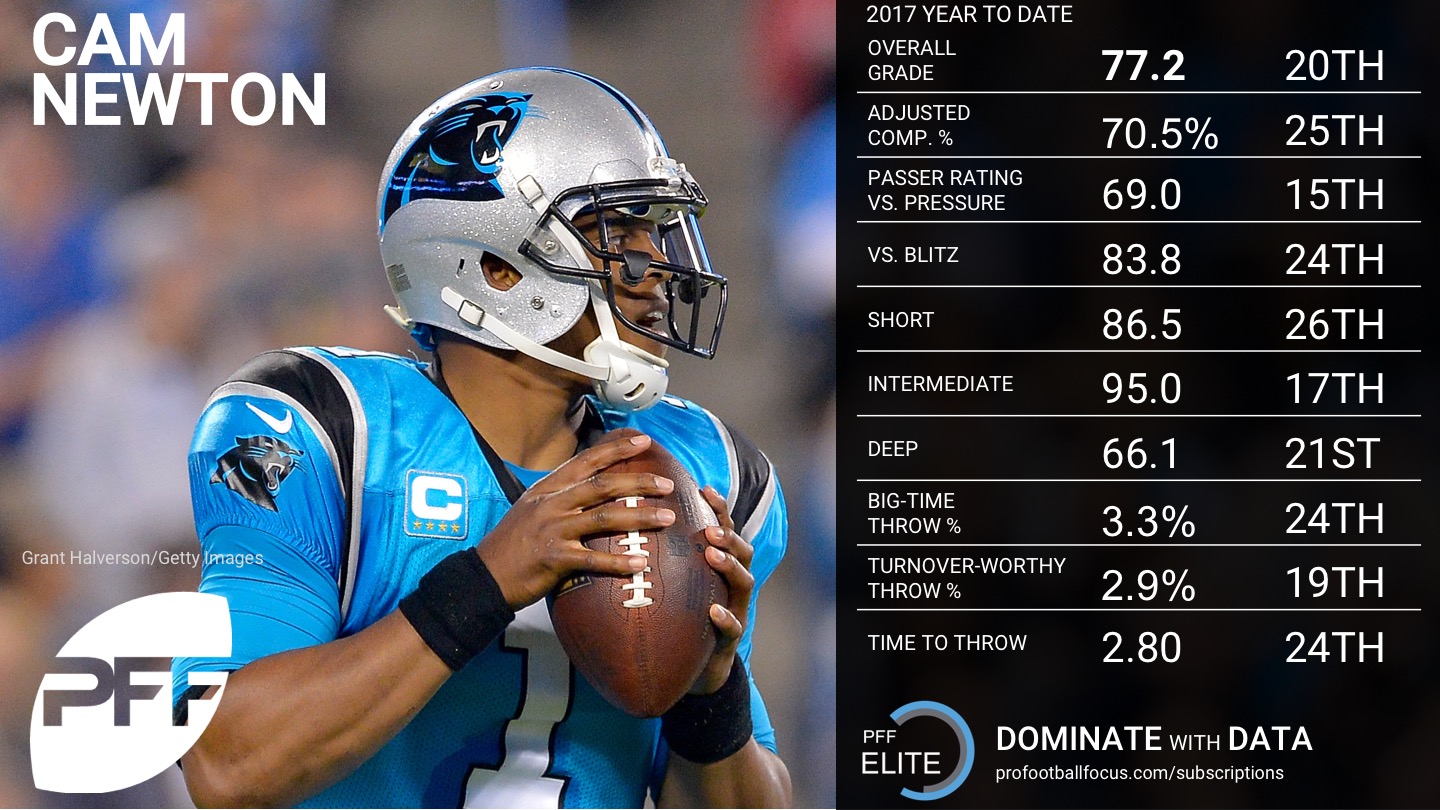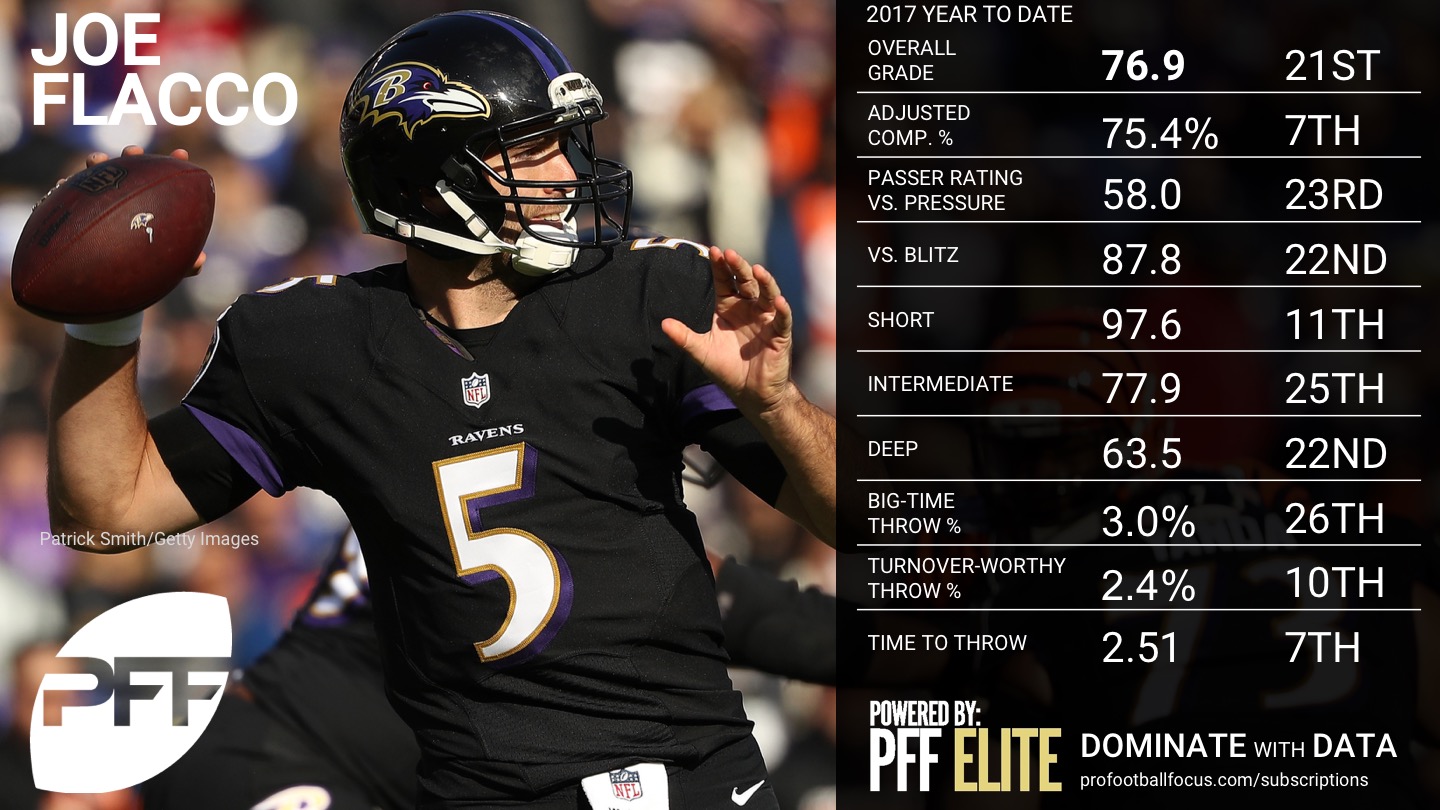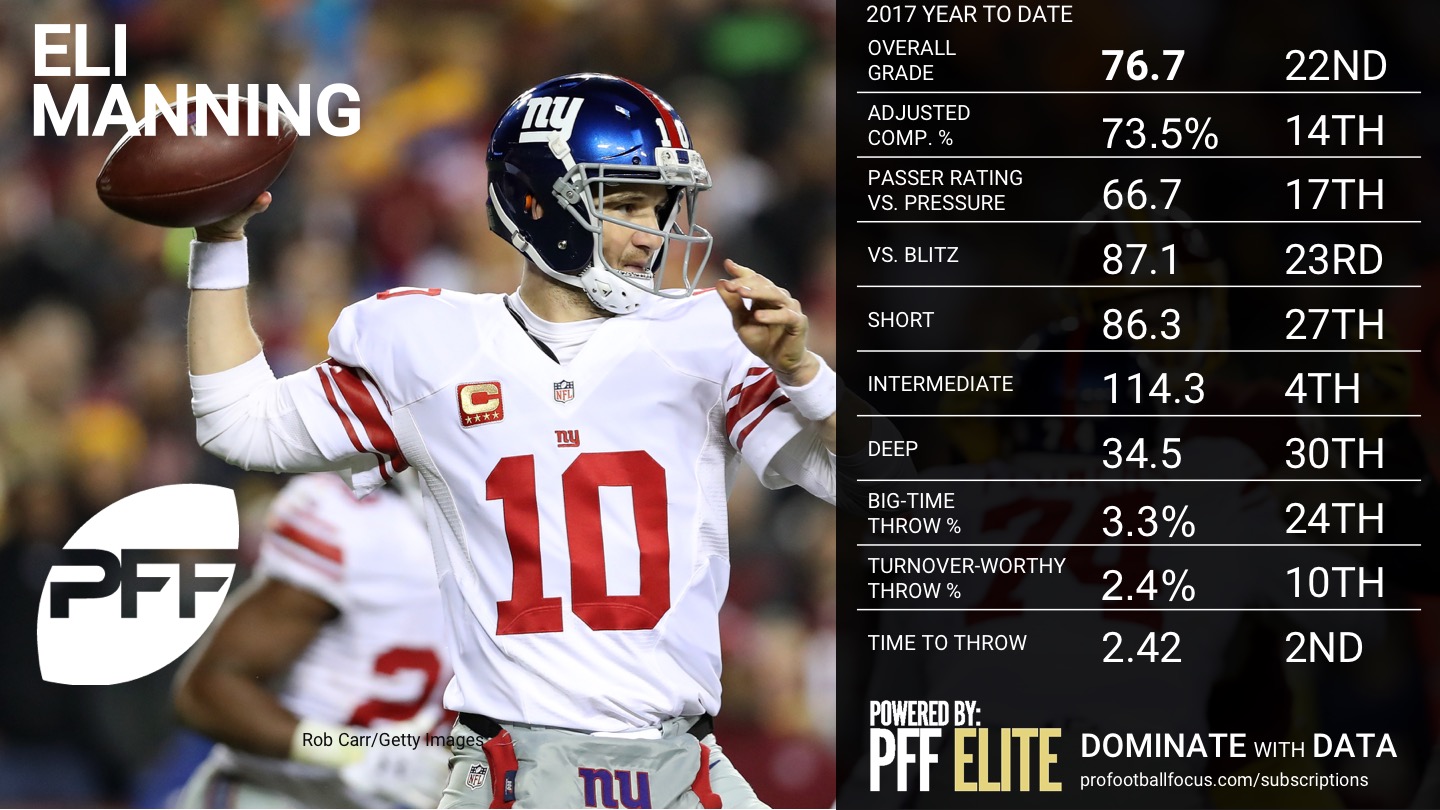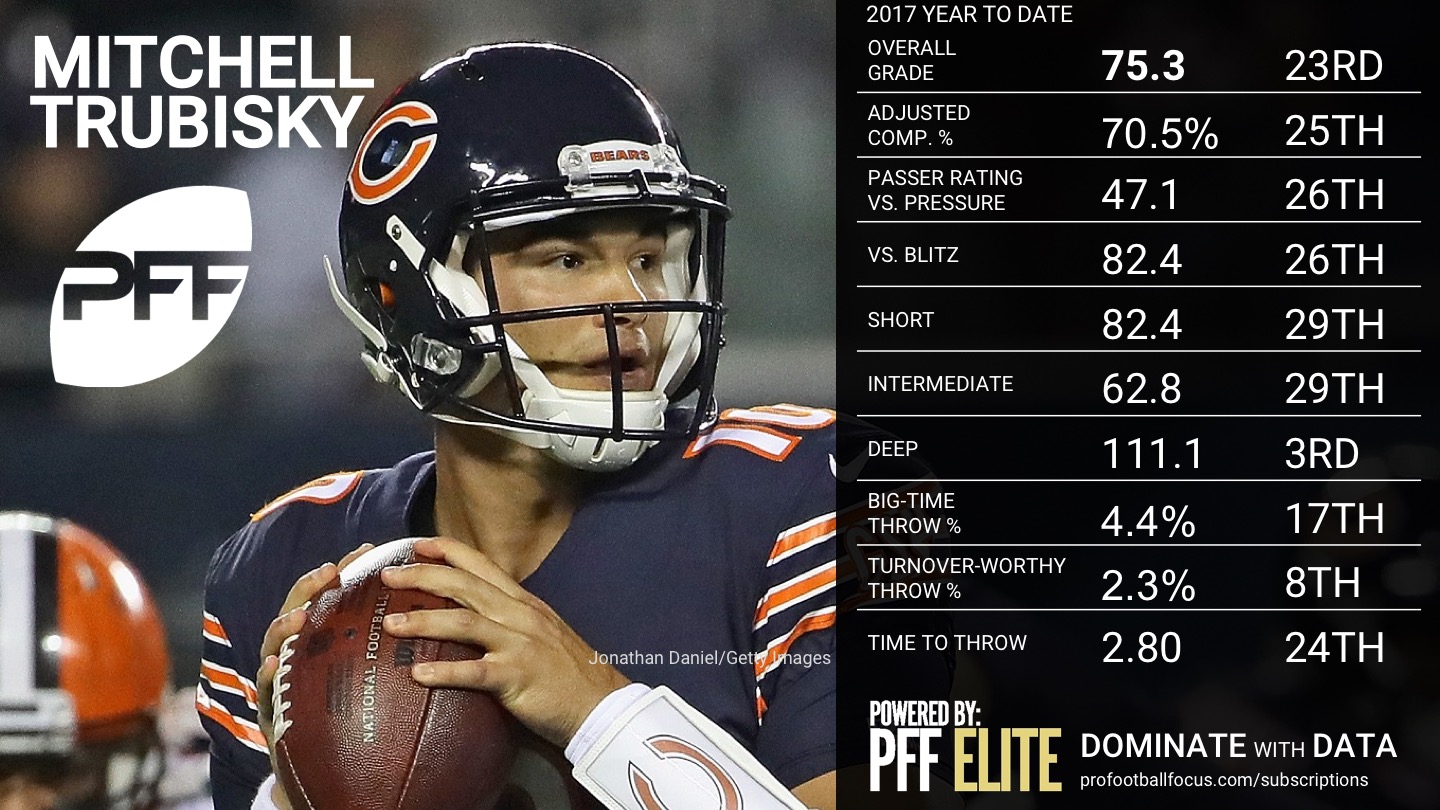 Trubisky showed he can play well in adverse weather conditions, throwing the ball fairly well when it was needed and using his legs for a number of timely scramble runs for first downs. As we've seen often this season, Trubisky excelled in between the numbers, going 11-for-13 for 164 yards in that area of the field. He struggled with his blitz recognition once again, like most rookies, as he was sacked four times against the Browns various blitz looks. On the plus side, Trubisky played to the flow of the game and did a good job of not forcing the issue under duress when he was blitzed, knowing his defense had a clear advantage on the other side of the ball.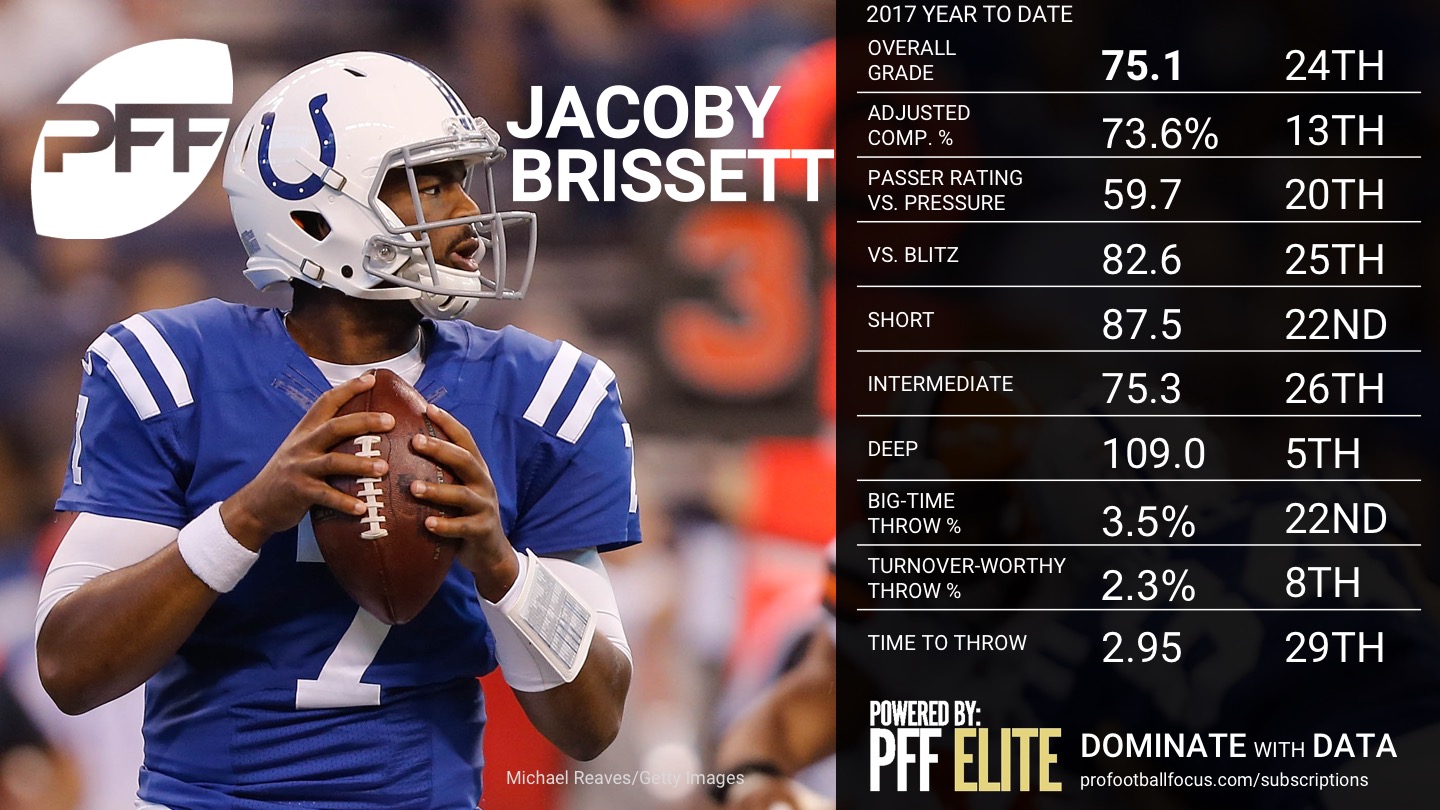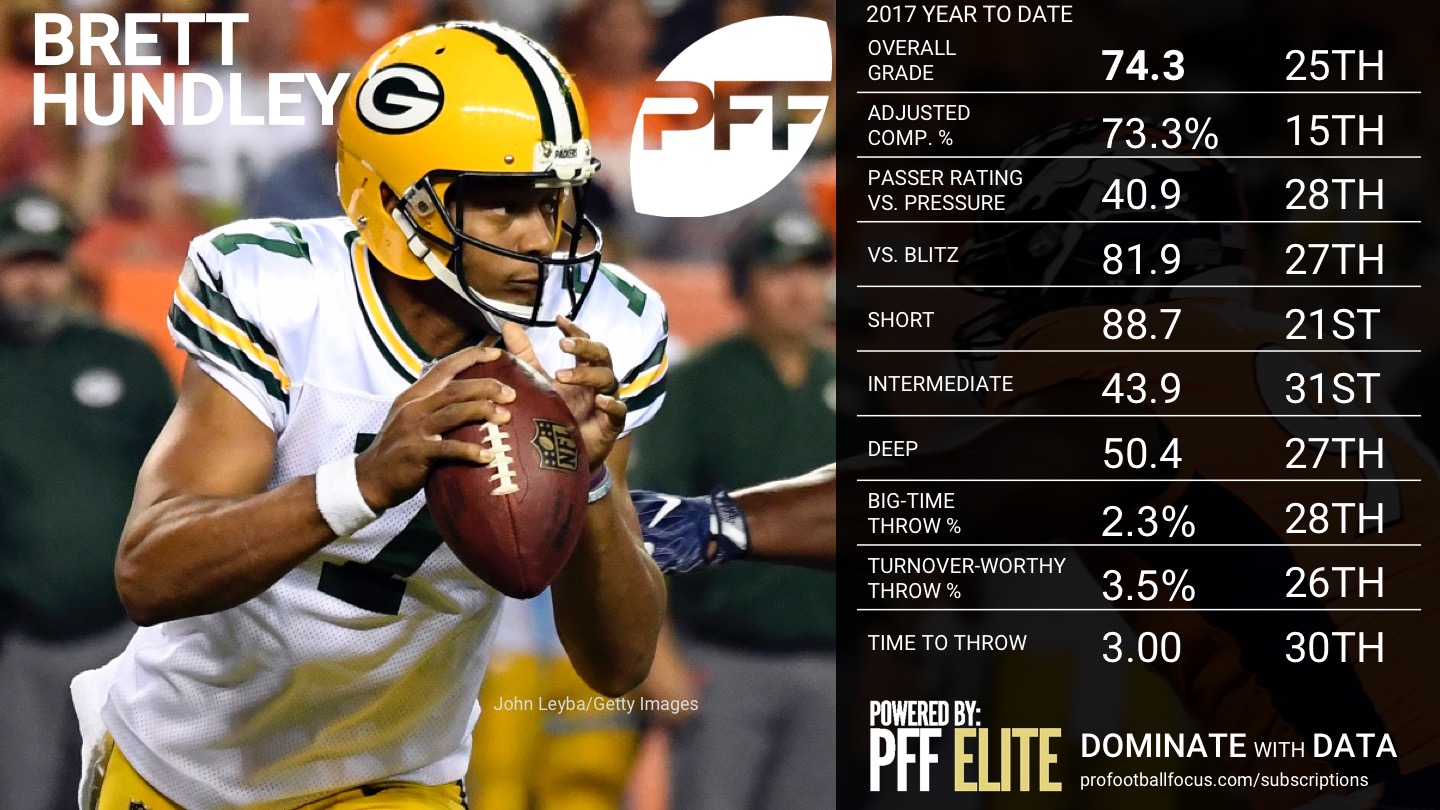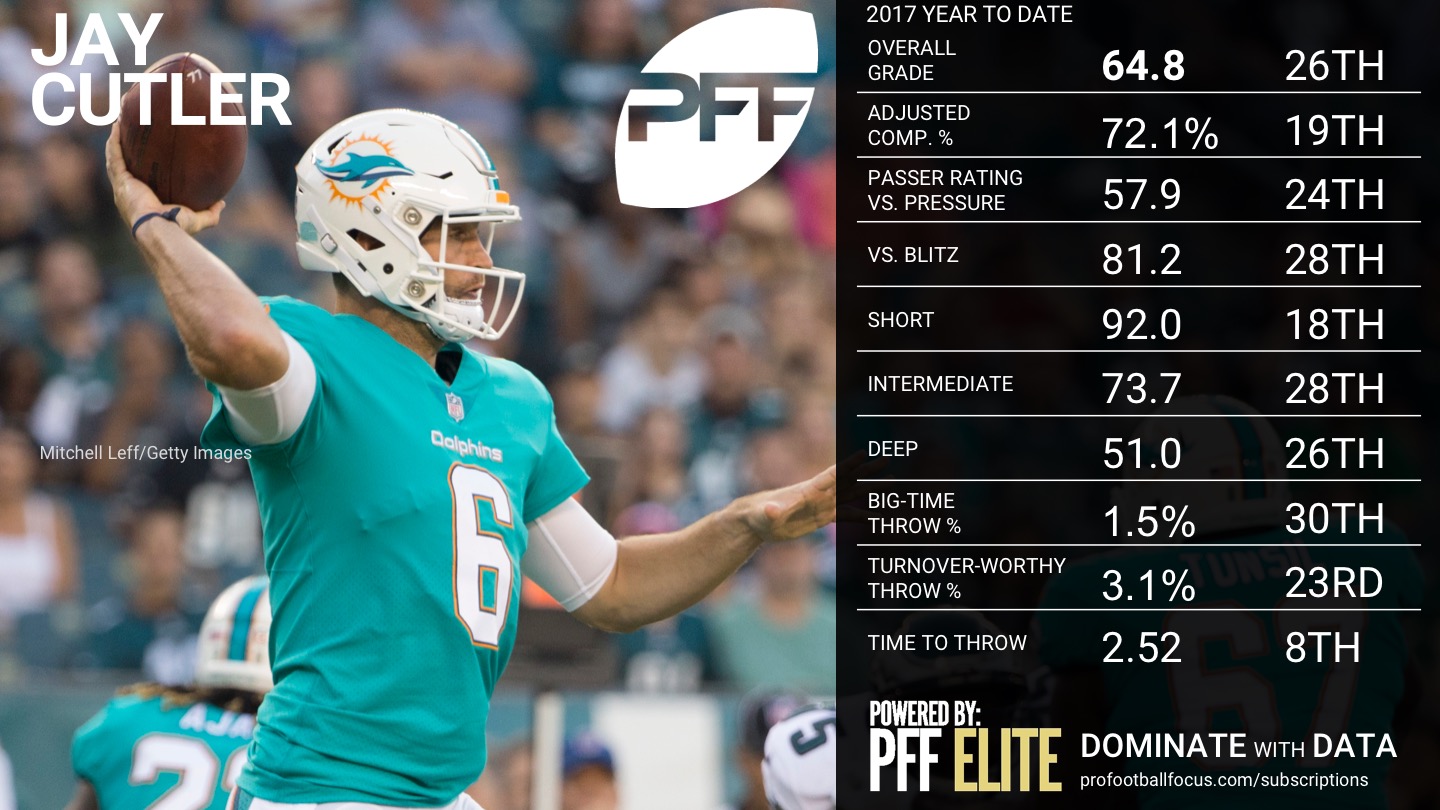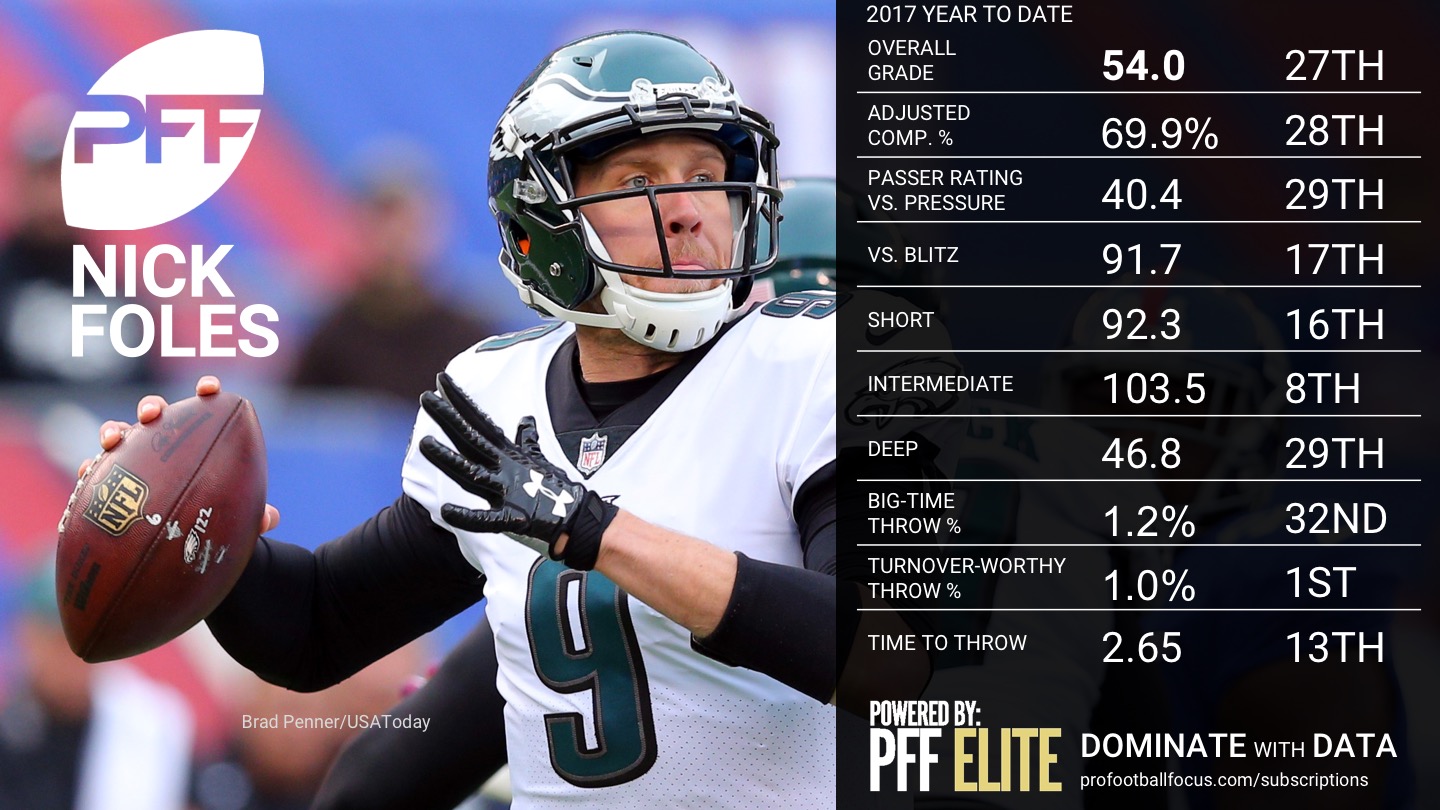 While the Eagles pulled off the 19-10 victory, this was an ugly game for Foles who finished 19-for-38 for 163 yards and a passer rating of 59.4. He got away with a terrible throw that could have easily been a pick-6 opportunity had safety Reggie Nelson not dropped it and he later did get picked off on an errant pass in the flat. Fumbles were an issue as well as he dropped one snap, then took a disastrous fourth quarter sack after holding the ball far too long in the picket before putting it on the ground. Foles' one touchdown was a 17-yard screen pass to RB Jay Ajayi who did the heavy lifting to help Foles' stat line.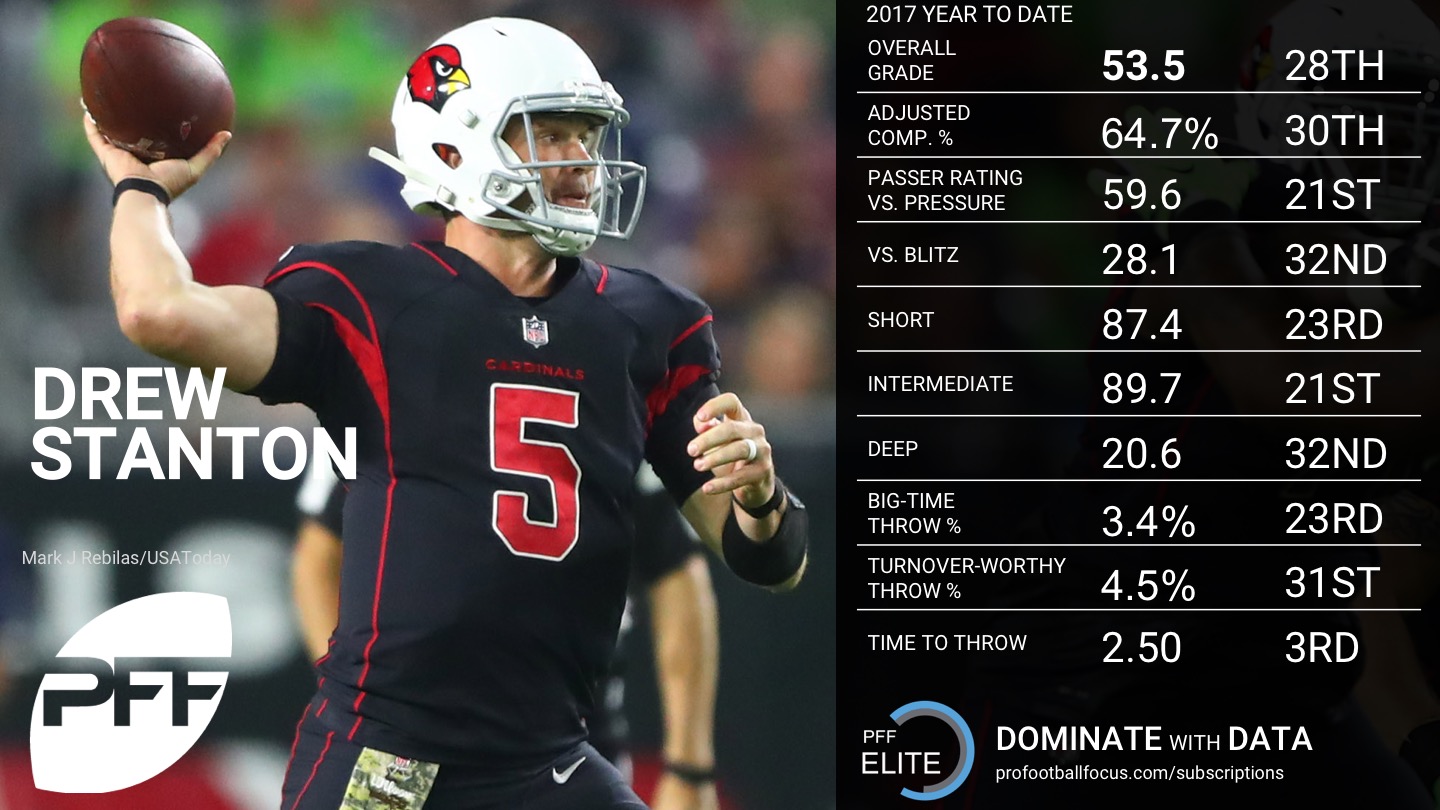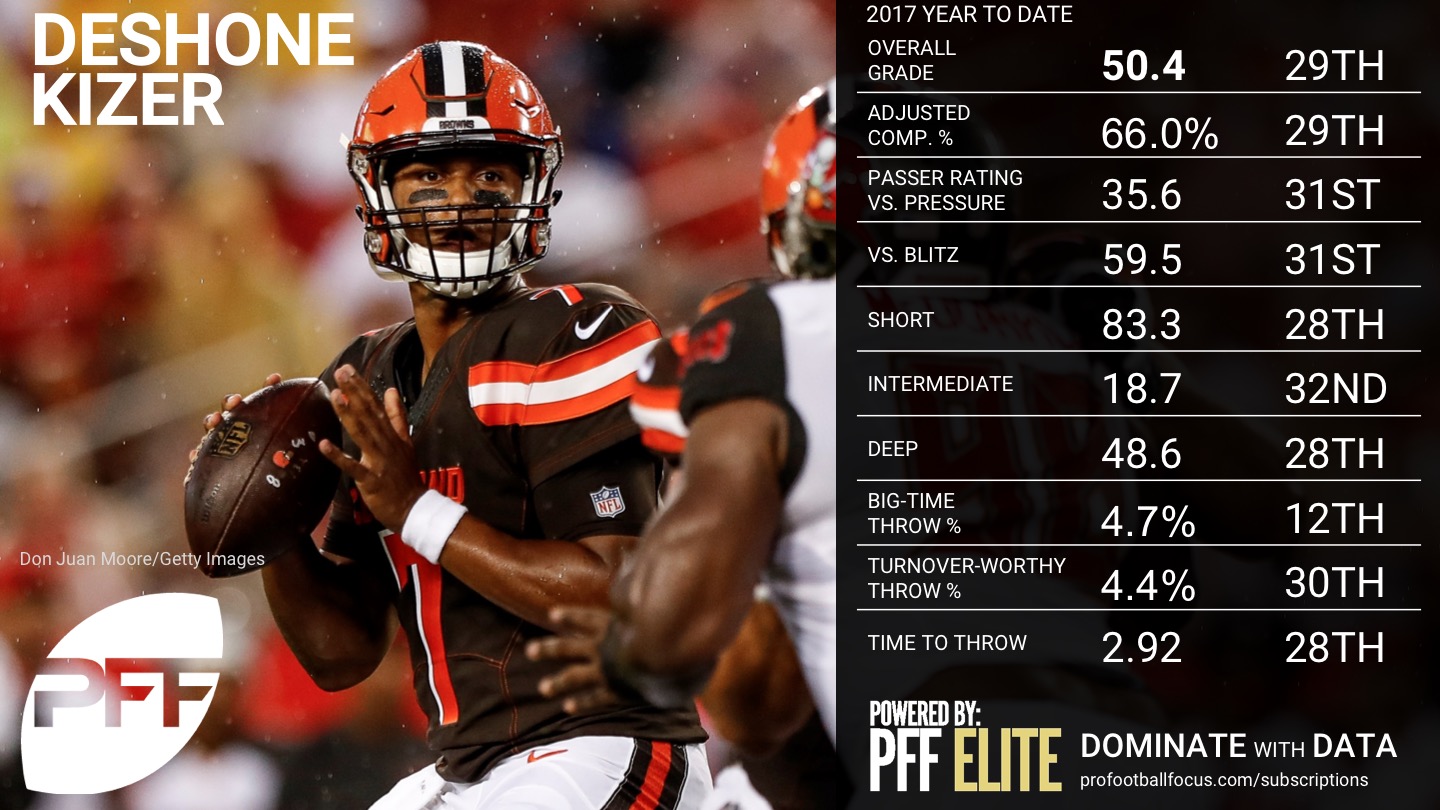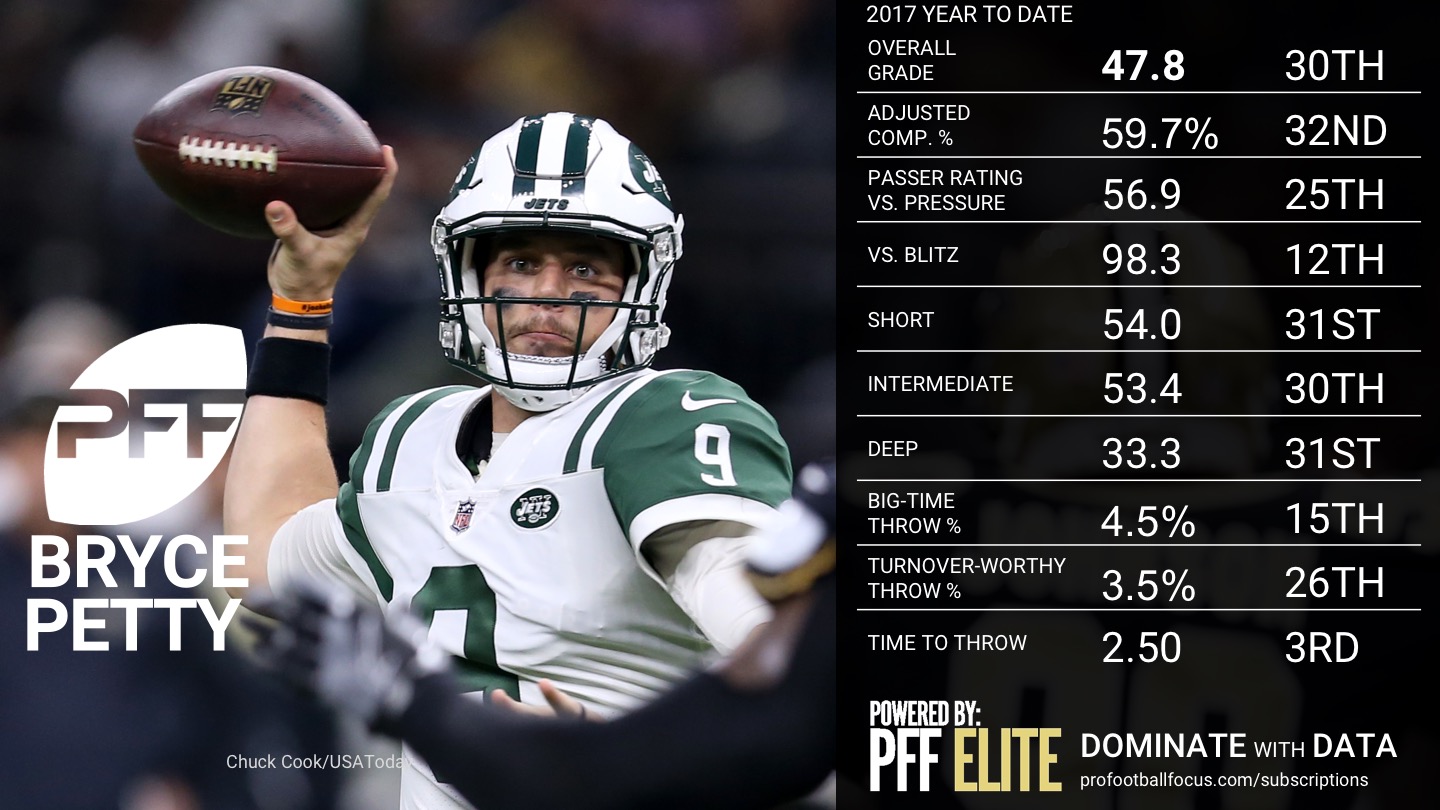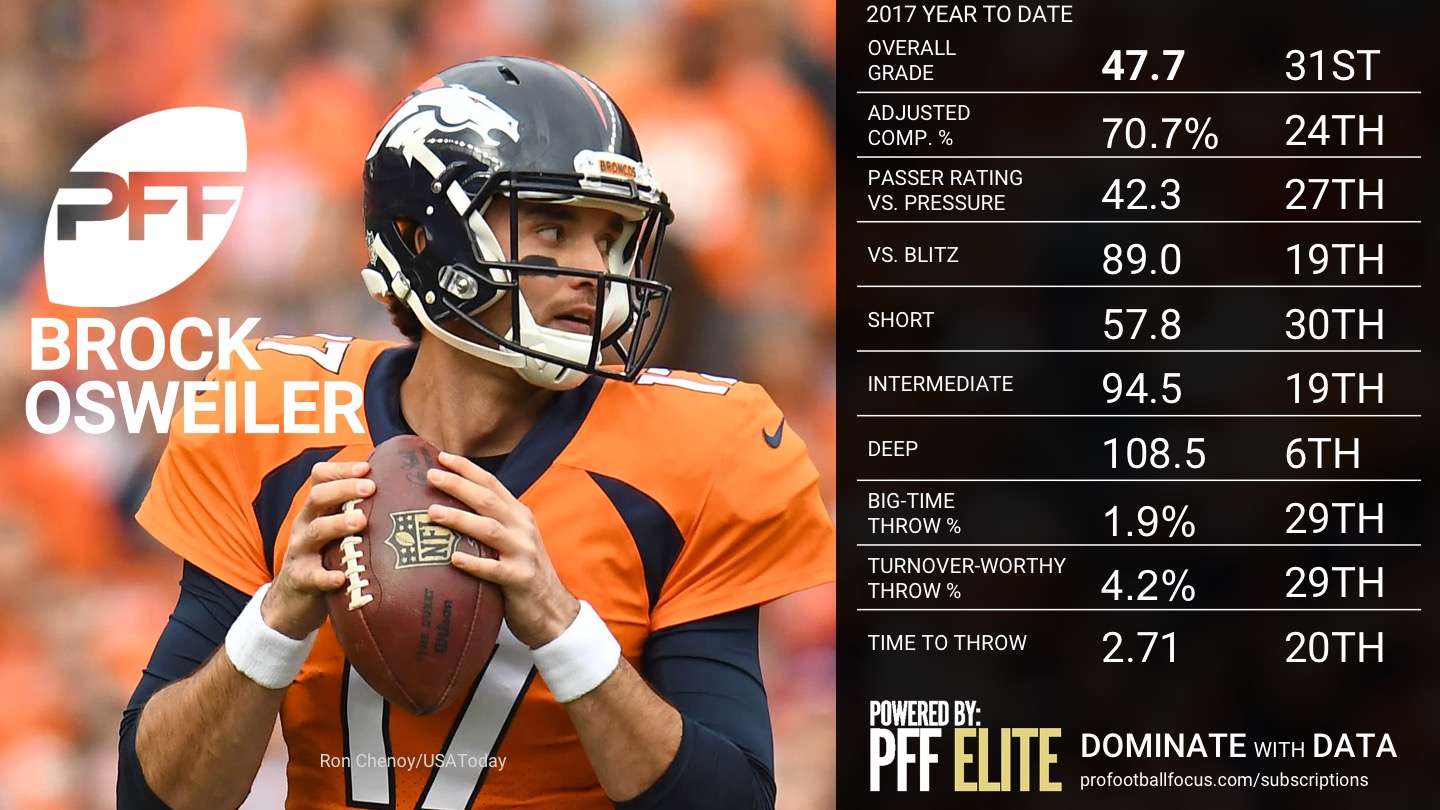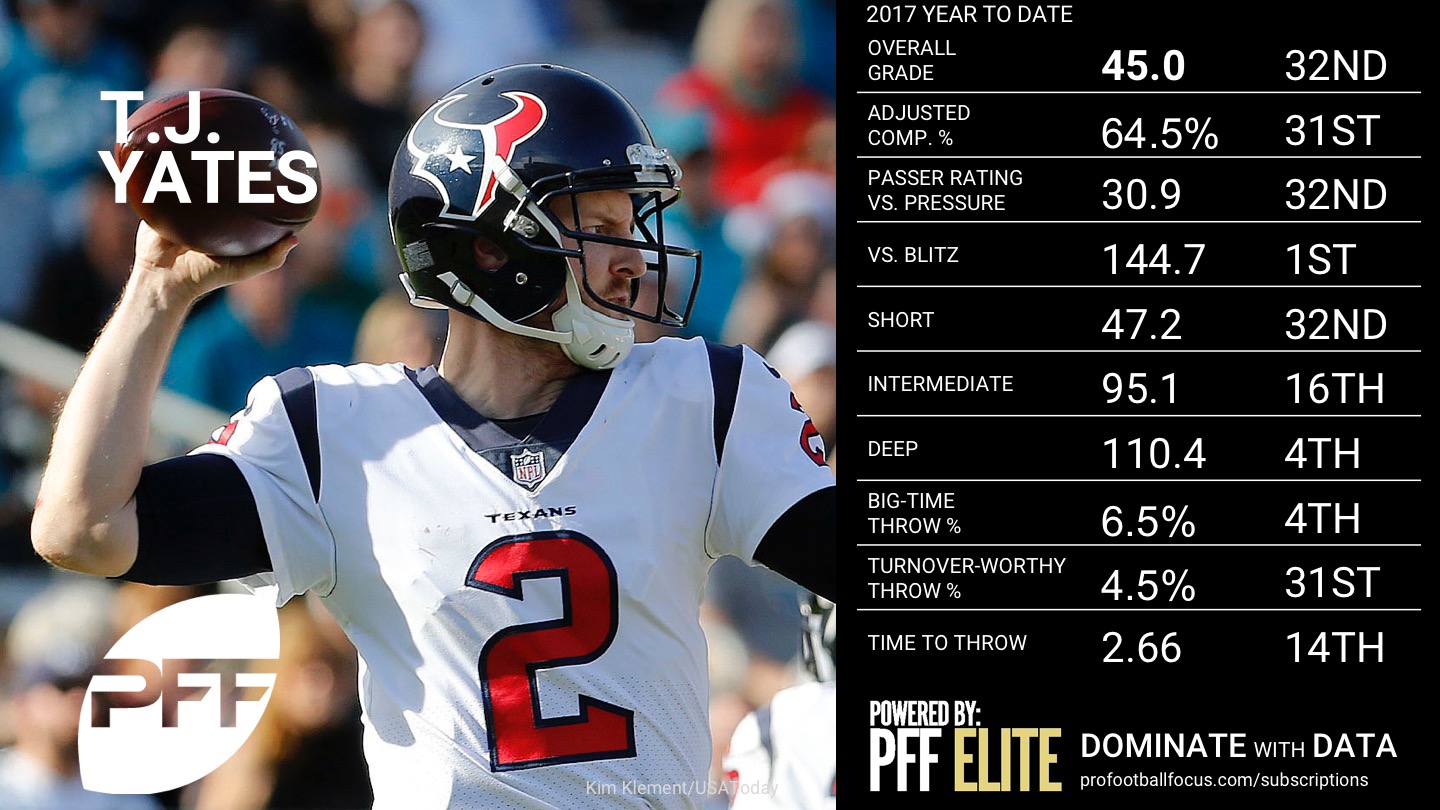 Editor's Note: the rankings above omit players who did not play in the previous week, and will evolve with each week's changes at the starting quarterback position. The following players have all qualified for a ranking this season, but are not included on the 32 starting quarterback rankings above:
4. Carson Wentz, Philadelphia Eagles – 87.6 overall grade
9. Aaron Rodgers, Green Bay Packers – 84.4 overall grade
23. Josh McCown, New York Jets – 77.1 overall grade
26. Carson Palmer, Arizona Cardinals – 75.7 overall grade
28. Deshaun Watson, Houston Texans – 75.1 overall grade
31. Ryan Fitzpatrick, Tampa Bay Buccaneers – 73.2 overall grade
32. Mike Glennon, Chicago Bears – 71.7 overall grade
33. Tom Savage, Houston Texans – 71.1 overall grade
34. Brian Hoyer, New England Patriots – 71.0 overall grade
35. C.J. Beathard, San Francisco 49ers – 68.5 overall grade
37. Trevor Siemian, Denver Broncos – 53.2 overall grade
40. Blaine Gabbert, Arizona Cardinals – 42.6 overall grade