PFF Analysts Steve Palazzolo and Zac Robinson give you an overview of every team's quarterback, and where they rank in terms of overall PFF grade as well as detailed notes on a select few who stood out for good, or bad, reasons in Week 15. These rankings are based on their overall grades after Week 15, and can be found as a part of the PFF Edge subscription.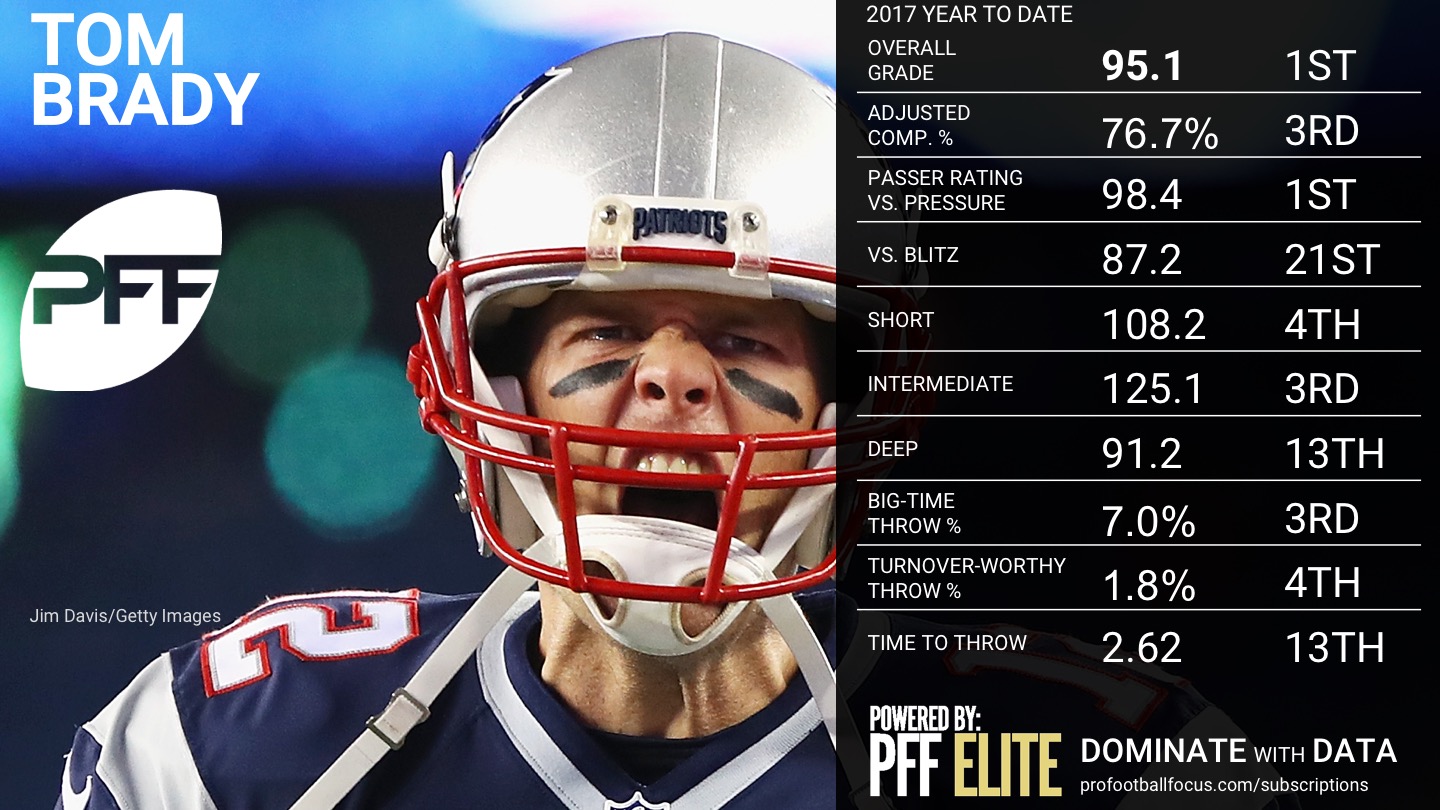 Brady took the league lead in big-time throws as he showed off impressive downfield accuracy throughout the game. He officially finished 5-for-8 for 148 yards on deep (20-plus yard) passes, and that's not including two other pinpoint deep throws that were negated by penalties. It wasn't all perfect as Brady forced a pass under heavy pressure that was intercepted and he missed a few other throws, but his downfield ball location was the story and it earned him Western & Southern QB of the Week honors.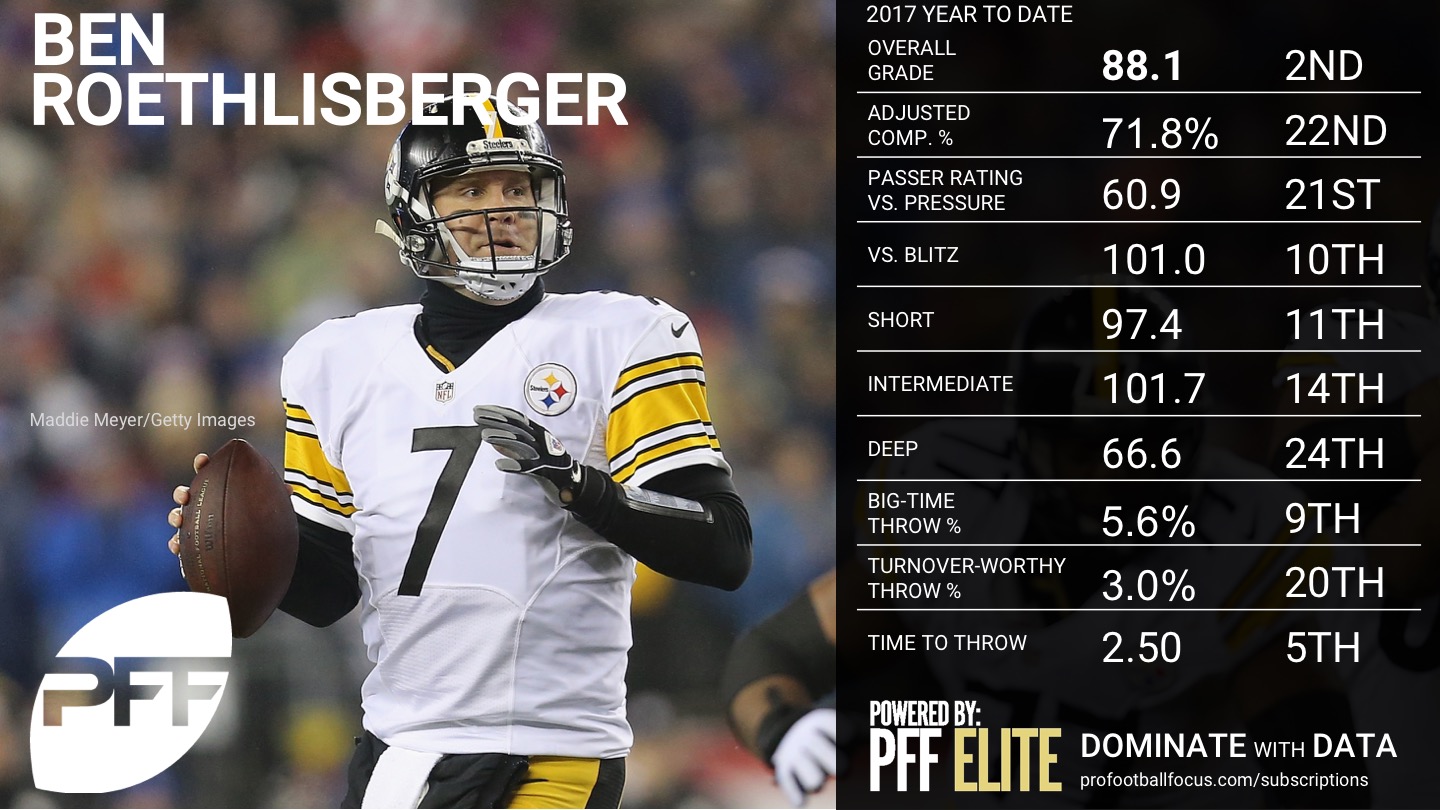 It was an outstanding effort from Roethlisberger who consistently moved the chains and executed Pittsburgh's ball-control game plan. His game-ending interception was a bad force and a questionable decision given a three-point deficit, but he was excellent up until that point, especially on his two touchdown passes that needed perfect ball location thrown into tight windows. Roethlisberger played well under pressure, finishing 9-for-12 with a passer rating of 109.7 and he dominated in the short game where he finished 18-for-22 for 214 yards and two touchdowns on passes thrown in the 0-9-yard range.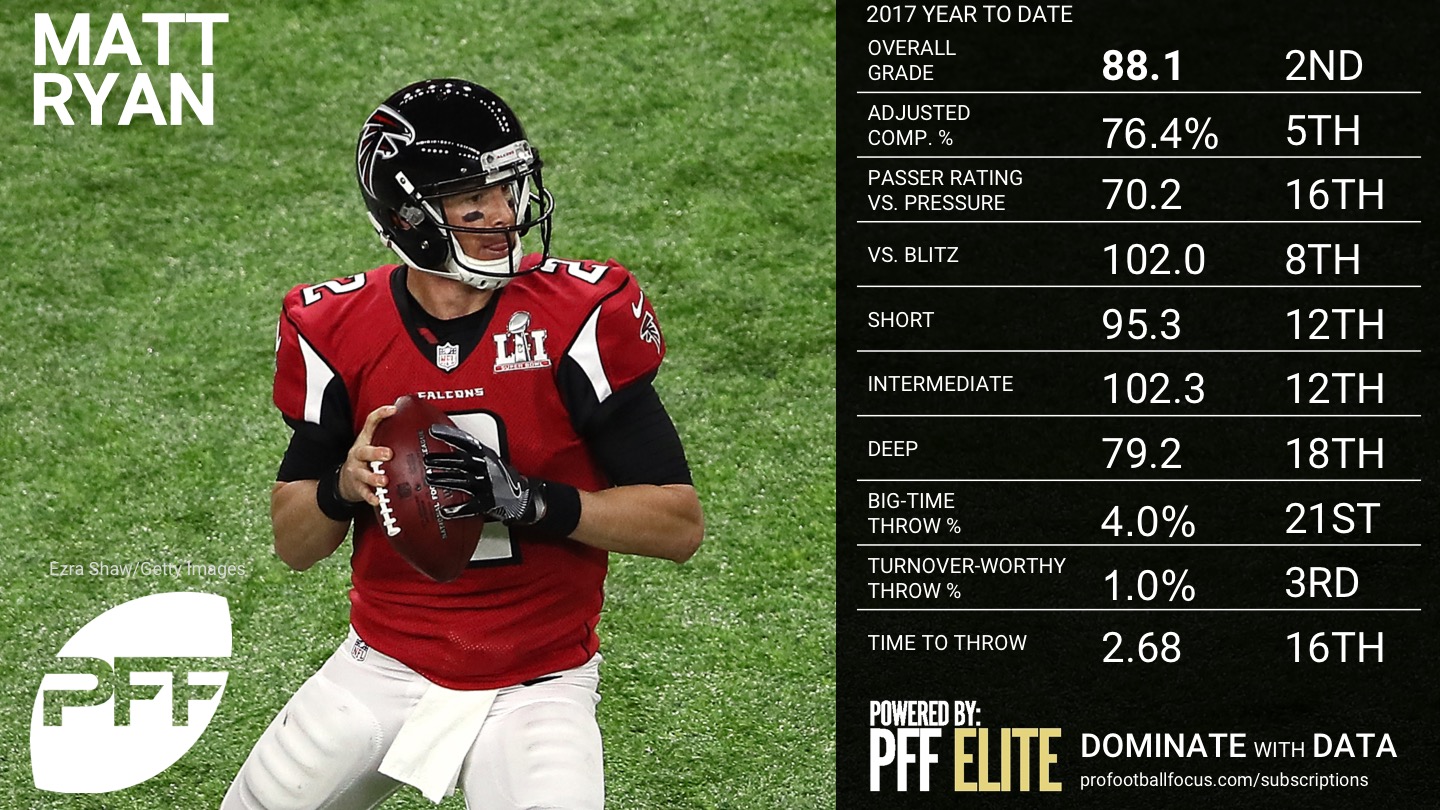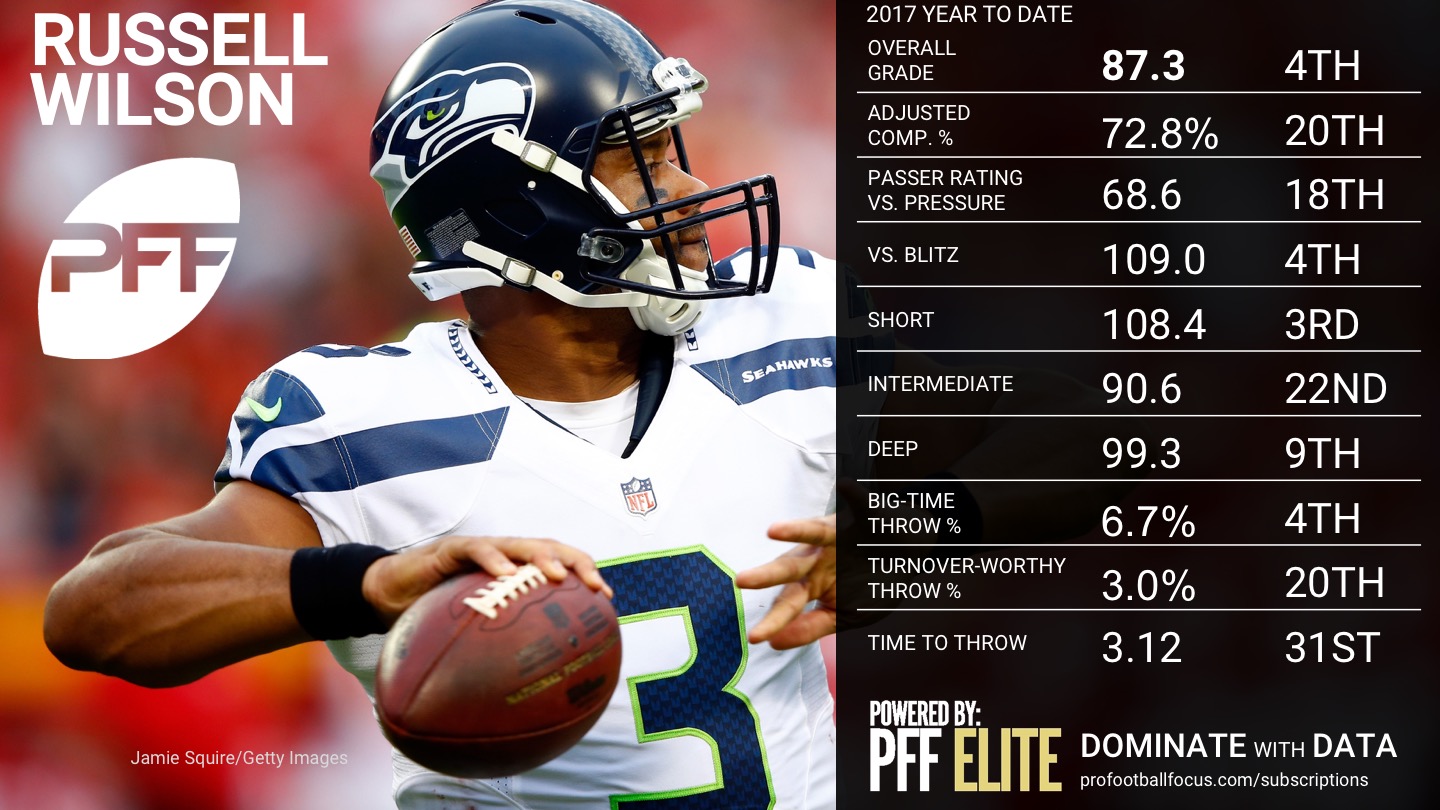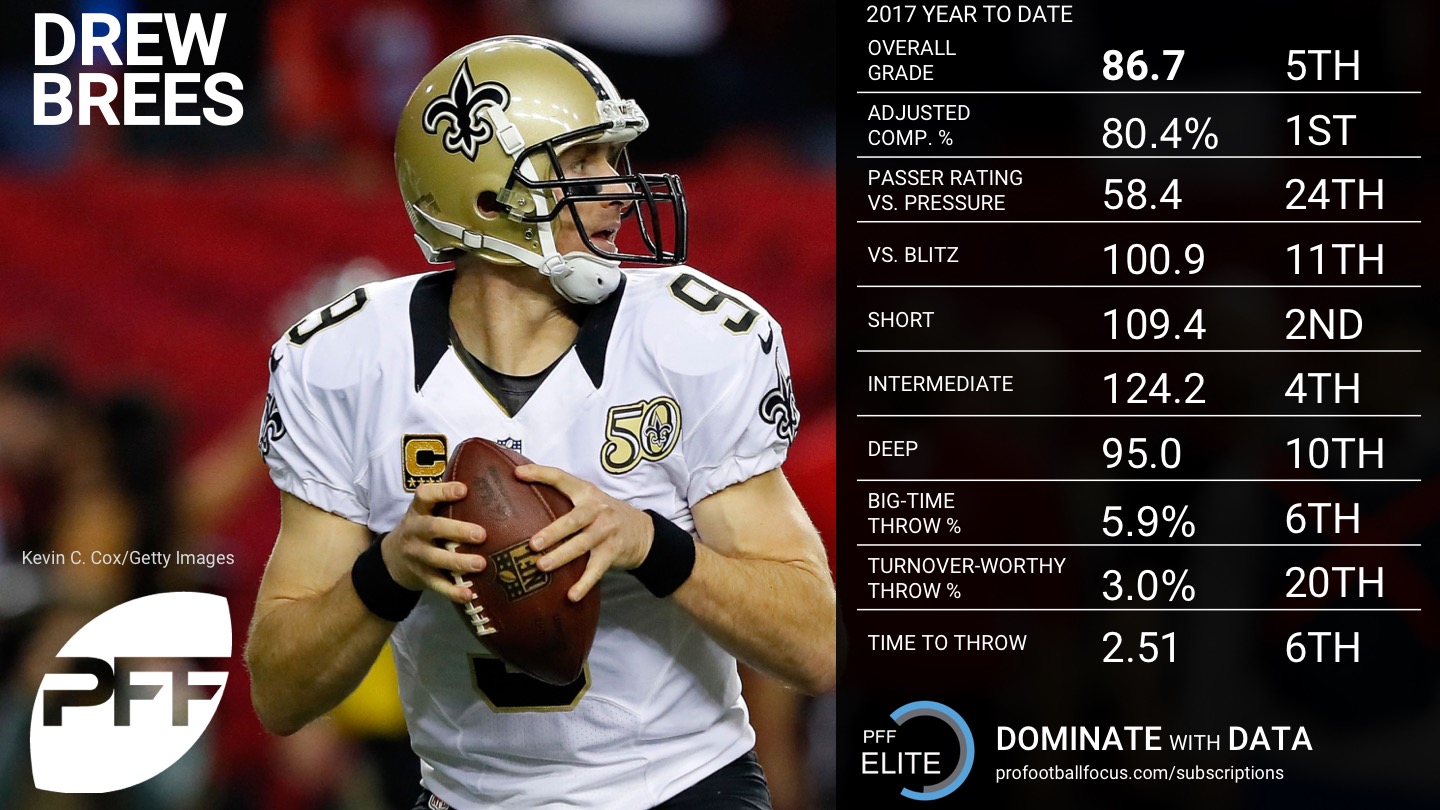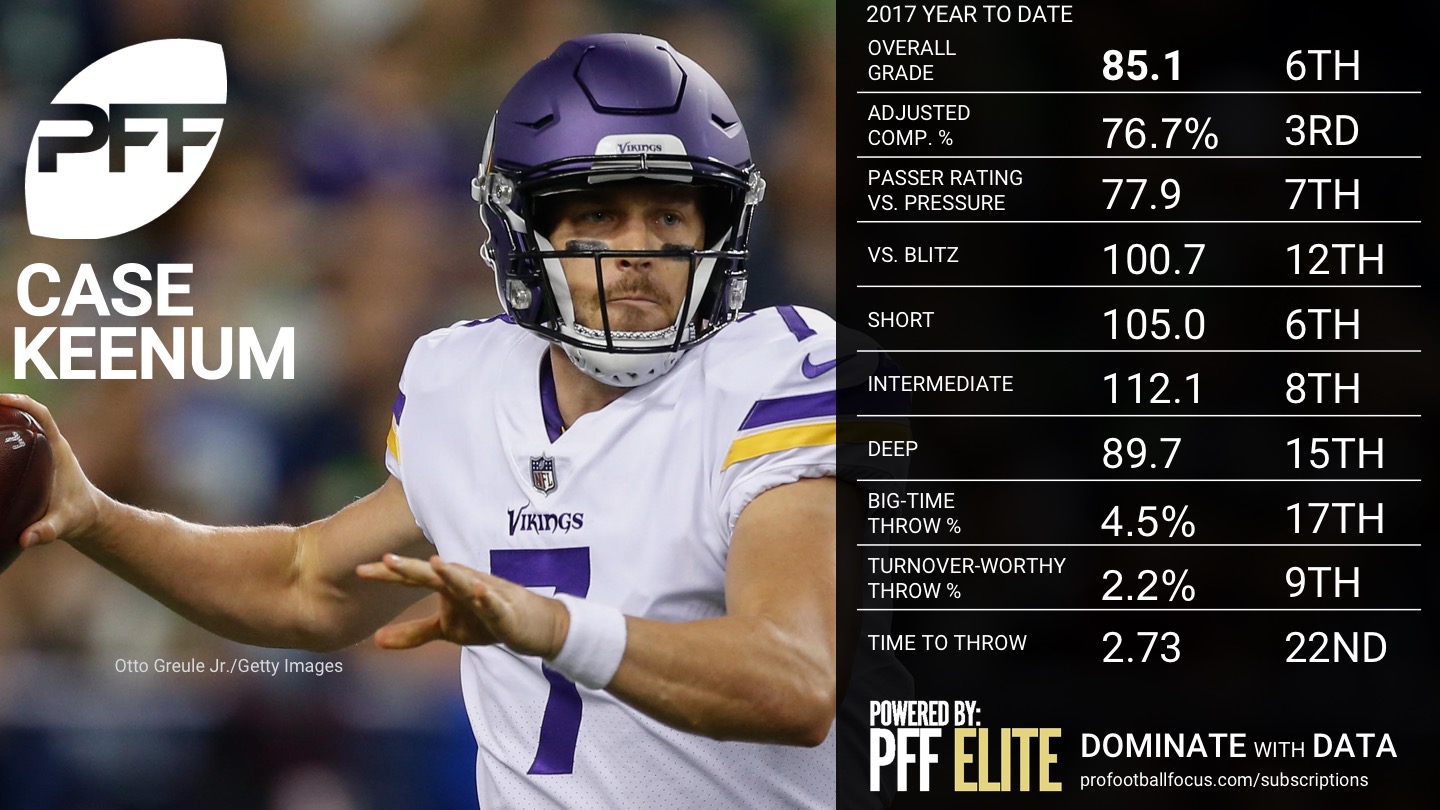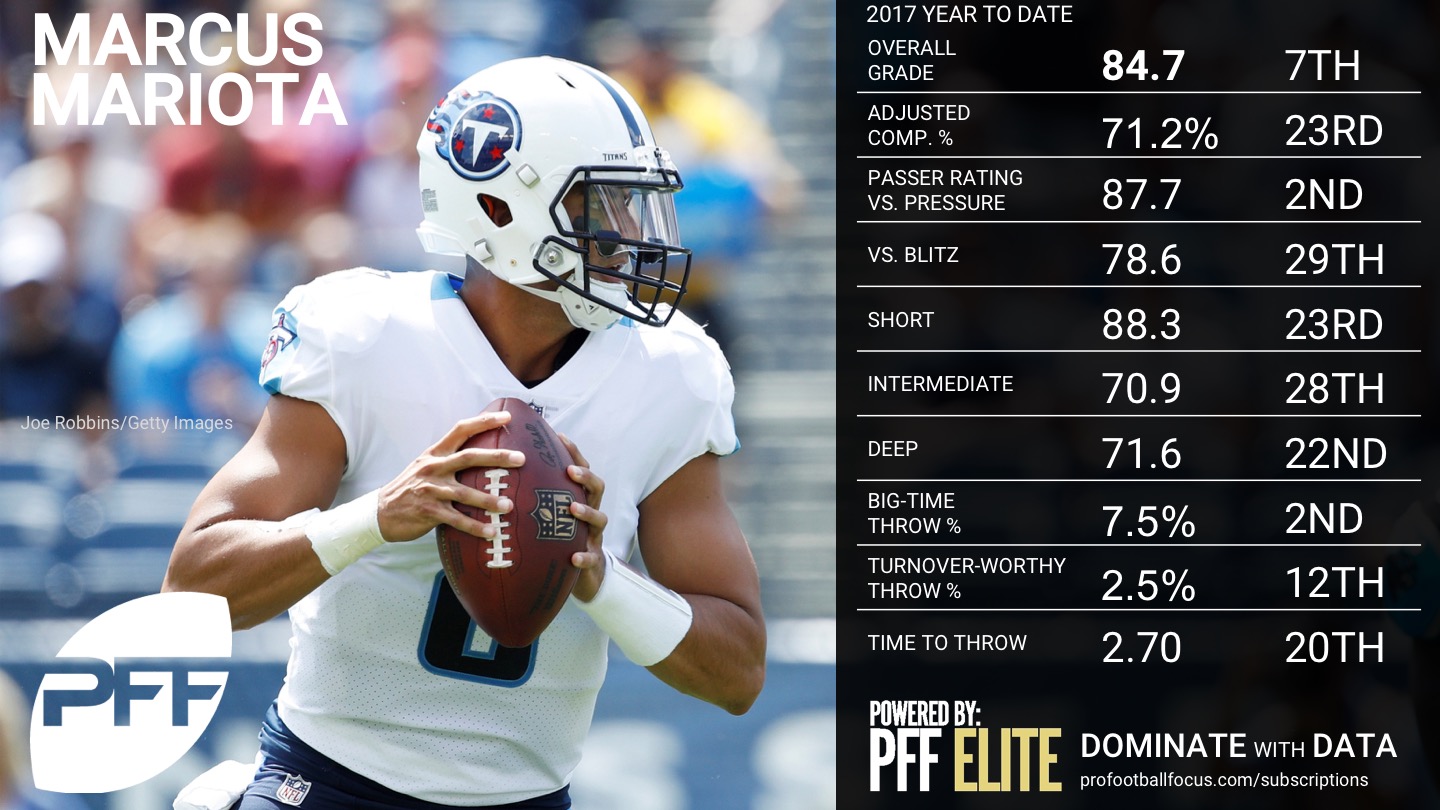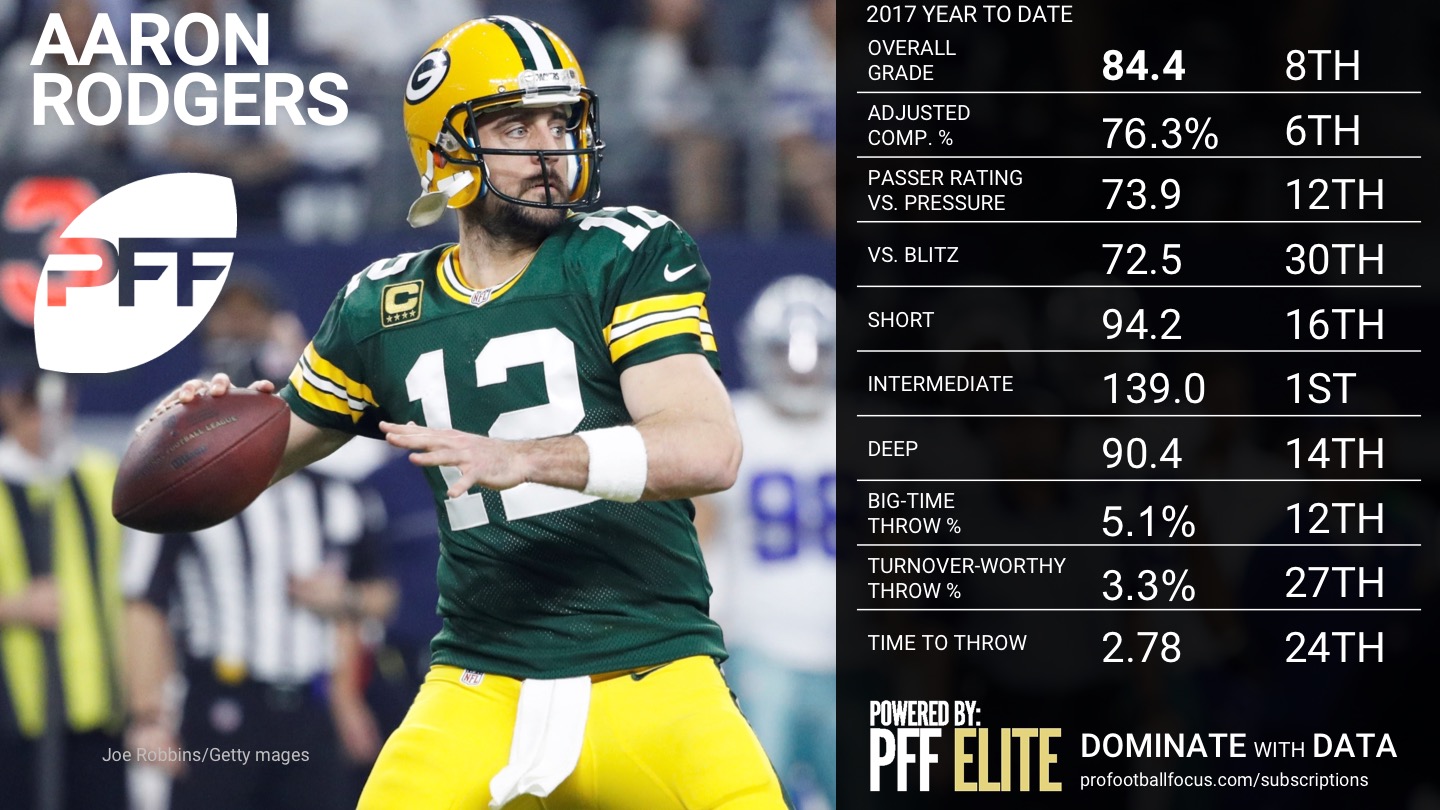 Rodgers looked a little hesitant in his return and the result was a level of play we haven't become accustomed to seeing from him. He finished with three interceptions for the first time since 2009, all three of which were not necessarily bad decisions, but they were challenging downfield throws that he left short. Whether he was simply not working with the same arm strength, or whether it was just being rusty from the time off, Rodgers' downfield accuracy was lacking and he finished 1-for-5 for 24 yards on 20-plus yard throws. It wasn't all terrible as Rodgers did fine work at the intermediate level (7-for-10 for 146 yards and two touchdowns), and he nearly pulled off the comeback if not for a Gernonimo Allison fumble to end the game. Rodgers will now be shut down for the rest of the season as the Packers are out of playoff contention.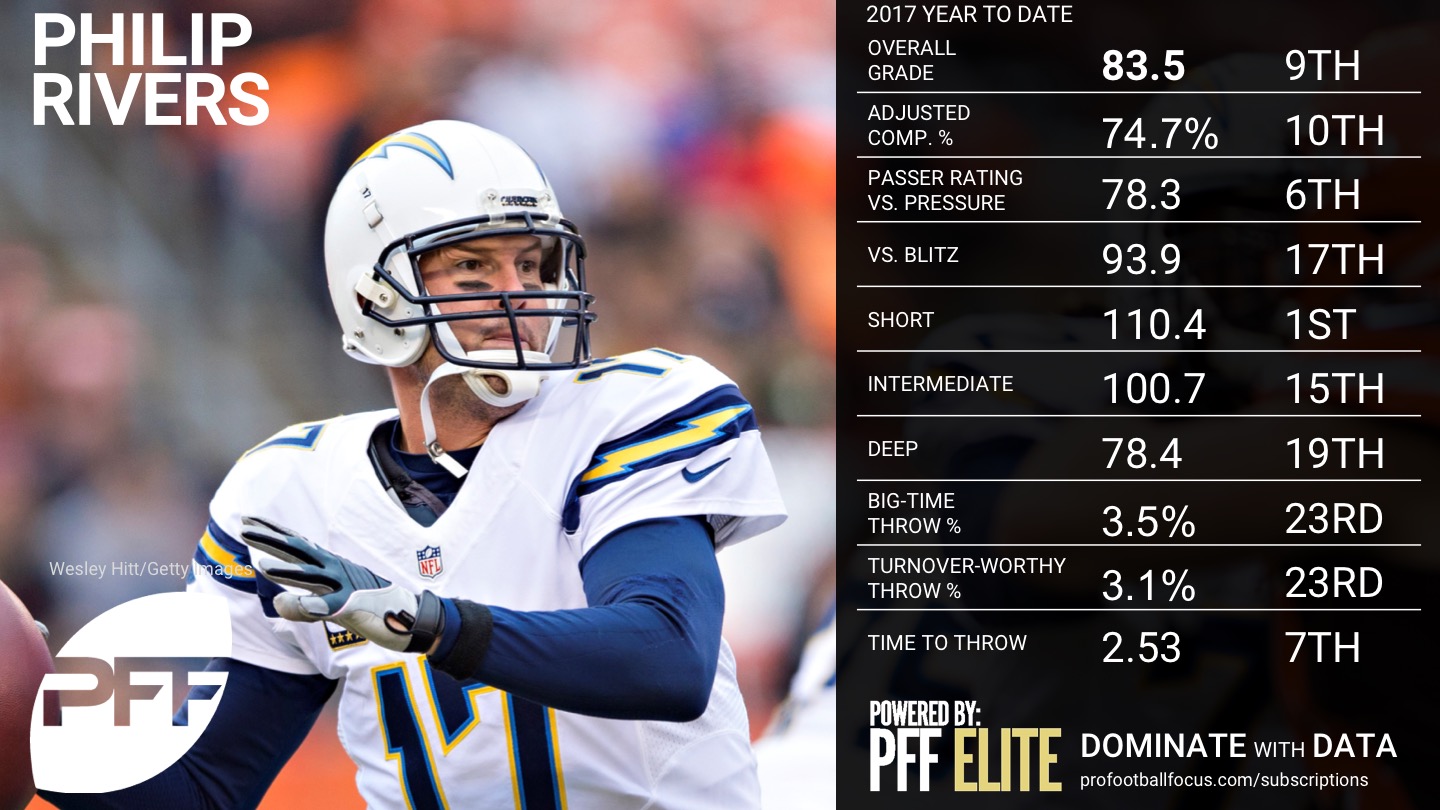 After four weeks of playing his best football, Rivers didn't have the same kind of success at Kansas City in Week 15. From the start, his accuracy and ball placement were clearly not at the same level it had been in recent weeks, along with his decision-making under pressure. Coming in to the game, Rivers had been making solid decisions under pressure, where a season ago he led the NFL in interceptions under duress at 11. This week, he doubled his season total of interceptions under pressure to four, firing a couple of ill-advised throws leading to turnovers. The Chiefs did a good job of limiting the big plays down the field the Chargers have had success with lately, with Rivers finishing 0-of-6 with two picks on throws traveling 20-plus yards.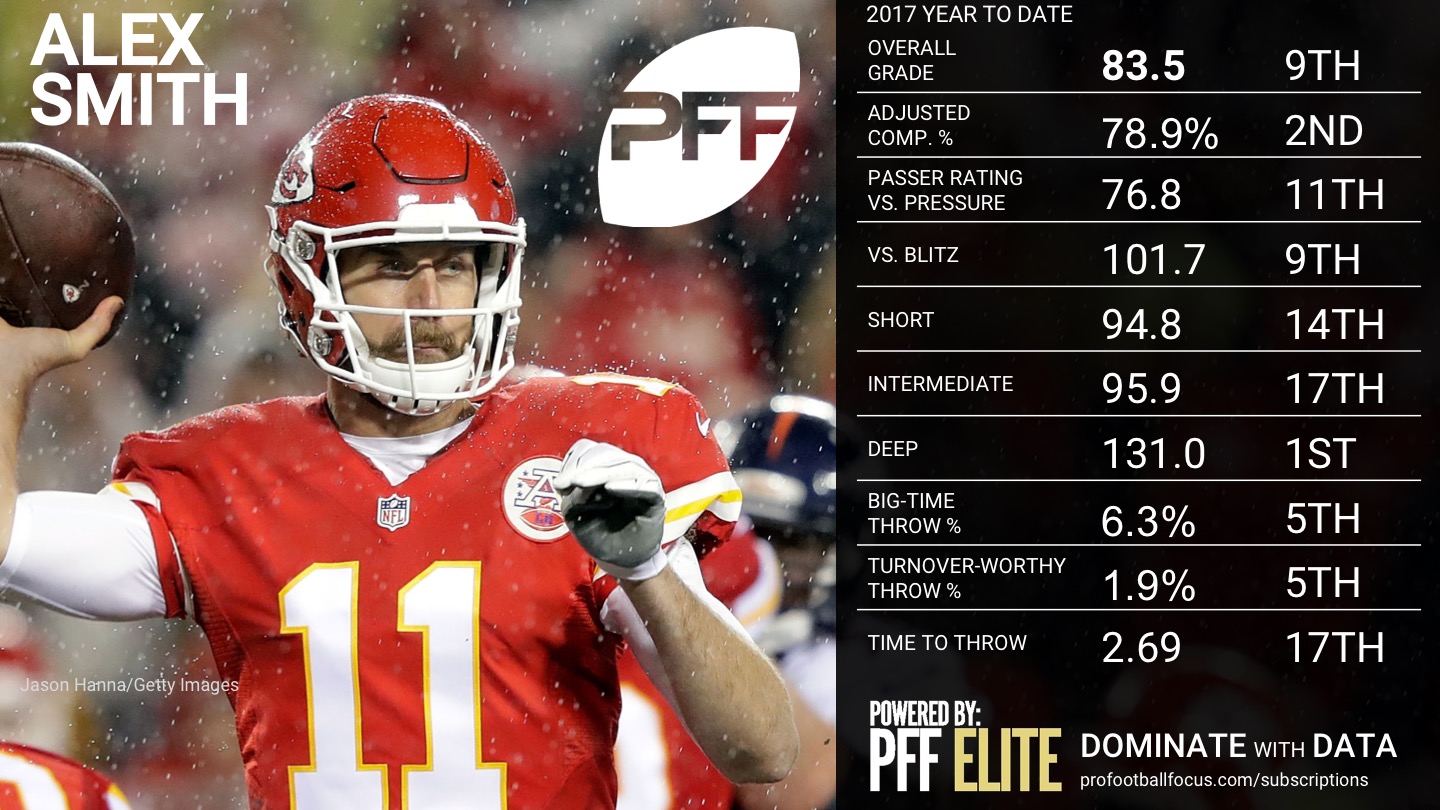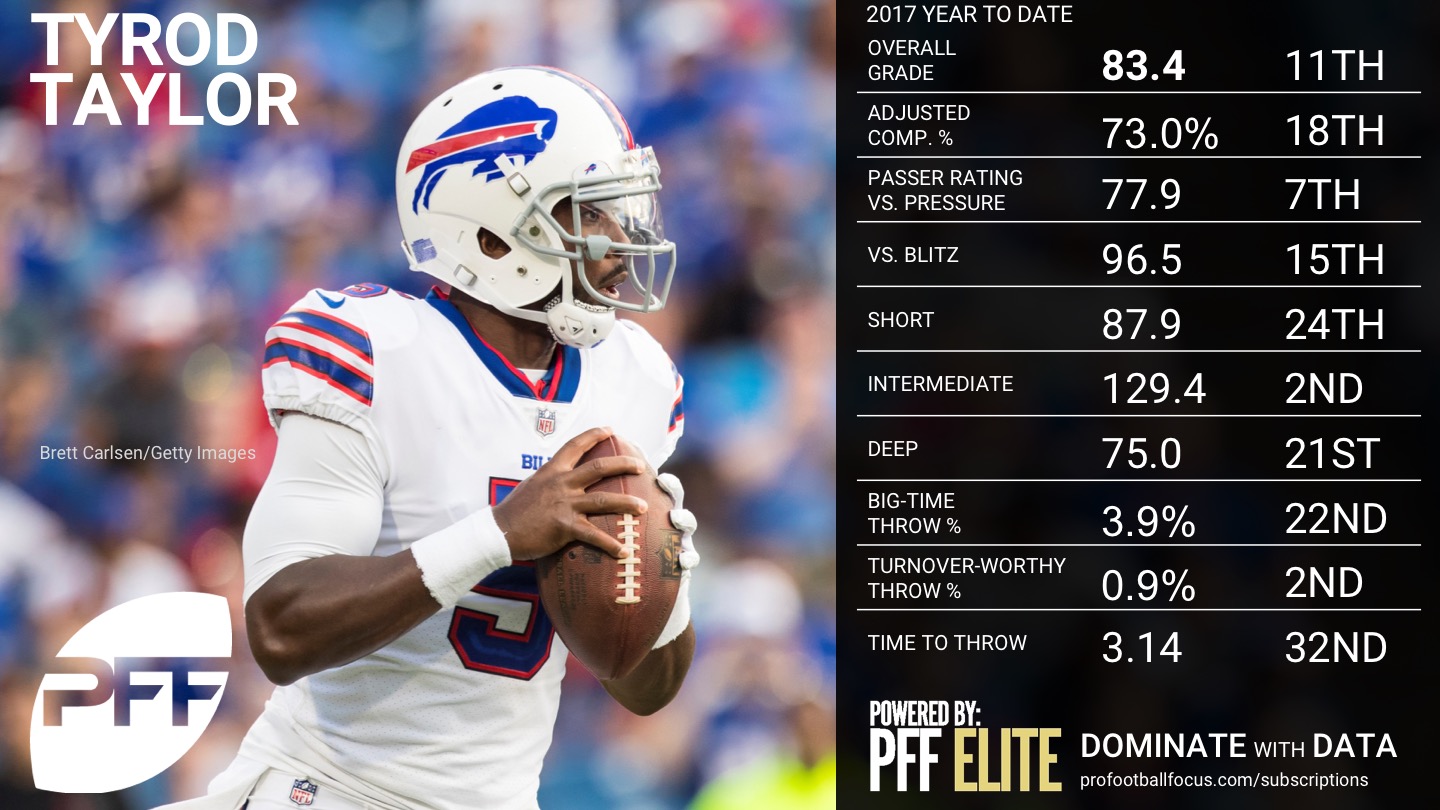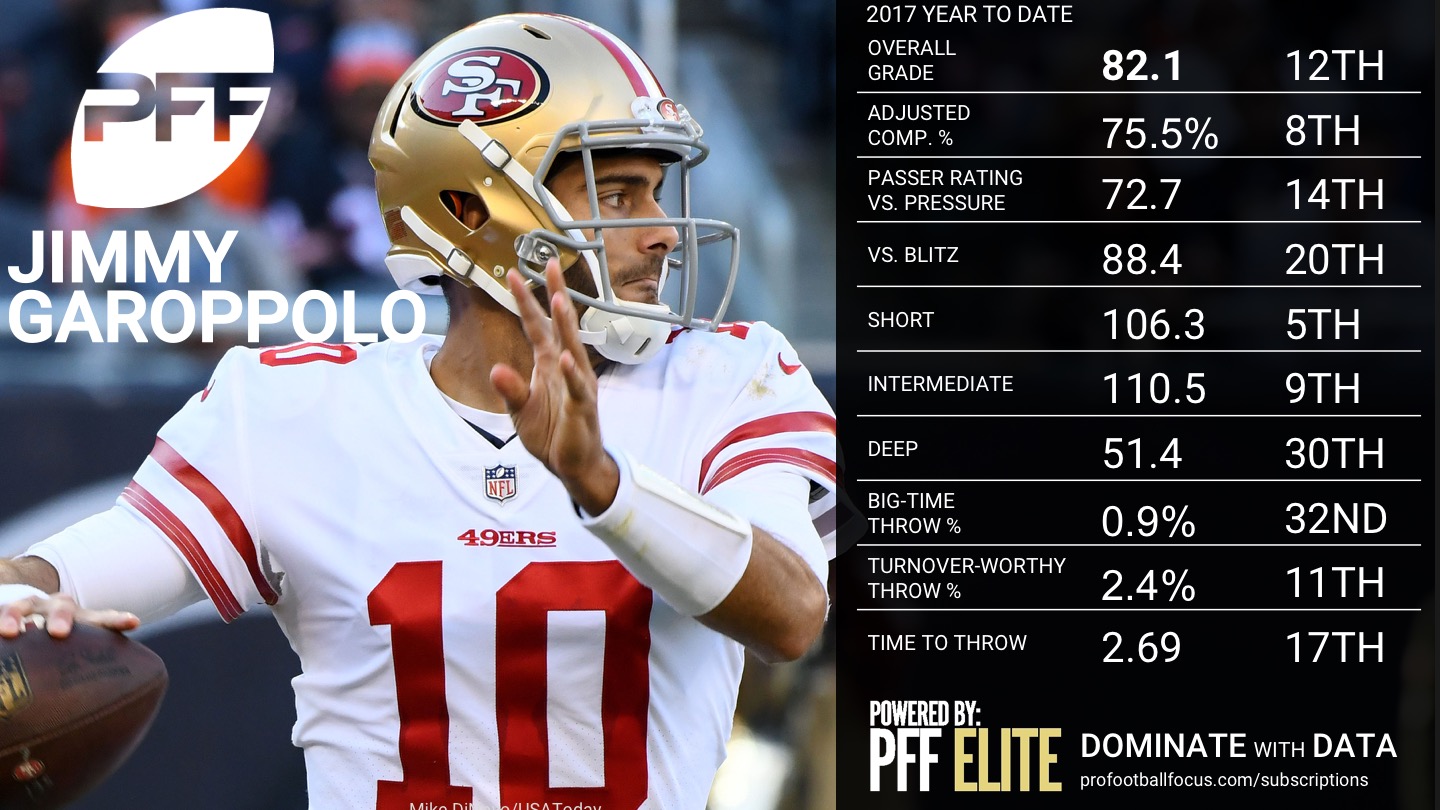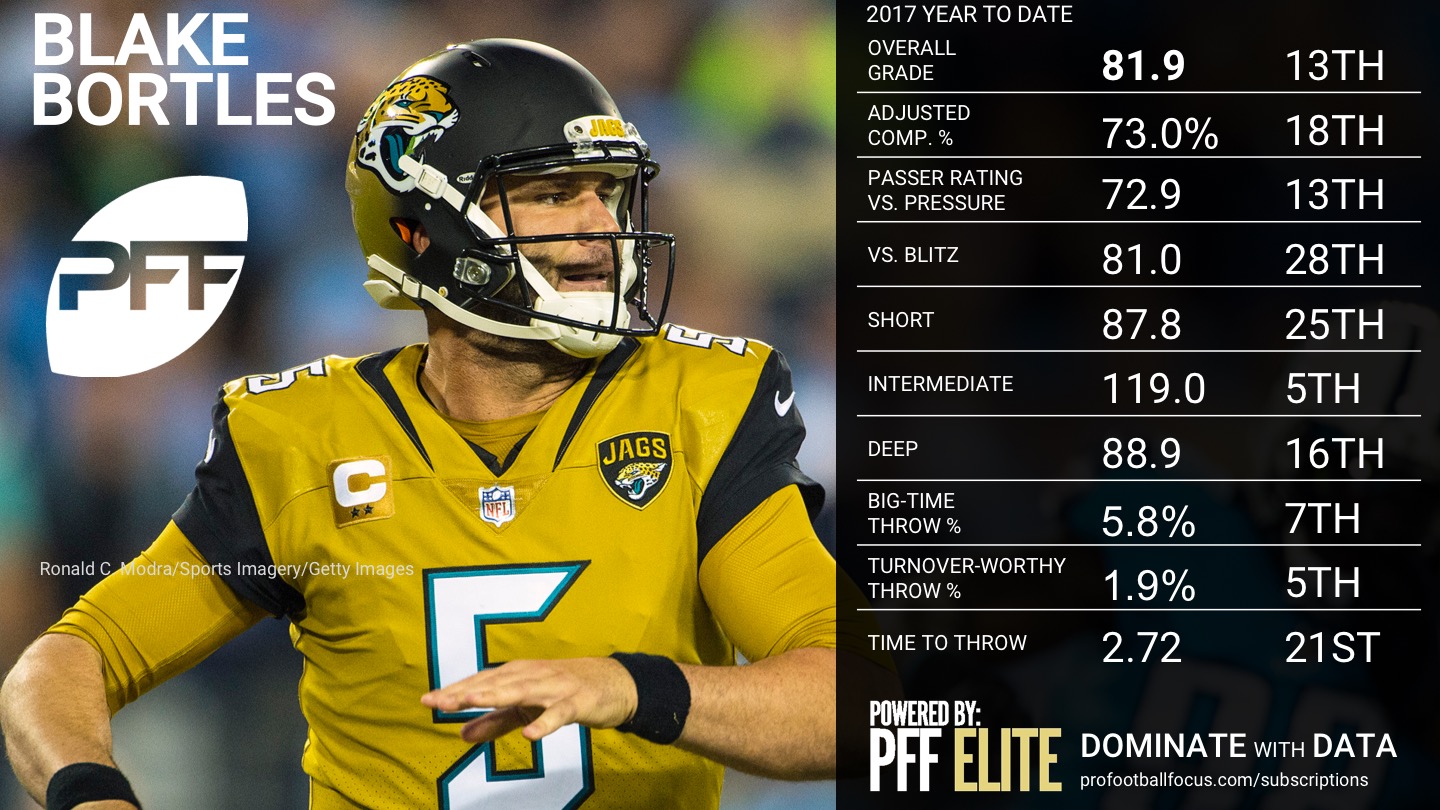 Bortles continues to stay hot in the month of December, grading out the highest in the NFL over this three-game stretch of solid play. He played within the rhythm of the offense, with accuracy at all levels of the field, and perhaps most impressively knowing when to check the ball down underneath when the coverage dictated to do so. Bortles dropped a number of big time throws to the perimeters of the field and was accurate in between the numbers at the intermediate level. He consistently put the ball in stride for ample run after catch opportunities on throws traveling 10-plus yards in the air, finishing 6-of-7 for 210 yards and two touchdowns in those areas. Over the last three weeks, Bortles has played well in two key areas leading to his success: deep throws, where he is 8-of-9 for 295 yards and a touchdown, and under pressure, with the fourth-best adjusted completion percentage at 78.3 percent and second-best passer rating of 109.0.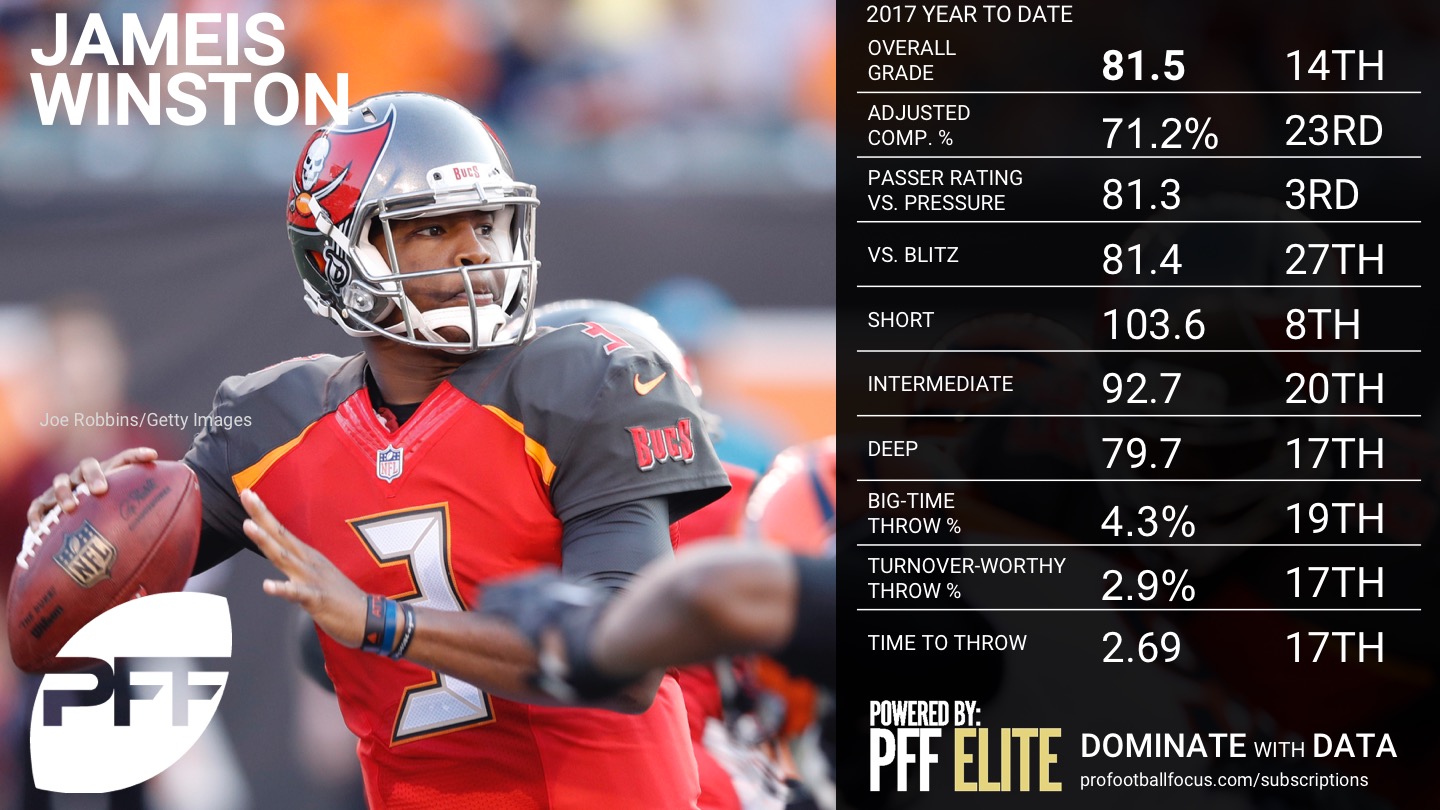 It was one of the finest outings of Winston's career as he finished with an adjusted completion percentage of 87.5 percent, third-best in the NFL this week. He went 8-for-10 for 103 yards at the intermediate (10-19-yard) level and 3-for-5 for 80 yards and two scores on deep (20-plus yard) passes as he made good decisions and threw the ball accurately throughout the game. Winston was also fantastic maneuvering the pocket, and he finished with a 153.8 passer rating when pressured, going 8-for-10 for 114 yards and two touchdowns on those plays. It's a great game for Winston to build upon in what had been a disappointing third season up until this point.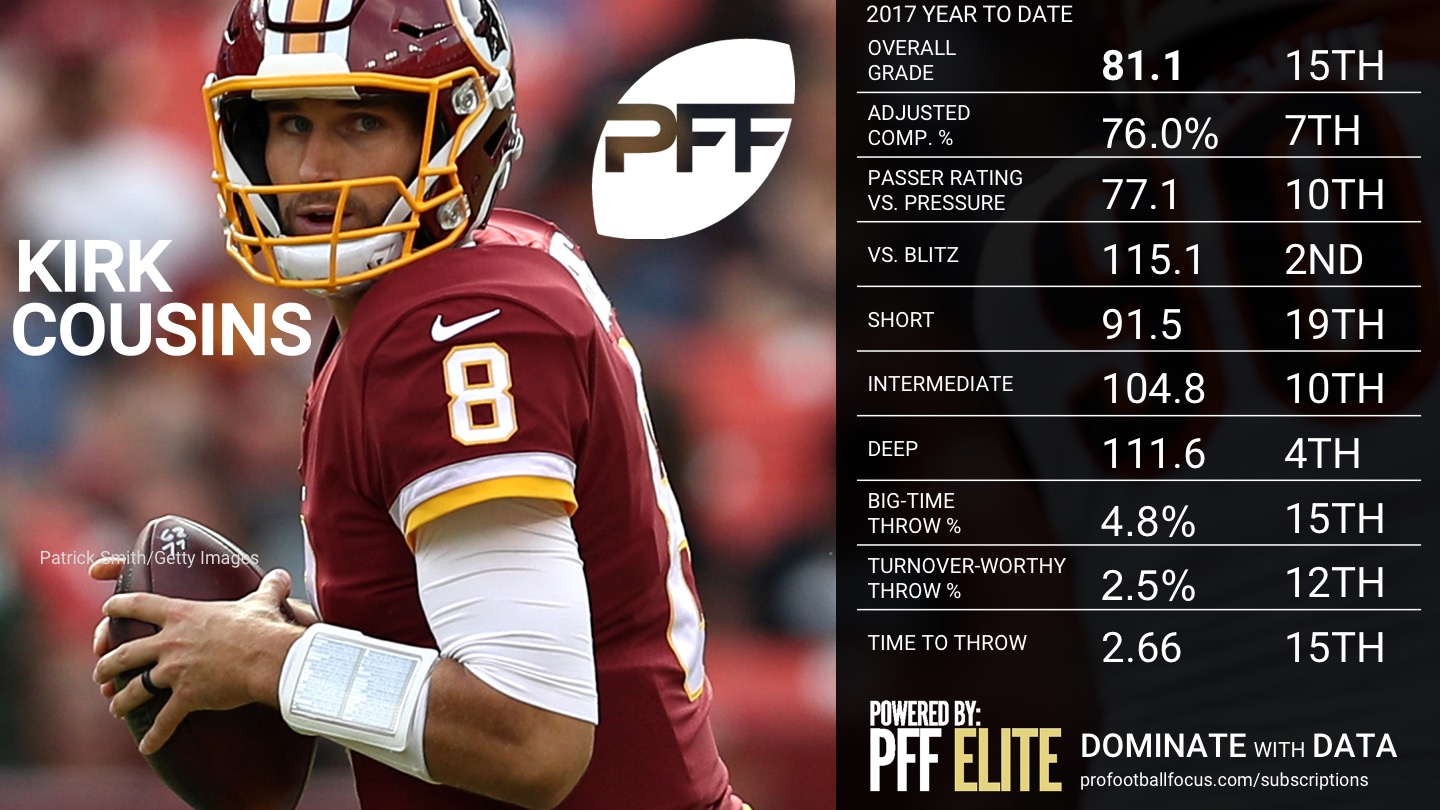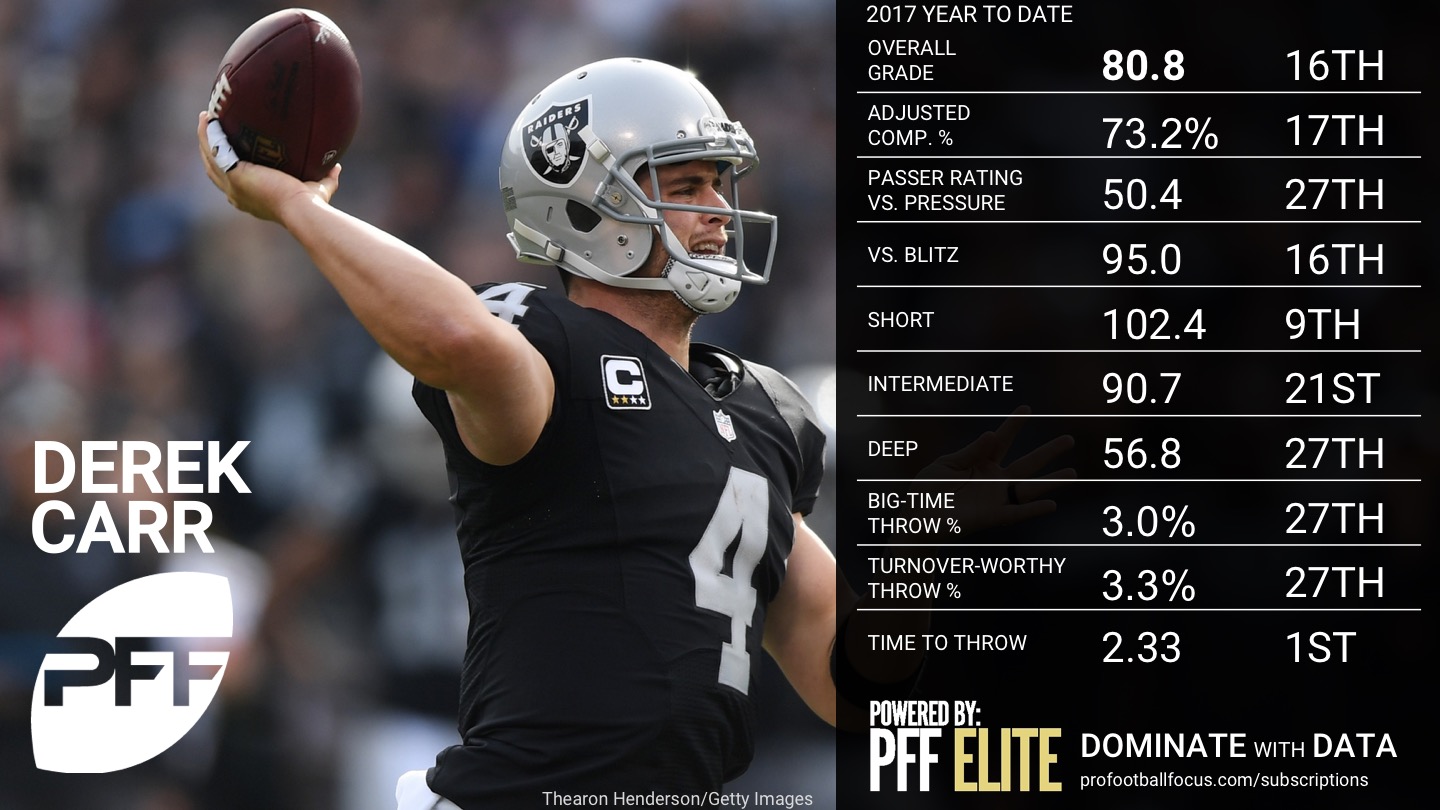 Carr played fast and unsettled throughout the whole game and was off in about every facet. There wasn't much going down the field and at the intermediate level, as Carr had just 57 yards and two completions on throws traveling 10-plus yards in the air. Carr's final drive did not go smoothly either, as he fired a should be game-ending interception right to the hands of a defender that was dropped, then of course the game-ending fumble trying to extend the ball to the goalline. Carr has gotten the ball out faster than anyone this season, and has struggled mightily with longer developing plays and with his poise later in the down. On throws coming after 2.5 seconds from the snap, Carr has the lowest completion percentage at 44 percent and the fourth-lowest passer rating at 65.3.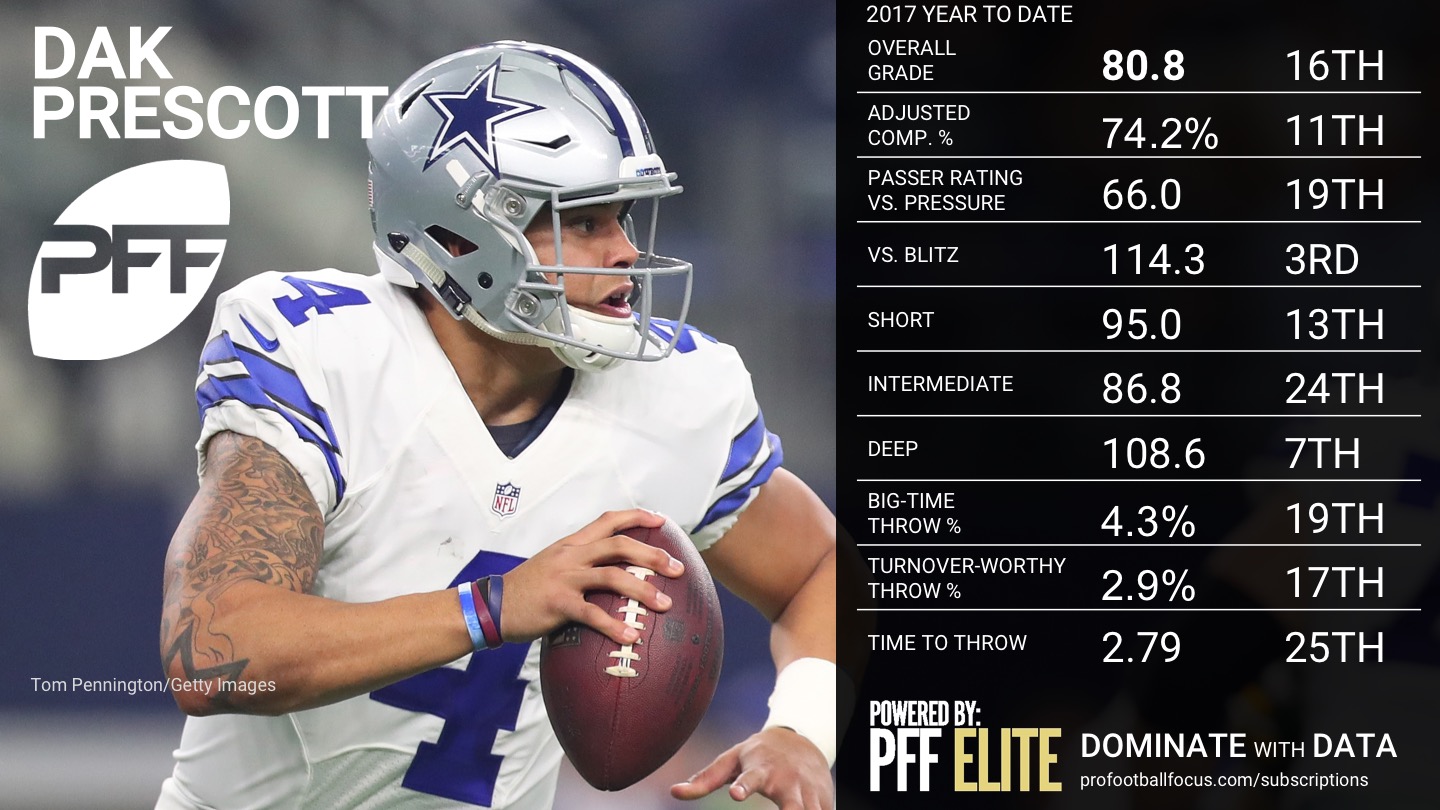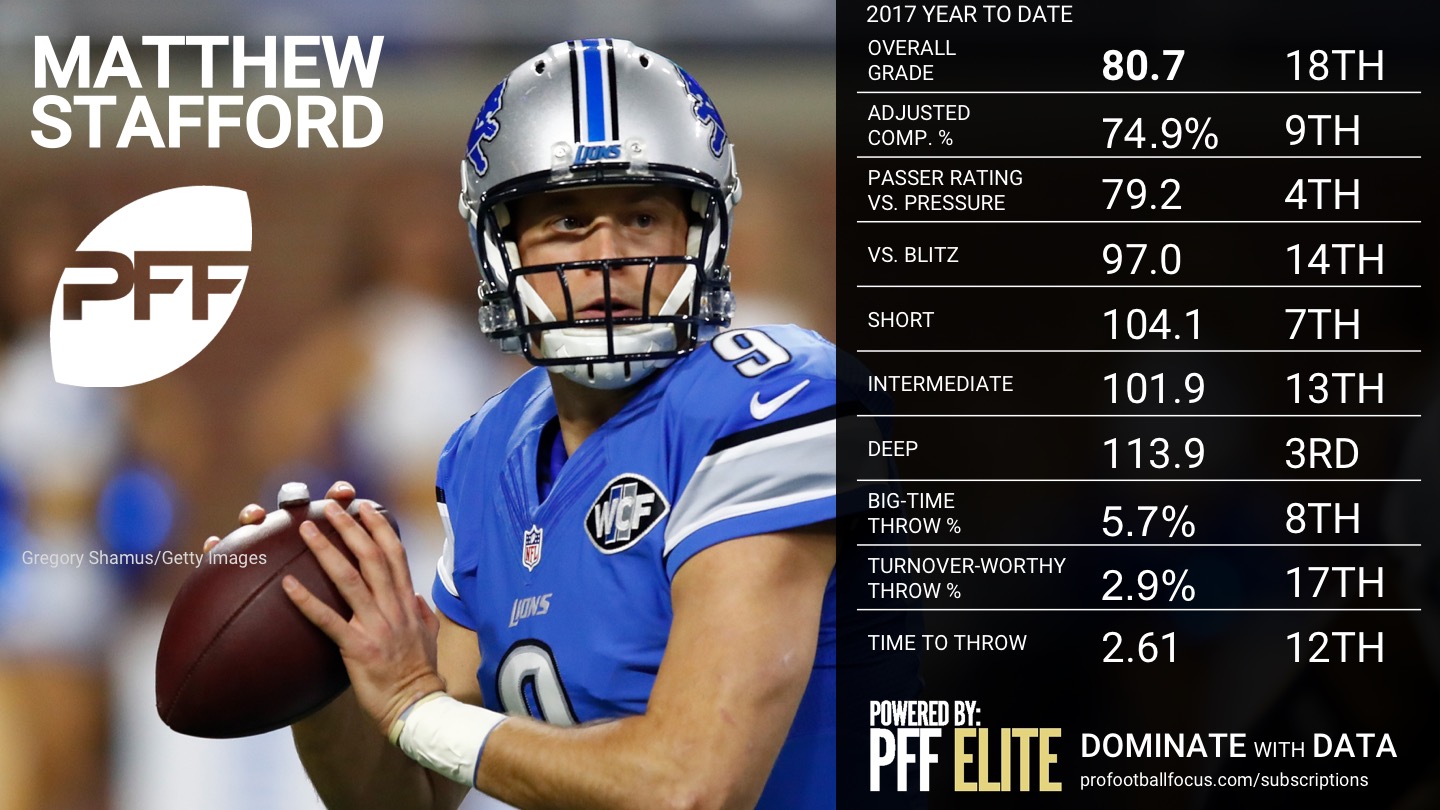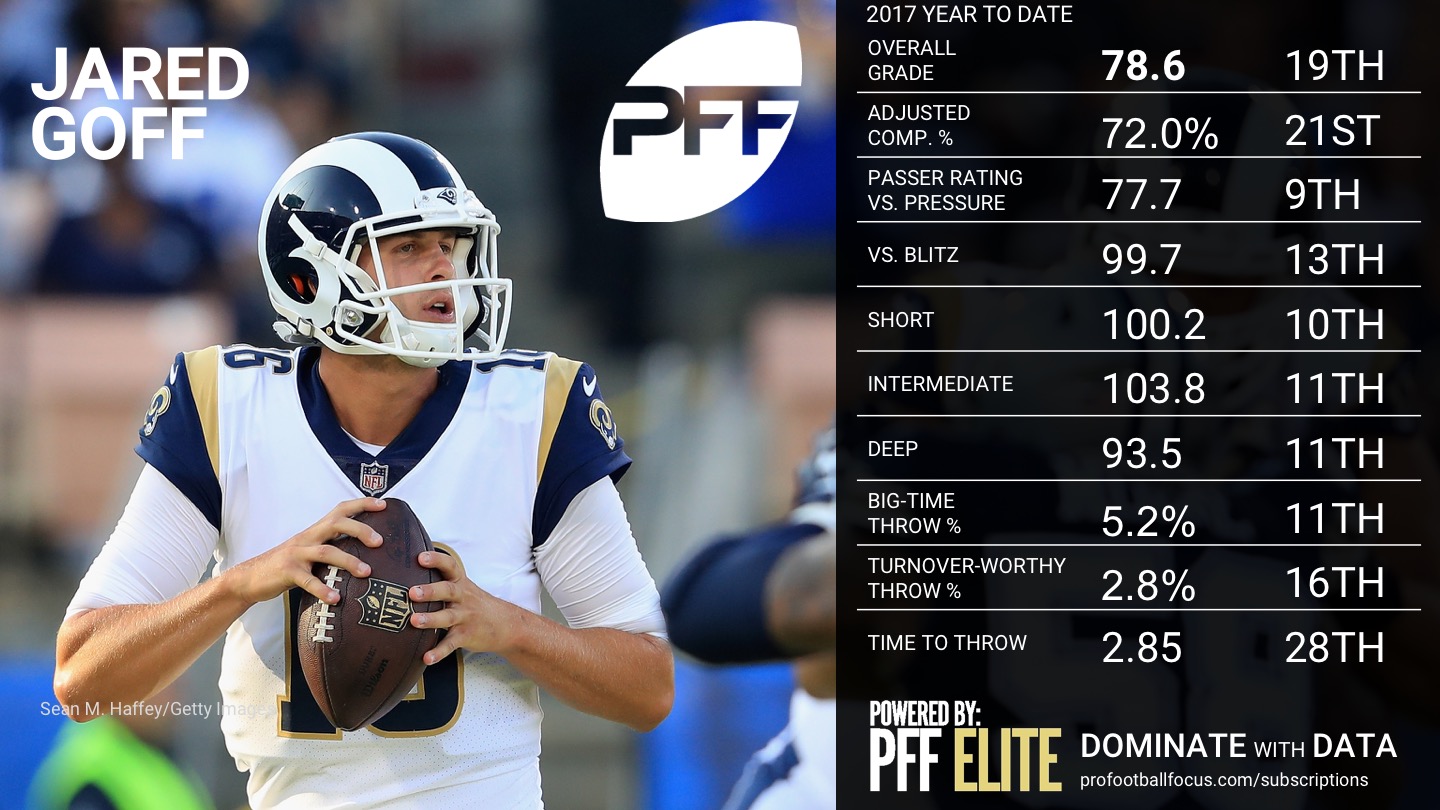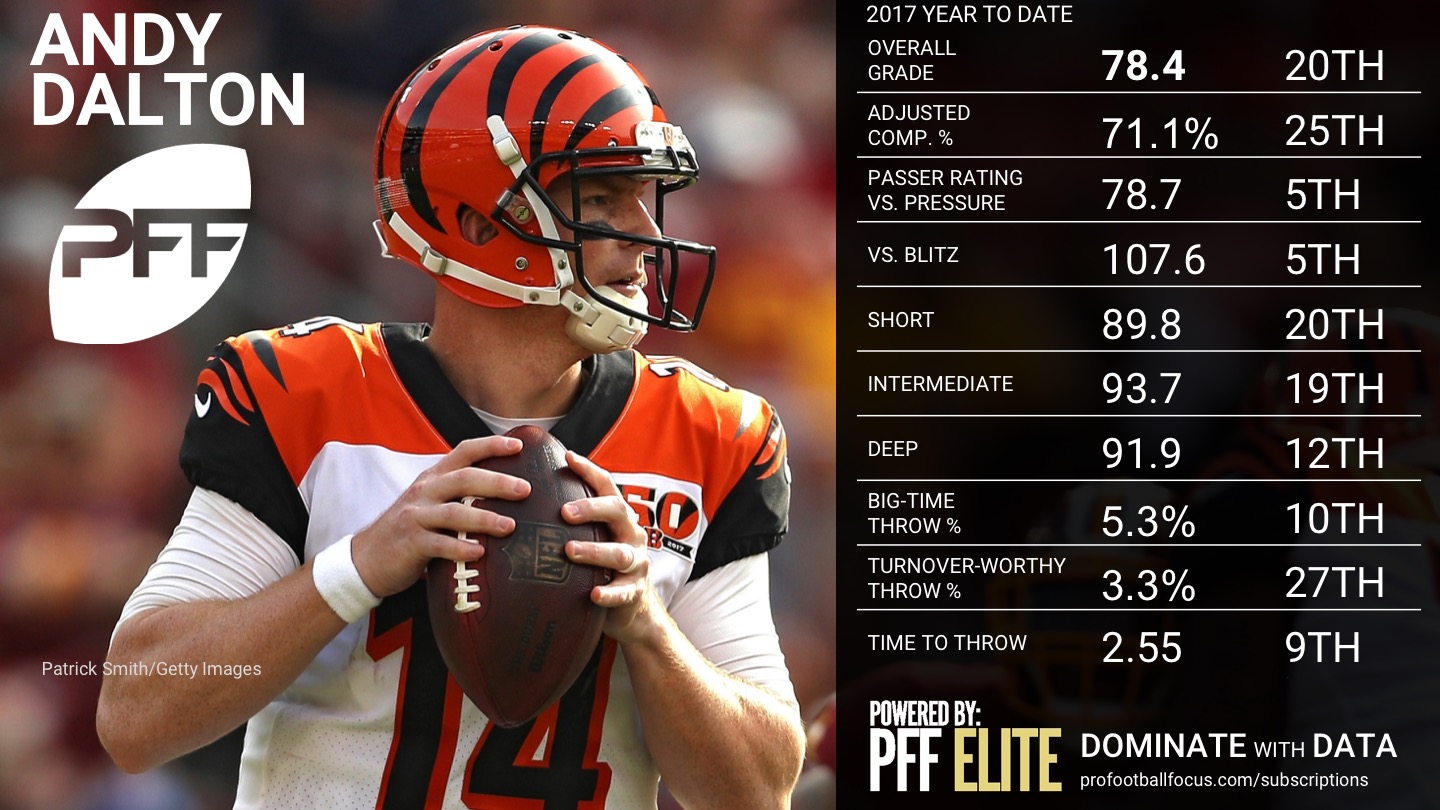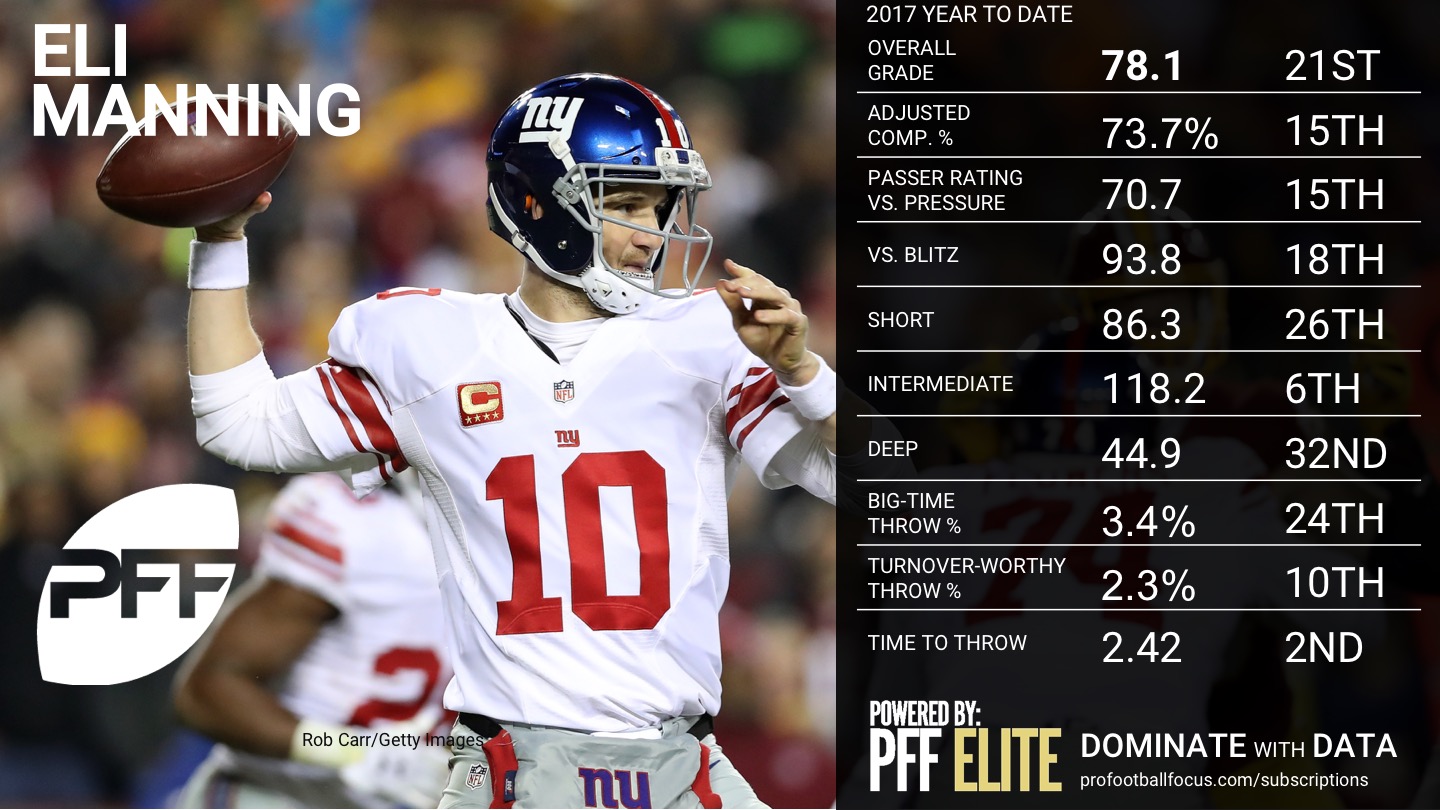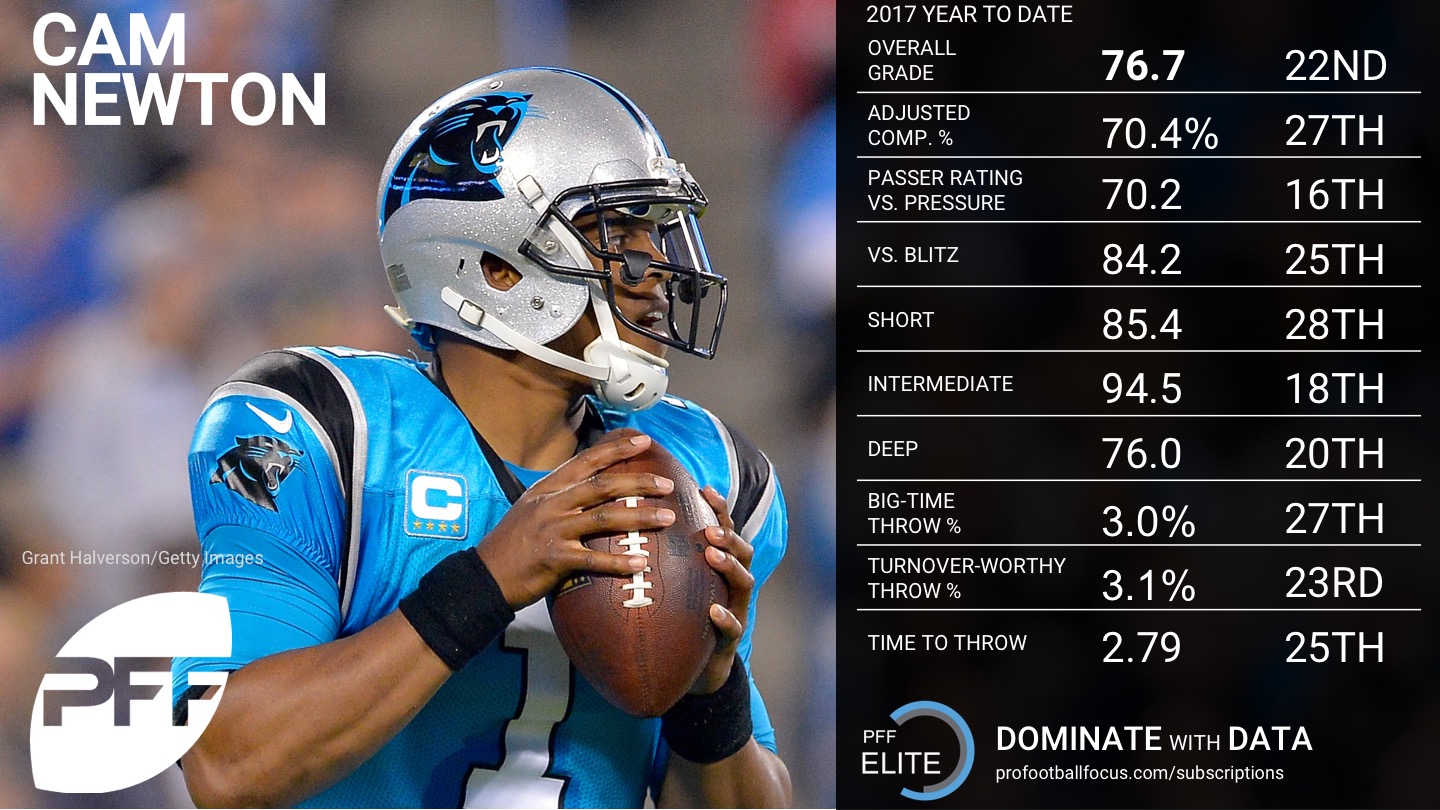 There was some "2015-MVP" Cam in this one as he was firing accurate lasers up the seams, one of which was knocked loose in the end zone for an incompletion and another that was caught for a score. He also had the infamous "discussion" with Clay Matthews just before throwing a touchdown to Christian McCaffrey. Newton is not normally known for his short-area accuracy, but he was on point with a number of throws in the 0-9-yard range, finishing 9-for-10 on those throws and his only deep attempt was a 30-yard touchdown on a busted coverage that saw Newton hang in under pressure to get the throw off. Overall, it was a fine outing for Newton and one he must build upon to rectify his roller-coaster season and lead the Panthers on another Super Bowl run.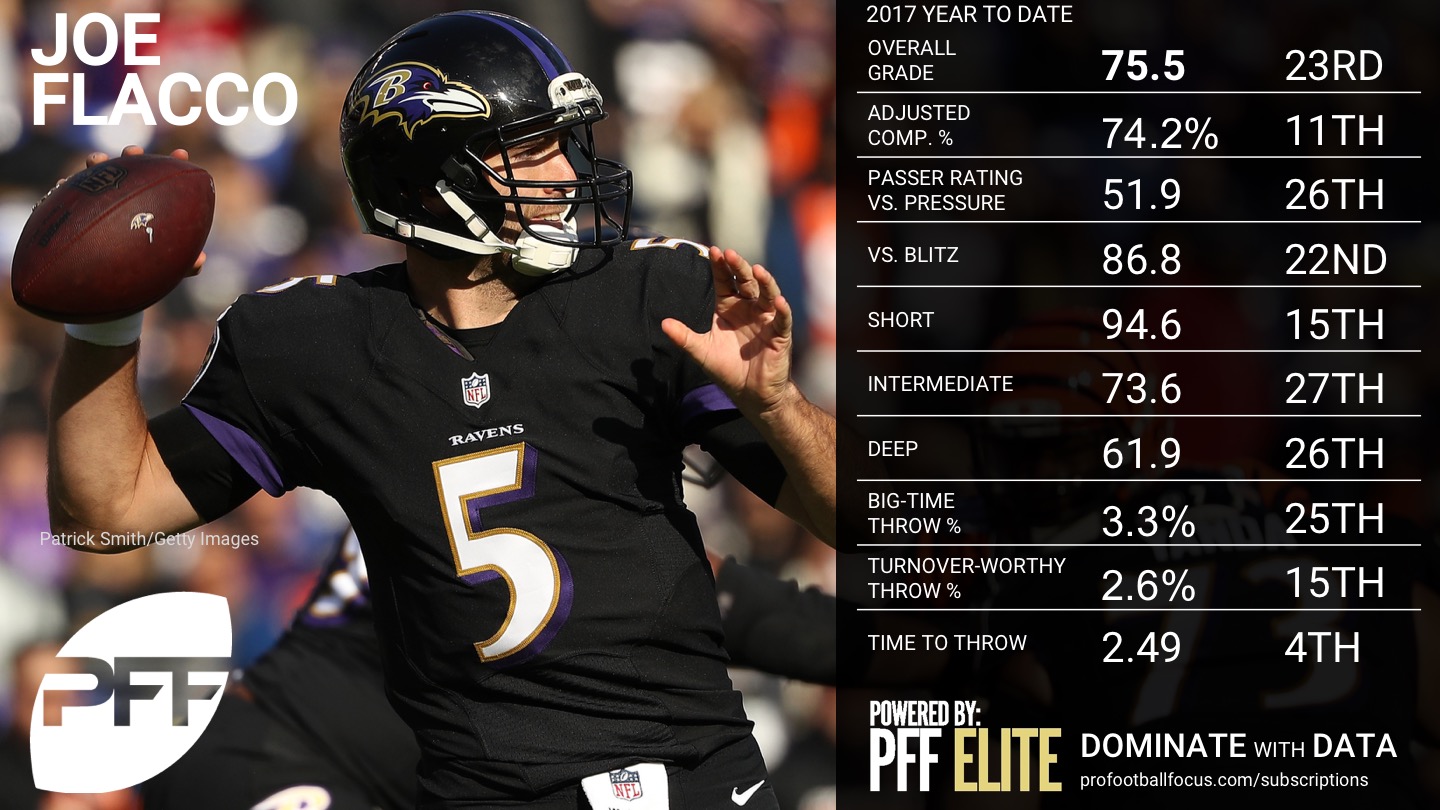 Flacco delivered a solid performance across the board this week. As we've seen with his trends throughout the season, Flacco's success has been heavily dependent on the timing and rhythm of the offense, being well-protected, and him hitting deep shots down the field. He checked all of those boxes this week, throwing the ball in rhythm and from a clean pocket on 69.8 percent of his throws, eighth-highest this week. He was able to deliver down the field with accuracy, going 3-of-3 for 83 yards on throws traveling 20-plus yards in the air. Flacco's 82.1 percent adjusted completion percentage in a clean pocket this week was sixth-best.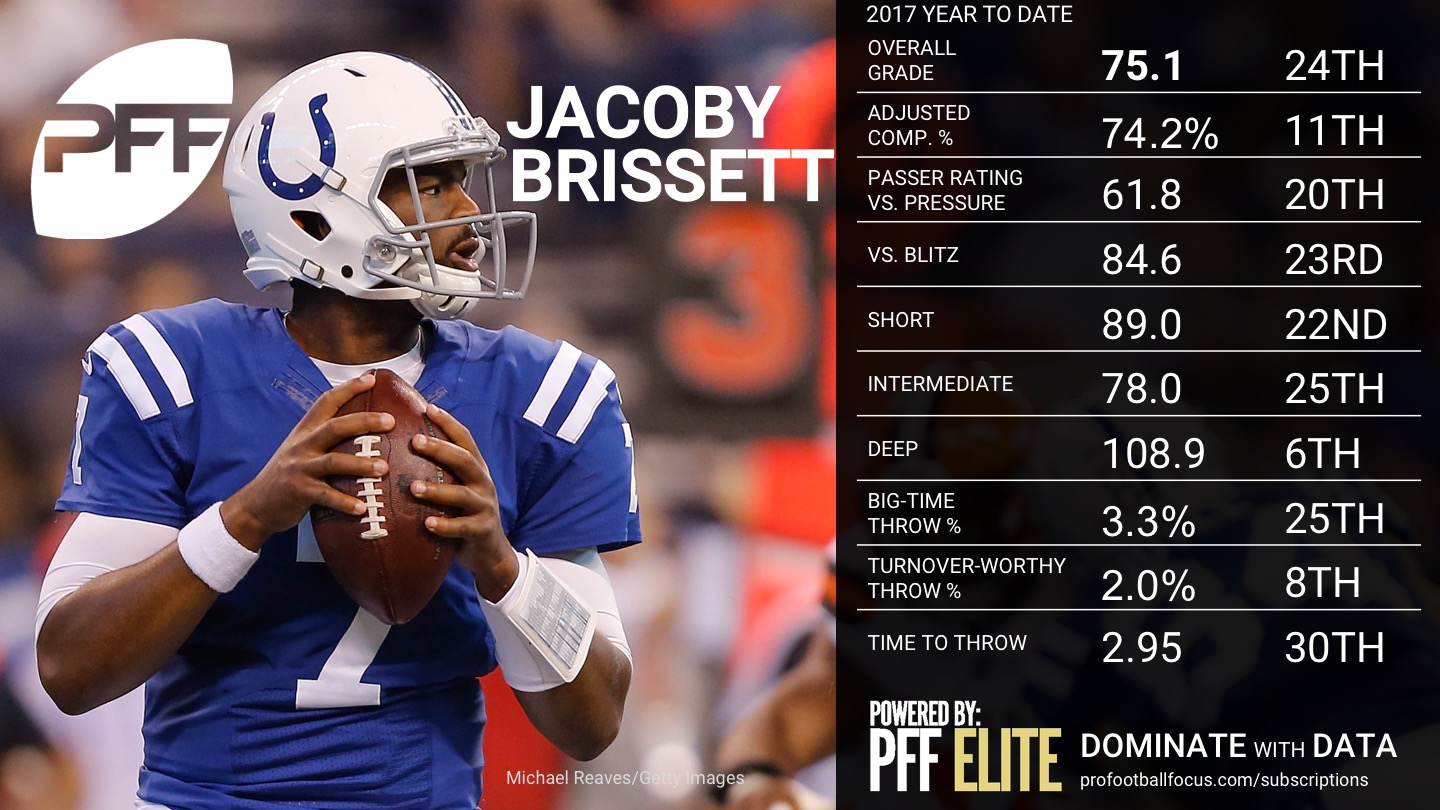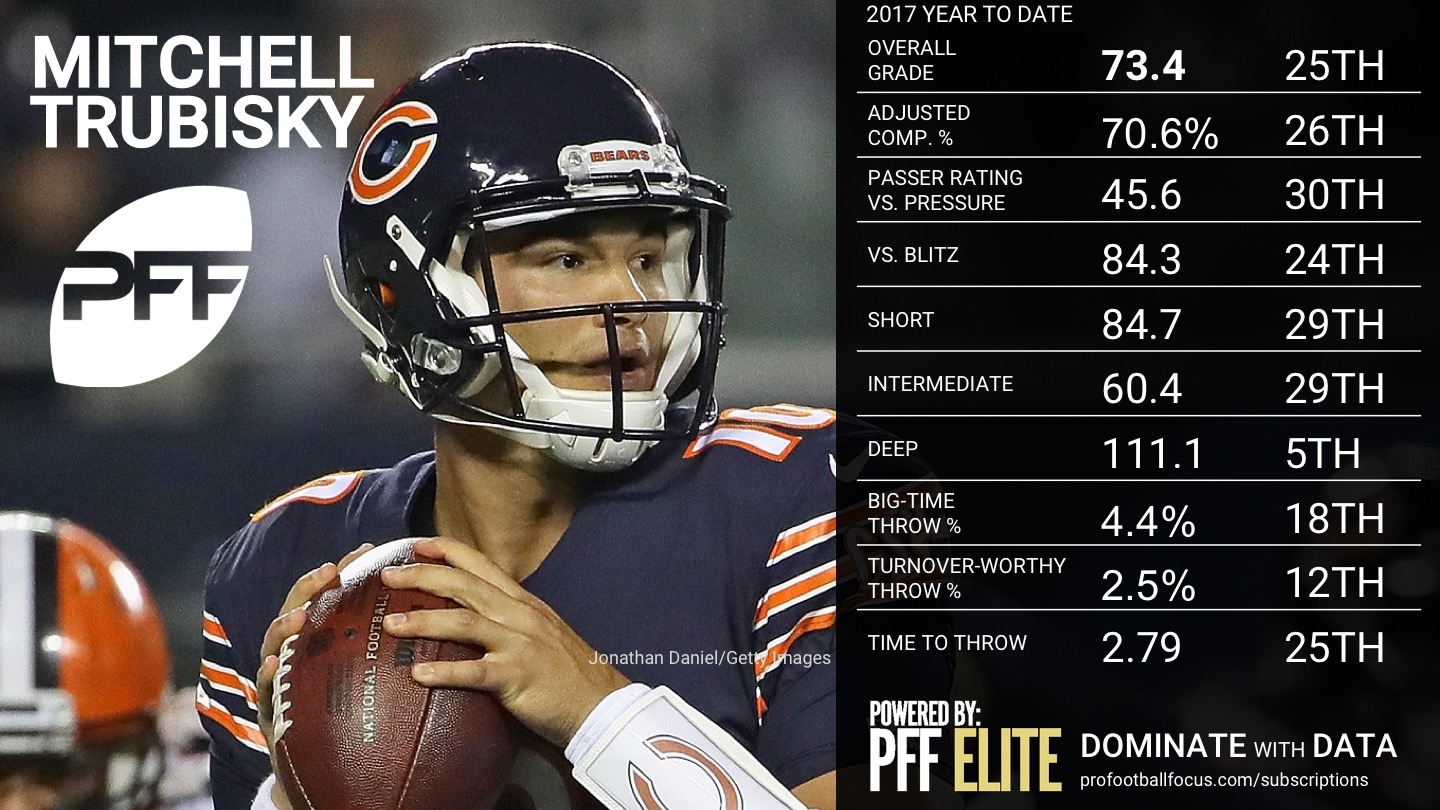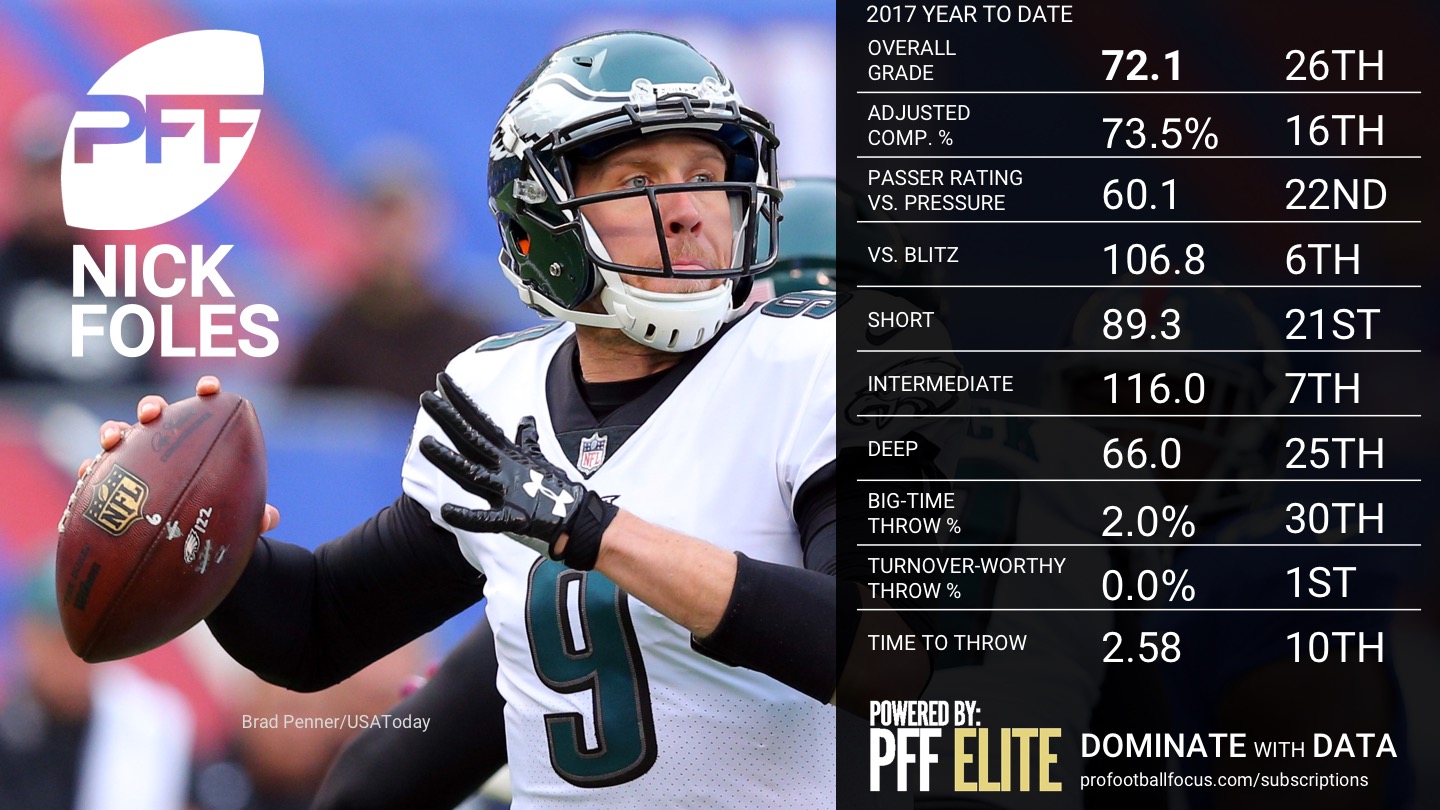 Foles was solid in his debut taking over for the injured Carson Wentz. His accuracy ran a bit hot-and-cold throughout the game at the intermediate and deep levels, but he delivered on the plays where they needed it most with a few pinpoint throws in tight coverage, particularly in the red zone. He was able to find receivers both on time, late in the progression from the pocket, as well as on the move for big plays that resulted in touchdowns. Foles did a good job against the blitz, going 8-of-14 for 101 yards and delivering two of his four touchdowns when the Giants brought extra defenders. With the number of RPO's the Eagles typically run out of the mix for the most part, the Eagles supplemented with more true dropback pass concepts and play action passes, which saw Foles have the highest percentage of play action attempts in Week 15 at 33 percent.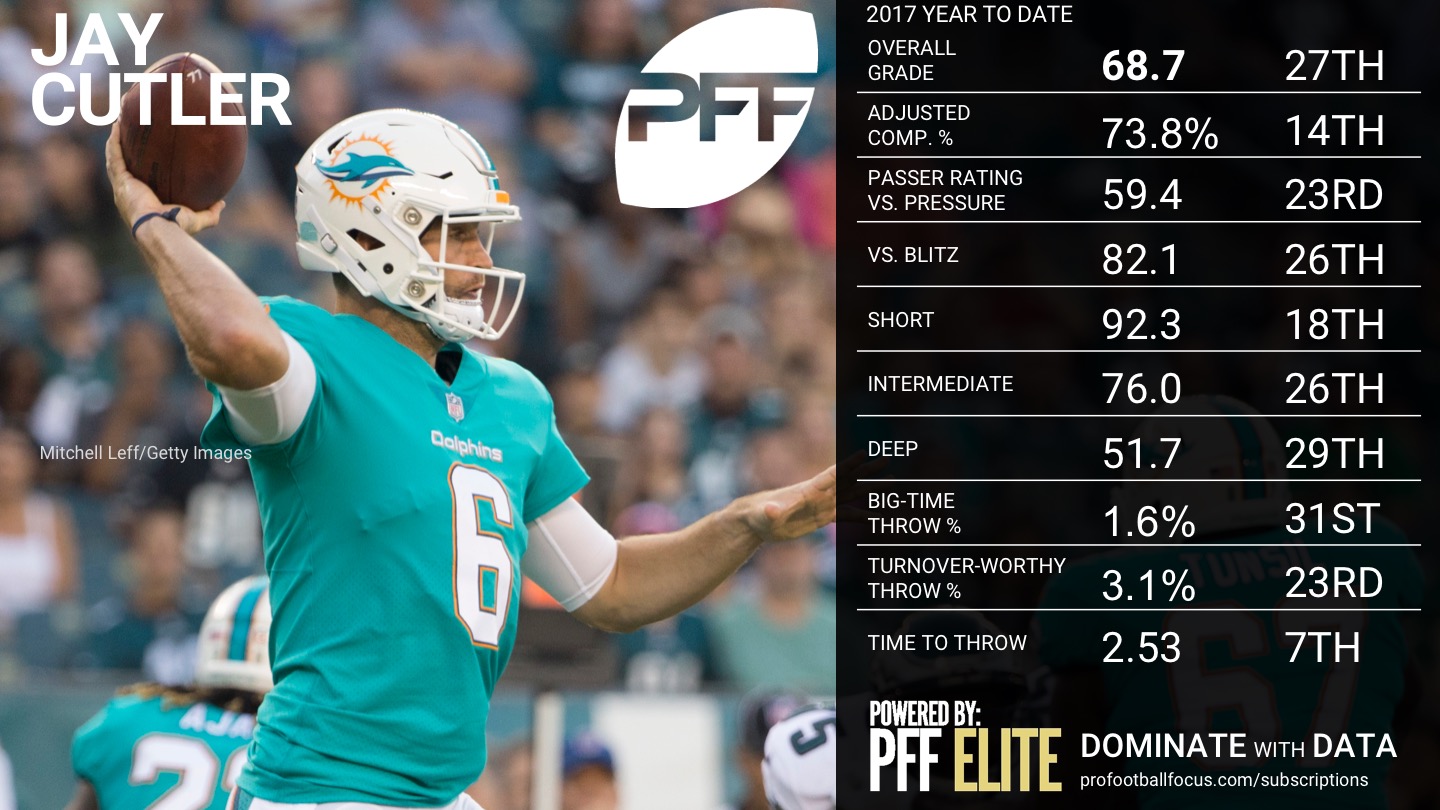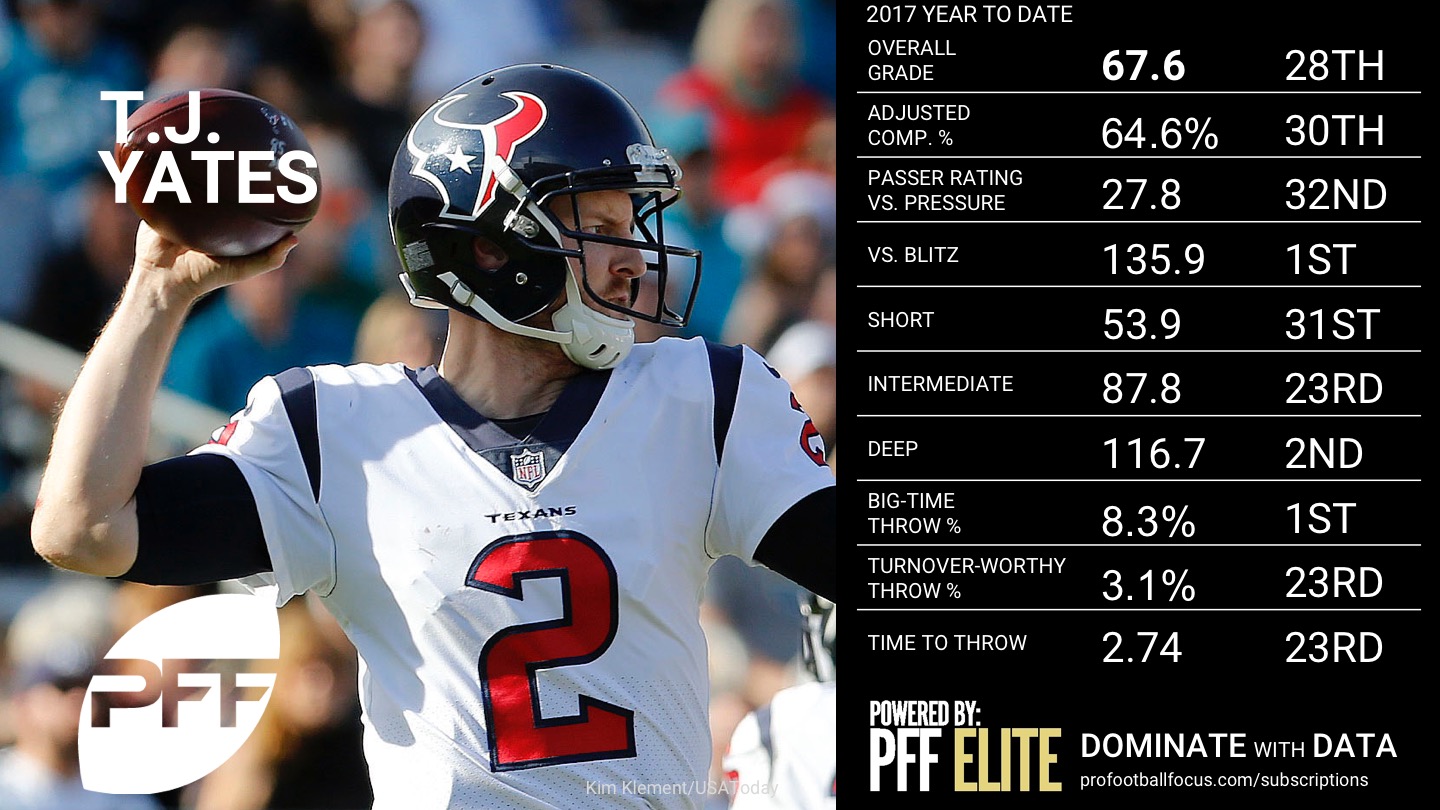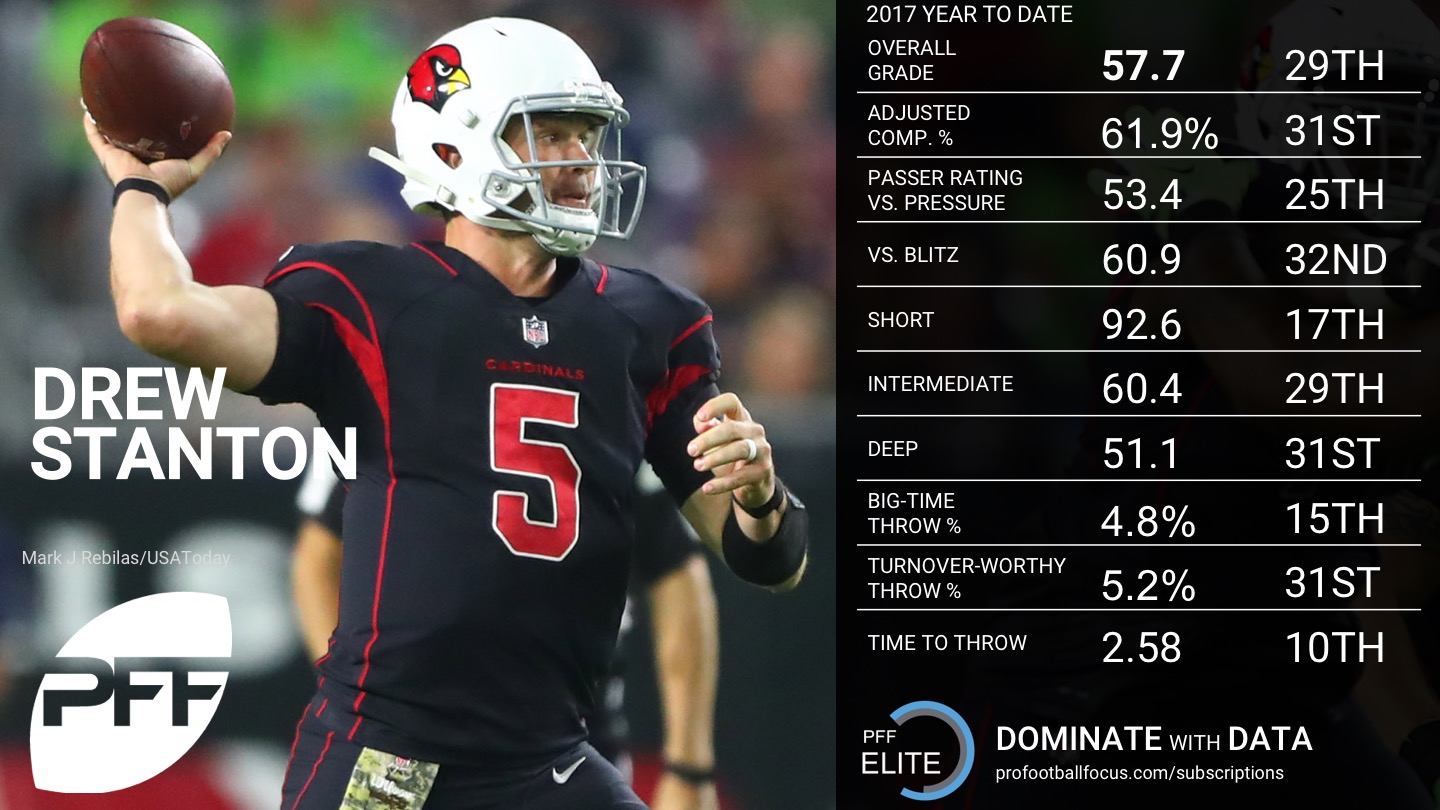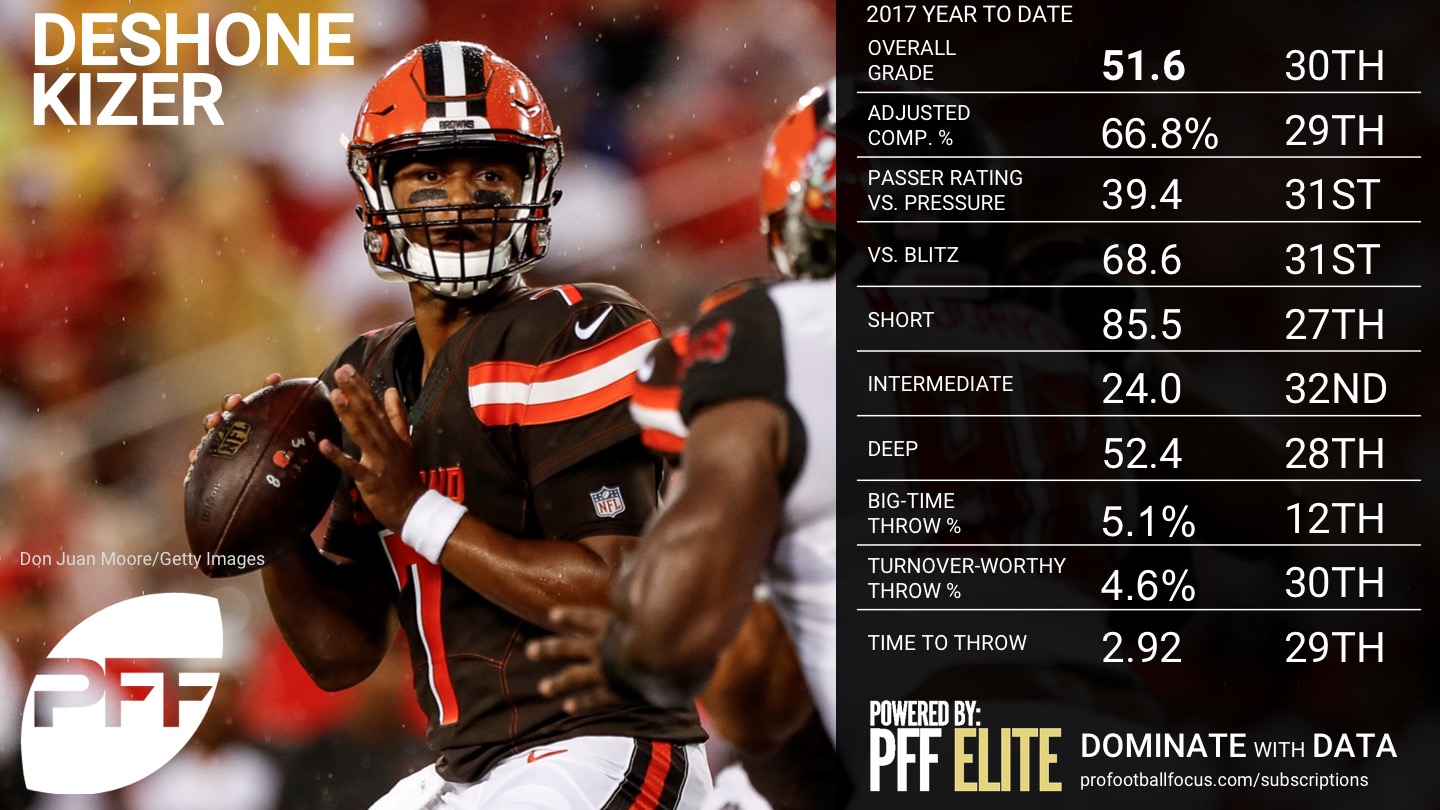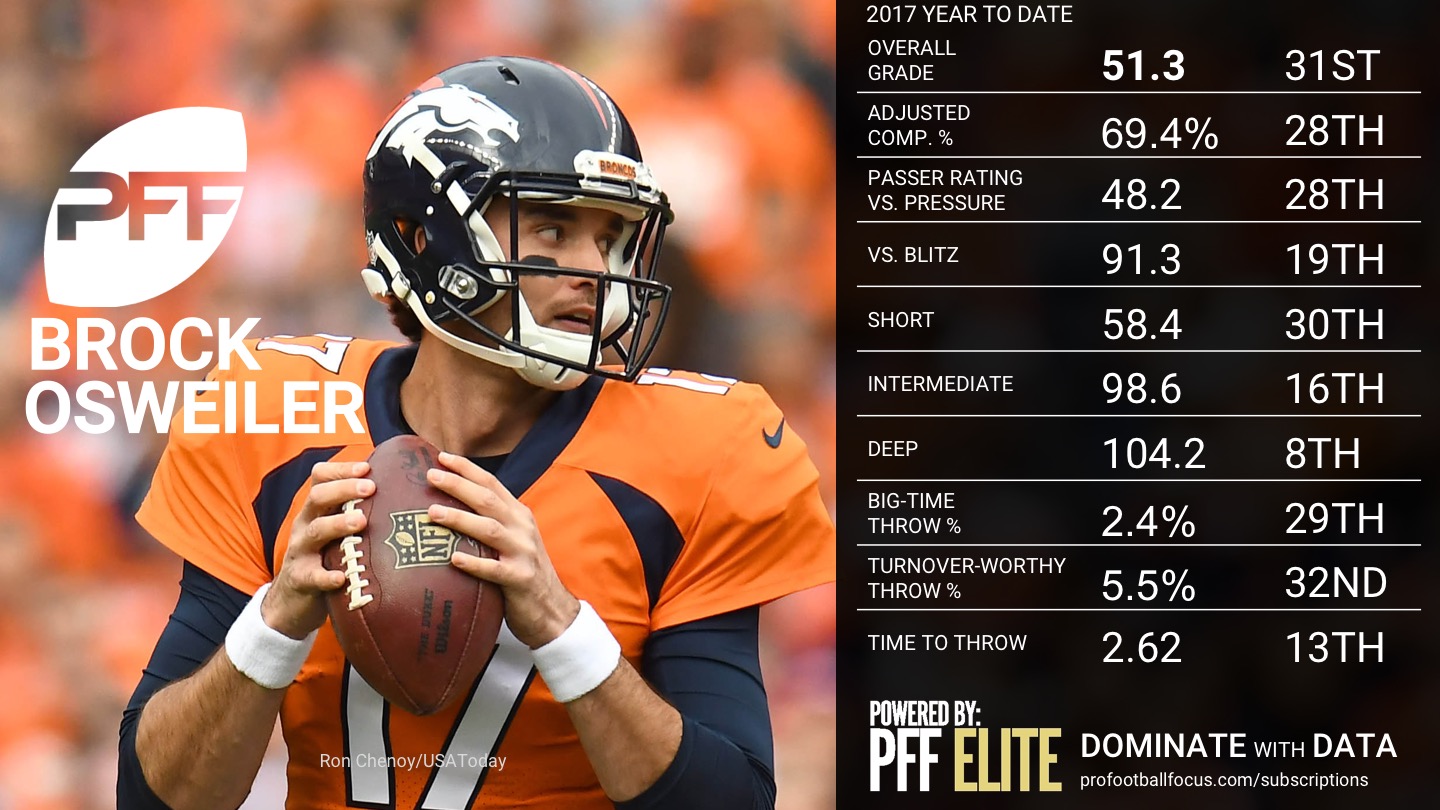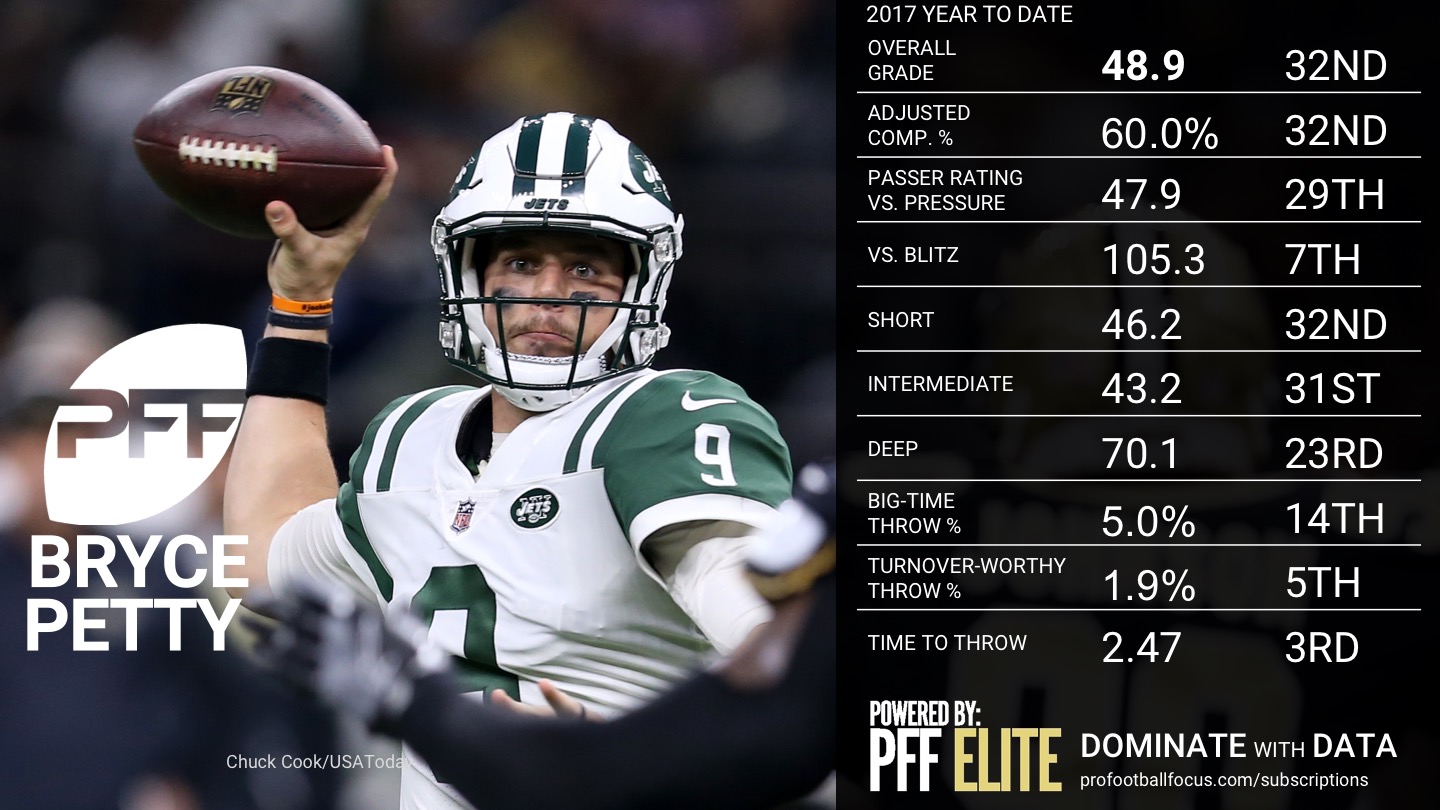 Editor's Note: the rankings above omit players who did not play in the previous week, and will evolve with each week's changes at the starting quarterback position. The following players have all qualified for a ranking this season, but are not included on the 32 starting quarterback rankings above:
4. Carson Wentz, Philadelphia Eagles – 87.6 overall grade
22. Josh McCown, New York Jets – 77.1 overall grade
24. Carson Palmer, Arizona Cardinals – 75.7 overall grade
26. Deshaun Watson, Houston Texans – 75.1 overall grade
28. Brett Hundley, Green Bay Packers – 74.4 overall grade
30. Ryan Fitzpatrick, Tampa Bay Buccaneers – 73.2 overall grade
31. Mike Glennon, Chicago Bears – 71.7 overall grade
35. C.J. Beathard, San Francisco 49ers – 68.5 overall grade
36. Trevor Siemian, Denver Broncos – 53.2 overall grade
39. Blaine Gabbert, Arizona Cardinals – 42.6 overall grade