The combination of five first-round rookie quarterbacks getting significant playing time this NFL preseason and not having a true offseason last year seemingly led to more reactions than usual for this season's slate of exhibition contests.
Most teams gave their starters a chance to see game action this year, while others, namely the Los Angeles Rams and Los Angeles Chargers, decided that health was more important and rested most of their first-teamers. Other offenses had key position battles to take a look at, such as the quarterback competitions in New Orleans and Denver.
PFF data scientist Timo Riske previously explored preseason offenses and determined that the preseason doesn't tell us much. Most teams run a vanilla scheme, and their preseason offense differs from their regular-season attack because of backup quarterback and skill position players featuring in the offseason.
But while offenses decide to not show their hands most of the time, defenses are not as subtle in their play calling. In fact, defensive play calling resembles what teams play in the regular season more often than not.

---
Click here for more PFF tools:
Fantasy Draft Kit | PFF Betting Dashboard | PFF Fantasy Rankings
PFF Fantasy Projections | NFL Premium Stats | Win Totals Tracker
---
Are defensive coverages run at a similar rate in the preseason?
To verify, looking at every preseason and regular-season game from 2015-2019 is necessary. 2020 was excluded from the data, as there was no preseason due to COVID-19. The six coverages we will be looking at are Cover 0, Cover 1, Cover 2, Cover 2 Man, Cover 3, Cover 4, and Cover 6.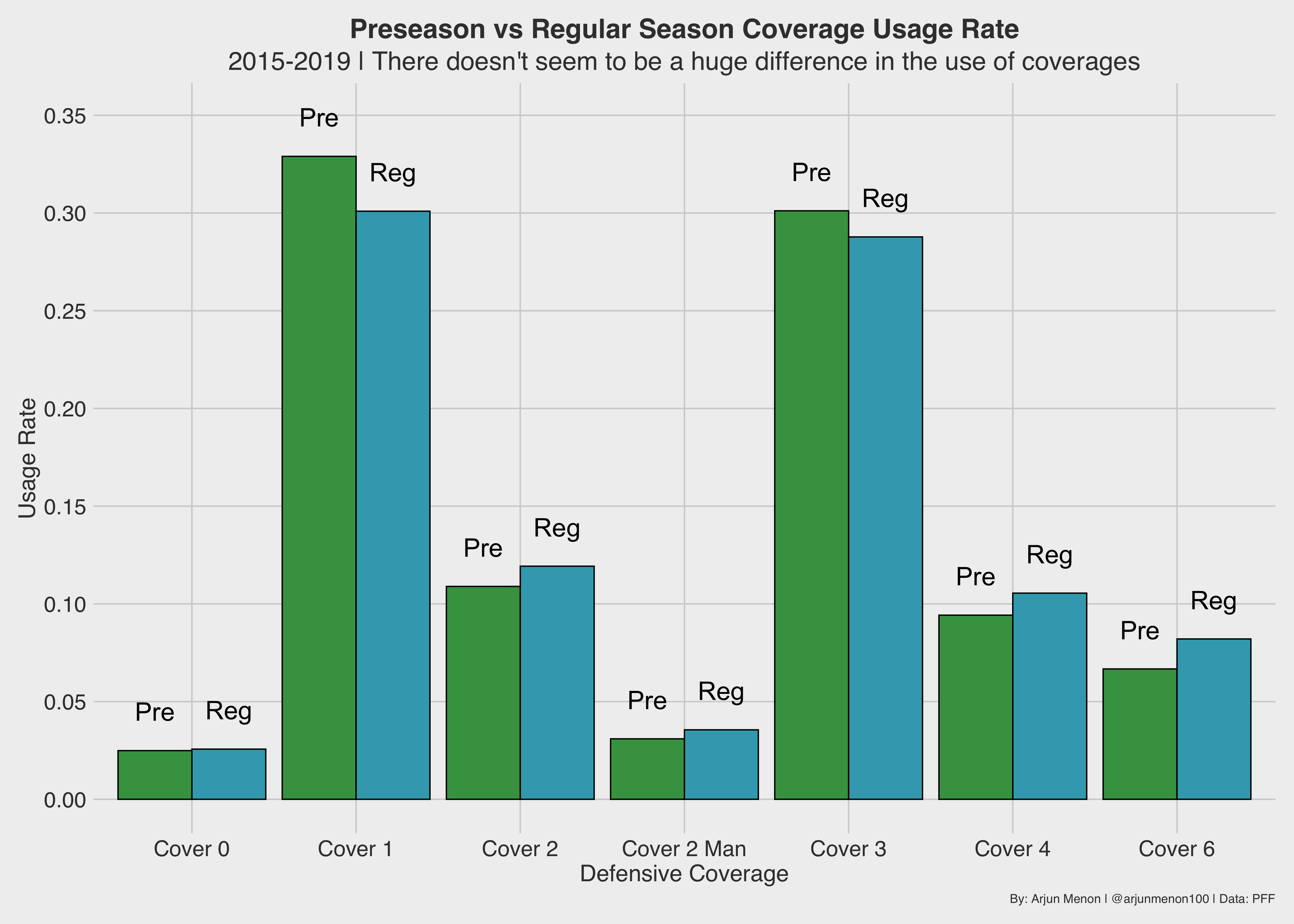 There doesn't appear to be any big differences between the coverages used in the preseason and the regular season. Teams do like to play more Cover 1 and Cover 3 in the preseason, but those are also the most used coverages in the entire league. Thus, seeing if depth players can fit into those schemes means that teams run them more often in the preseason.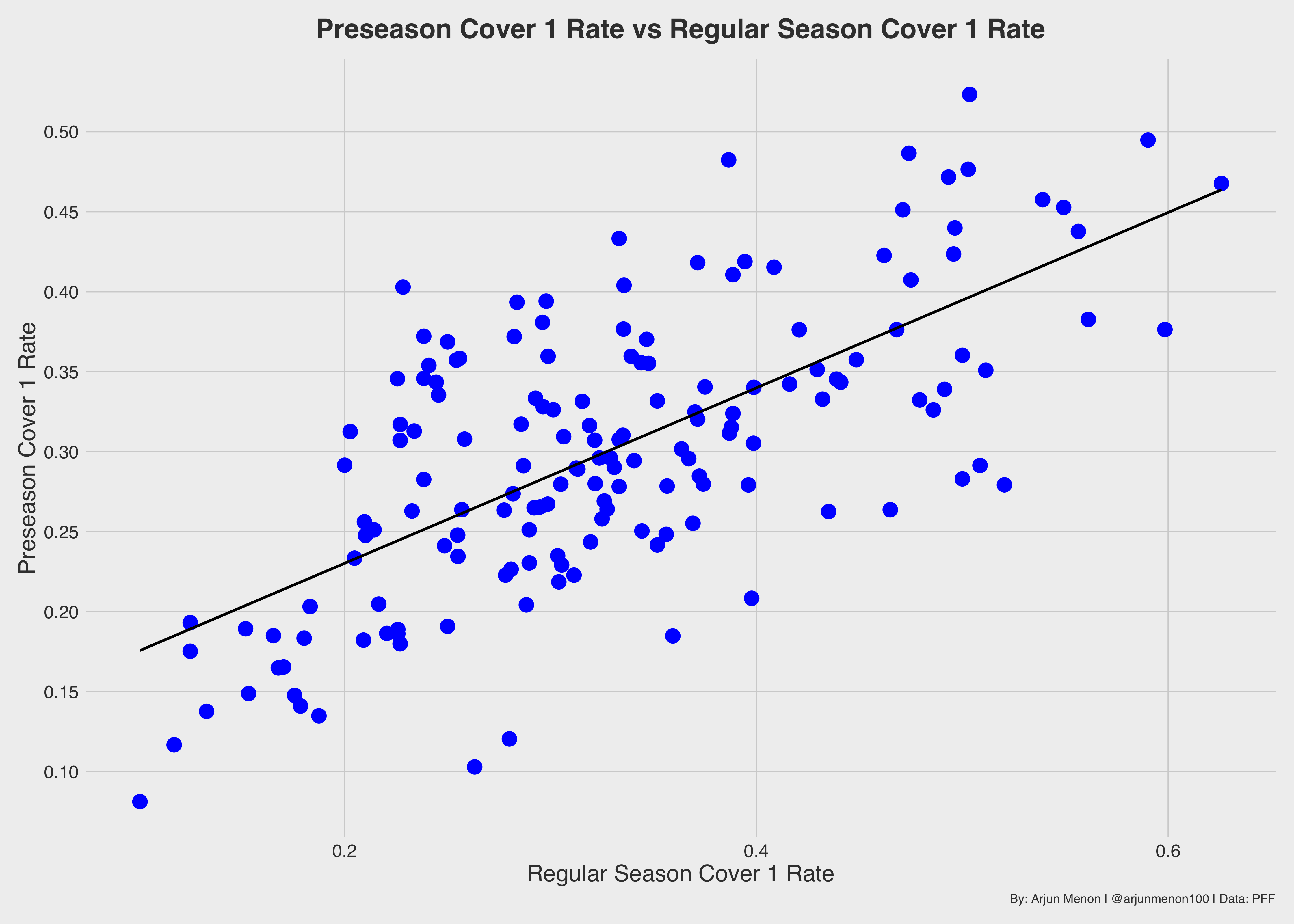 For example, there is a clear correlation in the Cover 1 rate for teams in the preseason versus the regular season. The R-squared value for this relationship is 0.46, which means we can say that a team's preseason Cover 1 rate can be used to explain 46% of their Cover 1 rate in the regular season.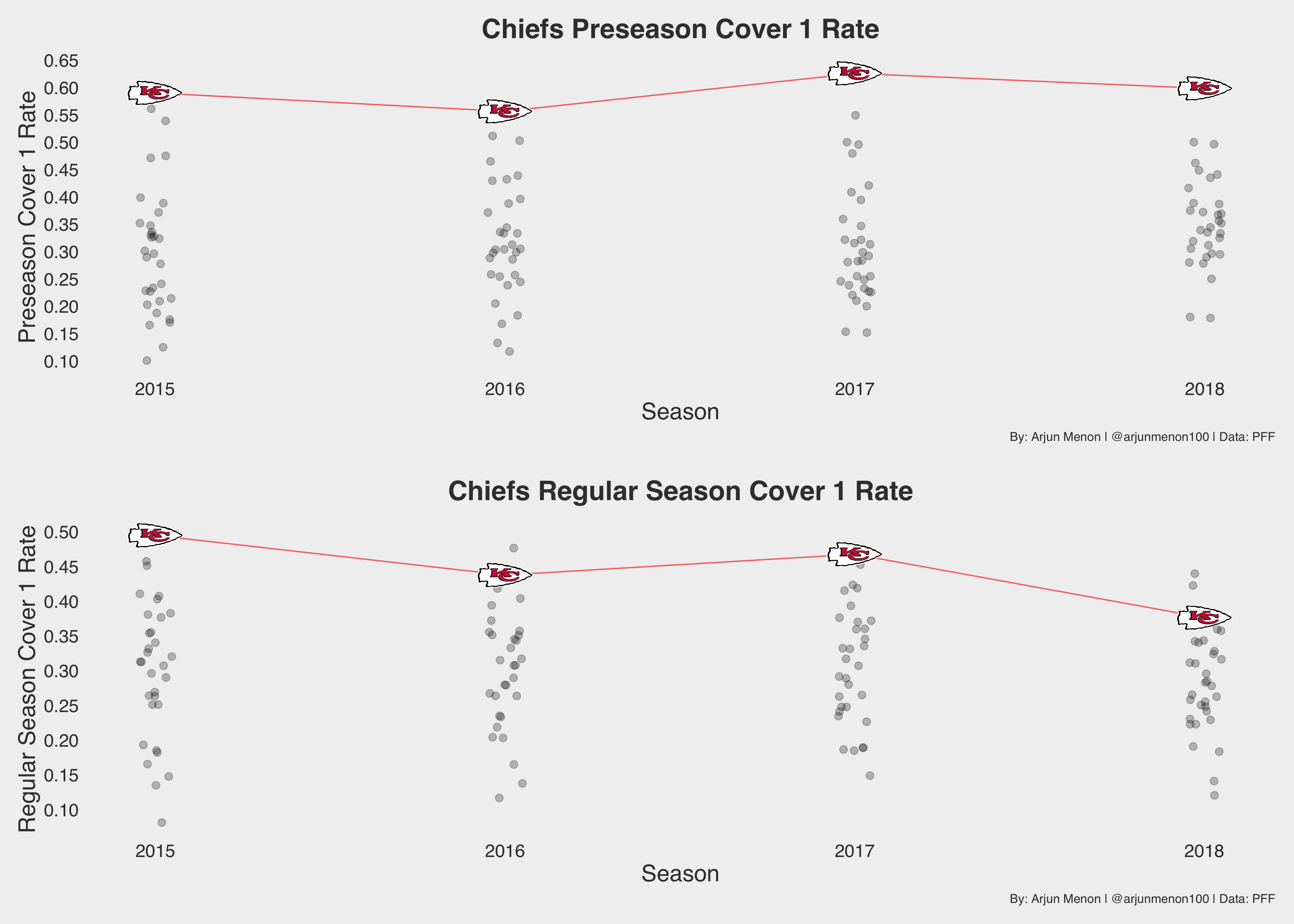 Just ask Bob Sutton: He was the defensive coordinator for the Kansas City Chiefs from 2015-2018 and ran Cover 1 at a very high rate. During those four years, Sutton proceeded to run Cover 1 at no lower than a 55% clip in the preseason, which was the highest rate charted by PFF during that time.