The Philadelphia Eagles made a statement about their quarterback situation with a trade down in the 2021 NFL Draft, sending the No. 6 overall pick to the Miami Dolphins in exchange for No. 12 overall and an extra first-rounder in 2022.
This offseason has already been wild for the Eagles when it comes to their quarterback situation and their presumed starter in 2021, Jalen Hurts. The Carson Wentz situation deteriorated to a point that resulted in organizational changes, and Wentz was still shipped to Indianapolis to be reunited with his former offensive coordinator, Frank Reich.
From that point forward, Hurts was in possession of the starting job. But with the Eagles positioned at No. 6 in the draft, there was a very real chance he would lose it to a rookie. While trading away from this year's group of quarterbacks might indicate a clear sign that the team believes in Hurts, that's not necessarily the case. 
Ian Rapoport reported that the team first tried to trade up to No. 3 overall but was only prepared to do it for Zach Wilson, the BYU quarterback who could be gone by that point to the Jets at No. 2. The Eagles are prepared to roll into 2022 with Hurts as their starter, but they already have their eye on potential upgrades and have positioned themselves well to find one in next year's draft, should they need to.
The conditional pick the Colts gave up for Wentz likely becomes a first-rounder if Wentz stays healthy this season, giving the Eagles three firsts next season to make whatever aggressive move they need to in search of a new franchise quarterback if Hurts doesn't pan out.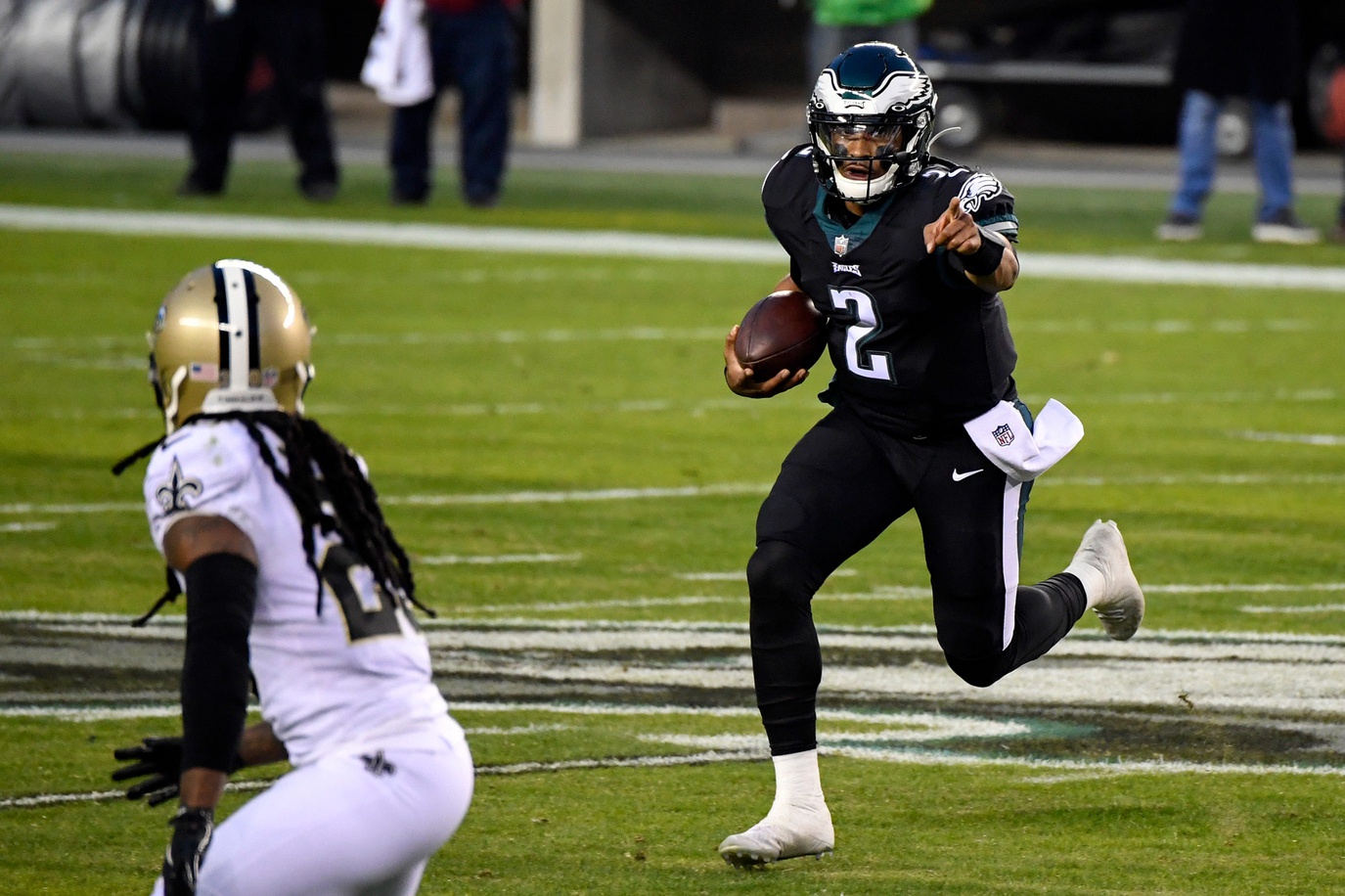 While there is no doubt that Hurts provided a spark to the offense when he came in late last season, we have to ask how much of that was by virtue of simply not being Wentz, who was in a death spiral of play and ultimately left the team with no option but to bench him. Hurts threw four touchdown passes and no interceptions in his first two starts, while adding a very real rushing threat. But those games also featured five turnover-worthy plays, which were followed by four more in his third start — he just wasn't punished for putting the ball in harm's way. 
Across four starts, the only game that saw Hurts earn even an average PFF grade was the Week 17 performance when he was inexplicably benched so the team could take a look at Nate Sudfeld under center. 
The sample size is still incredibly small for Hurts. With no preseason, his NFL career consists of 185 dropbacks, four of which came on gimmick plays before he replaced Wentz. He has shown athleticism and the ability to make some nice throws, but his turnover-worthy play rate was 4.6%, which was worse than Drew Lock and Wentz in 2020.
It's clear that the Eagles offense generally ran itself off the rails last season. Injuries and the implosion from Wentz dragged everything south and made it very difficult for any one player to be in a position to succeed. This upcoming season should provide a much better outlook.
A healthy offensive line will provide better protection, and even with the loss of veteran receivers Alshon Jeffery and DeSean Jackson, they still have plenty of talent in the building and a varied skill sets. Hurts has shown flashes of the kind of talent that can thrive within a good environment, but the Eagles are absolutely correct to not bet the farm on that and to hedge against the very real possibility that he isn't good enough at this level.
If they really were interested in Zach Wilson, the Eagles are already firmly on the lookout for potential upgrades at the position. Without being in a great position to secure a quarterback this offseason, they are now prepared to throw lukewarm support behind Hurts and ensure that they have the capability to make whatever move is necessary this time next year. If Hurts works out, their problem is solved and they have the ammo to build around him. If he can't grasp the opportunity, they are well set to find his replacement.
The Eagles are still making smart moves, even if they found themselves in trouble at the most important position in the game.