The official Pro Bowl roster was released for the 2019 season, so it's time for PFF to weigh in and give our take backed by the only database to have grades on every player on every play of the NFL season.
The Pro Bowl still clings to some outdated quirks that are badly in need of an overhaul, so we decided to give them a helping hand. Rather than parse the official and occasionally arbitrary designations of defensive end, defensive tackle and outside linebacker, we have decided to simply select from groups of edge defenders, interior defensive linemen and off-ball linebackers, according to conference.
Here are the players from each conference that should make up the 2020 Pro Bowl rosters given the previous 15 weeks of play.
NFC
Quarterbacks (3)
Drew Brees missed some time with an injury, but we've seen him at his very best when he has been on the field. Russell Wilson is also putting together a career year and Kirk Cousins has been extremely impressive after a rough start to his season.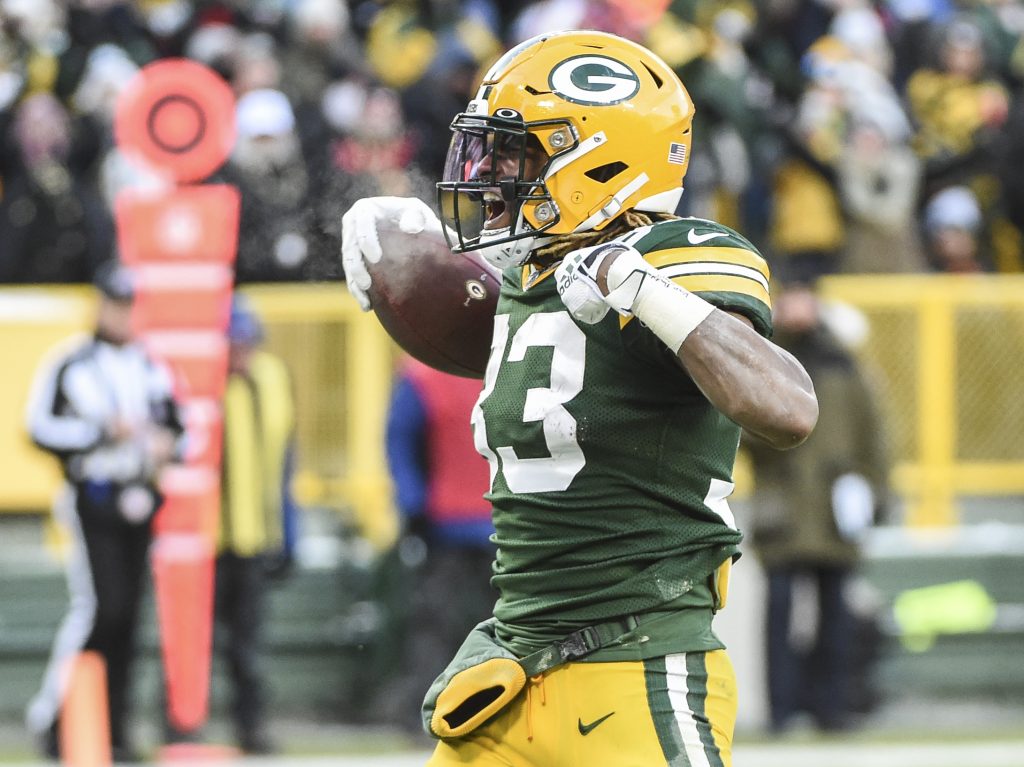 Benny Sieu – IMAGN
Running Backs (3)
Christian McCaffrey has been the only consistent force on the Panthers' offense all season long, and he's broken 66 tackles in total. Aaron Jones and Dalvin Cook are each averaging over three yards per carry after contact.
Fullback (1)
One of the few heavily used fullbacks in the league, Kyle Juszczyk has been a multi-faceted weapon for the 49ers this season. He has caught 18 of the 21 passes thrown his way.
Wide Receivers (4)
The NFC receiver group is almost exclusively from the NFC South. Chris Godwin is having a historic season and has become Jameis Winston's go-to receiver, while Michael Thomas has a real shot at breaking the single-season receptions record. Amari Cooper is tied for the league lead in deep (20+ air yards) receptions.
Tight Ends (2)
George Kittle has been one of the best players in football at any position. He's a game-changing receiving threat that is also capable of burying defenders as a blocker. Tyler Higbee has stepped up for the Rams and made the most of his opportunity while injuries struck other players.
Offensive Tackles (3)
A vintage year for right tackles sees all three NFC spots taken by players on the right side of the line.  Ramczyk has allowed just 19 total pressures this season and shut down a series of elite pass-rushers, while Lane Johnson makes a notable difference to the Eagles' offense when he has gone down hurt. La'el Collins has surrendered just one sack this season and been a force as a run blocker.
Guards (3)
Brandon Brooks has long been a top guard, but this is the best season of his career and arguably better than any other guard in the game. Perennial Pro-Bowler Zack Martin isn't far behind, and Brandon Scherff also makes the team thanks to solid grades across the board.
Centers (2)
Not quite matching his best seasons, Jason Kelce remains among the league's best, but he's joined by second-year player Frank Ragnow, whose run blocking has been much better inside at center than it was at guard.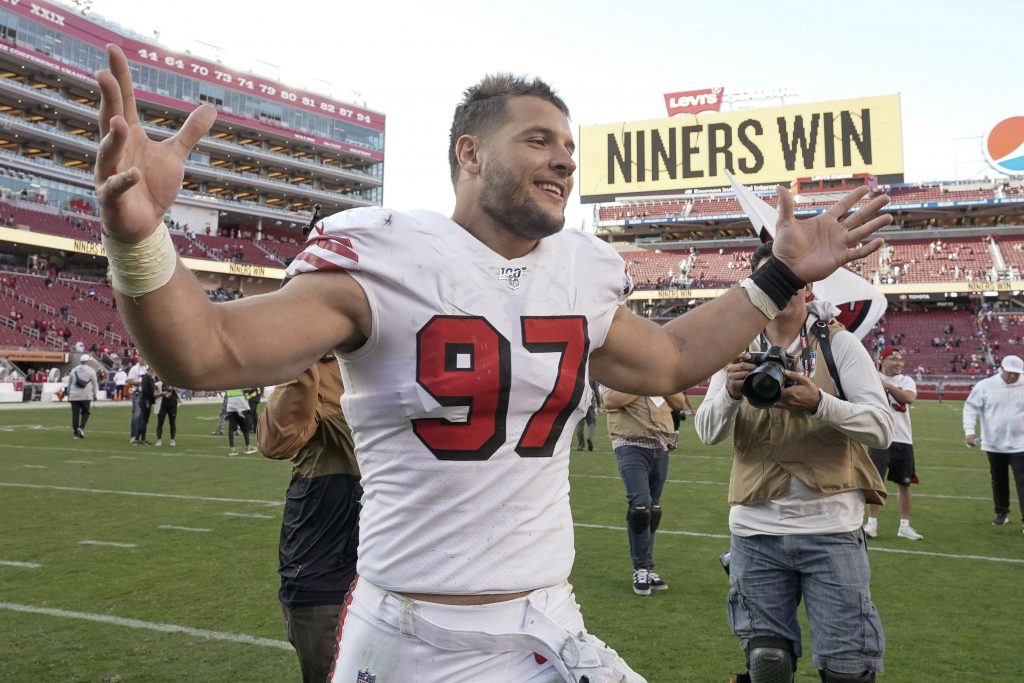 Stan Szeto – IMAGN
Edge Defenders (4)
Danielle Hunter has taken a step towards fully realizing his immense potential and has already set a career-high in total pressures by 14 with two games still to play. Arik Armstead is flourishing thanks to the arrival of rookie Nick Bosa in San Francisco, and the pair are joined by Jadeveon Clowney, who is backing up his fine 2018 season with another strong showing this year.
Interior Defensive Linemen (4)
Only because his sack total a season ago was so absurd Donald's total this season seems relatively pedestrian, but he is still among the best players at any position this season. Grady Jarrett has been the one consistent standout on a Falcons roster full of inconsistency this season, while Vita Vea has added some real pass-rush to his immense run defense to join the team.
 Linebackers (3)
Eric Kendricks is having a career year and has three more pass breakups than any other linebacker this season. He has impressive grades across the board and has a legitimate NFL Defensive Player of the Year case to be made. Demario Davis has missed just four tackles all season, and Lavonte David has been excellent in coverage, with an interception and four pass breakups.
Cornerbacks (4)
Richard Sherman is getting back to his best another year removed from his Achilles injury and is allowing a passer rating of under 50 when targeted. After him, it's unexpected faces with several young corners all putting in career years with impressive grades and statistics.
Safeties (3)
Four interceptions and six pass breakups make Marcus Williams one of the best playmaking safeties in the game this season, and he is joined by both Vikings starting safeties, with Anthony Harris again backing up the play he has shown in smaller sample sizes in the past.
Special Teams (4)
AFC
Quarterbacks (3)
Lamar Jackson is a legitimate MVP candidate after dramatically improving as a passer in addition to his devastating rushing ability. Patrick Mahomes has been banged up with a series of injuries but still grades among the league's best, and Ryan Tannehill has been stunningly effective since replacing Marcus Mariota in the starting lineup for Tennessee.
Running Backs (3)
About the only thing functioning on Cleveland's offense this season has been Nick Chubb, who has broken a huge 73 tackles on carries and receptions this season. Josh Jacobs has a PFF Elusive Rating of 103.6, the best mark in football, and Austin Ekeler has been the most dynamic receiving back in the NFL this year.
Fullback (1)
Fullbacks don't get a whole lot of use in today's NFL, even in a run-heavy system like Baltimore's, so the Ravens ask theirs to pull double-duty on the D-line, where the 300-pounder has 10 total pressures on 106 pass-rush snaps this season.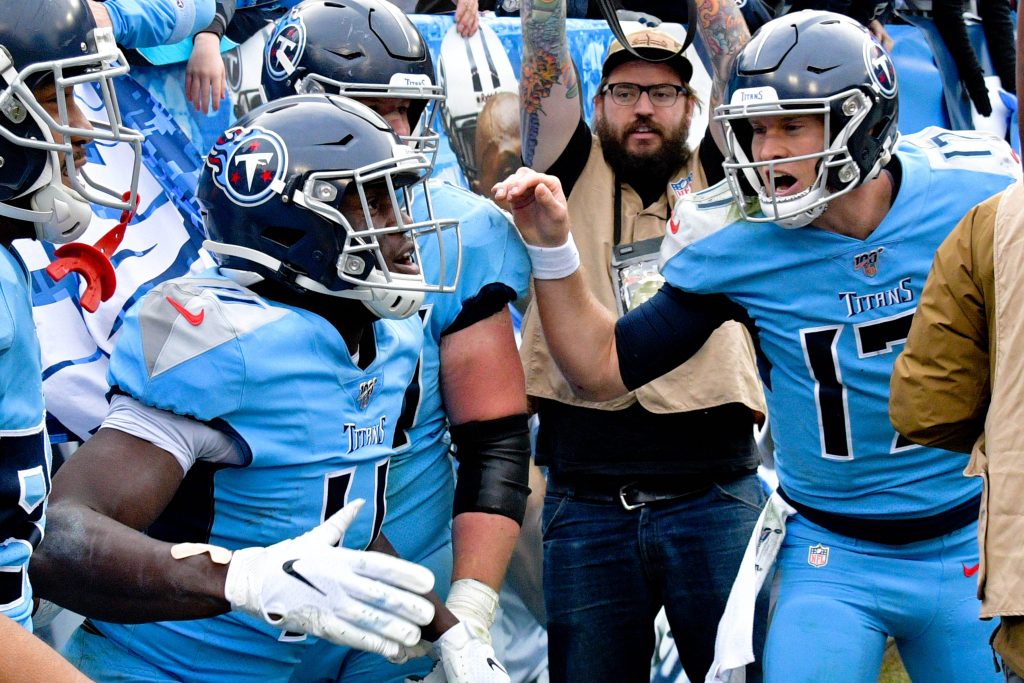 Jim Brown – IMAGN
Wide Receivers (4)
DeAndre Hopkins won't be a surprise to anybody, nor will Tyreek Hill, whose devastating speed makes him one of the game's best. But Courtland Sutton and A.J.Brown represent a couple of young, supremely athletic receivers that have really come on strong this season. Brown ranks third in the NFL in yards per route run (2.63), while Sutton ranks 11th.
Tight Ends (2)
Mark Andrews has been Lamar Jackson's go-to receiver since he was named the starting quarterback and remains so. Only a bad case of the drops in the rain earlier in the season holds him back from a truly spectacular receiving grade, but he still sits comfortably above the rest of the AFC. Travis Kelce has got back to his best with the healthy return of his quarterback as the season has gone on.
Offensive Tackles (3)
Ronnie Stanley is putting together one of the greatest pass blocking seasons we have ever seen, even given the advantages that come from that system. Mitchell Shwartz remains arguably the best right tackle in the game, regardless of the quarterback he has to protect, and Anthony Castonzo's fine play has never been more important as the Colts have had to transition to Jacoby Brissett under center.
Guards (3)
Everybody's favorite offensive lineman, Quenton Nelson has built on the end of his 2018 season and become a real force for the Colts. Marshal Yanda may not be quite the player he used to be, but he is still an excellent player inside. Joe Thuney has been a rare bright spot on the Patriots line, which as a unit has regressed badly this season.
Centers (2)
Ben Jones has surrendered three sacks this season but just eight total pressures even including those, while Brandon Linder has yet to surrender a sack or a knockdown of his quarterback though he has allowed 11 hurries.
Edge Defenders (4)
T.J. Watt has emerged this year from the shadow of his big brother and really become one of the most dominant pass-rushers in football. He leads the AFC with 73 total pressures and has two more forced fumbles than any other AFC rusher. Carlos Dunlap is somehow having his best season in a year where the Bengals are chasing the No. 1 overall pick, and Calais Campbell and Joey Bosa remain supremely consistent year to year.
Interior Defensive Linemen (4)
With Stephon Tuitt going down hurt, Cameron Heyward and Javon Hargrave have both stepped up their game to make up for the loss. Heyward leads the conference in total pressures with 56, but Hargrave ranks fourth, one spot ahead of Chris Jones. D.J. Reader may not be quite the pass-rusher the others are, but he is a monster against the run, and his 33 pressures show he can at least bring some heat in the passing game.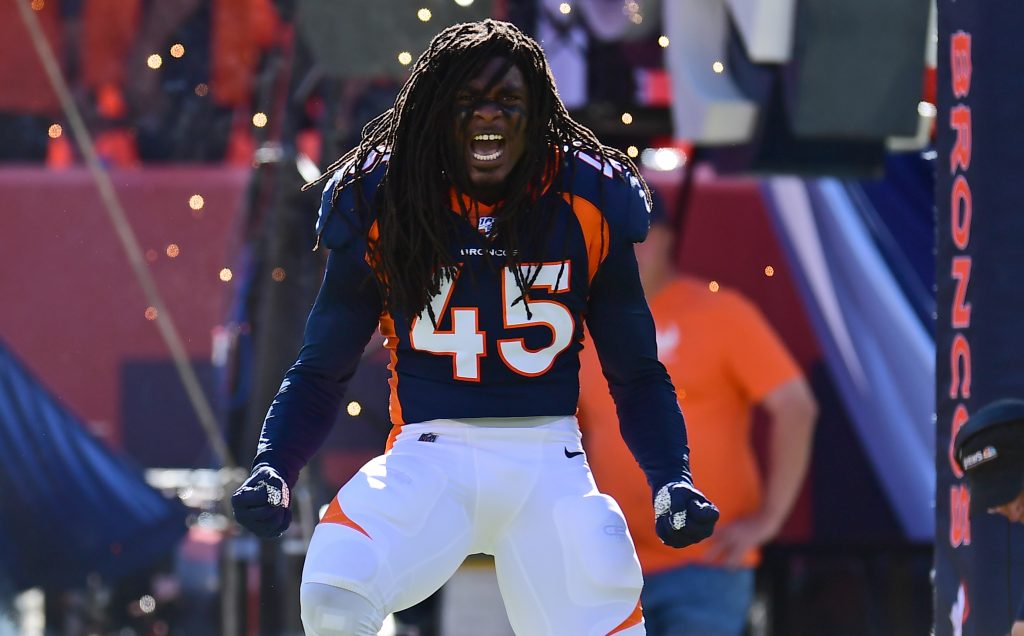 Ron Chenoy – IMAGN
Linebackers (3)
Alexander Johnson is a remarkable find for the Broncos and has been the best linebacker in the conference. He has impressive grades in all facets, but he has been outstanding against the run. Darius Leonard has backed up an impressive rookie year, and Pittsburgh's Vince Williams is enjoying a career year next to rookie Devin Bush.
Cornerbacks (4)
Marcus Peters was traded midway through the season, but he has been back to his best play now that he's in Baltimore. Stephon Gilmore has scored two more touchdowns himself than he has allowed opposing receivers to catch, and Tre'Davious White has continued his excellent play as the rest of the Bills' defense has raised its level to meet him.
Safeties (3)
Jamal Adams is one of the most versatile and dynamic defenders in the game, and even has 87 snaps this season lined up as a legitimate edge rusher for the Jets, where he has racked up 19 total pressures. Minkah Fitzpatrick has helped transform the Steelers' defense and has multiple game-changing plays, while Justin Simmons has missed just three tackles on 86 attempts this year.
Special Teams (4)