Breakout games from Maxx Crosby and Jonathan Williams highlighted a week of action that saw a number of unheralded players make a name for themselves. And then there were the proven stars — such as Tom Brady and Deshaun Watson — who faltered in various aspects. Here are 20 stats to know following the most recent slate of games.

1. The Patriots eked out a win, but Tom Brady struggled to throw deep
Tom Brady had five throws targeted 20 yards or more downfield Sunday, but none fell into the waiting arms of his receivers. For the first time this season, Brady failed to complete a deep pass, contributing to a season-low game grade of 53.0. It was the first time Brady didn't hit a deep ball since Week 7 of 2018.
2. Get used to hearing Nik Needham's name
No qualifying rookie cornerback is allowing a lower catch rate than former undrafted free agent Nik Needham, who has been a bright spot in an otherwise bleak year for the Dolphins. He continued his strong season with another stellar effort in Week 11, allowing just five catches on 11 targets.
3. John Brown isn't all that big, but he plays like it
At 5-foot-11 and 178 pounds, John Brown isn't exactly the most physically imposing wideout. In Week 11, though, he imposed his will on a helpless Dolphins secondary, catching three of his five contested targets for 33 yards and a touchdown.
4. Give Lamar Jackson any amount of time in the pocket — he'll deliver
Some quarterbacks excel on quick throws, others thrive with more time in the pocket. Lamar Jackson has experienced the best of both worlds in the past four weeks, leading all qualifying quarterbacks in passer rating on throws with less than 2.5 seconds in the pocket (143.1) and in passer rating on throws with 2.5 seconds or more in the pocket (141.0).
Jonathan Williams managed to rack up more yards in one game than he had in three previous years combined as an NFL player, totaling 117 on Sunday in Marlon Mack's stead. With Mack set to be out for at least a few weeks, Williams will have more opportunity to shine — his 8.23 yards after contact per attempt ranked first among all qualifying running backs in Week 11.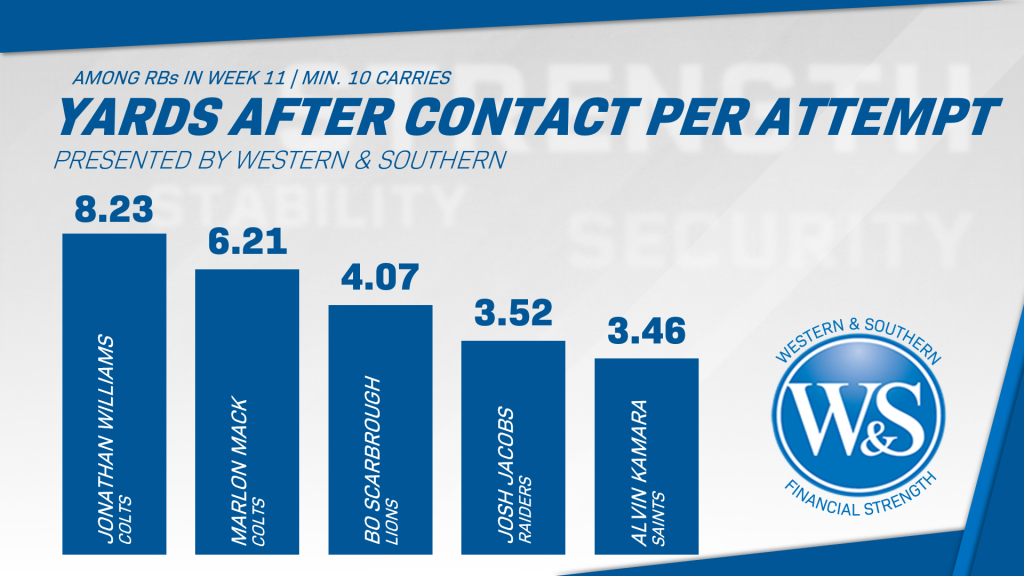 6. Shelby Harris is known for run-defense, but he was an elite pass-rusher in Week 11
Shelby Harris had more than 750 pass-rushing snaps over his five years in the NFL entering Week 11, but he boasted just 11 career sacks. He's often flourished in run defense, posting 70.0-plus grades in the facet each of the past three years. On Sunday, though, he powered his way to three sacks and an elite 90.8 pass-rushing grade.
7. Look for Zach Ertz on first down
Zach Ertz led all receivers in first-down targets in Week 11, furthering a trend that has him sitting firmly in first place among tight ends in the category this season. Ertz saw eight passes thrown his way on first down against the Patriots, reeling in seven for 79 yards — including a contested catch and two missed tackles forced.
8. No surprises here: Christian McCaffrey is a prime target in the passing game
With 22 targets over the past two weeks, Christian McCaffrey has seen more passes than players like Julio Jones, Tyreek Hill, Amari Cooper and Mike Evans — the list goes on. That's no knock against that group of star wideouts, but rather a testament to just how effective McCaffrey is with the ball in his hands. Only four players have had more targets than him in the past two weeks.
9. In his first year with the Jets, Ryan Griffin is proving his worth
After spending the first six years of his career in Houston, Ryan Griffin latched on with the Jets in the offseason — and he hasn't looked back. In Week 11, Griffin earned his first 90.0-plus receiving grade in his career, hauling in five receptions for 109 yards and a score. He's already doubled his previous season-high touchdown total, and his 86.2% catch rate ranks second among tight ends with at least 20 targets this season.
10. Allen Robinson wasn't given much of a chance in Week 11
Allen Robinson saw a respectable six targets in Week 11. Only two of them were targeted 10-plus yards downfield, though, and Robinson dropped one of them. The four that he did catch were as follows in terms of depth: Three yards, negative-two yards, three yards, and one yard. Robinson is certainly at fault for the drop, but it's hard to pin any more blame on your star wideout when he's only given chances to catch the ball near the line of scrimmage.
11. Maxx Crosby got his breakout game
There was no indication Maxx Crosby would have a breakout game like the one he had in Week 11, but the Bengals' offensive line certainly invites such performances. Crosby upped his sack total on the season from three to seven in the span of one game, tying his career-high with four stops in the process. For his efforts, Crosby took home AFC Defensive Player of the Week honors.
12. Deshaun Watson looked unlike himself under pressure
Through the first 10 weeks of the 2019 NFL season, Deshaun Watson sat comfortably ranked sixth in passer rating under pressure. So when he took the field Sunday against a Ravens defense that had managed the fourth-fewest sacks and was tied for 14th in quarterback pressures to that point, there was little reason to worry. But Watson uncharacteristically faltered, posting a 0.0 passer rating after completing just 2-of-7 pressured attempts with an interception, as well.
13. Quenton Nelson is on a roll, and that's scary
Believe it or not, Quenton Nelson had not gone two straight games in his young career without giving up a quarterback pressure — that is, until Weeks 10 and 11, where he's kept clean on 72 pass-blocking snaps. And in combination with stellar run-blocking, Nelson now has 80.0-plus grades in two straight contests, as well. He's one of two offensive linemen this season with an overall grade higher than 90.0.
14. The Steelers' interior defenders make up a dominant unit
It's almost beating a dead horse, but Cameron Heyward and Stephon Tuitt are simply too good not to mention. Along with Tyson Alualu and Dan McCullers, those four — led by the aforementioned Heyward and Tuitt — racked up 13 run stops in Week 11. That was the most by a group of interior defenders in a game all season, and three of the four earned overall grades above 85.0.
15. T.J. Watt is already surpassing season-highs
T.J. Watt's name has been a frequent visitor to "20 stats to know" this season, and for good reason. His latest feat is topping his 52 quarterback pressures from a season ago … with six games remaining. He now has 53 in 2019 and is showing no signs of slowing down as the league's highest-graded edge defender through 11 weeks.
16. The Jets torched the Redskins' cornerback unit
The highest passer rating allowed by a cornerback group in Week 11 belongs to none other than one-win Washington. The unit surrendered a 141.9 rating, giving up 10 catches on 15 targets for 161 yards, seven first downs and three touchdowns. Not pretty.
17. On minimal snaps, Morgan Burnett was a force in the run game
While Morgan Burnett now, unfortunately, finds himself on the Injured Reserve, he was a force to be reckoned with before leaving his Week 11 affair. On just 10 run-defense snaps, he logged three stops and the highest run-stop rate among safeties.
18. The Ravens' pass-blockers have taken it up a notch
The Ravens surrendered 12 sacks over the first five weeks of the 2019 season while keeping their pressure rate low (22.4%, second-best). They've managed to improve on that, allowing just four sacks over the past six weeks while owning an NFL-best 20.1% pressure rate.
19. Tyrann Mathieu was back to his usual ways in Week 11
Tyrann Mathieu was tasked with defending the slot on 26 coverage snaps against the Los Angeles Chargers, and he did so admirably. Facing six targets, Mathieu surrendered just four completions for 19 yards. He earned an 83.7 overall grade for his efforts — his best mark since Week 5 against the Indianapolis Colts.
20. The Falcons are on a winning streak, and Calvin Ridley is a big reason why
Matt Ryan fired deep to Calvin Ridley three times in Week 11, and Ridley managed to come down with all of them for 96 yards. Ridley subsequently became the 12th wideout this season to catch three or more passes targeted 20-plus yards downfield, and the Falcons cruised to a 29-3 win largely because of he and Matt Ryan's rapport.