Estimated reading time: 6 minutes
---
It might sound odd one day after the team's franchise quarterback was benched, but New York Jets fans actually have a lot to be thankful for right now.
Sure, things did not work out for 2021 second-round pick Zach Wilson, and it would be pretty surprising to see his career bounce back in New York at this point. Nonetheless, they're also 6-4 with the worst quarterback situation in the NFL. They have a clear path to serious playoff contention next season when they add a quarterback with one of the best defenses in the NFL (more on that Friday when I post a piece on cornerback D.J. Reed) and a talented skill-position group.
Let's get more into the Jets' decision to bench Wilson in this week's mailbag.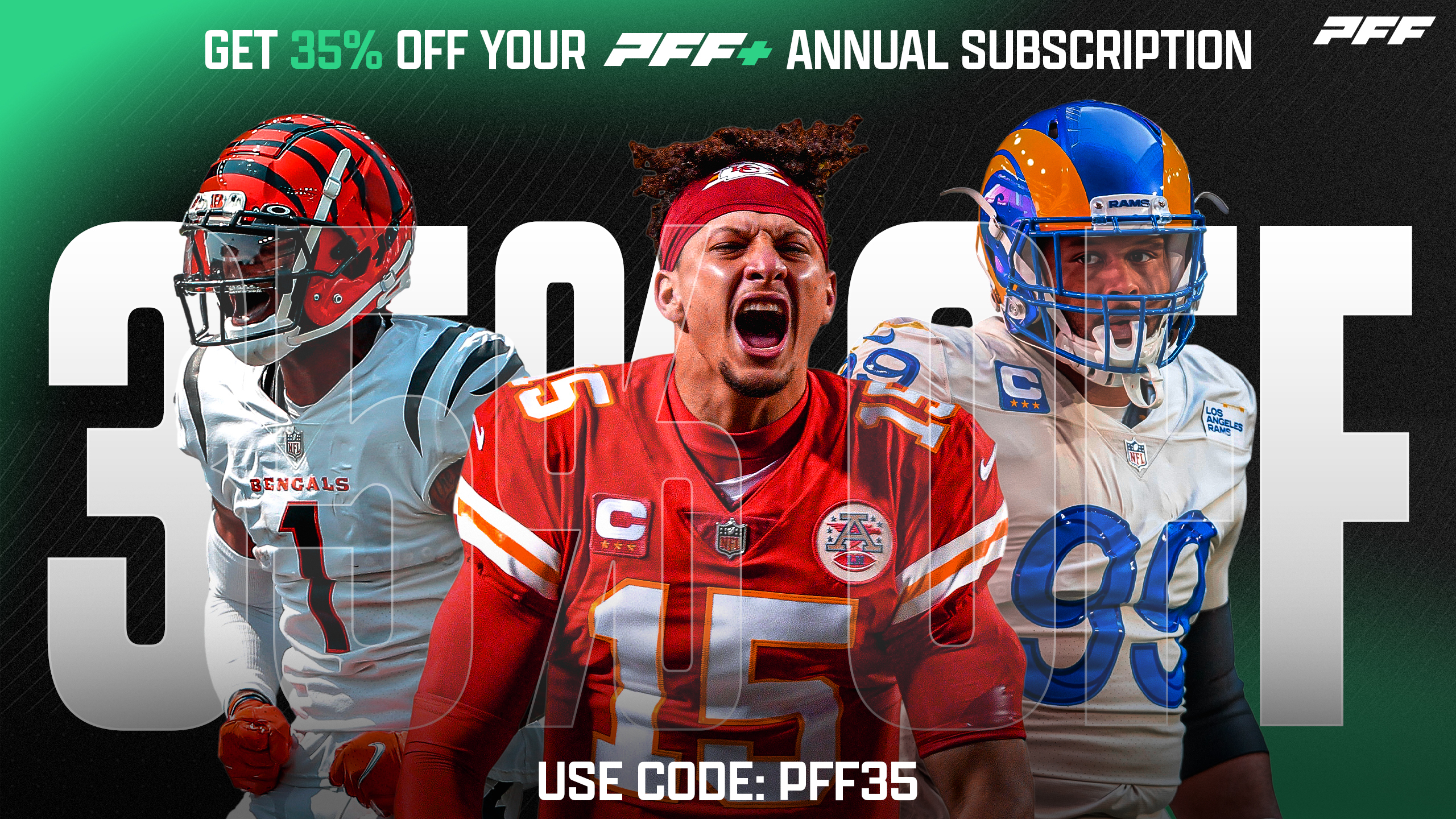 @Blodd20: Why go to Mike White, who's just as bad instead of Joe Flacco after how well he played earlier in the year?
The Jets elevated White to the backup quarterback job over Flacco at the end of October, so their decision to start White over Flacco in Sunday's game against the Chicago Bears was not surprising at all to me.
Here were head coach Robert Saleh's comments about elevating White over Flacco at the time:
"Mike White is one of our young guys on this football team. We've seen Joe. We know Joe. We love Joe. Hopefully, Zach does not get hurt. But, in the event he does get hurt, Mike White is going to get the opportunity because we need to know what we have in Mike. …

"We wanted him to get those second-team reps, let him know he's next man up. There's a human element to it. You always want to prepare like you're next man up, but when you're not the next man up it's different. Now that he knows he's the next man up, we feel like he'll be able to prepare the way he needs to."
Overall, White wasn't great last season. He finished with a 53.6 PFF grade in four games with three big-time throws and nine turnover-worthy plays. He had a good game in a win over the Cincinnati Bengals when he went 37-of-45 for 405 yards with three touchdowns and two interceptions but otherwise graded out below a 60 in two other starts and one other appearance.
In two seasons with the Jets, Flacco now has a 56.6 PFF grade. He played well through the first two weeks of the 2022 season while Wilson was still nursing a knee injury then bottomed out in Week 3 with a 27.1 PFF grade, one big-time throw and six turnover-worthy plays.
I do think it makes sense, as Saleh said, to see what White can do. The Jets' defense is great, and the offense has good skill players, but if we're being totally honest, barring a miracle, this is likely a lost season for New York. So, it makes sense to evaluate White as the Jets start planning for 2023 and beyond because they have a lot of decisions to make at quarterback.
Do they keep Wilson and let him compete with a veteran next season? Do they trade Wilson, add a veteran and draft a QB of the future? If that rookie isn't ready to be a backup (Hendon Hooker?) then do they still need White to be a backup?
---
@Toddb050476: Yo we don't want or need Derek Carr in New York.  Get that outta here. Go from one failure to the next?
This was in response to a piece I wrote for PFF on Wednesday, suggesting some veteran QB alternatives even before Wilson got benched.
Comparing Carr to Wilson is pretty unfair. Since 2019, Carr is PFF's 16th-highest-graded quarterback out of 83 qualified passers. Wilson is 66th.
Carr has a no-trade clause, and there's still a chance for him and Josh McDaniels to salvage things in Las Vegas this year, so it's entirely possible that he won't even be an option for New York this offseason, but well, what are their better options outside of something miraculous like Aaron Rodgers or Tom Brady? I think Jimmy Garoppolo is probably a better fit in New York since he has a history with offensive coordinator Mike LaFleur, but he's PFF's 24th-highest-graded QB since 2019. Beyond those options, as far as veterans go, you're probably looking at retreads like Baker Mayfield, Teddy Bridgewater, Jacoby Brissett, Andy Dalton, Taylor Heinicke, Carson Wentz or Gardner Minshew.
And the Jets will be picking too late to get a top QB in the draft. Drafting Will Levis or Anthony Richardson could make sense for the future, but you still need a QB to help you win now.
---
@ashley1992__: Hi Doug, Happy Thanksgiving!!!! The Patriots defense has been great this year, Matthew Judon has to be in the conversation for DPOY, doesn't he?
Let's take a break from the Jets for a minute to talk about the team that led New York to bench Wilson.
He definitely is in defensive player of the year contention with a league-leading 13 sacks through 10 games. Currently, he has the second-highest betting odds behind Micah Parsons (-400) at +600.
Judon has been great this season, but it might surprise some people to see him with just a 75.0 PFF grade. One reason for that is his 65.7 run defense grade. He's 53rd among edge defenders with a 6.4 percent run-stop rate. He also leads defensive players in unblocked pressures with 11 and unblocked sacks with six. And eight of his sacks have come on stunts while four of those were unblocked. He's second in the NFL in pass-rush productivity, but he's 26th in pass-rush win rate.
So, Judon has had a lot of help overall from his defense and coaching schematics.
I think he definitely deserves to be in the conversation for DPOY, but I did want to explain why his grade isn't as high as his sack numbers.
---
@PaddyPerk: We're going to will this into existence, Doug. When is the NFL going to make a real investment in the northern Mountian States? Wyoming, Idaho, and Montana are good to go. Let's add 8 teams and get up to an 18 game, 2 bye week schedule.
I love your passion for this, Paddy, but I really can't see it happening.