• The Titans, Cowboys, Chiefs and Packers all traded away their WR1s this offseason, leaving questions about how those units will fare in 2022.
• The Dallas Cowboys' receiving corps is in the best position among the four teams, per both PFF's Sam Monson and league sources.
• After trading away A.J. Brown, the Tennessee Titans come in at No. 4 among sources but at No. 2 per Monson.
---
The Dallas Cowboys, Green Bay Packers, Kansas City Chiefs and Tennessee Titans all traded away top targets in their offenses this offseason and had to retool their wide receiver rooms.
We polled scouts and executives around the NFL to find out how they would rank these four wide receiver corps. See how that compares to how PFF's Sam Monson would stack them up.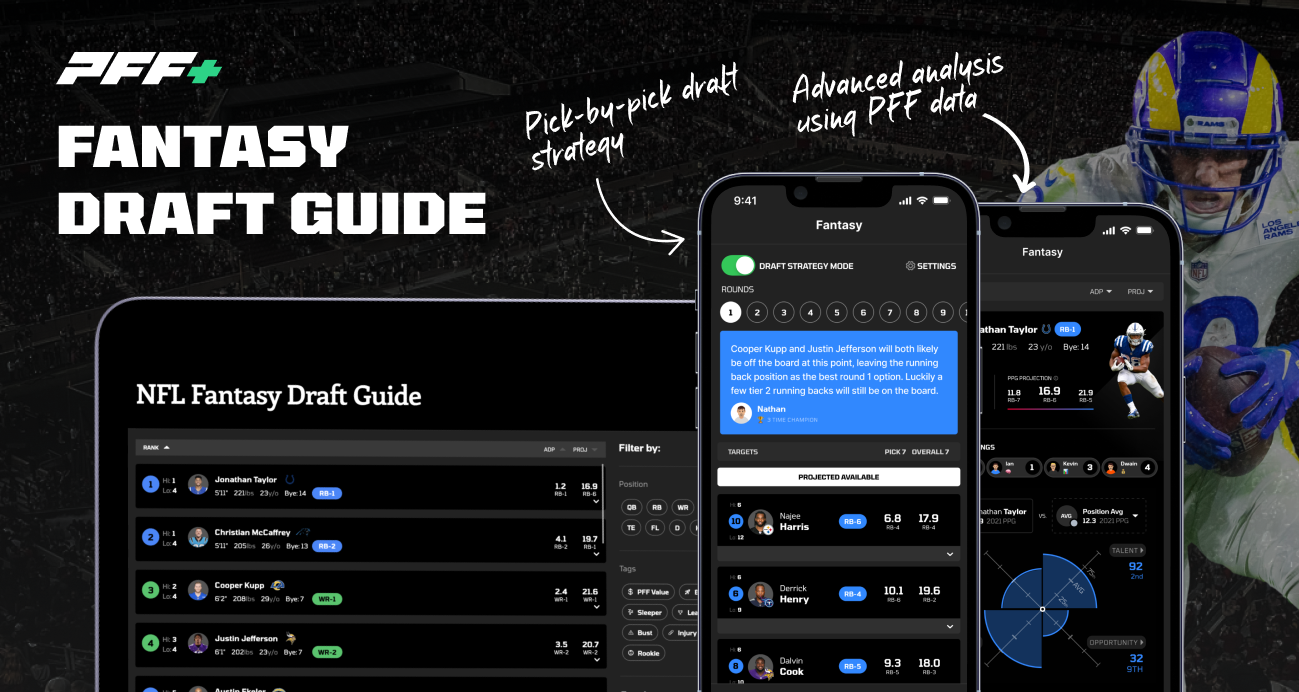 How PFF ranks them: 1
Monson: Dallas is still in excellent shape despite trading away Amari Cooper because they have been anticipating CeeDee Lamb stepping into a larger role for a while. Michael Gallup's injury timetable complicates things — and the strength of this group at the end of the season may be significantly better than at the start — but overall the team is well placed at the position even without Cooper.
Lamb gained 2.1 yards per route run last season and earned an 84.6 PFF receiving grade. Those are better numbers than Cooper, and Lamb was lining up in the slot 42.4% of the time. Gallup has been an excellent complementary receiver, generating a 96.4 passer rating for his quarterback when targeted over his career. He plays almost exclusively outside (92.0%) but has won against the likes of Jalen Ramsey one on one in the past. Not to mention, third-round rookie Jalen Tolbert has an intriguing skill set and produced 35 explosive plays at South Alabama last season as well as 3.16 yards per route run.
How sources rank them: 1
Kyed: One pro scout ranked the Cowboys first out of this group of four teams based on the star power of Lamb. He's the best wide receiver that any of these teams have.
Another scout ranked the Cowboys second because he has some concerns about how the wide receiver corps will look to start the season, but Dallas "will be fine when all their guys are back healthy."
---
How PFF ranks them: 2
Monson: There is a lot of unknown with Tennessee's receivers, but the pieces are in place for them to be very good. Robert Woods, coming off an ACL injury, and hopes to be ready for the regular season and has previously earned PFF grades in the top 10 over a full season.
Rookie Treylon Burks is a physical threat in the mold of A.J. Brown, but he comes from a college offense where he was playing "athlete" more than a true wide receiver position, and his transition to an NFL offense will be a process. Burks has just one catch for four yards so far in the preseason but has been open deep multiple times only to discover the quarterback not putting the ball in the air.
Nick Westbrook-Ikhine could also factor in, and he boasts an 88.7 PFF grade so far this preseason. Tennessee's receivers have talent, but maybe the widest range of outcomes of any of the teams listed.
How sources rank them: 4
Kyed: One AFC pro scout who ranked the Titans fourth had serious concerns about their ability to move the ball through the air this season with quarterback Ryan Tannehill, noting that Woods is used to being schemed open by Los Angeles Rams head coach Sean McVay and that first-round pick Treylon Burks doesn't seem ready.
"Kyle Philips might lead the team in catches. That's not a sustainable recipe for them."
Another league source had confidence in Woods and ranked the Titans third, accordingly. He also was banking on at least one of the rookie wide receivers — Burks or Philips — making an impact this season.
---
How PFF ranks them: 3
Monson: What saves the Kansas City receiver corps is tight end Travis Kelce — one of the most difficult-to-cover weapons in all of football. It's not just that Kelce is good, but he's proven that he can be a high-volume target for an offense needing to establish a No. 1 receiver. Kelce has over 100 targets in each of the past six consecutive regular seasons. He has at least 130 targets for the past four and has topped 100 catches in two of those seasons.
With a high-volume target already in place, the Chiefs have the luxury of being able to platoon receivers to complete the puzzle. Marquez Valdes-Scantling is an effective deep threat, Mecole Hardman is a dangerous gimmick weapon and JuJu Smith-Schuster is an underrated slot target, with rookie Skyy Moore still working his way into the collective.
With Patrick Mahomes at quarterback and the renowned coaching staff in Kansas City, the Chiefs should have enough firepower to maintain an elite offense, even absent one of the most potent weapons in all of football.
How sources rank them: 2
Kyed: A pro scout ranked the Chiefs' receiver corps No. 1 because he liked the depth and varied skill sets of Valdes-Scantling, Smith-Schuster and Hardman. He also is a "Skyy Moore believer."
Another scout ranked the Chiefs second based on the sum of their parts.
---
How PFF ranks them: 4
Monson: The Packers have the weakest receiver room on paper after losing the best receiver in the game in the offseason in Davante Adams. In the draft, they held station until the second round, grabbing Christian Watson before coming back later for Romeo Doubs. It's that second pick that has the potential to change the narrative.
Allen Lazard will open the season as the No. 1 target for Rodgers, but Doubs has been opening eyes in training camp and the preseason to the point where Rodgers is openly talking about his expected role in the offense during the regular season. Doubs gained 2.3 yards per route run at Nevada last season, working from the slot and out wide. He has gained 2.38 yards per route run during the preseason, including two touchdowns, and his numbers could have been even better but for multiple uncharacteristic drops (he has one fewer drop in two preseason games than he did all last season at Nevada).
Watson has been injured and is only now getting back to practice, so Doubs has been able to steal a march on the higher draft pick. Watson also ran an extremely spartan route tree in college and needs a lot of polish to become an impact player at this level. He may have higher potential down the line, but Doubs is the player the Packers need right away. 
How sources rank them: 3
Kyed: One scout ranked the Packers fourth, believing they have too many question marks right now with Sammy Watkins' health, Randall Cobb's age, the inexperience of Watson and Doubs and Lazard's unproven nature as a top target.
An AFC pro scout ranked the Packers fourth because they're "operating in the tails of the age curve, putting too much faith in old guys and rookies." Cobb, 32, and Watkins, 29, haven't had 1,000-yard seasons since 2014 and 2015, respectively. Watson and Doubs are rookies. Lazard is 26 years old but has never caught more than 40 passes or gained more than 513 yards in a season through four years.