The NFL and Pro Football Hall of Fame combined to produce the All-Decade team of the 2010s, released Monday, and needless to say, PFF has some problems with it.
Leaving aside for the moment the players selected or omitted, the actual structure of the team is a mess. They announced a list of 52 players and two head coaches, but the composition of the team was a little strange — there were just four cornerbacks total, and one of them had to make it in as the extra "defensive back" designation, while the team found room for seven edge rushers, even if they had appeared across multiple positions.
On offense, they elected to pretend that left and right guards and tackles all play the same position, rather than give proper credit to the players who play each side of the formation, while more running backs made the team than wide receivers did, even though the team is, in fact, supposed to be representing the most pass-happy decade the game has ever seen.
So, here is PFF's All-Decade team. We have followed the formatting we use for our All-Pro team and will be simplifying matters by giving a first and second team. We will also be sticking to the concept of interior defensive linemen, edge rushers and off-ball linebackers to prevent trying to debate the merits of true edge rushers and middle linebackers as if they played the same position.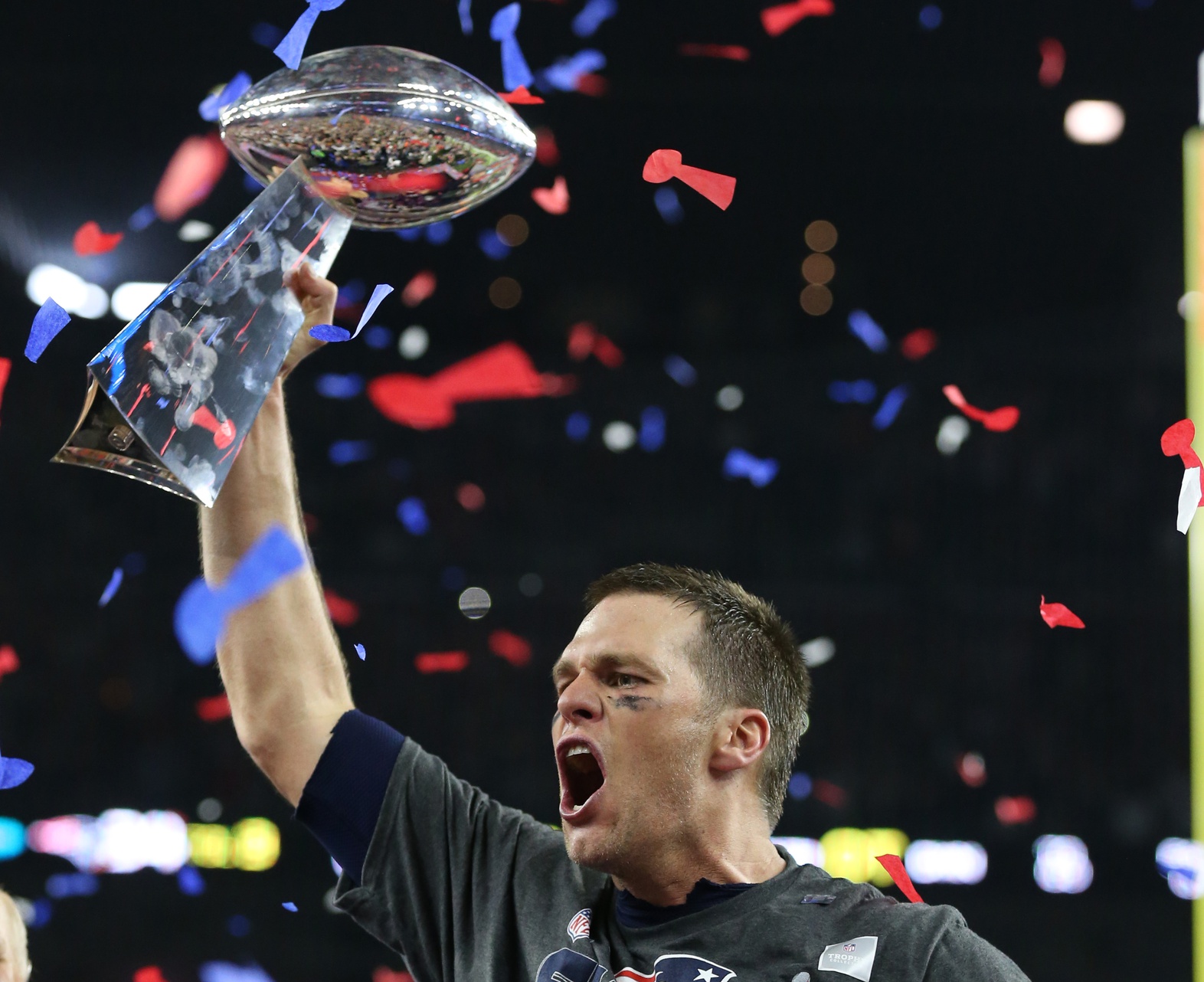 Brady is a no-brainer. A hiccup in the middle of the decade had some (cough, who shall remain nameless, cough), beginning his eulogy, but he then set about playing at the highest sustained run we have ever seen from a quarterback. While Aaron Rodgers made the NFL's team, Brees was better than him in both the first and second half of the decade. Rodgers may have had the highest peak (the 2010 playoff run and the 2011 season), but Brees has been sustainably better.
When Marshawn Lynch went full Beastmode, there wasn't much that could stop him. His 2014 season saw him set the record for the most broken tackles in a season (88), which he then added to in the playoffs and finished with an absurd 117 across all games. Adrian Peterson was one of the few non-quarterback MVPs over the decade and showed multiple times he had the quality to override the blocking in front of him. If only he had been a greater factor on passing downs.
Julio Jones has been the class of the receivers since entering the league. The closest thing to Randy Moss or Calvin Johnson in terms of the freaky size/speed combination that defenders just can't match, Jones has five straight seasons with a PFF grade above 90.0 (and the one before that was 89.8). DeAndre Hopkins deserves substantial credit because it wasn't until late in the decade that he got an even passable quarterback situation, yet he was still one of the most consistently dominant receivers even against some of the game's best cornerbacks.
He may have run himself out of the league in near-record time, but for most of the decade, Antonio Brown was one of the game's most electric receivers, trading elite grades with Jones each season. Brown has three seasons with an overall PFF grade above 90.0, three more above 88.0, and even his 2020 cameo with the Patriots saw him earn a single-game grade of 90.0 across his 24 snaps. His talent is undeniable.
A.J. Green also missed the entirety of the 2019 season — albeit for vastly different reasons than Brown — but he has been one of the most dominant receivers in the league since he was drafted, ranking third in yards per route run over that time, behind only Jones and Brown.
WR Calvin Johnson
The 2010s' answer to Randy Moss in terms of physical tools that defenders just couldn't live with, Calvin Johnson was a freak of an athlete at the position and one of the most productive receivers the game has ever seen. To end his career, he produced five straight seasons with a PFF grade above 88.0, and he walked away while still at his peak. Mike Evans will be a surprise to many, but he already has six seasons of high-end play under his belt and has never seen his PFF grade dip below 79.0.
There may not have been a more dominant player on offense over the last decade than Rob Gronkowski. He was legitimately uncoverable at his best, and he was the difference between the Patriots winning and losing multiple close games against quality opposition. Only Tony Gonzalez has more receiving touchdowns over his career at the tight end position, and Gronk did that in just nine seasons instead of the 17 Gonzalez played. He owns five of the top seven seasons we have seen at the position since PFF has been grading (2006). Travis Kelce has been an exceptional receiving weapon since entering the league and is one of the best run-after-the-catch threats in the game.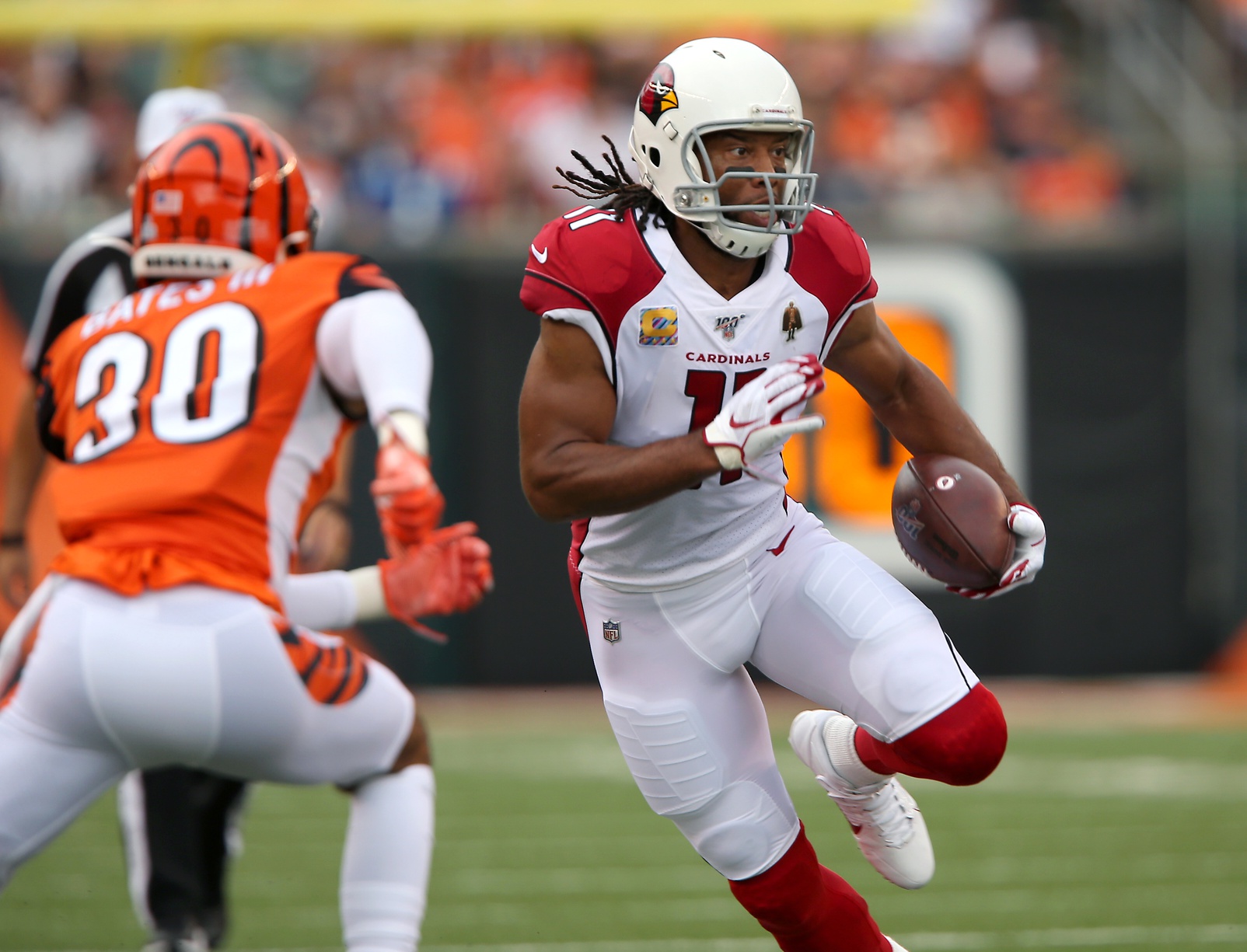 Death, taxes and Larry Fitzgerald still quietly motoring along as a quality NFL receiver — these things are the constants we build our lives around. Through a variety of different quarterbacks, offensive schemes and even position switches, Fitzgerald has remained in place and playing well, notching over 10,000 snaps in the decade and holding off some other receivers who may have had higher peaks but not the longevity. Greg Olsen was never quite on the level of Gronk or Kelce, but he has been a very consistent receiver at the position for a long time, which gives him the nod here.
Joe Thomas is a sure-fire Hall of Famer and one of the best players to take the field in any era. He was the gold standard of left tackle play throughout his career in the NFL and did it in a situation in Cleveland that rarely helped him out in terms of offensive scheme or quarterbacks who were friendly to their pass protection. Thomas' streak of consecutive snaps was also remarkable, and he finally hung up his cleats at the moment he couldn't rely on his body to hold up any longer. While Andrew Whitworth is very unlucky to miss out, Jason Peters just edges into the second-team spot. Peters doesn't have a bad single-season grade in his career, and his Eagles career was All-Pro level stuff all decade.
LG Evan Mathis
Second Team: Josh Sitton
In a league that chases "wow plays" from offensive linemen, Evan Mathis rarely buried anybody or racked up pancake highlight reels, but he consistently won, snap after snap. He ultimately did his job better than anybody else at the position with a level of consistency that was remarkable. He had seven consecutive seasons with an overall PFF grade above 90.0, and the only thing that changed was his own team's willingness to actually give him playing time. Josh Sitton was the best pass-blocking guard of his era, and probably the best that PFF has ever seen. He had four seasons in his career where he didn't surrender a sack, and he gave up just 13 over the entire decade.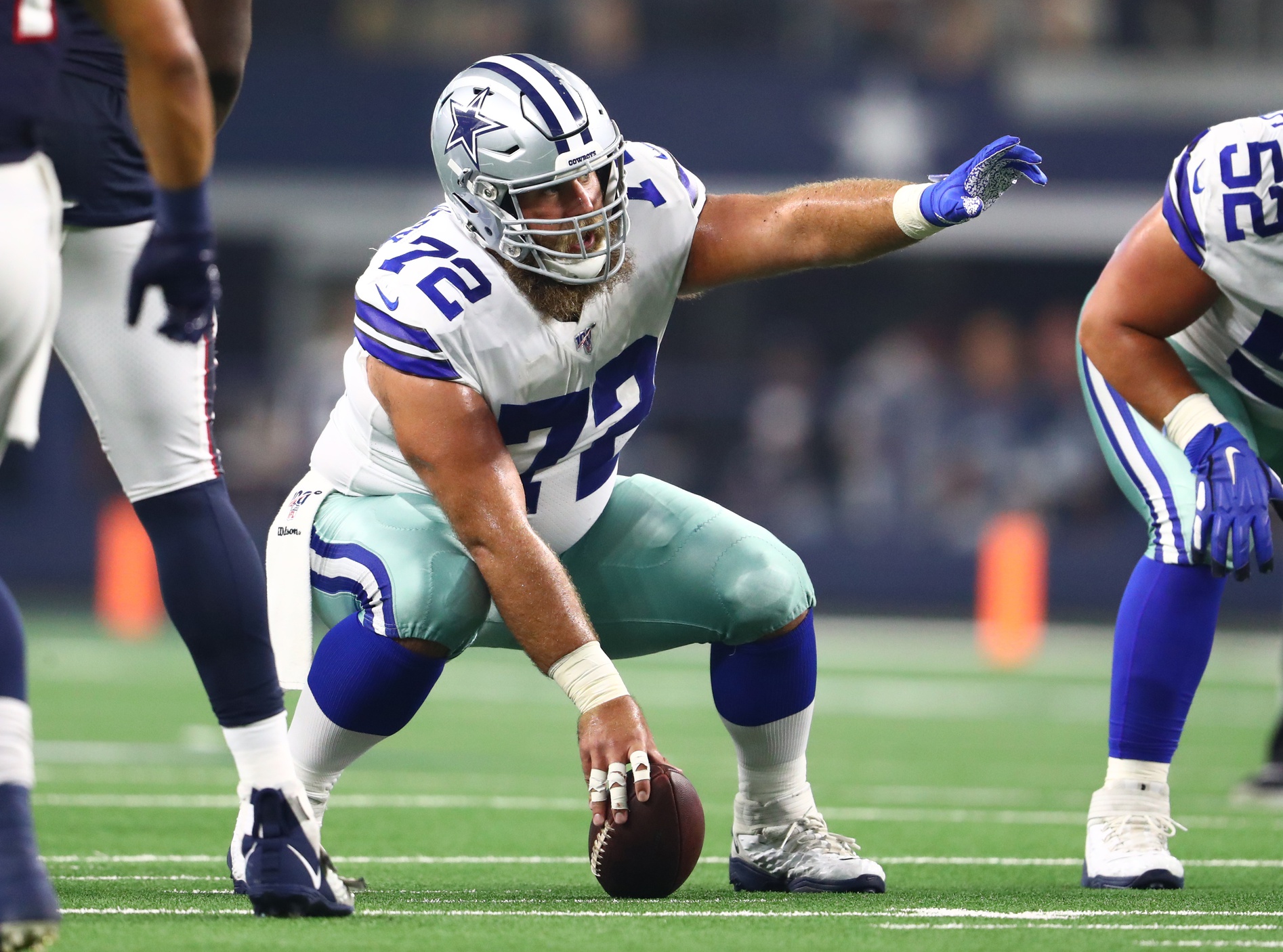 Second Team: Chris Myers
The fact that the NFL's team thinks Maurkice Pouncey was better in the 2010s than either of these players is scarcely believable. Travis Frederick was the best center of his time, even though his career being cut short due to illness certainly hurt his playing time. Frederick had five consecutive seasons with PFF grades above 85.0 and ranked no lower than sixth at the position. Chris Myers will be a forgotten name to many, but he was the prototypical zone-blocking center for several years at the start of the decade. Myers had three seasons with a run-blocking grade above 90.0, and he allowed just one sack in four out of his five seasons in the 2010s.
Newly retired Marshal Yanda was one of the best linemen of his generation, and therefore the decade. Yanda played for 13 seasons and had just one year where his overall PFF grade dipped below 80.0. There was a three-year period in the middle of the decade where he was as good as any lineman in the game, at any position, and he showed early in his career he likely could have been a very good tackle as well as an elite guard. Zack Martin, on the other hand, has been a steadily impressive player at guard for the Cowboys, consistently ranking among the best players at the position regardless of what changes either side of him.
When Lane Johnson has been on the field, he has been one of the best players at any position in the league. He has rare athleticism and movement skills for the position, and it's allowed him to have unusually good performances against even the best pass-rushers in the league. He has the best overall grade of any right tackle over the decade and more than enough playing time to make the list. Mitchell Schwartz hasn't been quite as good as Johnson over the entire decade, though he has played more of it, and his run to the Super Bowl this past postseason was one of the greatest playoff runs of any player, at any position, in NFL history.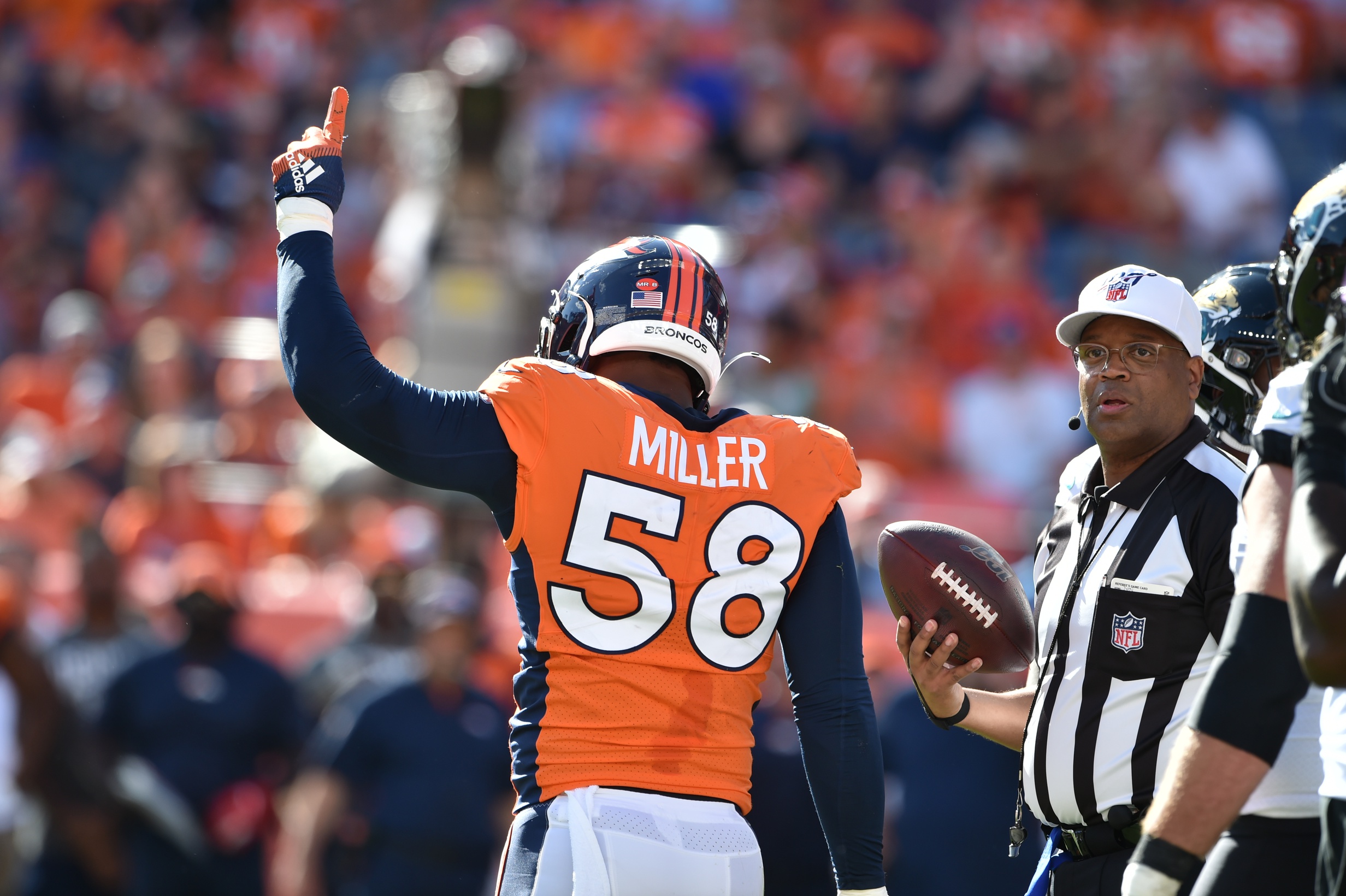 Von Miller has been the best pure pass-rusher on the edge of the past decade. For the entire decade, he averaged 72 total pressures over a season, which is more than Khalil Mack, Joey Bosa or Calais Campbell managed in 2019. He has five seasons with a PFF grade above 90.0, and his performance in Super Bowl  50 may have been the single biggest factor in the Broncos overcoming the Panthers and taking home a Lombardi trophy. Brandon Graham's career will be underrated because he never had the sack totals of some other players, but he has almost 500 pressures for the decade and was always a top run defender, as well.
Khalil Mack began his career as an impressive run defender, but quickly rounded out his game and became one of the best all-around edge defenders in the league, to the point the Chicago Bears were prepared to trade multiple first-round picks to the Raiders in order to acquire his services. Cameron Wake is another of the league's most underrated players — only Von Miller has more total pressures over the decade than the 600 Wake amassed.
Donald is already one of the greatest players the game has seen, and he's only just getting started. He has the highest PFF pass-rushing grade of any player during the decade. He also has by far the highest win rate, being the only player to top 20% over an extended period. Donald is the game's most disruptive interior force and only disappears when teams adjust their game plan so much that he just doesn't have the time or chance to get home on his rushes. Geno Atkins was the best pass-rushing interior force before Donald came along, and his 2012 season is still one of the greatest single-seasons of pass-rushing from the inside we have seen.
We're blurring the lines ever so slightly to sneak Watt onto this team as an interior defender, but he did at least begin his career there and played a significant volume of snaps inside for years as he transitioned to the edge. Watt was Aaron Donald before Donald came along in the sense that he was a player who just reset what we thought possible from his position. Watt's 119 total pressures in a single season are still the most PFF has seen from any player, and only injuries have started to impact what he is capable of. His four-year stretch from 2012-15 was one of the best stretches of play in NFL history. Meanwhile, Fletcher Cox has power unlike any other interior lineman, and at his best, he is one of the most unstoppable forces in the game in any facet of play.
Second Team: Derrick Johnson
Over his career, Luke Kuechly effectively became the 100th percentile of linebacker play. He was peerless at nearly every facet of the game and developed from a heat-seeking missile in the run game to one of the game's best coverage players over his career. He had five consecutive seasons with a PFF grade above 90.0, and in that period, he was excellent both against the run and in coverage. He was one of the few linebackers who was good enough in coverage to completely change how teams attacked his defense.
Derrick Johnson is a name many overlook when it comes to linebackers, but he was consistently one of the best inside linebackers in the game, whether it was in a 4-3 or 3-4 front.
LB Patrick Willis
Patrick Willis is one of the most naturally gifted linebackers in NFL history, and despite the fact that he walked away from the game relatively early and played just half of the decade, that half was special enough to earn a place in the first team. Willis was an aggressive linebacker who was just as effective wrecking players on the blitz as he was blowing up a run play or even dropping into coverage, and he set the standard to which other linebackers aspire. Seattle's Bobby Wagner took longer to hit his peak than some other players, but once he got there, few were able to match his performance — he is the last remaining standout of that fearsome Seahawks defensive coverage unit.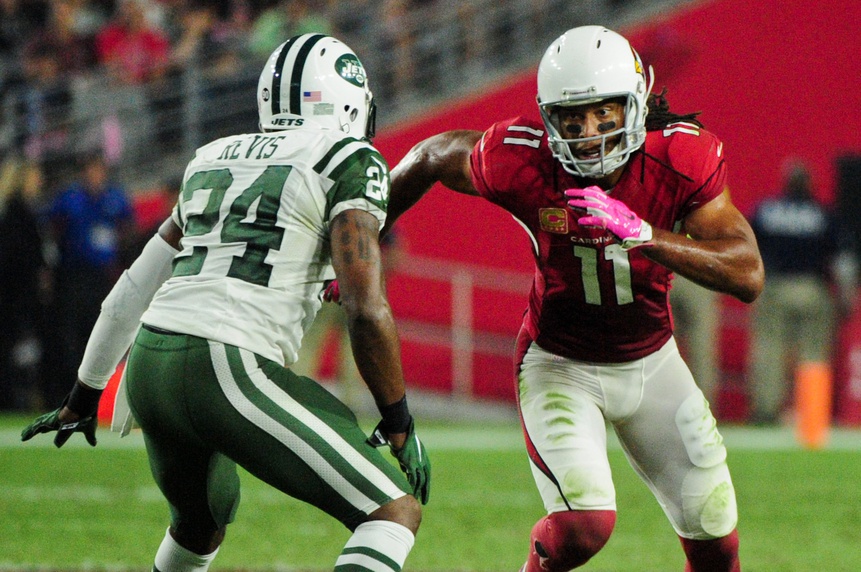 CB Darrelle Revis
Though the 2010s missed out on the best season we saw from Revis — his absurd 2009 campaign — he was so good that even his disappointing campaigns were pretty good. When the Bucs tried to make him a Tampa-2 corner, the perception was that he struggled, but he still had a PFF grade of 84.7 that season. In his lone year in New England, his grade was 84.1, and he had 11 pass breakups to go along with his two picks. Revis was a game-changing man-cover corner early in the decade, and even when he became a nomadic cornerback mercenary for hire, he was still better than most in the game. Stephon Gilmore is the closest thing today's NFL has to those vintage Revis days, and his ability to track receivers in man coverage is something few coaches even trust their cornerbacks to attempt anymore.
Richard Sherman, at his best, has been the toughest cornerback in football to complete passes on. Over the past decade, he allowed a completion rate of just 49.6%, the best mark in the NFL. Over that time, he has allowed a passer rating of only 54.0 and has one of the best pass breakup rates in the league. Sherman might not have tracked receivers the way Revis did, but in the way the Seahawks deployed him, he had just as big an overall effect on that defense. Casey Hayward is a player who has excelled from the moment he entered the league. His rookie season is one of the best statistical debut seasons we have ever seen, and he has transitioned into one of the best starting corners in football for the Chargers.
Second Team: Brent Grimes
Chris Harris went from an undrafted rookie to a slot corner to a corner who played outside on base downs before kicking inside to cover the slot in sub-packages to a corner who only played outside, all over the course of the decade. Only Sherman has a higher PFF grade over the decade than Harris, and his best seasons are on a par with anything from any other superstar at the position. Brent Grimes will be knocked for being more of a zone corner, which is often thrown around as a pejorative, but at his best, Grimes was spectacular in that role. Over the decade, Grimes still has the fifth-best coverage grade of any cornerback.
Eric Weddle was the prototypical do-it-all safety during his NFL career. He was renowned by teammates as one of the most football-smart players on defense and never had a poorly graded season at a position where consistency is incredibly hard to maintain. Harrison Smith is, in many ways, Weddle's natural heir apparent, and he is only kept out of the first team by the fact that Weddle's career spanned more of the decade.
Earl Thomas was the archetype at the single-high free safety position that NFL teams spent years trying to emulate. You could argue that he was the player who made the Seahawks defense function because he brought range, speed and instincts at the position that nobody else could match, which allowed him to be involved in more plays from that position than anybody else. The lack of their own version of Earl Thomas is why no other team has been able to replicate the play of the Seahawks defense, despite taking the scheme throughout the league. Devin McCourty is another paragon of consistency for the Patriots on defense. Putting the "safe" in safety, he just rarely makes mistakes and has been a mainstay of that defense throughout a huge period of sustained success.
Second Team: Kam Chancellor
Though there have been some setbacks in his career, Patrick Peterson at his best was able to emulate Revis in terms of man-coverage ability, complete with the skills to track receivers all over the field. He showed the ability to play in man- or zone-heavy defenses and had a year of his best play ruined due to playing through diabetes before it was properly under control.
As much as Earl Thomas was the single-high prototype, Kam Chancellor became that for the strong safety in that defense. An auxiliary linebacker in that system, Chancellor had some huge plays in some huge moments for the Seahawks.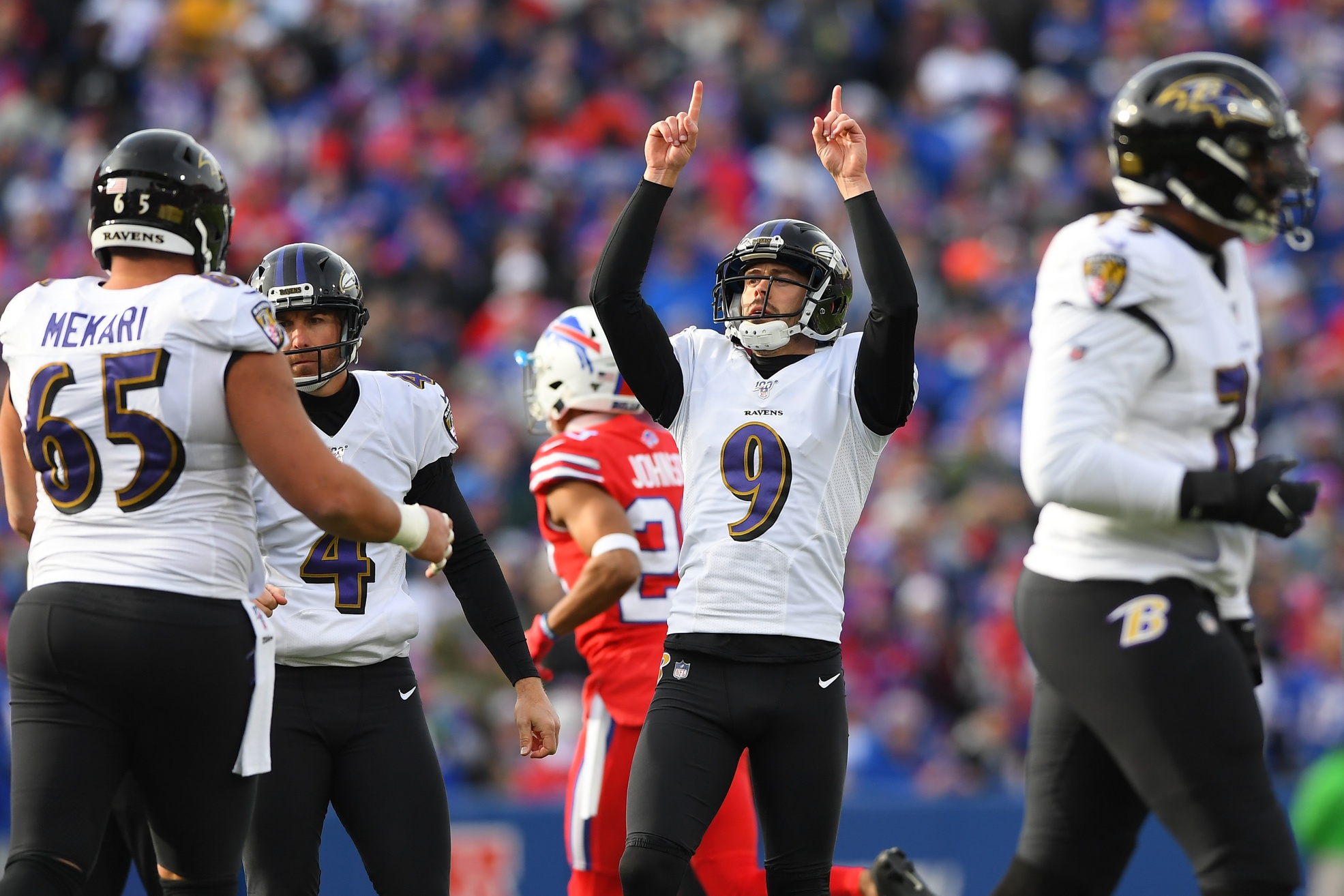 Justin Tucker isn't just the best kicker of the past decade, but he is fast approaching the point where he'll go down as the best kicker in league history. He makes kicks at a different accuracy rate to anyone else relative to difficulty and is a true anomaly compared to his peers.
P Pat McAfee
In terms of PFF WAR (wins above replacement), the most valuable seasons at punter all come from Pat McAfee, who was the league's best punter when he was playing. He also moonlighted as a kickoff specialist, which meant that we got to see some of him playing real football, where he delivered some big-time tackles!
Cordarrelle Patterson has a chance to break the all-time kick return touchdown record in an era where the league is trying to kill off the kick return as a play entirely. He is one of the most naturally gifted return men in league history and a threat to house it any time he leaves the end zone.
Second Team: Devin Hester
Darren Sproles has the second-most punt return touchdowns of any player in the decade (behind only Devin Hester) but by far the best PFF grade on those returns — meaning his scores owed less to blocking than they did his skills with the ball in his hands. He was a dynamic playmaker who had one of the best careers of all time as a true game-changing weapon in multiple phases of the game.
The decade had some star special teams standouts, and while New England's Matthew Slater has as large a profile as a special teams ace can have, the defensive back Michael Thomas narrowly beats him to our first-team spot. Thomas was a star on special teams for years, playing as many snaps as anybody and making an impact in multiple phases.