The Baltimore Ravens have yet to secure Lamar Jackson's services for the long haul, but in signing wide receiver Odell Beckham Jr., they have arguably put the best supporting cast around him in his NFL career so far.
Beckham confirmed the news himself on Instagram on Sunday, and NFL Network's Tom Pelissero later reported the deal as a one-year contract with $15 million guaranteed and up to $3 million more in incentives.
The move reunites Beckham with new Ravens offensive coordinator Todd Monken, who held the same position with the Cleveland Browns the last time Beckham produced a 1,000-yard season in 2019. Injuries have limited him since then, including all of the 2022 season after an ACL injury in the Super Bowl with the Los Angeles Rams, but if he can regain even just his 2021 level of play, he immediately becomes the Ravens' best receiver for the better part of a decade.
His 75.0 PFF receiving grade in 2021 with both the Browns and Rams would be the best by a Baltimore wide receiver to see 20-plus targets since Steve Smith Sr.'s 75.4 grade back in 2016. In 2022, they had four players at the position see 20-plus targets, with Devin Duvernay's 66.2 PFF receiving grade the best of the bunch.

---
Contract Analysis
After one of the lengthiest free agency sagas in recent memory, Beckham's patience paid off. The 30-year-old wide receiver signed a one-year deal with $15 million guaranteed and up to $3 million more via incentives.
Beckham hasn't played since his 2021 Super Bowl run with the Rams after tearing his ACL a second time in the first half but now earns more than any other wide receiver signed this offseason. For comparison's sake, New Orleans Saints wide receiver Michael Thomas received $6.26 million in guarantees on his reworked one-year deal.
---
2023 NFL Draft Plans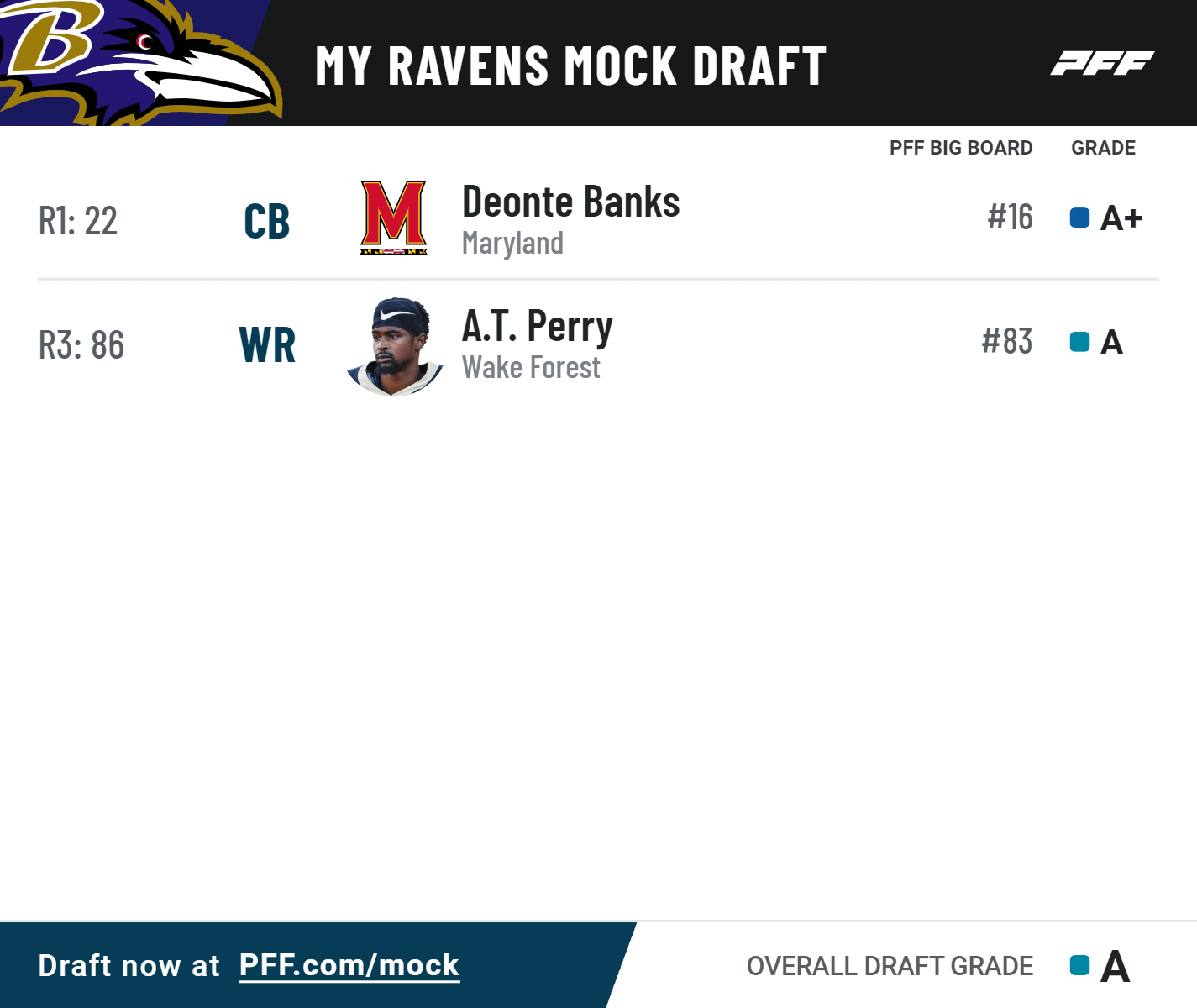 While the Ravens have now added two veteran wide receivers in Beckham and Nelson Agholor, it shouldn't prevent them from attacking the position in the top 100 picks of the 2023 NFL Draft in a little over two weeks. Perhaps they don't need to force the issue in Round 1, but coming out of the first three rounds with another potential playmaker at wideout would be wise.
If they opted to attack the cornerback position in Round 1, barring a trade-down, the players they could see available with the 86th overall selection, according to PFF's Mock Draft Simulator, include Stanford's Michael Wilson, Wake Forest's A.T. Perry, LSU's Kayshon Boutte, Michigan State's Jayden Reed and Nebraska's Trey Palmer.