With injuries ravaging the San Francisco 49ers on both sides of the ball, the New York Giants were supposed to bridge the talent gap in this matchup, but it proved to be the on-paper mismatch it looked like at the beginning of the season.
Editor's note: All of PFF's grades and advanced stats from this game will be finalized and made available to ELITE subscribers within 24 hours of the final whistle.
Story of the Game
Giants quarterback Daniel Jones had faced more pressured dropbacks than any quarterback in the league coming into the game, and that trend continued in this one. Jones faced pressure on 12 of his 22 dropbacks heading into the fourth quarter when the game was largely out of hand, and the Giants finished with a paltry -.29 EPA per dropback. It was the worst game of the season for Jones, who has outperformed his numbers to this point, but he was unable to overcome an overmatched offense this week against San Francisco.
Defensively, the 49ers were led by linebacker Fred Warner, who jumped an out route for an interception while also tying for the team lead with two run stops. 
Also of note was the return of cornerback Jason Verrett, who played 46 snaps — the most we've seen from him in a game since Week 1 of 2017. The oft-injured corner once looked like one of the next top players at the position, and it was encouraging to see him on the field and giving up only a handful of yardage while breaking up a pass. 
Offensively for the 49ers, QB Nick Mullens filled in for injured starter Jimmy Garoppolo and executed the offense well, just as he did in a backup role in 2018. On throws of 10-plus yards, Mullens completed nine of his 14 attempts for 153 yards, and the entire group of playmakers got into the mix to help him go 15-for-19 for 174 yards on passes up to 10 yards. That was the most impressive part of San Francisco's offensive effort as seven different players finished with at least 20 receiving yards in a classic game by head coach Kyle Shanahan. 
Defensively, the Giants remain weak in the pass game, whether in coverage or rushing the passer. Cornerbacks Darnay Holmes and Isaac Yiadom had a rough day, while the linebacking unit had a tough time of their own against the 49ers' deceptive misdirection game. 
Mullens was pressured on only 10 of his 39 dropbacks, as only interior defensive lineman Dalvin Tomlinson had success up front. The edge rushers, who came into the game with the eighth-lowest pass-rush grade as a unit, did not improve upon that mark with little pressure to speak of.  
Rookie Watch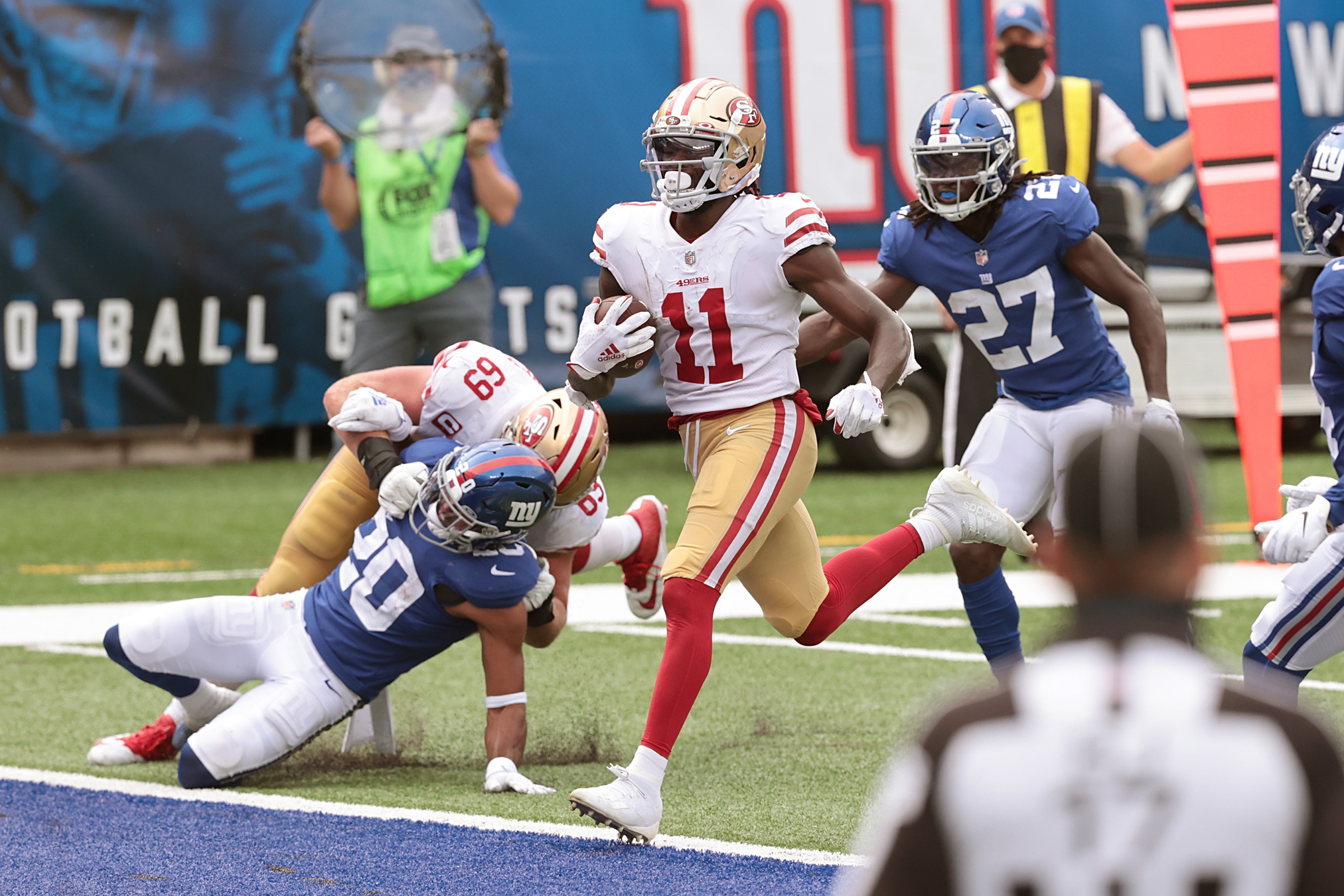 San Francisco first-round rookie Brandon Aiyuk showed why Shanahan loved him in the draft, as he caught five passes for 70 yards to go with 31 yards on three carries, including a 22-yarder for a touchdown on an end around. 
Fellow first rounder Javon Kinlaw continued his impressive start with two run stops, including one for no gain. 
For the Giants, first round offensive tackle Andrew Thomas was tied for first in the league in pressures allowed coming into the week and may be in the top spot by himself heading into Week 4. 
ELITE subscribers can view player grades, advanced statistics, positional snap counts and more in Premium Stats 2.0.