The dust has finally settled on the two most important events of the 2021 NFL offseason: Free agency and the draft. Some rosters went relatively unscathed, some underwent an overhaul and some welcomed a few boosts at valuable positions on the field.
Today, we're focusing on the teams that improved the most in the 2021 offseason to set themselves up for long-term success based on smart decisions in free agency and the draft.
Below are the six most improved teams in the NFL after these two pivotal team-building events.
Note: The teams are in alphabetical order
More of PFF's 2021 NFL Draft tools here: 
2021 NFL Draft Big Board | 2021 NFL Draft Guide | 2021 NFL Draft Stats Export | NFL Mock Drafts | NFL Mock Draft Simulator
Notable Free Agency Additions:
QB Andy Dalton
CB Desmond Trufant
WR Allen Robinson II (franchise tag)
DI Mario Edwards Jr. (re-signed)
OL Germain Ifedi (re-signed)
2021 NFL Draft Additions:
R1 (11): QB Justin Fields, Ohio State
R2 (39): OT Teven Jenkins, Oklahoma State
R5 (151): OT Larry Borom, Missouri
R6 (217): RB Khalil Herbert, Virginia Tech
R6 (221): WR Dazz Newsome, North Carolina
R6 (228): CB Thomas Graham Jr., Oregon
R7 (250): DI Khyiris Tonga, BYU
The Bears land on this list largely because of their draft class — specifically, pulling off the inevitable and trading up for Ohio State quarterback Justin Fields, PFF's No. 3 prospect in the 2021 class and the fifth-best prospect since we began evaluating college football.
Poor quarterback play has plagued this franchise, but we have reason to believe that Fields will snap that streak and eventually become the best quarterback to ever sport the navy and orange in the Windy City. Fields notched a PFF grade north of 91.0 in each of his two seasons as the Buckeyes' starter. In 2019 and 2020 combined, he was the most valuable player in all of college football, per PFF's Wins Above Average (WAA).
His arm talent, pinpoint accuracy, ability to extend plays, fantastic judgment and unreal wheels are all elite traits — ones that no Chicago quarterback has ever had. In my eyes, Fields' ceiling is a bigger and faster version of Russell Wilson. We'll look back on this trade-up as one of the biggest seals in the modern draft era. Wide receiver Allen Robinson II, who was a top-five-graded wide receiver in 2020 despite catching balls from Mitchell Trubisky and Nick Foles, finally has a quality quarterback throwing to him.
Chicago's draft was one of the better ones we have seen in quite some time. They didn't have a bad pick, earning an A+ grade in our draft assessments. Offensive tackle Teven Jenkins was easily a first-round prospect. He plays with the nastiness coaches love and is a bully with his upper-body strength. This past season, no Power Five tackle posted a lower negatively graded run-block rate than him.
All of the Bears' Day 3 picks were PFF favorites, but the most interesting one is Oregon corner Thomas Graham Jr., who was taken with the last pick of Round 6 despite ranking 76th on PFF's Big Board. It wouldn't be surprising to see him earn significant playing time right away. He is smaller and not anything special athletically, but he is a patient corner with balanced and nimble feet who also attacks the catch point incredibly well.
Graham opted out of the 2020 season, but he was lights out in coverage over his final two seasons, earning PFF coverage grades of 79.8 in 2018 and 82.9 in 2019. He ranked in the top 10 among FBS cornerbacks in both passing stops (23) and plays made on the ball (29) in those two years combined. He is going to fit perfectly into Sean Desai's defense, which will have elements of Vic Fangio's system.
Notable Free Agency Additions:
OT Riley Reiff
EDGE Trey Hendrickson
CB Chidobe Awuzie
SCB Mike Hilton
DI Larry Ogunjobi
CB Eli Apple
G Quinton Spain (re-signed)
2021 NFL Draft Additions:
R1 (5): WR Ja'Marr Chase, LSU
R2 (46): OT Jackson Carman, Clemson
R3 (69): EDGE Joseph Ossai, Texas
R4 (111): EDGE Cameron Sample, Tulane
R4 (122): DI Tyler Shelvin, LSU
R4 (139): T D'Ante Smith, East Carolina
R5 (149): K Evan McPherson, Florida
R6 (190): C Trey Hill, Georgia
R6 (202): RB Chris Evans, Michigan
R7 (235): EDGE Wyatt Hubert, Kansas State
Cincinnati did exactly what it should have done: Transform its offensive line from a liability to an average unit and snag LSU wide receiver Ja'Marr Chase with the fifth overall pick. As an added bonus, the Bengals had one of the most underrated signings of free agency in slot cornerback Mike Hilton.
Cincinnati's offensive line has been one of the five lowest-graded units in the NFL in each of the past four years. In 2020, the group came in at No. 30 in combined offensive line PFF grade. Left tackle Jonah Williams and center Trey Hopkins were the only players who performed fairly well.
Williams, who missed all of his 2019 rookie year due to injury, produced a blocking grade on true pass sets that ranked in the 87th percentile among tackles. Hopkins now ranks 14th in pass-blocking grade over the past two years among qualifying centers. To help out those two, the Bengals signed right tackle Riley Reiff, who was a Minnesota Vikings cap casualty. Last year, he produced a 73.8 PFF grade and ranked 15th among left tackles in pass-blocking snaps played per sack allowed (gave up just one in 2020).
And in the 2021 NFL Draft, the Bengals used their Round 2 selection on Clemson tackle Jackson Carman, who is actually from the Cincinnati area. Carman was a tackle-to-guard convert right from the get-go. He has fantastic movement skills and advanced independent hand usage. He tries to engage by latching on instead of punching in pass protection; once his hands are in the pads, it's usually game over for the opposition. Carman showed this in Clemson's College Football Playoff semifinal against a talented crop of Ohio State edge rushers. He played 14 true pass sets in that game and didn't allow a single pressure.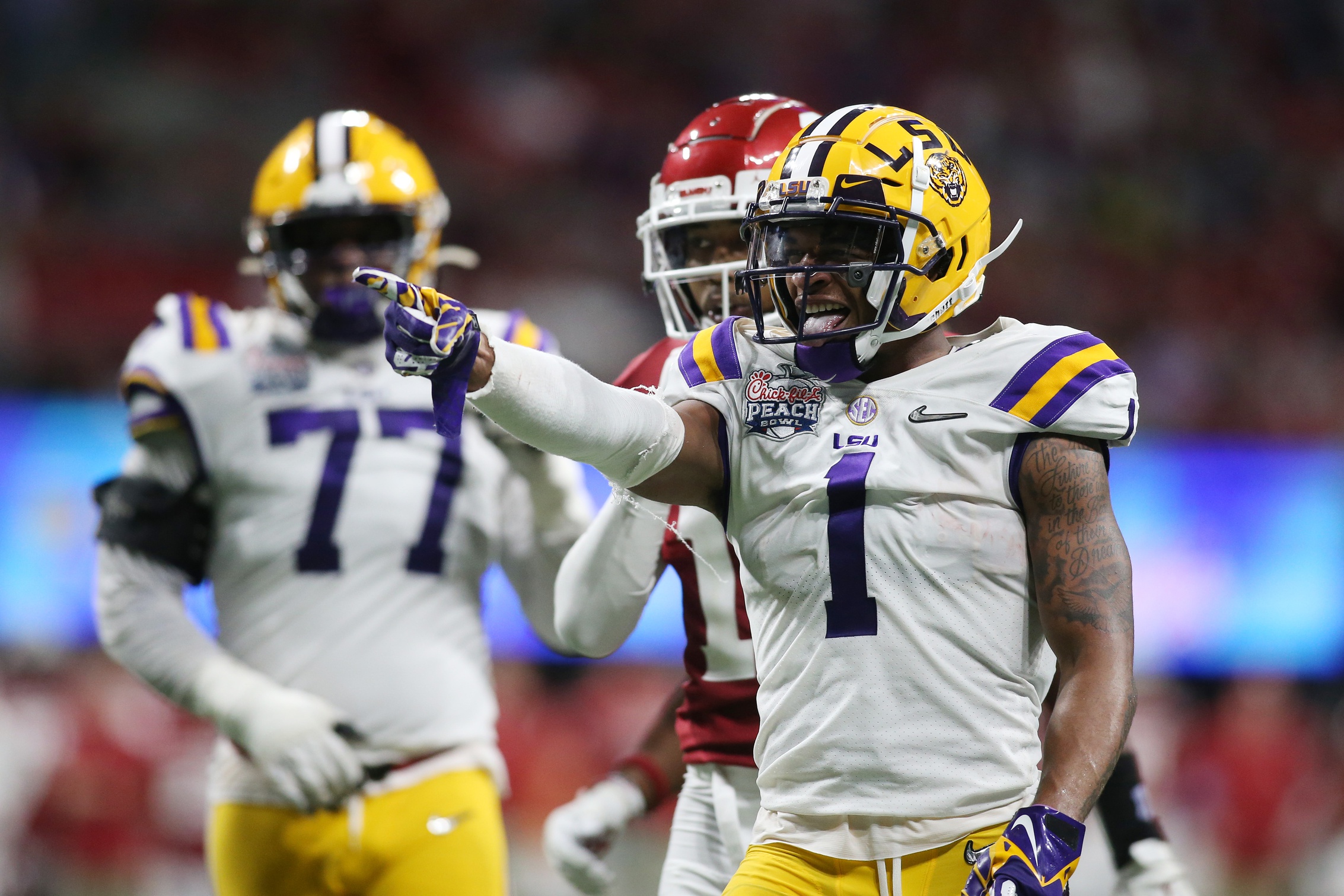 Before selecting Carman, though, the Bengals made a franchise-altering pick in Round 1 by taking LSU wide receiver Ja'Marr Chase. He was, of course, Joe Burrow's top target during the Tigers' historic title run in 2019. Those two formed arguably the best QB-WR connection in the history of college football. Burrow and Chase connected on more touchdowns from 20-plus-yard targets (14) than any duo in the seven years of the PFF College era. There are really few bones to pick with Chase's play. He will be a nightmare to face in the NFL.
Despite missing the end of his rookie campaign following a gruesome knee injury in Week 11, Burrow still finished as the 16th-most valuable quarterback in the NFL. His deep ball wasn't as finely tuned as in his historic 2019 season at LSU, but he was money on just about every other throw. In fact, he recorded the sixth-best passing grade in 2020 this year on throws of 19 yards or less downfield.
With a better offensive line that isn't routinely losing reps quickly after the snap, as well as a true deep threat in Ja'Marr Chase, expect Burrow's deep ball to come to back life in a breakout sophomore campaign for the signal-caller.
Notable Free Agency Additions:
S John Johnson III
SCB Troy Hill
EDGE Jadeveon Clowney
LB Anthony Walker
DI Malik Jackson
WR Rashard Higgins (re-signed)
2021 NFL Draft Additions:
R1 (26): CB Greg Newsome II, Northwestern
R2 (52): LB Jeremiah Owusu-Koramoah, Notre Dame
R3 (91): WR Anthony Schwartz, Auburn
R4 (110): OT James Hudson, Cincinnati
R4 (132): DI Tommy Togiai, Ohio State
R5 (153): LB Tony Fields II, West Virginia
R5 (169): S Richard LeCounte, Georgia
R6 (211): RB Demetric Felton, UCLA
If we were to rank the best offseasons in the NFL, the Browns would undoubtedly be No. 1. They made the two of the best signings in free agency in safety John Johnson III and slot cornerback Troy Hill, then followed it up with two of the biggest steals of the 2021 NFL Draft in cornerback Greg Newsome II and linebacker Jeremiah Owusu-Koramoah.
Johnson finished the 2020 season with the Los Angeles Rams as one of the five most valuable defensive players in the NFL, according to PFF's Wins Above Replacement (WAR) metric. He has proven capable of playing any role in any scheme. He recorded 80.0-plus PFF grades in three of his four seasons — all of which ranked 11th or higher at the position. He failed to reach that benchmark in 2019, when he was limited to only six games due to injury. Hill, who is also a former Ram, has been the NFL's highest-graded slot corner over the past two seasons.
PFF viewed Newsome as a top-20 prospect in this class. He has exceptional feet and is coming off a truly unreal breakout year in 2020. He was battle-tested, seeing 34 targets over his first four games, and yet, he allowed only 93 yards and five first downs while making eight plays on the ball.
Owusu-Koramoah had Browns written all over him in Round 1, but they ended up getting him in Round 2. He fits the mold of a versatile weapon-type player that the NFL is trending toward. JOK first saw the field in 2019 when he was thrown into a starting job. He got off to a rough start, but it didn't take long for him to get up to speed.
From Week 10 of 2019 to the end of 2020 (18 games), he posted an 80.0-plus grade against the run, as a pass-rusher and in coverage. Over the same time frame, no other Power Five linebacker or safety accomplished that feat. He posted the second-highest slot coverage grade of the 2020 college season and has unreal short-area burst to hold up between the tackles.
Cleveland's defense ranked 22nd last year in per-play efficiency allowed. With all the playmakers the team added this offseason, I would be shocked if the Browns didn't jump inside the top 10, if not the top five. And if we see the same Baker Mayfield and passing offense that ranked fourth in passing efficiency from Week 7 on last year, this team is going to challenge the Chiefs for the AFC crown.
Notable Free Agency Additions:
C Corey Linsley
G Matt Feiler
TE Jared Cook
OL Oday Aboushi
CB Michael Davis (re-signed)
2021 NFL Draft Additions:
R1 (13): T Rashawn Slater, Northwestern
R2 (47): CB Asante Samuel Jr., Florida State
R3 (77): WR Josh Palmer, Tennessee
R3 (97): TE Tre' McKitty, Georgia
R4 (118): EDGE Chris Rumph II, Duke
R5 (159): T Brenden Jaimes, Nebraska
R6: (185): LB Nick Niemann, Iowa
R6 (198): RB Larry Rountree III, Missouri
R7 (241): CB Mark Webb, Georgia
Los Angeles trotted out eight different starting offensive line combinations in 2020, tying for the third-most in the NFL. And it didn't matter who featured in the group; the entire unit performed poorly. The Chargers' offensive linemen combined for a 48.6 PFF grade, the second-worst mark from a unit in the past decade. A healthy Bryan Bulaga at right tackle would help matters some, but there was still a lot of work to do. Los Angeles entered the offseason looking for four new starters. And the team came out of it with exactly that.
The Chargers signed center Corey Linsley to a massive five-year, $62.5 million contract in free agency. He was the NFL's highest-graded center in 2020 with the Green Bay Packers. Last year, the Chargers ranked 31st in PFF grade at center.
The addition of versatile lineman Matt Feiler was one of the most underrated signings of free agency. With Pittsburgh, Feiler started a full season at right tackle in 2019 and finished with the fifth-best pass-blocking grade at the position. He then kicked inside to left guard for the 2020 season, where he ranked 12th in pass-blocking grade. He'll slot in as a high-quality guard for Los Angeles.
Holding down the fort at left tackle now is No. 13 overall pick Rashawn Slater. He may not have the size of a typical tackle, but he sure possesses the athleticism, technical refinement and college production to thrive in the NFL. In his 2019 campaign — his final college season — Slater posted a 90.0 PFF grade and allowed only five pressures in 11 starts. He also handled Chase Young, who is already one of the top edge defenders in the NFL and was better than anyone in college football.
This offensive line at the start of the offseason was historically bad. Now, it might be a top-10 unit.
The cherry on top was cornerback Asante Samuel Jr., who was a first-round prospect on PFF's Big Board, falling right in the Chargers' laps in Round 2. From a scheme-fit perspective, this is a perfect marriage. New head coach Brandon Staley needs athletic and instinctive corners to play in his defense, and that's precisely who Samuel is. His size won't be an issue in this off-zone system. Samuel has exceptional read-and-react ability and quicks. He ranked second in the Power Five in total forced incompletions (30) from 2018 to 2020.
Notable Free Agency Additions:
WR Kenny Golladay
CB Adoree' Jackson
TE Kyle Rudolph
WR John Ross
DI Leonard Williams (re-signed)
2021 NFL Draft Additions:
R1 (20): WR Kadarius Toney, Florida
R2 (50): EDGE Azeez Ojulari, Georgia
R3 (71): CB Aaron Robinson, UCF
R4 (116): EDGE Elerson Smith, Northern Iowa
R6 (196): RB Gary Brightwell, Arizona
R6 (201): CB Rodarius Williams, Oklahoma State
After hitting a couple of home runs in free agency by signing high-quality players at the two most valuable positions in the game outside of quarterback, general manager Dave Gettleman continued his strong offseason in the 2021 NFL Draft. He traded down not just in Round 1, but also in Round 2 — marking his first time ever doing so. And he still managed to pick up two solid players in those two rounds.
Before his injury-riddled 2020 campaign, Kenny Golladay established himself as one of the NFL's best deep threats and contested-catch specialists. In 2018 and 2019 combined, he racked up the third-most deep (20-plus-yard target) receiving yards, with 930, and he tied for first in contested catches, with 43.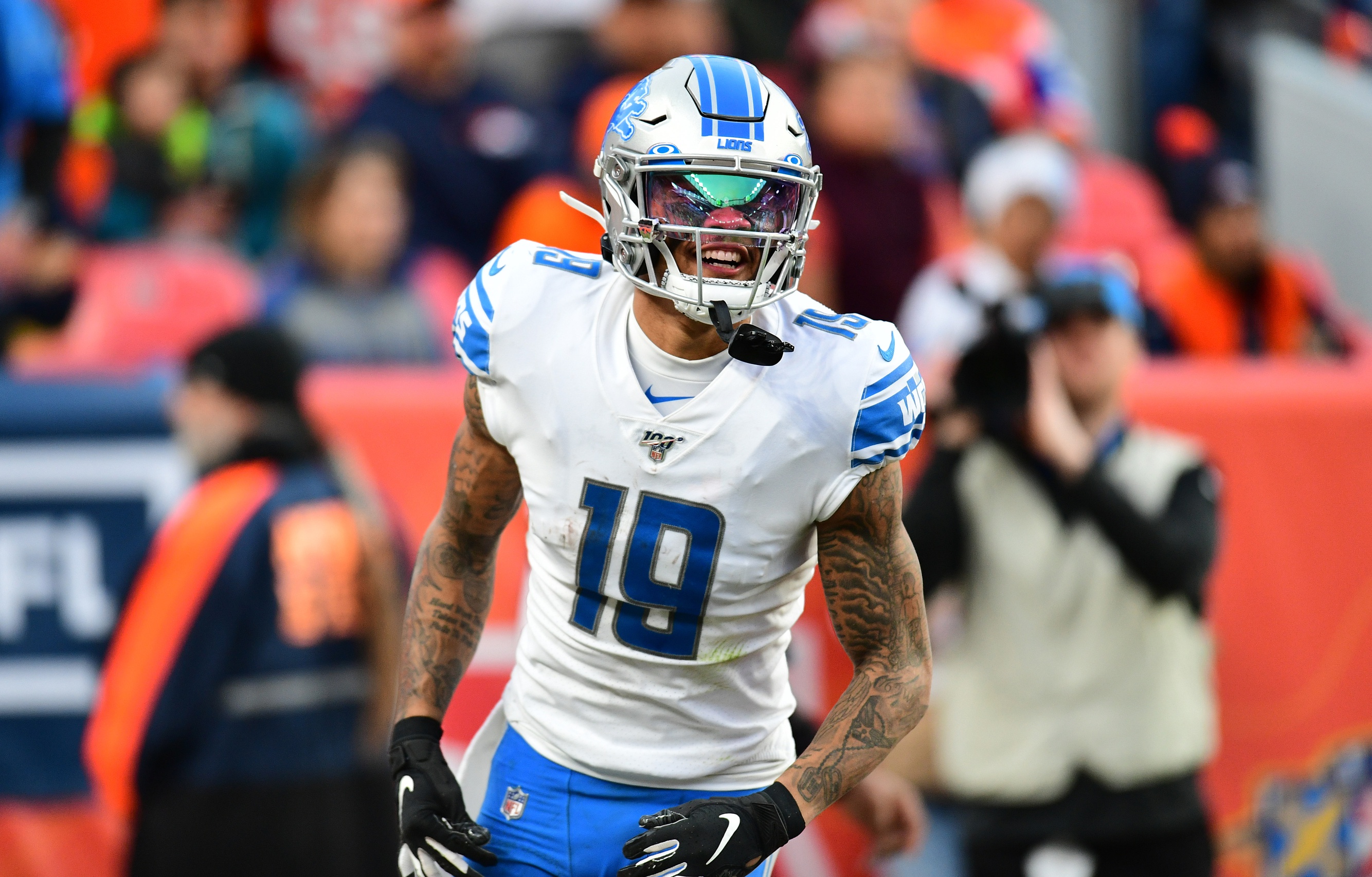 Tennessee surprisingly axed Adoree' Jackson during the legal tampering period of free agency, allowing New York to snag the talented corner off the open market. The 2017 first-rounder has battled injuries as of late, but when on the field, he has lived up to expectations. He ranks inside the top 10 in outside coverage grade since his rookie campaign. Despite just two career interceptions, Jackson has made some great plays on the ball. Prior to an injury-plagued 2020, he racked up the ninth-most pass breakups from 2017 through 2019, with 24.
In the first round of the draft, the Giants traded the No. 11 overall pick to the Bears for the No. 20 and No. 164 overall picks and first- and fourth-rounders in 2022. And in Round 2, the Giants traded the No. 42 overall pick to the Miami Dolphins for the No. 50 overall pick and a third-rounder in 2022. With Picks 20 and 50, New York selected wide receiver Kadarius Toney and edge defender Azeez Ojulari.
It's hard to fathom how a human can move the way Toney does. His combination of balance, agility and explosiveness makes him nearly impossible to tackle. The Florida wideout touched the ball 187 times in his college career and broke a whopping 66 tackles while averaging 8.5 yards after the catch. He's going to be one of the most difficult players to tackle in the NFL from Day 1.
Ojulari was the most advanced pass-rusher in the class; PFF had a Round 1 grade on him. He is technically sound, a speed rusher through and through with elite-level cornering ability. Power is not Ojulari's game, though. He's firmly in undersized territory at 6-foot-2 and 249 pounds, but what he lacks in size and strength, he makes up for with those traits and great length.
Ojulari posted top-notch pass-rush production in 2020 while going up against stellar SEC competition. He broke out in a big way, improving his 71.4 pass-rushing grade to a 91.7 mark, second-best in the FBS. Ojulari also forced three strip-sack fumbles and generated a 24.3% pass-rush win rate, a top-five mark at his position in the FBS. He can get by at the next level despite lacking strength.
The ball is in Daniel Jones' court now, as he has everything he needs around him. Jones took positive steps in 2020, improving his PFF grade to 78.4, which ranked 16th among starting quarterbacks, but can he be much more than that? Pocket awareness and a willingness to pull the trigger downfield are two areas where he needs to grow in a pivotal Year 3.
Notable Free Agency Additions:
WR Corey Davis
EDGE Carl Lawson
S Lamarcus Joyner
WR Keelan Cole
DI Sheldon Rankins
LB Jarrad Davis
S Marcus Maye (franchise tag)
2021 NFL Draft Additions:
R1 (2): QB Zach Wilson, BYU
R1 (14): iOL Alijah Vera-Tucker, USC
R2 (34): WR Elijah Moore, Ole Miss
R4 (107): RB Michael Carter, North Carolina
R5 (146): S Jamien Sherwood, Auburn
R5 (154): CB Michael Carter II, Duke
R5 (175): CB Jason Pinnock, Pittsburgh
R6 (186): S Hamsah Nasirildeen, Florida State
R6 (200): CB Brandin Echols, Kentucky
R6 (207): DI Jonathan Marshall, Arkansas
The Jets may be the runner-up to the Cleveland Browns in terms of best free agency moves. They entered that first week without a single position of strength and with plenty of cap space. Along with bringing back their most valuable player from the 2020 season, safety Marcus Maye, the Jets signed wide receiver Corey Davis, edge rusher Carl Lawson and slot corner Lamarcus Joyner. 
Davis was a top-10-graded receiver with Tennessee in 2020, while Lawson ranked in the top 10 at his position in pass-rush grade. Joyner was signed to go back to his old position (safety) instead of playing primarily in the slot, as he did with Las Vegas. He played at safety with the Rams in 2017 and 2018 and generated the seventh-best PFF grade at the position. Joyner then was moved to the slot with the Raiders in 2019 and proceeded to be the lowest-graded player at the position through 2020. For $4.5 million over one year, Joyner could be a steal.
While we would have liked to have seen the Jets attack the cornerback position earlier in the draft, perhaps with a trade-up in Round 1, they got three talented, difference-making players with their first three picks.
Wilson faced a cupcake schedule and was hardly tested by pressure in 2020,  but we have never seen a quarterback shred their opposition in that manner and make NFL throws as often as he did. He recorded a passing grade above 90.0 in eight of his 12 starts in 2020. That tops the previous best mark in the PFF College era, set by Baker Mayfield in both the 2016 and 2017 seasons and Kyler Murray in 2018. When it comes to non-Power Five quarterbacks, Wilson's eight such games were twice that of the previous high. He's as good as advertised.
Alijah Vera-Tucker, who the Jets drafted after trading up from No. 23 to No. 14, was one of the most consistent down-to-down offensive linemen in college football over the past couple of years. Back in 2019, when he played guard (the position he will play for the Jets), he allowed just seven pressures, six of which were hurries, over 13 games en route to an 87.9 pass-blocking grade. He gave up multiple pressures in just one of those 13 games, and that came against a formidable Notre Dame defensive line. Vera-Tucker is NFL-ready from a technical standpoint.
Wide receiver Elijah Moore was one of the biggest steals in the entire 2021 NFL Draft. He often put his body on the line and took big shots while still holding onto the ball at Ole Miss, making him every old-school coach's dream player. Moore's 96.7% catch rate on passes thrown beyond the line of scrimmage led all FBS wide receivers this past season. He was also strong in contested scenarios despite his small stature, catching 11 of his 15 contested targets. His toughness also showed after the catch, with 31 broken tackles on 153 receptions since 2019. As PFF lead draft analyst Mike Renner said in the PFF 2021 NFL Draft Guide, Moore is the quintessential slot receiver.