With back to back poor games from Russell Wilson and the Seattle Seahawks' history of ultra-conservative play-calling, it seemed inevitable that the team would begin to revert back to form and remove chef Wilson from the kitchen to try and right the ship, and that's what we saw on Thursday night against the Cardinals.
To their credit, the Seahawks got a bounce-back Wilson game — he had an excellent overall performance in his second face-off against Arizona, even if his overall statistics weren't overwhelming in terms of volume. Wilson completed 23 of 28 pass attempts for 197 yards and two touchdowns for a passer rating of 119.8. He was ultra efficient, completing 82.1% of his throws and registering an adjusted completion rate of 96.3% — he had just one incompletion that wasn't a drop from his intended receivers.
Heading into this game, only the Buffalo Bills had a lower run play percentage on first down this season than the Seahawks (38.8%). This has been a steady transition for Seattle's coaching staff from the other end of the spectrum and represents something of a learning curve for the team.
Analytics generally has been pushing the virtues of early-down passing for some time now. Generally speaking, passing the ball is significantly more effective and efficient than rushing the ball, so making those attempts on first down is a far better tool for avoiding difficult third-down situations than rushing the ball.
Last season, Seattle was middle of the pack with a nearly even 50:50 run-pass split on first downs, but if you go back just one more year they were the most run-heavy team in football at 61.6% on first downs. That was almost six full percentage points higher than any other team.
Against Arizona on Thursday night, they didn't quite run all the way back to mommy, but they did significantly increase how often they handed the ball off on early downs. Instead of 38.8%, that figure became 46.4%, though the numbers actually look worse if you look only at rush attempts because of a couple of Wilson scrambles.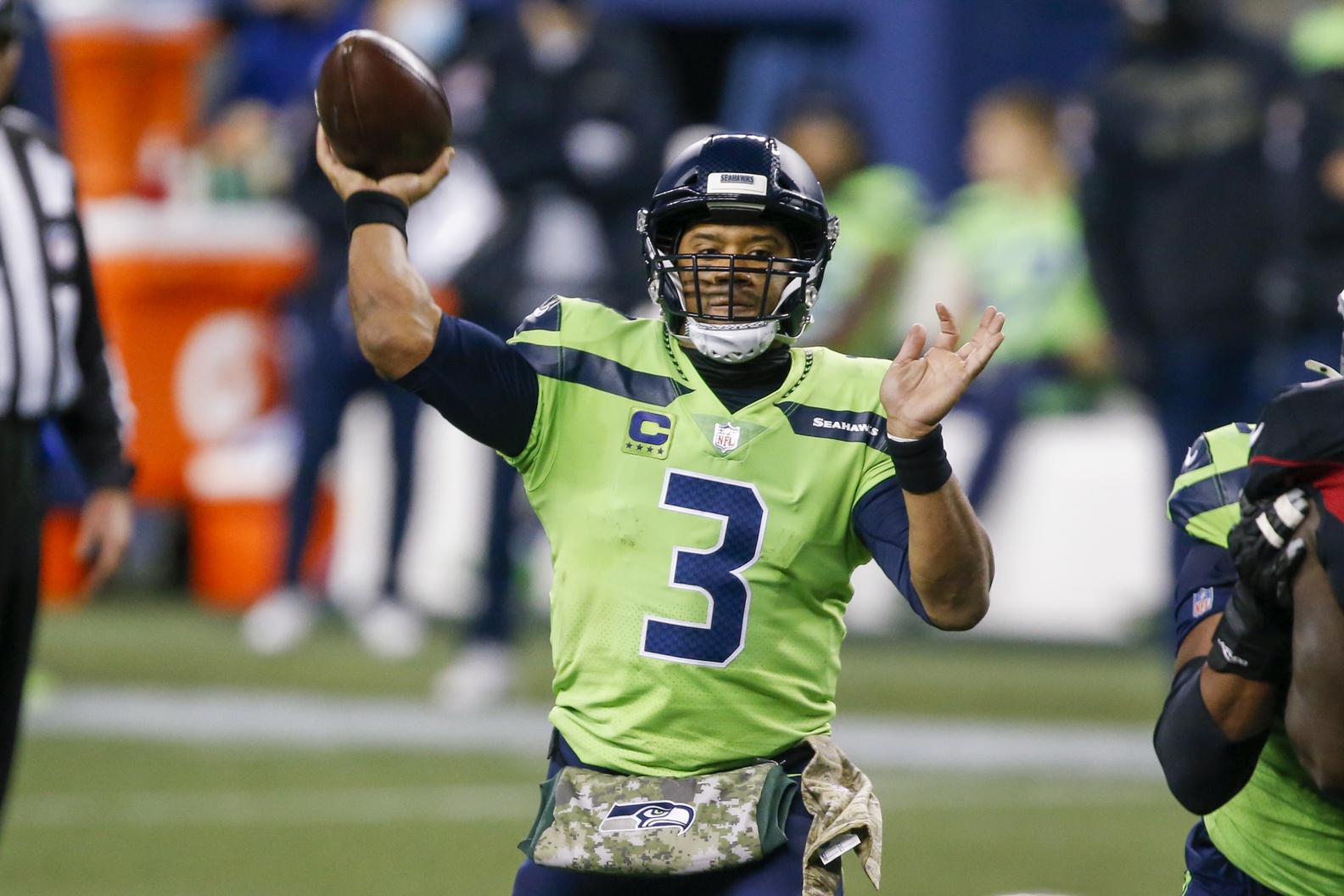 Critically, those runs against the Cardinals were successful, so it didn't have a detrimental effect on the offense later in the series. On first down carries, the team averaged 4.8 yards per attempt, but 2.9 of that came before contact, which is a very large figure and speaks to a combination of excellent blocking and good play-calling.
It would be hard to fault it as a successful plan given the outcomes, but it's worth pointing out that the first-down pass plays Seattle ran averaged 7.6 yards per attempt and more than double the EPA per play despite two dropped passes from Seahawks receivers. Each first down run play they ran moved them almost halfway toward moving the chains, but a pass play was moving them even further, turning second and 5 into second and 2 or 3. 
Ultimately, whatever the game plan means for the long term, Seattle's situation remains the same — when Wilson is on his game, they can rival any team in the league. But when he isn't, the problems everywhere else become too great to overcome.
The last two weeks featured a quarterback that was nowhere near his best. Wilson had overall PFF grades of 52.7 and then 41.4, which were his worst single-game grades since the 2017 season. 
Individual defensive players for Seattle showed up in critical moments in this game, but overall the Seahawks defense still had plenty of subpar players. The Cardinals were able to average 7.5 plays per drive and scored a touchdown every time they entered the Seattle red zone. This was a game that needed Wilson to bounce back the way he did for them to eek out a win. 
There is really no way to know whether Wilson needed the ball taken out of his hands more on early-downs to regain a degree of confidence and comfort in his own play, or whether his bounce-back performance just happened to coincide with that type of game plan. What will be interesting to monitor is whether the Seahawks themselves draw conclusions from it one way or the other. The league as a whole has been celebrating this team finally "letting Russ cook," but Thursday night showed the first signs that it might start to pull back on the strategy that has been so successful for most of the season and weave in a little more conservatism to the plan.
Chef Russ may find his table count scaled back in the next few weeks.