The Arizona Cardinals and Seattle Seahawks clashed for the second time this season, providing fans with yet another nail-biting contest. The Seahawks were able to escape with a 28-21 victory and the NFC West lead after Kyler Murray and Co. failed to finish off a final drive with a chance to tie. The recently acquired Carlos Dunlap sacked Murray on fourth down to seal the deal. 
Editor's note: All of PFF's grades and advanced stats from this game will be finalized and made available to ELITE subscribers within 24 hours of the final whistle.
STORY OF THE GAME
After taking care of the football at an exceptional rate during the beginning of the season, Russell Wilson entered tonight with seven turnovers over the past two weeks. He played a safe but efficient game, completing 23 of 28 passes for 197 yards and two touchdowns. He was also effective on the ground, carrying the rock 10 times for an additional 42 yards, most of which came off scrambles. 
Wilson was pressured a tremendous amount, with his offensive line allowing a pressure rate of 32% compared to Arizona's 13%. Despite defenders being draped all over him, Wilson completed seven of eight attempts under pressure for 61 yards and a score. 
Running back Chris Carson was out again tonight, but Carlos Hyde returned to the lineup. He did not disappoint, rattling off 79 yards and a dive past the pylon on 14 carries. He did fumble a pitch to the left side but was able to recover it himself. 
It was a quiet night for D.K. Metcalf in the stat sheet with just three receptions for 46 yards and a touchdown, but he burned Patrick Peterson multiple times and had a 41-yard bomb negated due to a holding penalty. Tyler Lockett reeled in nine receptions for 67 yards and a nice toe drag in the end zone for a score. 
The Cardinals were one of the league's best rushing offenses entering the night but were held to just 57 yards on the ground. Kenyan Drake took his 11 attempts for a paltry 29 yards, and Murray ran just five times for 15 yards. Speaking of the second-year quarterback, Murray threw some nice passes but ultimately did too little too late after putting up just seven points in the first half.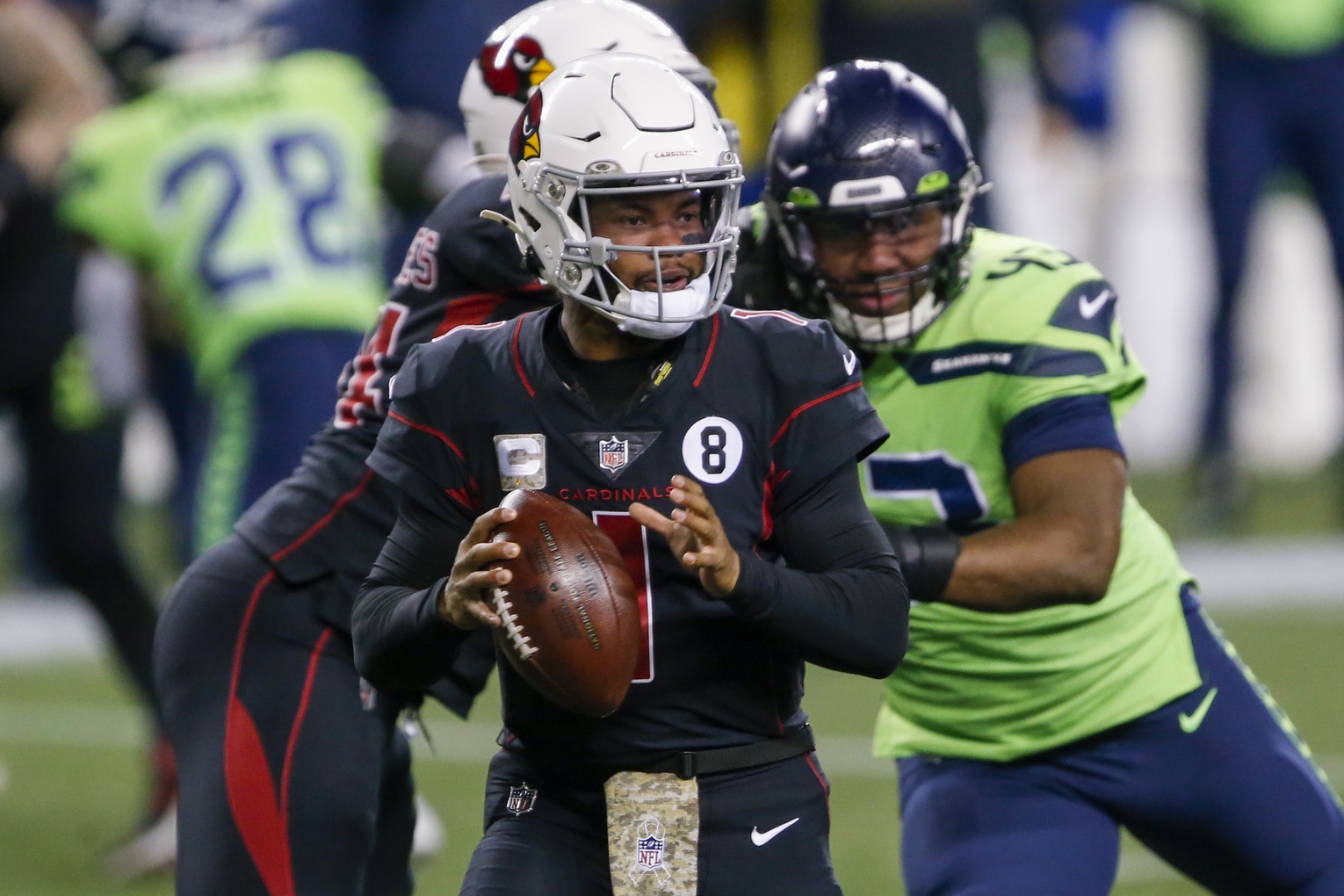 When kept clean, Murray did not take shots downfield, averaging just 5.9 yards per target. The short target depth led to a large workload for the ageless wonder that is Larry Fitgerald. The veteran saw a team-high 10 targets, catching eight for 62 yards. DeAndre Hopkins was second on the team with eight targets but was only able to post 51 yards on five receptions — a far cry from his 7-127-1 statline from a week ago. 
In the end, penalties, poor first half play-calling and execution, and an inability to push the ball downfield proved too much for the Cardinals to overcome. They dropped from first in the division to third with the loss. 
ROOKIE WATCH
There were few rookies on the field for either side tonight. Seahawks third-round offensive lineman Damien Lewis was kicked to the center position due to injury. Not only is he a rookie, but he has not played anywhere but right guard this season. The inexperienced showed, as he struggled mightily in pass protection, allowing multiple QB pressures and one sack.
The only other Seattle rookie with over 20 snaps was first-round linebacker Jordyn Brooks. He didn't do much, forfeiting two catches for first downs on three targets. 
For the Cardinals, 2020 No. 8 overall pick Isaiah Simmons produced one of the best performances of his young NFL career. On four pass-rush reps, he was able to generate a sack, and two of his three tackles against the run counted for defensive stops. Simmons showed his versatility in coverage, conceding three receptions on four targets but one gained a first down and he was able to force an incompletion.
ELITE subscribers can view player grades, advanced statistics, positional snap counts and more in Premium Stats 2.0.