In a twist I wouldn't have seen coming a year ago, Mitchell Trubisky's potential landing spots have become one of the dominant storylines of the 2022 NFL scouting combine.
Maybe it shouldn't be totally surprising that a former No. 2 pick would still have fans among many in NFL front offices, but Trubisky played himself out of the Chicago Bears and was one of the few early quarterback selections whose team didn't exercise a relatively risk-free fifth-year option to retain their services for a little longer look.
---
Click here for more PFF tools:
Draft Guide & Big Board | Mock Draft Simulator
Dynasty Rankings & Projections | Free Agent Rankings | 2022 QB Annual
Player Grades
---
After a season backing up Josh Allen with the Buffalo Bills, Trubisky has re-entered the national conversation. A good portion of Trubisky's interest reflects a lack of viable options in the draft and free agency for an outsized number of teams that need a replacement at the game's most important position. Another factor is the glowing reports from former offensive coordinator and new New York Giants head coach Brian Daboll, who reportedly strongly advocated bringing Trubisky to Buffalo.
While the feeling and narratives around Trubisky are at the highest point we've seen in years, it's always edifying to go back to the data. I'm going to look into the case for Trubisky as the top free agent quarterback available by comparing his career numbers against a couple other top options, and I find that he doesn't really stack up according to our passing grades or other advanced metrics.
CAN TRUBISKY STILL IMPROVE
At least part of the case for signing Trubisky to be a 2022 starting quarterback is the thought that he's relatively young and has more room to improve than other options. Nonetheless, when looking at the career dropbacks for Trubisky versus other top options Jameis Winston and Marcus Mariota, there isn't a drastic difference in the amount of evidence we've seen from each.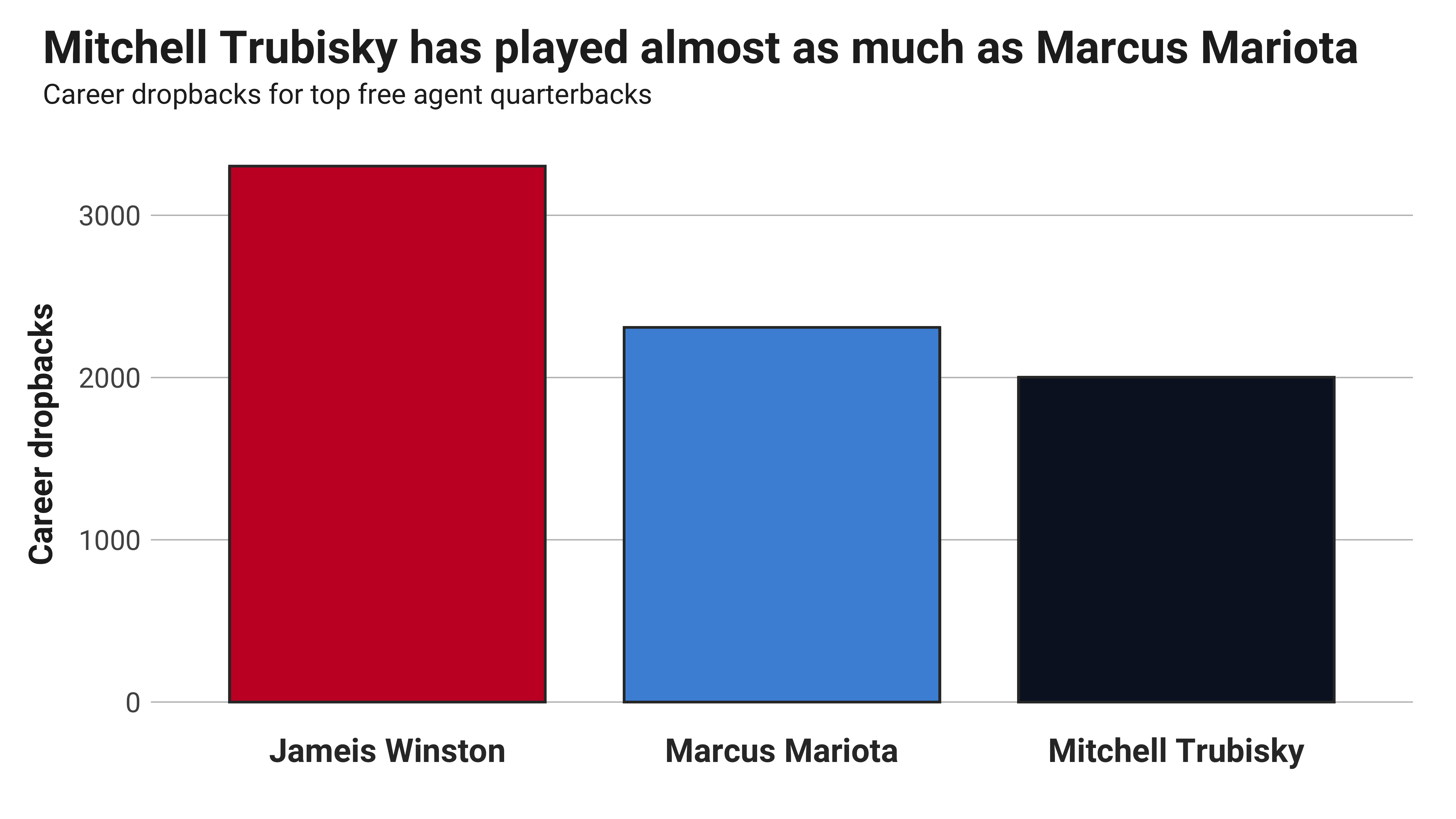 Trubisky has just over 2,000 NFL dropbacks, which is only a few hundred fewer than Mariota, who was drafted No. 2 overall two years earlier. Winston has over 3,000 dropbacks, but as you'll see, he also has a much more impressive resume. Mariota and Winston were relatively young draft picks, making them less than one year older than Trubisky, discounting the notion that the younger Trubisky has more room to grow.
HISTORICAL EFFICIENCY AND PFF GRADES
One area that Trubisky doesn't trail the other top free agents by too much is in career performance using expected points per dropback. I complied trailing 500-dropback averages for the three quarterbacks over their careers to get an idea of each quarterback's peaks and valleys.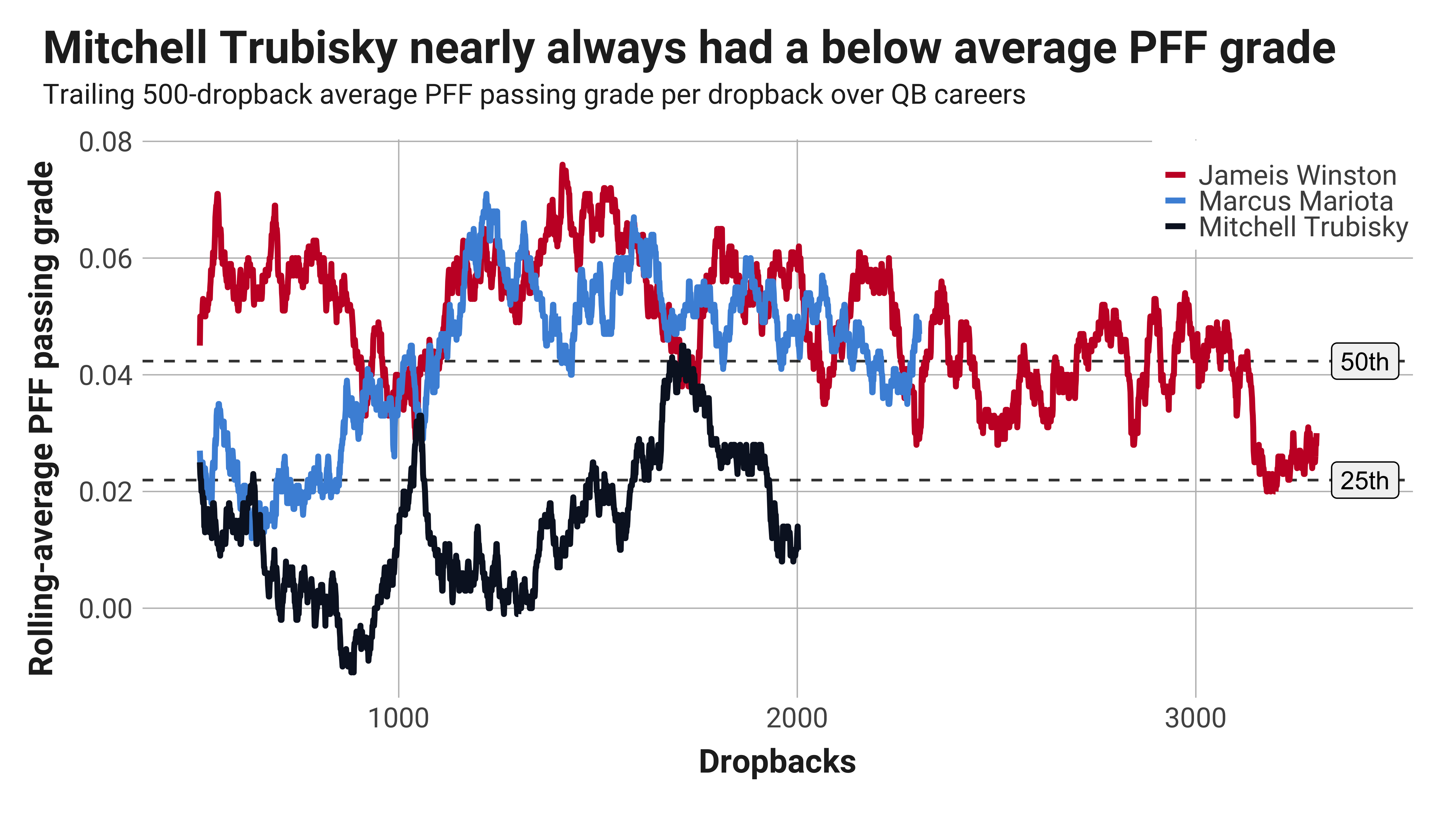 At 1,000 dropbacks into their careers, Trusbisky had the best trailing 500-dropback efficiency, but that quickly faded as he entered his third and fourth NFL seasons. Winston was a consistently better performer, as he only dipped below the 50th percentile line a couple times during his career.
Subscribe to PFF Edge to continue reading
Already have a subscription? Sign In