It wasn't entirely evident that night, but when the Dallas Cowboys selected Micah Parsons with the 12th overall pick in the 2021 NFL Draft, Parsons was about to fill a crucial and specific role in defensive coordinator Dan Quinn's defense. 
---
Click here for more PFF tools:
Rankings & Projections | WR/CB Matchup Chart | NFL & NCAA Betting Dashboards | NFL Player Props Tool | NFL & NCAA Power Rankings
Best Bets Tool
---
The Defensive Rookie of the Year award is all but locked up for Parsons, and he might even have a chance to take home the overall Defensive Player of the Year award after a stunning start to his professional career. 
He leads 2021 NFL defensive rookies in Wins Above Replacement, at 0.53.
| | |
| --- | --- |
| Player | WAR |
| 1. Micah Parsons, Cowboys | 0.53 |
| 2. Nate Hobbs, Raiders | 0.44 |
| 3. Jevon Holland, Dolphins | 0.41 |
| 4. Trevon Moehrig, Raiders | 0.34 |
| 5. Eric Stokes, Packers | 0.30 |
That Rookie of the Year award will definitely be Parsons' by the end of the year, but where does he stack up among all defensive players?
| | |
| --- | --- |
| Player | WAR |
| 1. Aaron Donald, Rams | 1.02 |
| 2. Jalen Ramsey, Rams | 0.65 |
| 3. Maxx Crosby, Raiders | 0.60 |
| 4. Marshon Lattimore, Saints | 0.55 |
| T5. Micah Parsons, Cowboys | 0.53 |
| T5. A.J. Terrell, Falcons | 0.53 |
Aaron Donald continues to be the best defensive player in football and hasn't finished below second in defensive WAR in any of the past five seasons. However, with him winning three of the past four player of the year awards, voters may have Donald fatigue. In the same way that LeBron James could probably win the NBA's MVP award every year but doesn't, the Rams defender could win this award every year but might not this season.
After Donald, the next five candidates are all extremely close in value, and there would be no reason voters couldn't give the trophy to Parsons. 
Parsons' talent is what is taking him to these elite heights as a rookie, but a look into Dan Quinn's scheme reveals the Cowboys might have been the perfect fit for him.
---
Related content for you:
Monson: 2021-22 NFL Power Rankings
via Sam Monson
---
Quinn has been looking for a hybrid linebacker who can line up as an off-ball player in certain defensive fronts and set the edge as a defensive lineman in other looks for years. The ability to move that player around but still stay in the same personnel grouping is huge. 

Quinn wants to be able to move his Will linebacker in an even front to an edge position in his bear front. 
In Atlanta, Quinn used De'Vondre Campbell as this player. On first downs in 2019, Campbell aligned as an off-ball player on 278 snaps while being used as an edge player on 117 snaps. Parsons has spent 217 snaps as an off-ball linebacker and 160 snaps as an edge player this season. 
Campbell is a great player who is enjoying a breakout campaign this season in Green Bay, where he ranks fourth in WAR among linebackers. But he's not the athlete Parsons is. 
Hybrid players like this are always going to be the rage, but they normally don't fall off trees. Parsons fell off a tree right into Quinn's lap. Not every defensive coordinator has a position like this. Campbell has played just 16 snaps as an edge player on first downs under Packers defensive coordinator Joe Barry this season.
Using Parsons in this role has allowed him to flourish, and with the Cowboys defense getting healthy at the right time, it's putting tremendous stress on opposing offensive lines — specifically, teams' guards. 
The Cowboys enjoyed the return of edge rusher Demarcus Lawrence in Week 13. During the Weeks where Lawrence was out — Weeks 2-12 — Parsons played down at the line of scrimmage more as a defensive lineman. He played 126 edge snaps compared to 120 off-ball snaps on first down. The team needed a Lawrence replacement, and Parsons stepped up. 
With Lawrence back, Parsons can go back to being only a part-time edge setter in their bear front. The numbers have skewed back to 34 edge snaps and 74 off-ball snaps since Week 13 for the rookie. Now, when the Cowboys want to present a five-man surface in their bear front, they can kick Lawrence inside to three-technique over the guard and play Parsons outside of him. That's a nasty combination.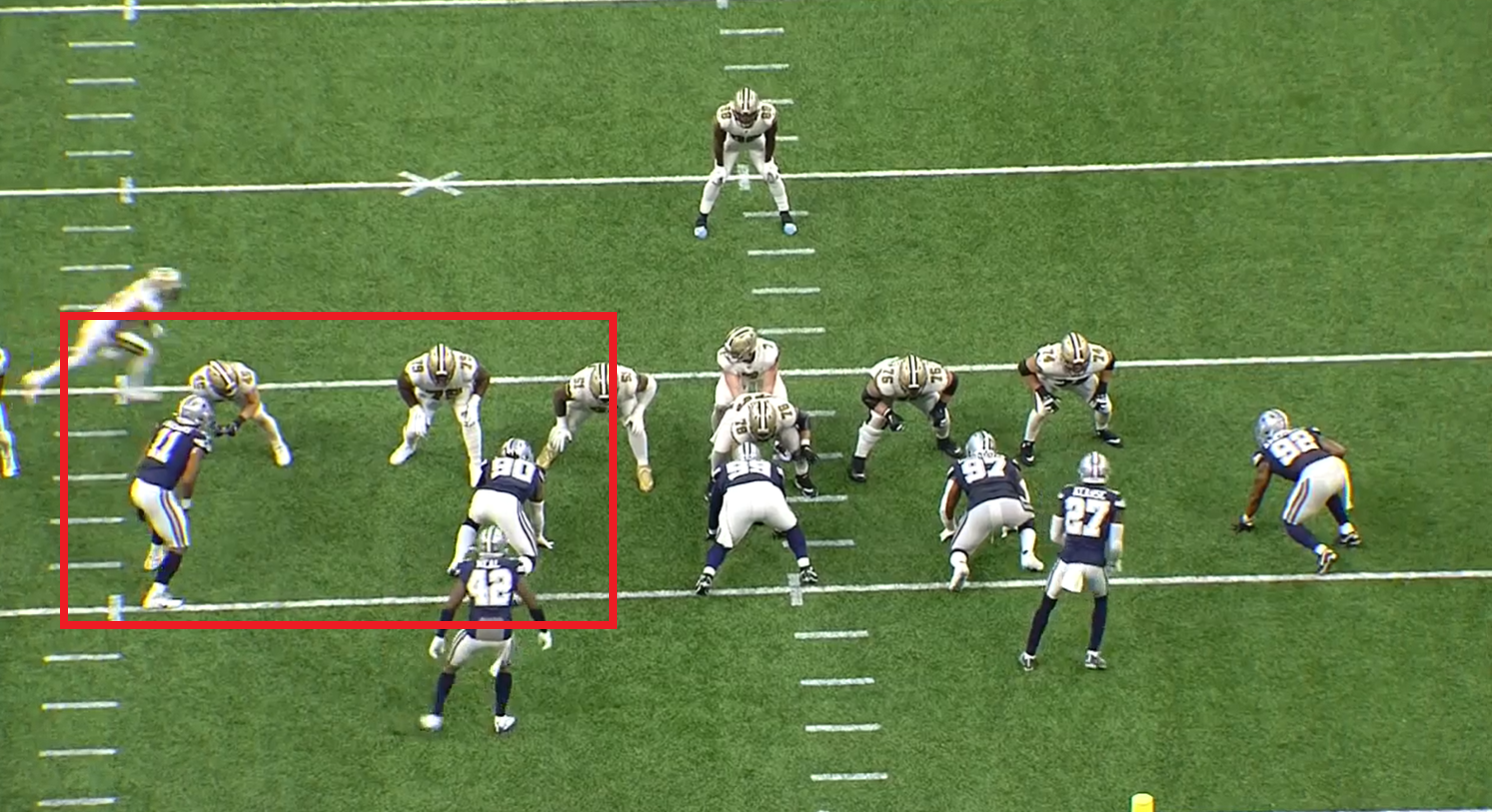 Lawrence has smoked offensive lines this season from an interior alignment, earning an 85.8 pass-rush grade there. Guards probably don't want to live across from him on a regular basis, and the Cowboys having a player like Parsons at their disposal gives the team the freedom to get that mismatch.
If playing against Lawrence wasn't enough, opposing guards also have to deal with an on-rushing Parsons from time to time.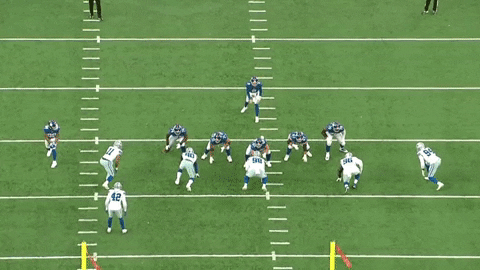 With Parsons playing the Will linebacker spot in Quinn's defense, he is aligned to the side where there is no B-gap defender in front of him. This allows Quinn to call simple rushes for Parsons to attack that open area. No defensive lineman has to stunt or move post-snap. Parsons just rushes straight ahead.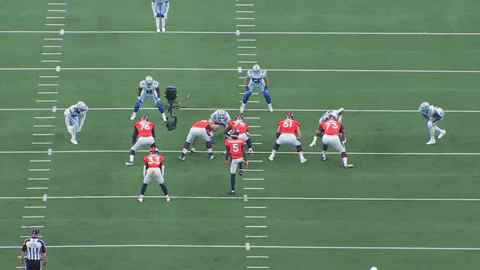 That's not really fair. The defense doesn't even have to go out of its way to disguise the pressure because that's where Parsons is going to align on most plays from their even front. Parsons has rushed the passer 70 times from an off-ball alignment this season, while Campbell's highest total in a season under Quinn was 38 in 2019. 
Part of it is hiding Parsons in coverage as he gets his feet wet in the NFL. The other part is letting loose a ferocious and speedy player at the line of scrimmage. He boasts a 92.3 pass-rush grade as an off-ball linebacker. He's become unstoppable. 
Parsons could have been picked by almost any other team — save for some Quinn-related schemers — and been simply an off-ball linebacker or an edge rusher. By getting to play in Dallas, he's been able to show off his entire skill set in a role that almost feels tailor-made for him. He might not win the Defensive Player of the Year award this season, but don't be surprised if it happens in the near future.