After months of analyzing NFL draft prospects, each has finally found a home in the NFL. One of the other offshoots of draft weekend is the future matchups that come out of it, so let's take a look at the prospects who will now face off twice a year.
[Editor's note: Click this link to see PFF's 2020 NFL Draft grades for all 32 teams. And if you haven't already, be sure to pick up a copy of PFF's 2020 NFL Draft Guide by subscribing to PFF EDGE or ELITE.]
Two of the top four picks in the draft will see plenty of each other in the coming years. Young is the best defensive player in the draft, coming off the best season we've seen for an edge defender, with a 96.0 overall grade. Thomas has the cleanest grading profile of any offensive tackle in a deep class, as he ranked fifth as a pass blocker last year at 89.0 and second as a run blocker at 91.7. Thomas likely starts his career at right tackle, while Chase Young may start on the other side, but look for him to move around to maximize his rushing skills from both sides of the line.
This one isn't just draft related, but it may turn into one of the must-watch battles on the back-end in the NFL. The Bills added WR Stefon Diggs to complement WRs John Brown and Cole Beasley, while the Dolphins have CBs Byron Jones, Xavien Howard and now first-round pick Noah Igbinoghene. Both units are rolling three-deep, and the Dolphins love to play man coverage. Expect Jones and Howard to match up with outside receivers Diggs and Brown while Igbinoghene projects to slot to cover Beasley after posting one of the top slot-coverage grades in the draft class last season.
One of the few matchups we already got to see in college — Wirfs and Gross-Matos saw each other on a handful of snaps in Big Ten play over the past two years. Gross-Matos got inside Wirfs for a quick win on one of their limited one-on-one encounters. Wirfs projects as the starting right tackle for the Bucs while Gross-Matos will likely move around the line of scrimmage, but his length and run-stopping ability scream old-school defensive left end in the NFL. Both players are excellent in the run game with a few places to improve in the passing game, and they'll work those out against each other twice a year.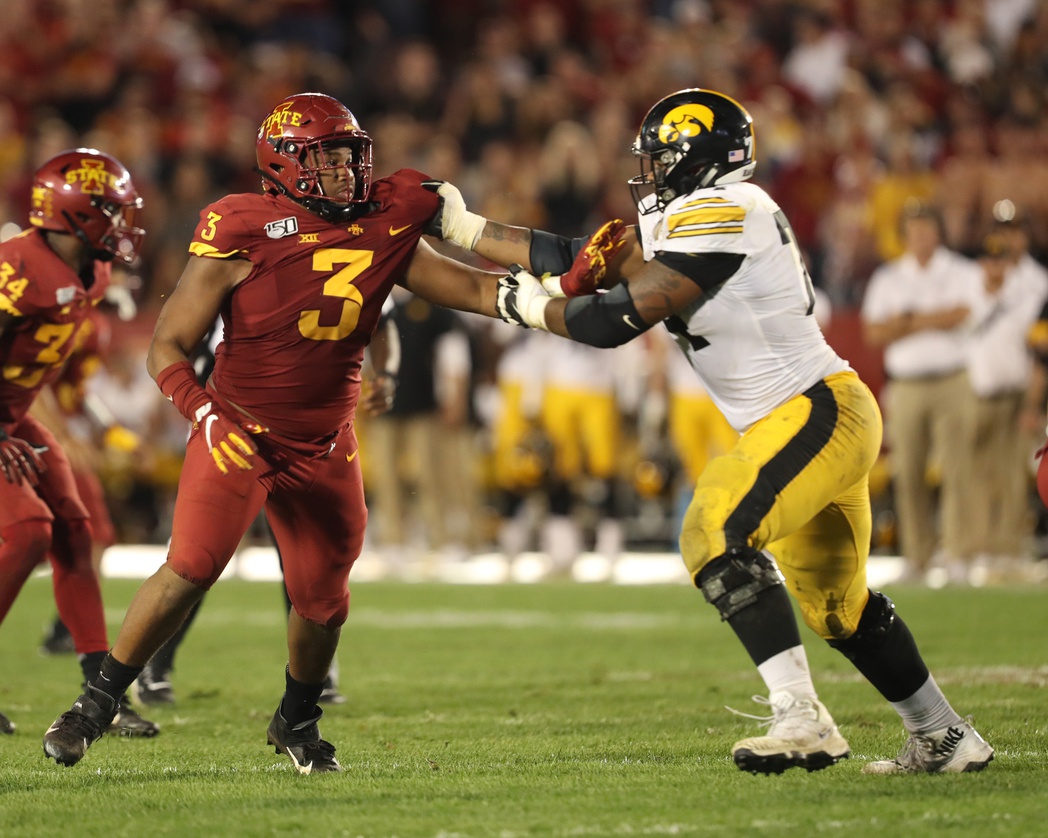 Pittman gets to see two fellow 2020 draft class cornerbacks in the division with Henderson likely starting right away on the outside for Jacksonville and Fulton easing in as the No. 3 corner for the Titans. Pittman may have the advantage over both corners. His size makes him a tough cover over the middle of the field, a place where Fulton gives up too much cushion at times while Henderson's athletic playmaking skills play best down the field. Pittman had a 95.8 grade when targeted on in-breaking routes last year, while Henderson had a coverage grade of 30.4 and Fulton came in at 28.1. That will be something to keep an eye on in future matchups.
There won't be a direct matchup between Simmons and Aiyuk, but Simmons will be patrolling the middle of the Arizona defense and 49ers head coach Kyle Shanahan will be trying to get the ball into Aiyuk's hands after he was a yards-after-the-catch monster in college. Simmons is the perfect playmaker to combat offenses that put their playmakers in space, and Shanahan is one of the best coaches at maximizing his players' skill sets. Here's the stat to know: Simmons allowed just 3.9 YAC/reception on his targets in college, an incredible number for a linebacker/safety, while Aiyuk averaged 9.9 YAC/reception in his two-year career.
Speed vs. size. Reagor is a legitimate deep threat with 4.4 speed that plays even faster on the field, while Diggs brings size, length and press coverage ability. We don't know exactly how the new defensive scheme in Dallas will be structured, and Diggs' role is also unknown, but both players project to play on the outside at the next level. It's a contrast in styles as Reagor has incredible acceleration off the line of scrimmage while Diggs got the nod as the best press-man corner in the draft class in the PFF Draft Guide. If Reagor can get off the line, he likely gets past Diggs for a big-play opportunity, but if Diggs gets his hands on him, Reagor will be taken out of the play entirely. Keep an eye on this NFC East battle.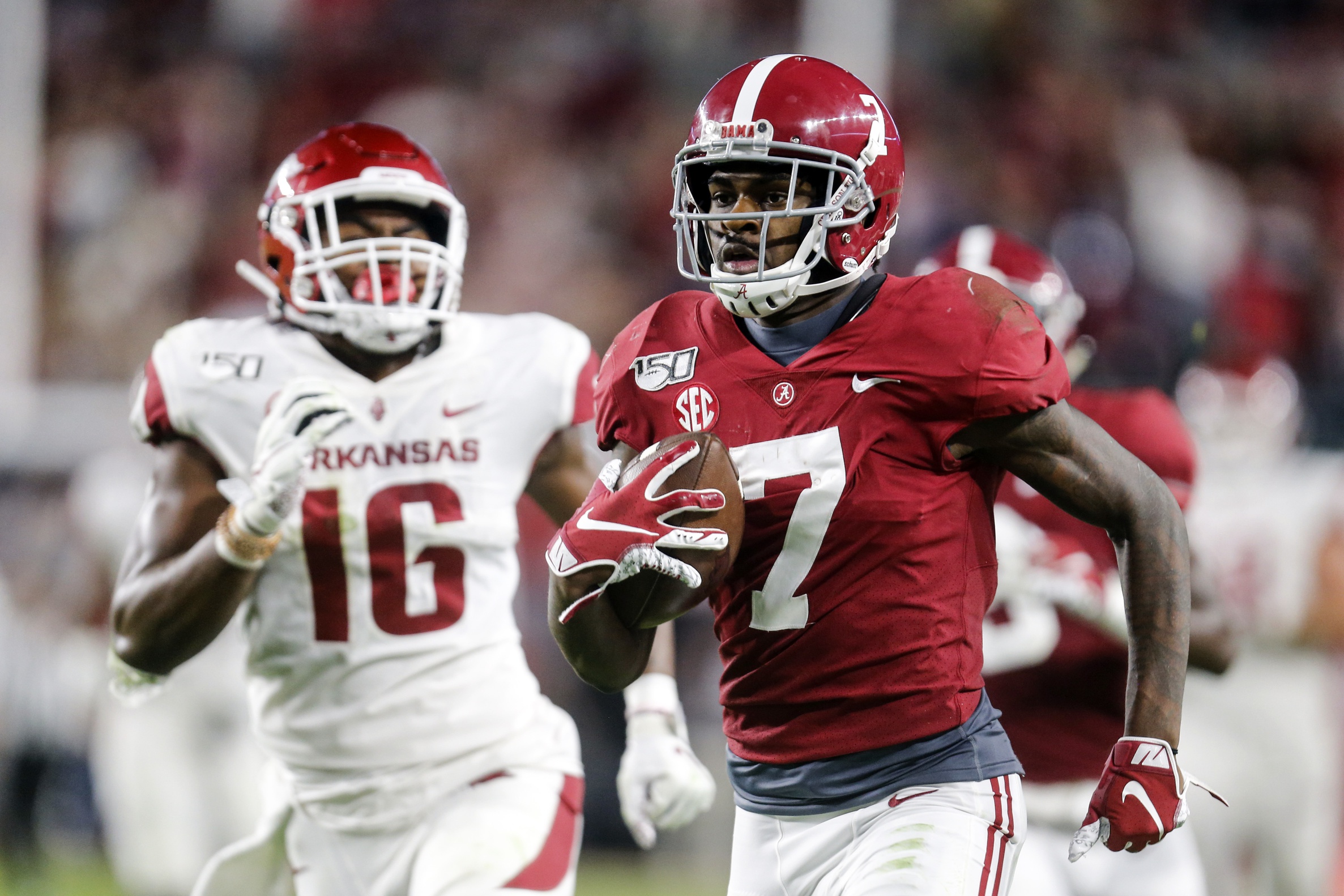 Murray's best asset is his athleticism working downhill against running backs in the pass game, and Edwards-Helaire projects to get plenty of receptions in Kansas City's high-powered offense. Murray doesn't have great zone instincts right now and the Chargers have the same conundrum as every other team when facing the Chiefs: How do you stop all their playmakers? If Los Angeles goes with a man-heavy approach, expect to see this matchup in the coming years. Edwards-Helaire caught 55 passes and forced 14 missed tackles after the catch last season, while Murray has missed 50 tackles in his three years at Oklahoma.
The Dolphins have an uphill battle along the offensive line, so expect Jackson to get thrown right into the fire despite needing more development time after grading at just 74.1 overall last season. Jackson saw Epenesa last year in their bowl matchup with the Iowa defensive end getting the better of him multiple times with his advanced hand usage. Epenesa will see time early on in Buffalo's defensive line rotation after ranking as a first-round caliber prospect on the PFF draft board and grading at 84.3 overall last season. Uche will move all over the New England defense, perhaps even playing some off-ball linebacker, but he had the highest pass-rush win rate in the draft class over the last two years at 27.1%. For Jackson, the tools are certainly there to become a solid tackle, but he must get better with his hands. He struggled against strong competition in college and he'll be challenged by his fellow classmates multiple times a year.
The Vikings' usage pattern will determine how much of this matchup we see, as Jefferson played mostly in the slot at LSU last season, but he is the No. 2 option behind WR Adam Thielen in Minnesota. Okudah will play on the outside in Detroit with CB Justin Coleman manning the slot, but we could see Jefferson-Okudah battles on early downs. Jefferson is a nuanced route-runner, shifty in and out of his breaks for a bigger receiver, and he brings good body control on downfield throws. Okudah projects as the best man coverage corner in the class and he's heading to one of the most man-heavy teams in the league, so he'll be put under the microscope right away in one of the most challenging roles in all of football. Jefferson was one of just three receivers to average over 12.0 yards per target when targeted against single coverage last year, while Okudah had the No. 9 coverage grade when targeted in single coverage at 74.5.