Aaron Donald is the best NFL player of his generation, but is he also the best of all time? The longer he stretches this run of peak play, the more that question will push itself to the forefront. And while PFF doesn't have data on the likes of Joe Greene, Reggie White or Alan Page, we can put his career in the context of the last 15 years of NFL play.
For the fifth-straight year, Donald ranked as the best player in the NFL on the PFF50. As we look toward another NFL season, it's difficult to find a player who is even remotely comparable in terms of the distance between him and the rest of his peers. Patrick Mahomes is widely regarded as the best quarterback in the league, and because quarterback is by far the most valuable position, there are people who say he is the best player in the league at any position.
But in a given season, Mahomes may not be the best quarterback. Last year, Aaron Rodgers was that guy. The year before that, Lamar Jackson was a unanimous MVP. It has been more than half a decade since anybody was even in a discussion of being better than Donald.
Subscribe to
The lowest overall PFF grade of Donald's career is still his rookie year — a 90.2 mark in 2014 that trailed only J.J. Watt that season (his fourth year) among interior linemen. He has now knocked off seven-straight seasons with a PFF grade above 90.0, something never seen before at any position. 
Comparing him to other interior linemen almost seems like a waste of time at this stage, but it's important to get some kind of understanding of just how far ahead of the pack he is. Since entering the league, Donald has 152 more total pressures than any other interior lineman. His pass-rush win rate is in another stratosphere. Donald's production is so off the charts relative to players at the same position that we have to show how he compares to edge rushers rather than interior linemen, and even then he blows everybody away.
Edge rushers typically get more pressure than interior linemen. Since Donald entered the league, edge rushers generate pressure on 11.2% of their pass-rushing snaps compared to 7.7% for interior linemen and sack the quarterback almost twice as often (1.73% versus 0.98%) despite Donald skewing the numbers in the direction of interior linemen. For an interior lineman to lead the league in total pressures is extremely unusual and difficult to achieve, but Donald has now done so in three of the past four seasons.
You can make the argument that Donald is the only player PFF has recorded to lead the league in pressures whose alignment is primarily inside. Watt did it on multiple occasions, but by the time he was leading the league in pressure, he was lining up as an edge rusher on the majority of his snaps.
For Donald to be consistently setting the pace throughout his career is remarkable given his position, all the more so when you consider the rich run of elite edge rushers who have been in the NFL throughout his career. Von Miller and Khalil Mack have been at the peak of their powers during Donald's time in the league, yet Donald leads both in pressures and pressure rate over his entire career and over almost any span you want to choose.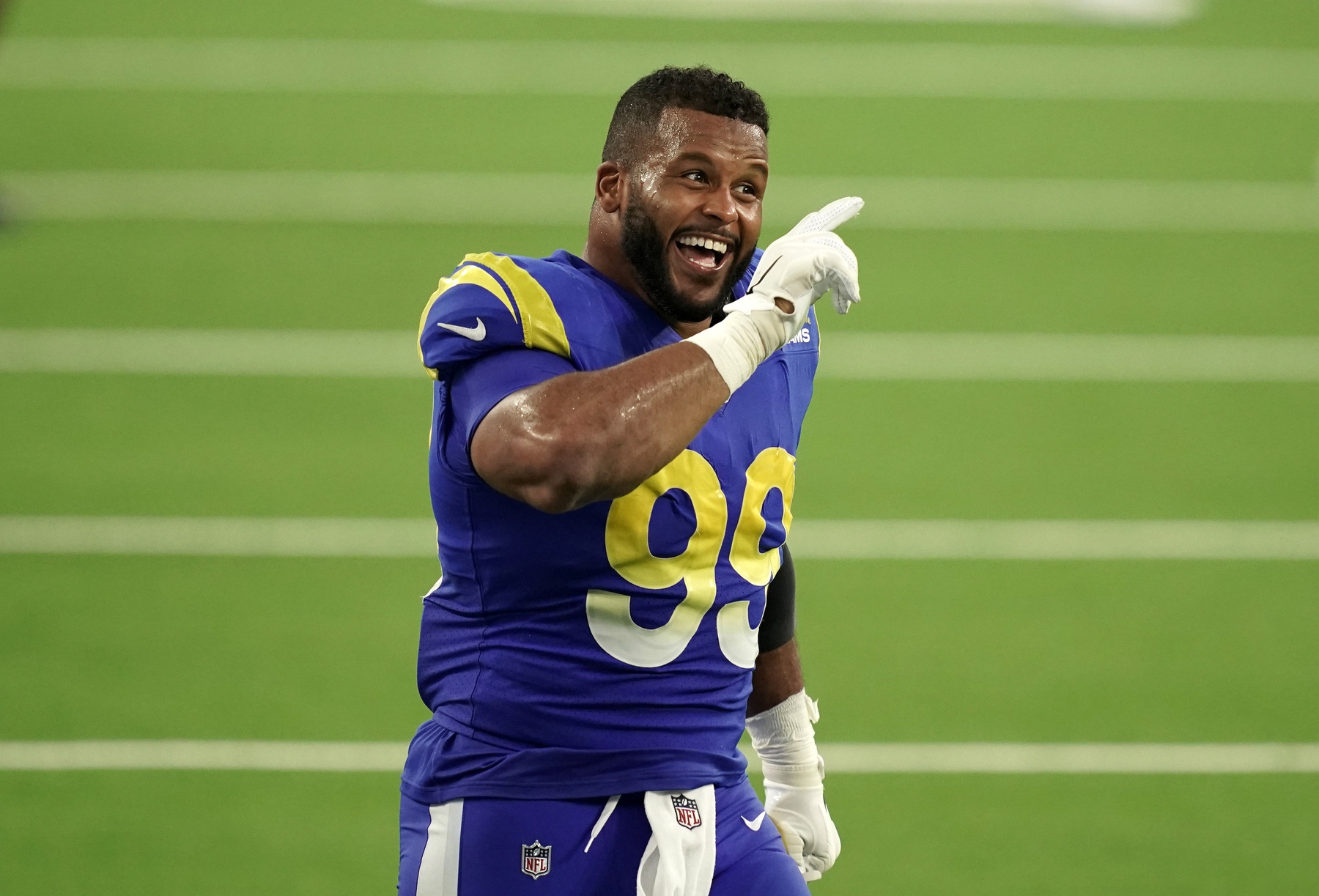 Mack is the only other pass rusher in the league to have over 500 total pressures since 2014, and Donald's win rate is more than three percentage points better, in addition to being 75 pressures better off — a good single-season's worth for any player.
When you consider how much easier it is to double team Donald given his interior alignment than it is for an edge rusher, the picture begins to be comical. Donald had a better pass-rush win rate in 2020 against double teams than Shaquil Barrett did when one-on-one. The only player over the last two years with a higher overall pass-rush win rate than Donald's mark against double teams is Joey Bosa. When Donald is left one-on-one, he has an absurd win rate of 35.2%, more than six percentage points better than the next-best rusher. He isn't just comfortably the best interior pass-rusher in the league, but comfortably the best rusher at any position.
This is a run of play that only J.J. Watt has come close to emulating during the 15 years PFF has been grading the NFL. Watt had a four-year run that saw him earn three defensive player of the year awards and total 372 pressures. Watt transitioned from an interior player to an edge rusher during that time, and the majority of that pressure came from the edge. Over the last four years, Donald has 375 pressures lining up almost exclusively as an interior rusher. 
Watt's career was derailed after those four seasons by injuries, but Donald has now been the best pass-rusher in the league for six and arguably seven years. While we don't have data on the peak of some of the greatest seasons of all time, it seems hard to believe that they were dramatically better than what Donald is doing right now, especially as his sack numbers — the data point that does compare across those years — are in the same area as those greats.
Donald has already reached the stage where it is hard to argue there was ever a significantly better player at what he does. The only question remaining is how long he can maintain his dominance. The thing that separates Jerry Rice at the top of most people's all-time wide receiver rankings is that he did it for longer than anybody else, putting distance between him and the field in the record books. For Donald to surpass the likes of Reggie White or "Mean" Joe Greene in the pantheon of NFL legends, all he needs to do is keep going.