In early May, the news hit that Frank Gore was signing with the New York Jets. Of course, debate soon broke out over whether the ageless veteran will eventually end up in the Hall of Fame. It's understandable that Gore, as one of the most productive running backs in NFL history, would have a case for the Hall. But the way in which leading NFL insiders stated it as a fact felt overconfident to some other NFL observers.
[Editor's Note: PFF's advanced statistics and player grades are powered by AWS machine learning capabilities.]
Disagreements on Gore's Hall-of-Fame credentials largely come down to our views on longevity versus peak performance. There's no argument against Gore's enshrinement if you view career counting stats as the only criteria. Gore is the third-leading rusher in the history of the NFL behind only Emmitt Smith and Walter Payton. He's third in all-time rushing attempts and has nine seasons with at least 1,000 yards rushing. 
But there are legitimate questions as to whether Gore has ever attained the levels of greatness deserving of the Hall. Gore has netted only a single Second-Team All-Pro selection, meaning he was viewed as a top-four running back by NFL media once in 15 years. Gore never won a Super Bowl, never led the NFL in any major rushing or receiving seasonal statistics — counting or efficiency — and only broke into the top-five rushers once (third in 2006). Gore was a fine running back with outstanding longevity, but it's not called the Hall of Good for a Very Long Time.
The real problem with the discussion around Gore's Hall-of-Fame case is that the parameters are lacking, and that's where advanced statistics like PFF's wins above replacement (WAR) and expected points added (EPA) can add clearer context, giving analysts the ability to compare players in the metrics that ultimately decide games: wins and points.
Putting Gore through the lens of WAR and EPA paints a picture of a compiler of statistics, not a generator of strong value. Longevity and availability are valuable attributes, but only as much as the difference between the player and the next man up. And when you compare these value metrics for Gore and a more efficient, though less available, running back like Jamaal Charles, the contrast becomes stark.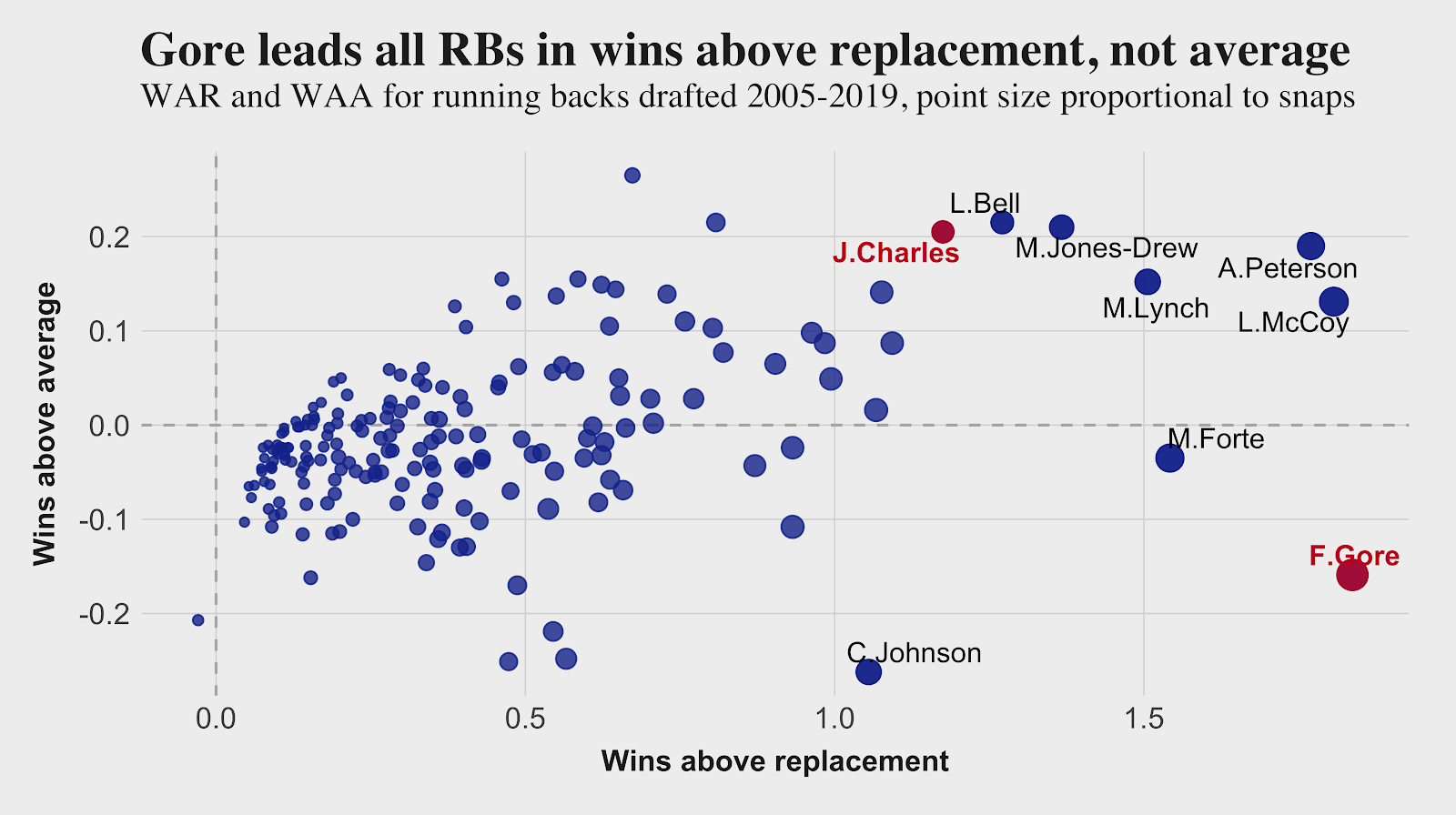 Subscribe to PFF Edge to continue reading
Already have a subscription? Sign In