The 2021 quarterback draft class was a record-setter. It was only the second time ever that quarterbacks went at Nos. 1, 2 and 3, and the five signal-callers taken in the first round fell just one short of 1983's total. The hype was at a fever pitch. That is, until they started playing.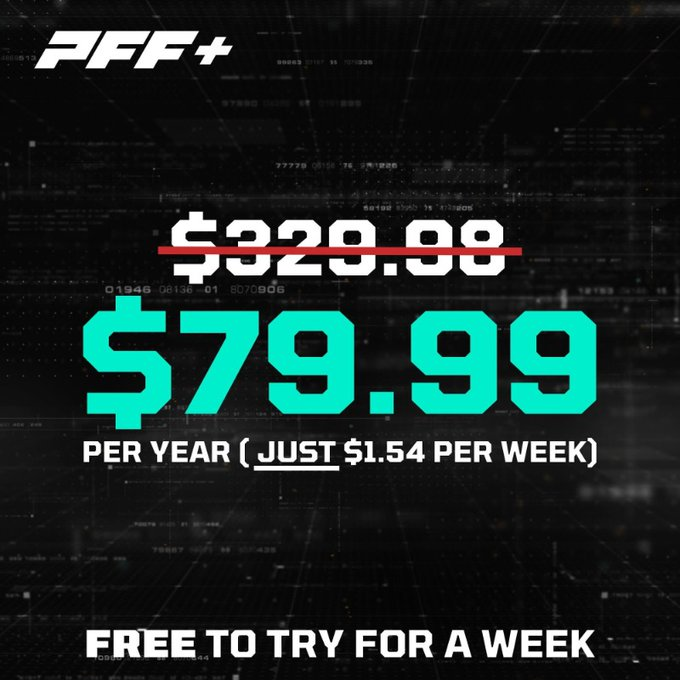 Now, three games into their sophomore campaigns there's only one quarterback playing up to his draft status in 2022: Trevor Lawrence. The No. 1 overall pick has been humming the past two weeks and already has the Jacksonville Jaguars matching their win total from last season. They not only beat the Indianapolis Colts and Los Angeles Chargers — two teams with preseason over/under win totals set at 9.5 and 10.5, respectively — the Jaguars blew them out by a combined 52 points. And you can see how efficient Lawrence has been over that span in his numbers below:
| | |
| --- | --- |
| Passing Grade | 78.9 |
| Completions | 53 |
| Attempts | 69 |
| Comp % | 76.80% |
| Yards | 497 |
| YPA | 7.2 |
| TDs | 5 |
| INTs | 0 |
| Passing Rating | 120.3 |
The difference from last year to this year has been obvious in the results, but it's not been as simple as Lawrence taking "the leap." It's been a calculated game plan from new head coach Doug Pederson to give Lawrence more "layups" than at any point in 2021. The Jaguars' offense is utilizing Lawrence's special arm as a downfield passer, making him a threat to open up the underneath passing attack.
It all starts with Pederson's deployment of newly minted No. 1 receiver Christian Kirk. Traditionally, the receivers that garner four-year, $72 million deals are your "X" receivers who work one-on-one from a wide alignment. Instead, Kirk has been the Jaguars' version of Cooper Kupp. Of Kirk's 109 passing routes this season, 86 have come in the slot. From a matchup perspective, Kirk is avoiding opposing teams' top cornerbacks and oftentimes facing linebackers or safeties in coverage.
…anyone take note of how DeVonta Smith generated his 7 receptions vs MIN on MNF? Empty Matchups + Choice Routes vs LBs.

…did anyone take note of how the Jags used Christian Kirk to attack Jamin Davis in Week 1?

????????☺️ pic.twitter.com/AhdKmCY3YM

— Ben Fennell (@BenFennell_NFL) September 21, 2022
It's the role he excelled in during his final year at Arizona, and the Jaguars are tapping into his short-area quicks and route-running savvy even more. To feature the slot so much, however, it has to be a top-down approach. The offense has to be predicated on pulling apart those underneath zone defenders to create throwing windows. Urban Meyer and company didn't have the same vision that Pederson does. It's rare to see a pass play without some horizontal aspect to it, and you'll see the Jaguars run some variation of shallow cross seemingly once a drive. Just look at Lawrence's numbers from last year compared to this year when working between the numbers.
| | | |
| --- | --- | --- |
| Stat | 2021 | 2022 |
| Comp % | 71.10% | 79.10% |
| YPA | 7 | 9.5 |
| % of Passing Yards | 45.20% | 53.10% |
| PFF Pasing Grade | 69.6 | 84.8 |
| Passer Rating | 80.5 | 121.9 |
| BTT Rate | 1.30% | 4.70% |
| TWP Rate | 3.70% | 0% |
The surprising thing is, Lawrence has actually been slightly worse when working outside the numbers this season. His PFF passing grade (62.9 vs. 65.2) and yards per attempt (5.8 vs. 6.1) decline on such throws. It's just that it doesn't matter with how dominant he's been over the middle of the field.
To make defenses respect those crossing routes, though, you need speed. That's where the other additions alongside Kirk come into play. With Evan Engram and Zay Jones, along with the return of Travis Etienne, the Jaguars have some legit team speed. All four of those players ran in the 4.4s in the pre-draft process. Opposing defenses are always cognizant of such a thing when game-planning, and it's shown.
fun design from the Jaguars shifting Christian Kirk from the backfield to the weakside slot and creating an Empty formation.

Kirk then abuses the poor LB ironically named EJ Speed. pic.twitter.com/3TArggAUCG

— Nate Tice (@Nate_Tice) September 20, 2022
The result of that speed hasn't been a ton more deep connections but, rather, bigger windows underneath. On targets short of the sticks last season, only 19.5% of Lawrence's attempts resulted in first downs. This season, that figure is up to 31%. It's also getting Lawrence to play faster than ever before, with his average time to throw down to 2.46 seconds from 2.87 a year ago. He's trusting the offense, and the results speak for themselves. 
Trevor Lawrence is damn good.pic.twitter.com/Yf07CDwBht

— Dov Kleiman (@NFL_DovKleiman) September 25, 2022
Of course, the Jaguars wouldn't be getting talked about like this without their defensive transformation. Rookie linebacker Devin Lloyd should be the favorite to win Defensive Rookie of the Year at this point. He's already the seventh-highest-graded linebacker in the NFL through three weeks and leads the position with two picks and four pass breakups. 
Devin Lloyd is good at football pic.twitter.com/H0h1w2QRtF

— Laurie Fitzpatrick (@LaurieFitzptrck) September 25, 2022
Another former first-rounder in Josh Allen has been a terror for opposing quarterbacks, earning a 91.0 overall grade that ranks fifth among edge defenders. He's led a transformed defensive line that also has No. 1 overall pick Travon Walker playing inspired in the run game with a 68.7 grade in that regard.
Asking Gerald Everett to down block Travon Walker is bold pic.twitter.com/1QfZlLH4gU

— Billy M (@BillyM_91) September 26, 2022
One thing is for sure: This isn't the Jaguars team we saw haplessly go through the motions in 2021. They finally have a cohesive vision for both sides of the football and are talented enough to execute it against anyone in the NFL.