• Jalen Hurts has cooled off recently: After the Philadelphia Eagles QB played at an MVP level over the first half of the season, he's struggled a bit more recently.
• Deep-ball struggles: As Hurts has taken more deep shots, he's become a less efficient passer downfield.
• Get Hurts' legs involved: While his injury undoubtedly plays a part in Hurts' reduced volume as a scrambler, he'd be wise to bring back that portion of his game in the Super Bowl.
Estimated reading time: 5 minutes
---
Philadelphia Eagles QB Jalen Hurts is in the midst of a spectacular 2022 season. He is the unquestioned leader of one of the two teams still standing and by all accounts, he's been a top-five quarterback this year and would have garnered serious MVP consideration had he not suffered a shoulder injury in Week 15. Through the first half of the season, he may have been the best player in football.
However, is he that guy right now? The aforementioned injury, which he is still playing through, could be a caveat to the forthcoming argument, but if we stretch the analysis back to mid-year, things suddenly get interesting, as a comparison to the 2021 version of Hurts reveals remarkable similarities:
| | | | |
| --- | --- | --- | --- |
| Metric | 2021 | 2022, Weeks 1-8 | 2022, Weeks 9-CC |
| Passing Grade | 69.2 | 85.1 | 70.8 |
| Clean Pocket Passing Grade | 71.0 | 91.3 | 83.2 |
| Non-Play Action Passing Grade | 64.1 | 85.4 | 67.1 |
| Passing Grade vs. Non-Blitz | 73.4 | 89.9 | 70.6 |
| Passing Grade on Throws Past Sticks | 76.4 | 92.3 | 80.5 |
| Deep Passing Grade | 74.0 | 93.5 | 71.3 |
| Adjusted Completion % | 72.5% | 79.6% | 74.1% |
| Yards per Attempt | 7.0 | 8.4 | 7.1 |
| Average Depth of Target (aDot) | 9.6 | 8.0 | 9.4 |
Many of this chart's metrics are the most stable predictors of passing performance. Hurts' play over his last nine games is eerily similar to his 2021 performance. After the 2021 season, many thought Hurts may not be a good enough passer to lead the Eagles to another Super Bowl.
So what could be ailing Hurts? And could he right the ship enough to outduel Patrick Mahomes in the Super Bowl if need be?
---
Deep-ball variance
Hurts is not an elite deep passer, as his greatest strength is in the short-to-intermediate passing game. For the season, he carries the fourth-best passing grade on sub-20-yard throws — only trailing Mahomes, Joe Burrow and Josh Allen.
Lowering his average depth of target (aDot) at the beginning of the year seemed to be the best way for Hurts to become an elite passer, which can be accomplished by a combination of play-calling and on-field decision-making. Regardless of the reason, an 8.0-yard aDot — just a sliver above Burrow's full-season mark — was the sweet spot, as Hurts has generally nailed his intermediate throws: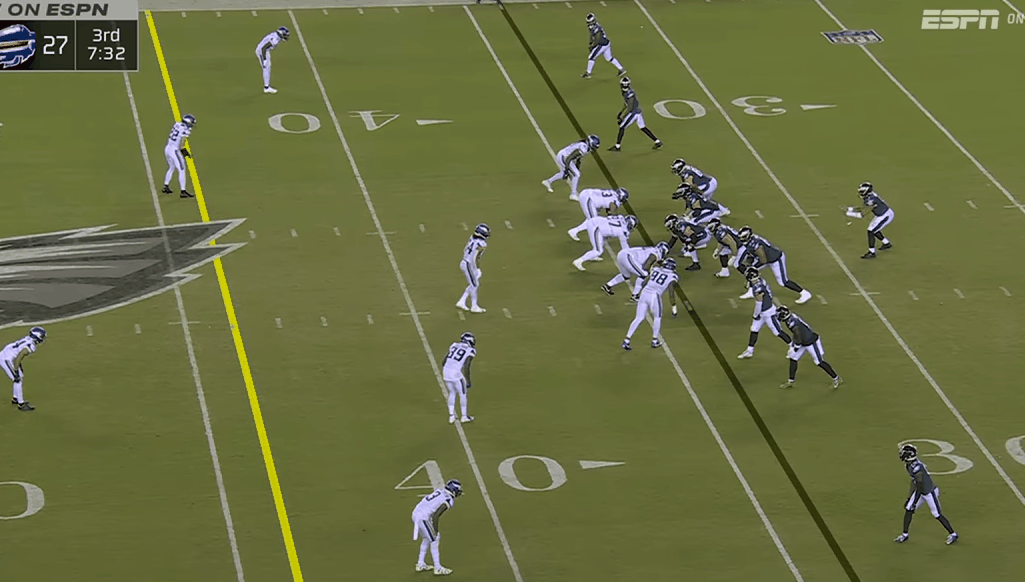 Hurts' precision in the intermediate passing game allows him to take deep shots as they become available as opposed to forcing shots downfield when coverage stays soft. Here is a perfect deep ball the very next week after the throw above: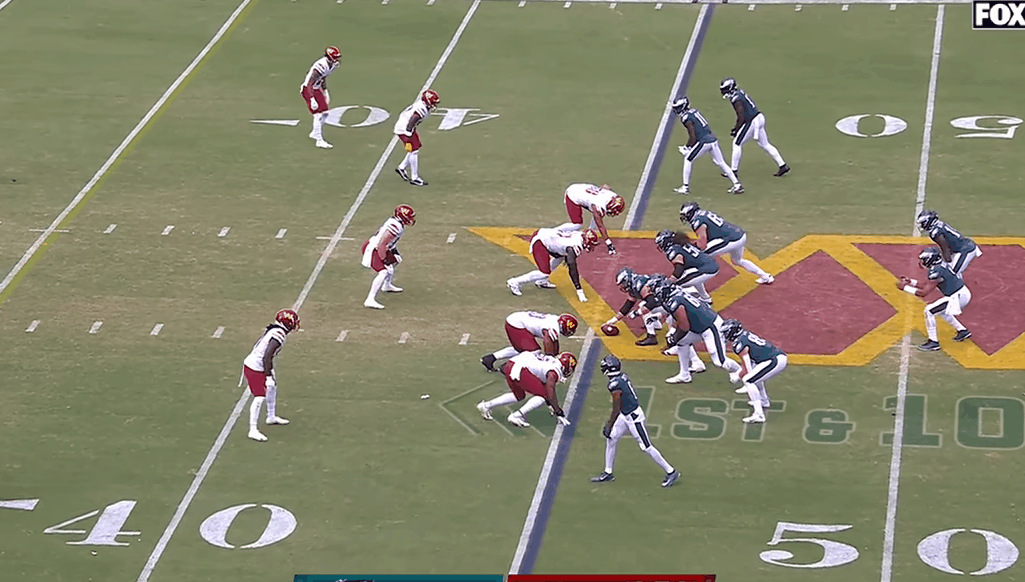 Set 'em up and knock 'em down — it should be that simple. However, the Eagles fell in love with the deep ball as the year rolled on ,and they started to look either forced: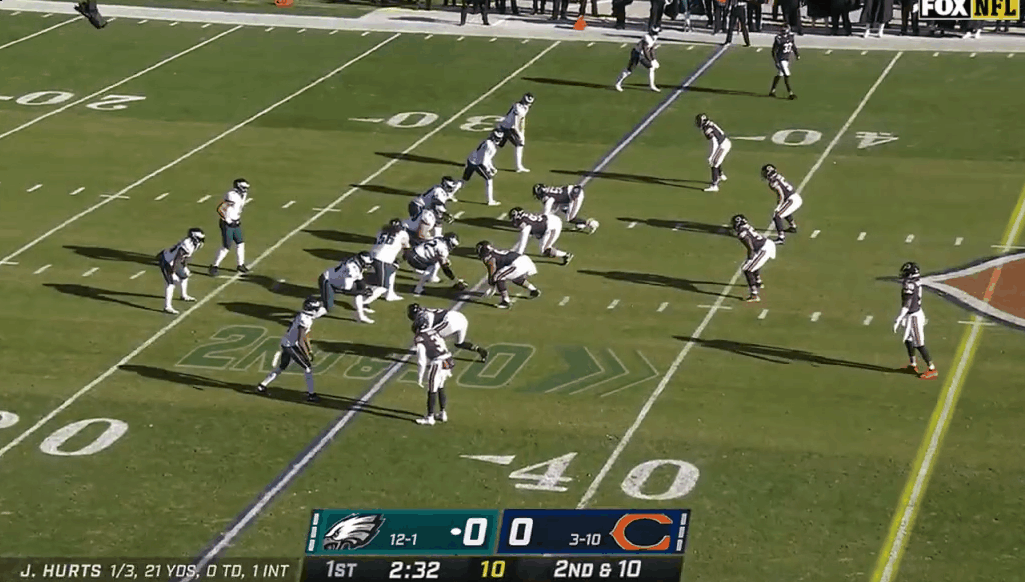 Or Hurts just missed: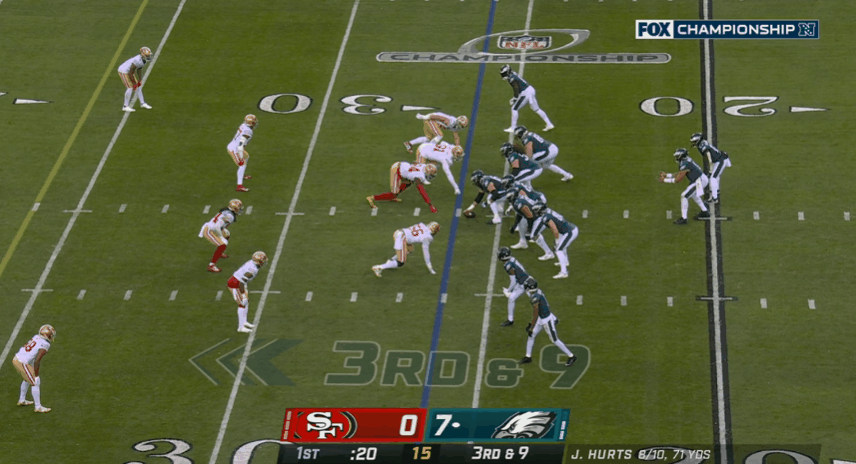 Hurts' bum shoulder may not be helping his cause, but the Eagles should consider scaling back the vertical shots in order for Philadelphia to be more efficient when Hurts does target his weapons downfield
---
Late-play struggles
Among all of Hurts' great attributes, he is generally believed to be a quarterback who extends plays at a high level. It's easy to group him with the NFL's best improvisers, such as Mahomes, Lamar Jackson and several others. While this is generally true, there is something amiss lately:
| | | | |
| --- | --- | --- | --- |
| Passing Grade | 2021 | 2022, Weeks 1-8 | 2022, Weeks 9-CC |
| When Pressured | 63.2 | 57.8 | 38.2 |
| When Moved off Spot | 65.2 | 54.8 | 27.0* |
| When Scrambling | 71.8 | 65.1 | 28.1* |
| Plays 2.5 Seconds or Longer | 72.1 | 79.9 | 60.2 |
*Worst in NFL, min. 20 dropbacks in given situation
Suddenly, Hurts' late-play magic has disappeared. The numbers in the first two columns hover mostly in the top 10-15 at the position, but lately, Hurts has performed much better when on schedule.
One would think Hurts' injury has hampered his ability to throw the ball, which may be true, but he hasn't actually made a big-time throw under pressure since Week 6. His injury may be more indirectly responsible for his struggles as a passer.
Hurts' biggest appeal is his fearsome rushing ability, but he's only scrambled six times over the past three games, as he clearly wants to protect his throwing shoulder from any impact.
He'll either have to bring his scrambling ability back into the fold or find ways to not put the ball in danger late in plays: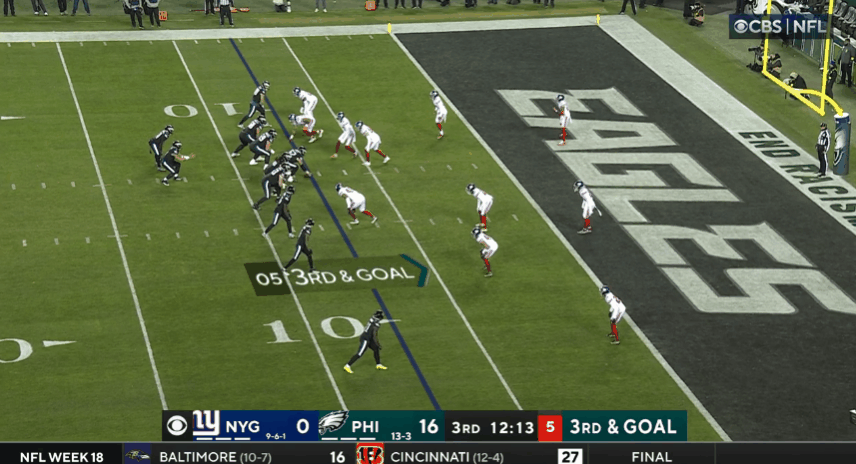 Recklessness may not be costly against the New York Giants, but it will be against the Kansas City Chiefs.
The plan for the Eagles should be simple:
High-percentage completions.

Stay safe late in plays when throwing, or finally unleash Hurts' scrambling.

Take deep shots when schematically available instead of forcing them.
Mahomes made the necessary adjustments and quelled the doubts about his injury last week. Eagles head coach Nick Sirianni and Hurts will need to do the same in order to be crowned Super Bowl champions.