Estimated reading time: 5 minutes
---

---
"The one area that needs to be built is the WR room. So that will be a new room, basically. There will be pieces of it still there and then we'll be adding a lot of pieces."
This is what Baltimore Ravens head coach John Harbaugh said last week in a press conference with General Manager Eric DeCosta, and it was apparent to anyone who watched the team in 2022. 
After trading former first-round draft pick Marquise "Hollywood" Brown to the Arizona Cardinals for a first-round pick during the 2022 NFL Draft, the Ravens came into the year with a thin depth chart at the position and any hopes of success there were bulldozed by an early season injury to 2021 first-round draft pick Rashod Bateman. By the end of the season, no Raven at the position who saw 20 or more targets produced a 70.0-plus PFF grade.
It's not fair to say that the Ravens haven't invested in the position — from 2019-2021, they spent two first-round picks on Brown and Bateman, two third-round picks on Devin Duvernay and Miles Boykin, a fourth-round selection on Tylan Wallace and a sixth-rounder on James Proche. Despite their 11 selections in the 2022 draft though, they opted to not add at the position over that weekend.
Instead, they opted to bring in Demarcus Robinson, DeSean Jackson, Sammy Watkins and Andy Isabella, who combined to catch 60 passes for 730 yards and two touchdowns in the regular season — 48 of those catches, 458 of those yards and both touchdowns came from Robinson.
So how do the Ravens rebuild their wide receiver room? Free agency doesn't look likely to be booming with talent, with the New England Patriots' Jakobi Meyers and the Kansas City Chiefs' JuJu Smith-Schuster as the likely top options available as things stand. With that in mind, let's take a look at some of the options available to them using PFF's Mock Draft Simulator.
---
Best player available in Round 1 and trade for DeAndre Hopkins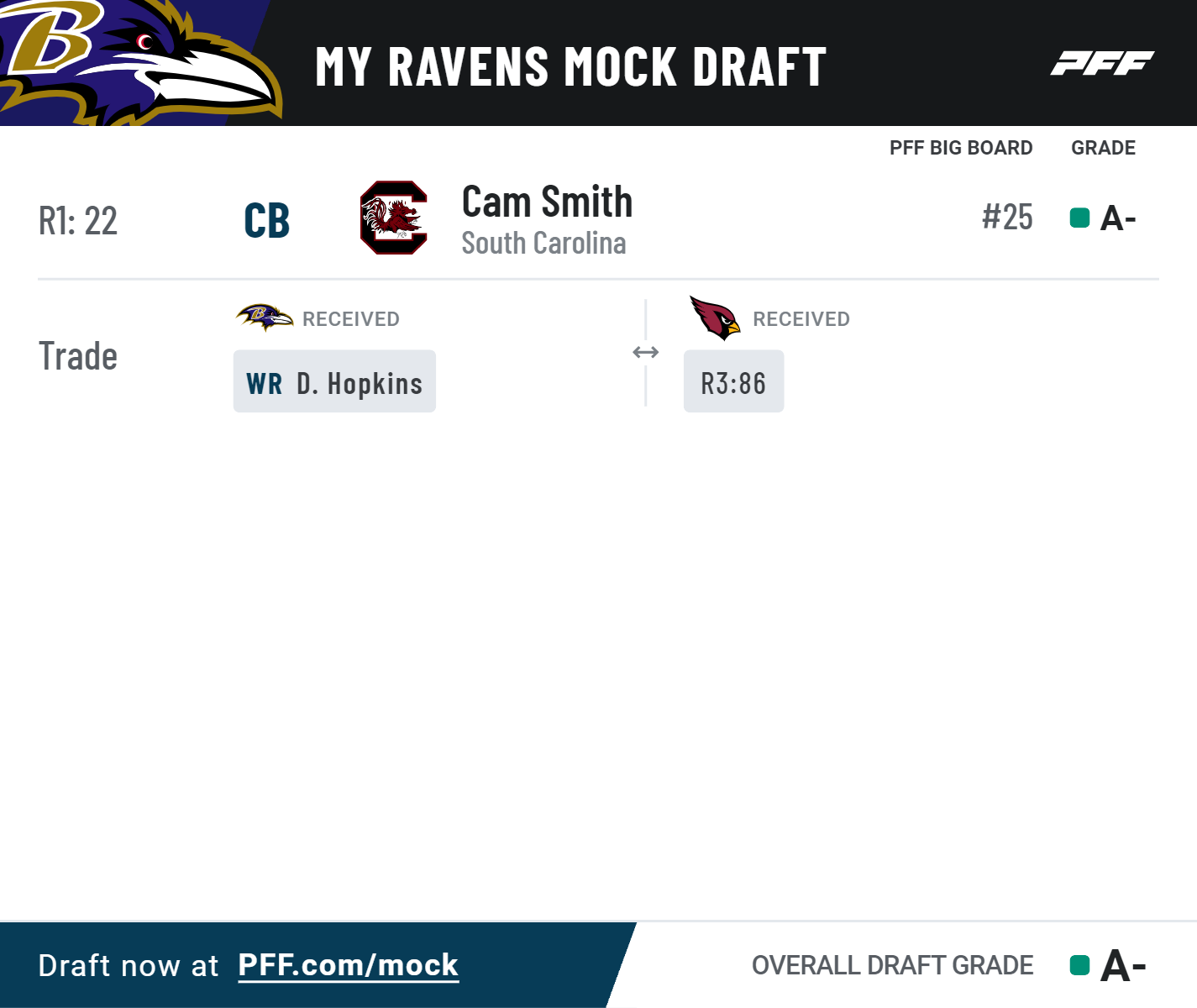 The Ravens don't go back to the well with another first-round receiver, instead, they opt to go the best player available (BPA) route to add a talented cornerback in South Carolina's Cam Smith before making their big splash. The Cardinals have made it clear that they are willing to trade Hopkins this offseason, and he is exactly the type of receiver who could make a huge difference to a Ravens offense that struggled in the red zone in the second half of 2022. Hopkins was eighth among all wide receivers with 11 contested catches from Week 7 through the end of the season.
---
Big Swing: Round 1 Wide Receiver and trade for DeAndre Hopkins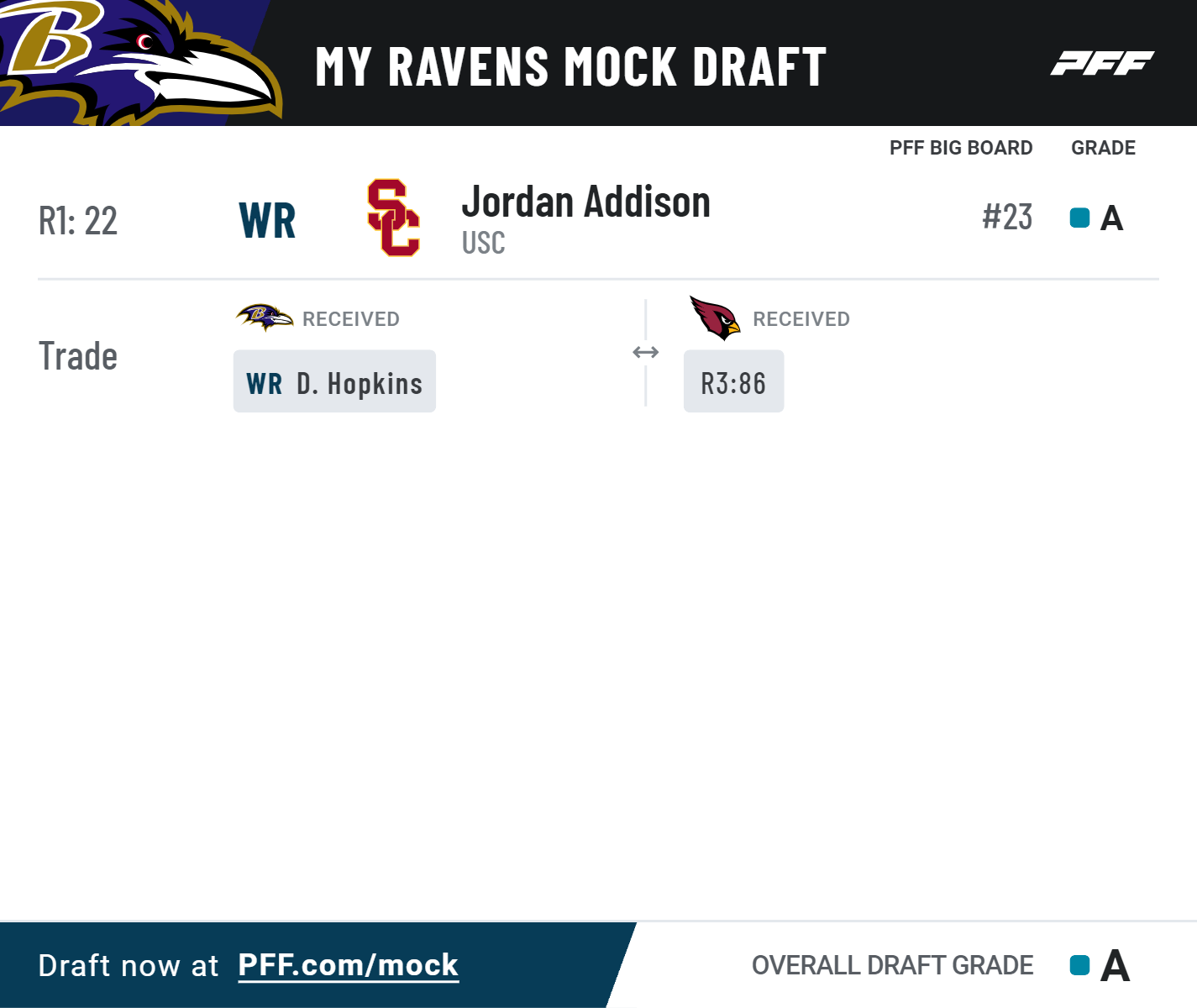 Here, the Ravens do exactly what they stated in the press conference — rebuild the wide receiver room over the first two days of the NFL Draft. USC's Jordan Addison led all PAC-12 wide receivers who saw 25 or more targets with a 2.78 yards per route run average this season. Our model puts the trade value for Hopkins at a third-rounder right now, so the Ravens give up Pick 86 to acquire him in both of the above scenarios.
---
Wide receiver in Rounds 1 and 3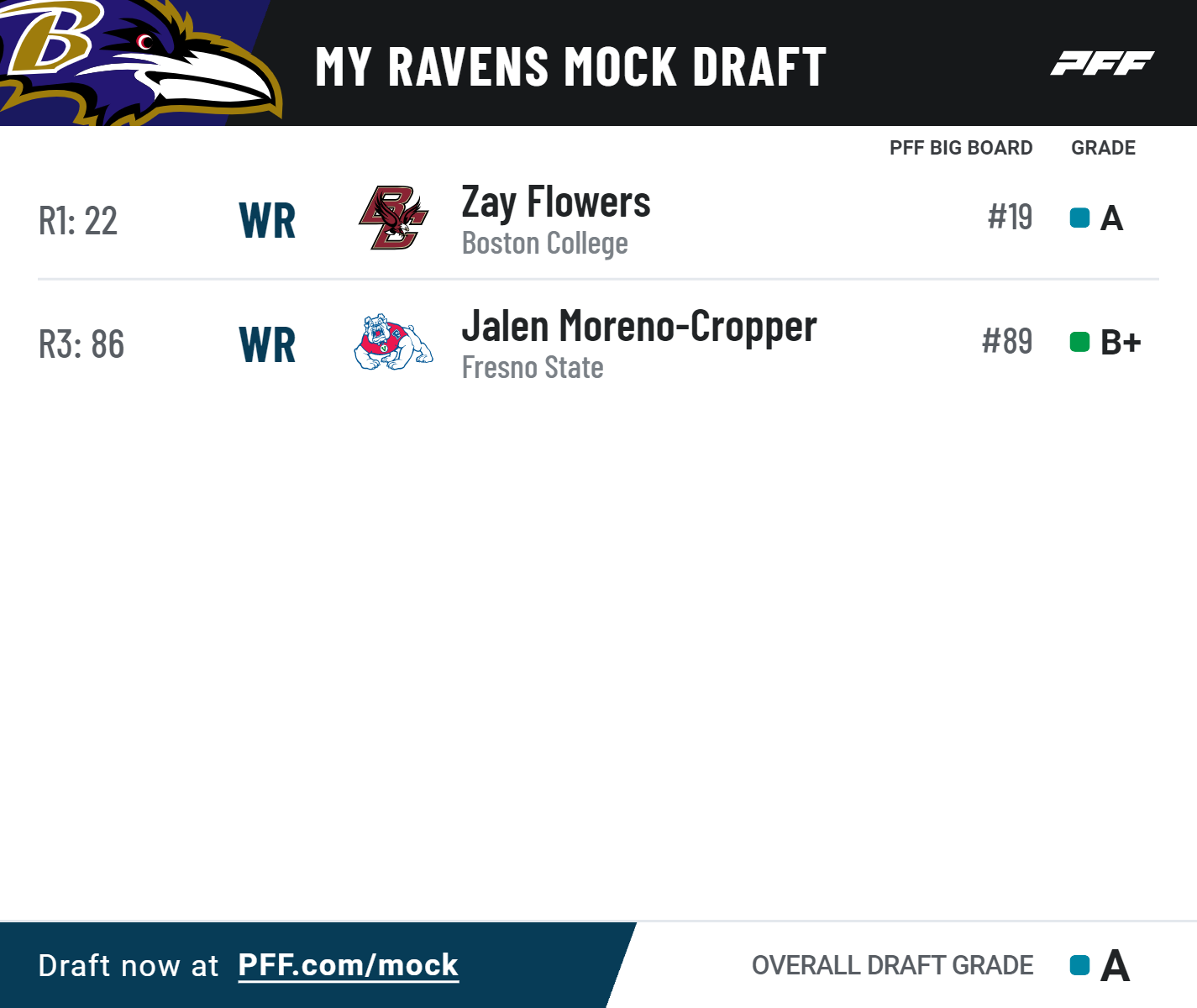 In this scenario, the Ravens go back to what they did between 2019 and 2021 — draft two rookies in the top three rounds. I simply picked the highest-ranked receiver remaining from Mike Renner's big board, resulting in Boston College's Zay Jones at No. 19 and Fresno State's Jalen Moreno-Cropper at No. 86 in the third round. Flowers can be a big play threat in the NFL, with 12 catches for 500 yards and four scores on 20-plus-yard receptions this season.
---
Acquiring DeAndre Hopkins without reducing their total picks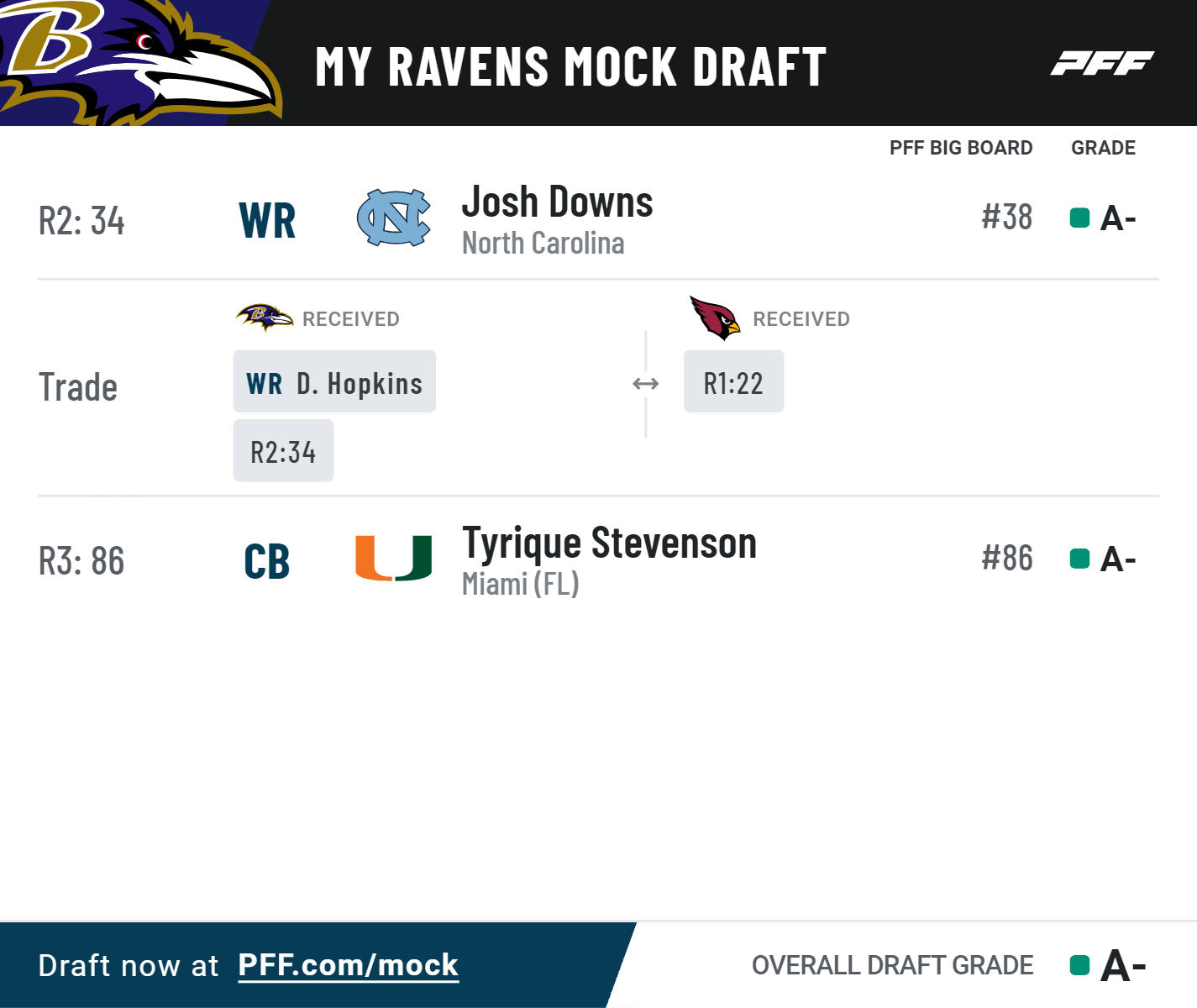 One issue with the Ravens trading for anyone this season is that unlike last season — when they had so many picks that they totaled five picks in the fourth round alone — they currently have just five total this year. With that in mind, could they get clever in an effort to keep their net number of picks intact, while still massively upgrading at wide receiver? Here, they move out of the first round, dropping to No. 34 while gaining Hopkins. The Cardinals would then have two top-22 picks in the draft. At Pick 34, North Carolina's Josh Downs was available, allowing them to come out of the draft with a completely revamped group at the position while boosting their defensive backfield in Round 3.