• Chicago Bears linebacker Jack Sanborn earned the highest grade among 2022 undrafted free agents in the first week of preseason action.
• Undrafted wide receivers dominate the list, with five among the 10 highest-graded UDFAs from Week 1.
• Tennessee Titans edge rusher David Anenih was not only the highest-graded UDFA at his position, but also the highest-graded rookie overall among edge defenders.
---
Extracting competency from late-round NFL draft picks and undrafted free agents (UDFAs) is a must. Assuming a normal allotment of draft picks, a franchise can only have 13 Day 1 and Day 2 picks on their rookie contracts at any given time. That leaves 39 other spots to be filled with vets and Day 3 picks/UDFAs — and no one is getting by with 39 vet contracts in a capped league.
These were the 10 rookie UDFAs who looked like they belong on that NFL field in Week 1 of the preseason.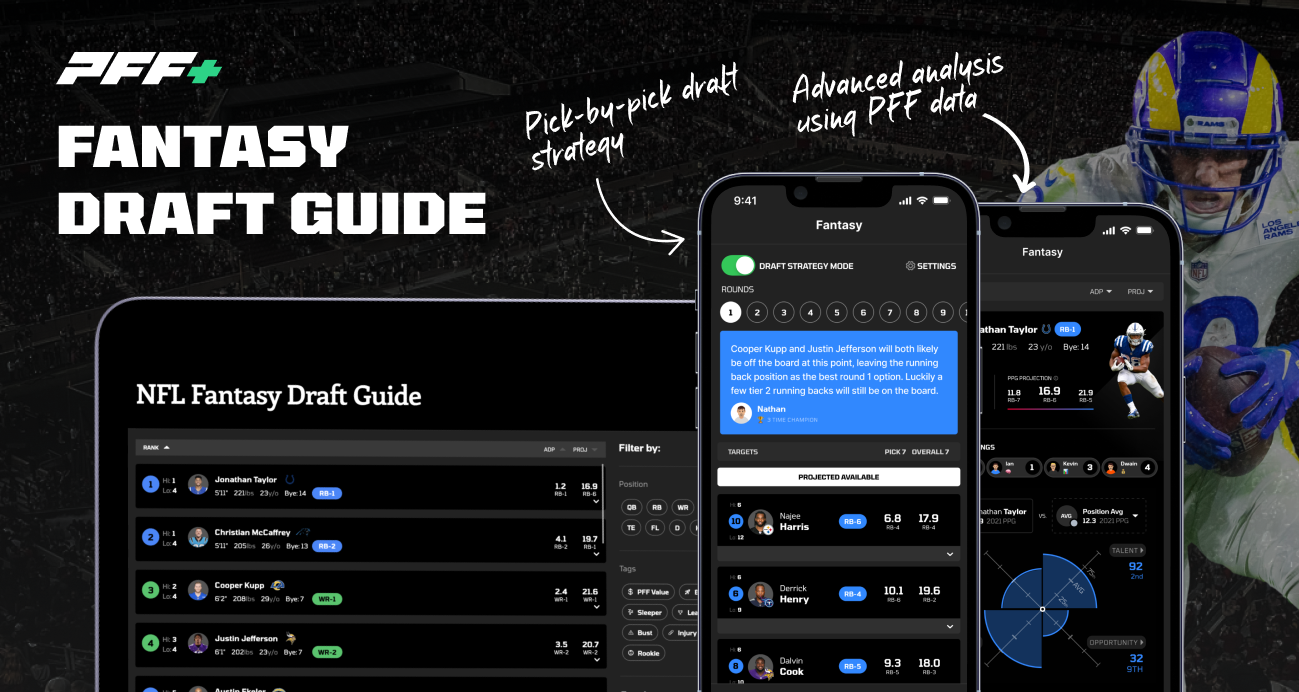 ---
A receiver can only catch the balls thrown their way, and Bridges did just that against the Titans. He hauled in all four of his looks — two in spectacular fashion — for 62 yards and a score. It's no secret that the Ravens are hurting for receiving talent, making this performance from the Fort Valley State product all the more encouraging for Baltimore fans. He's not much of a natural separator — few are at 6-foot-4, 208 pounds — but his physicality and catch radius are the real deal.
Shemar Bridges on the 53 Man Roster > pic.twitter.com/FnD5hG3ngC

— The Ravens Realm (@RealmRavens) August 12, 2022
Anenih was not only the highest-graded UDFA edge defender, but he was also the highest-graded rookie edge defender by a comfortable margin (De'Shaan Dixon, 77.7). He clowned Ravens tackle/guard Tyre Phillips for two sacks, with the latter one forcing a fumble. 
Look out! ????

David Anenih with a sack and a forced fumble in his first NFL action with the Titans! @SackaveUH pic.twitter.com/UrHfic66bU

— Pawd Slama Jama (@PawdSlamaJama) August 12, 2022
Anenih is an undersized speed rusher (listed at 245 pounds), so going up against a slower tackle like Phillips was obviously a favorable matchup for him. Coming off a productive career at Houston, it will be worth monitoring to see if he can continue his success against others this preseason.
Five catches, 87 yards, and two scores — you can't ask for much more in an NFL debut. It's made all the more impressive by the fact that McCutcheon took the leap from FCS Montana State to the NFL. Those guys aren't supposed to look like they belong early on. The 6-foot-3, 202-pounder was manhandling Chargers defensive backs all night, hauling in all three of his contested catch opportunities. A year after seventh-rounder Ben Skowronek played a key role in the Rams' Super Bowl run, McCutcheon could trek a similar path. 
Crazy play. Lance McCutcheon is going to be hard to sneak onto the practice squad pic.twitter.com/dDYhoR17rQ

— DOWNTOWN RAMS [DTR] (@DowntownRams) August 14, 2022
Baldwin didn't get to see the field a ton, but he made the most of his opportunities. On only eight routes, he was targeted three times and hauled in all three for first downs. That's obviously relatively minor contributions compared to others on this list, but it was a solid start for the UDFA from Michigan (via Jackson State from Morgan State) nonetheless.
If the name sounds familiar, it's not likely because you saw his highlights. Virgil never had more than 383 yards in any of his five seasons at Appalachian State. No, it's probably because you saw his workout numbers. He made Bruce Feldman's Freaks List on multiple occasions with a resume that sported a 40.5-inch vertical, 10-foot-11 broad jump and 4.4-second 40-yard dash at 210 pounds.
What a grab by Jalen Virgil ????pic.twitter.com/7Hu4ONmmST

— BetMGM ???? (@BetMGM) August 14, 2022
No one told the Dallas secondary, apparently. He got behind the Cowboys' defense for two impressive deep grabs and should have had a third for a score were it not overthrown. Virgil finished with three catches for 83 yards on the day.
A 4.79-second 40-yard dash at his pro day dropped Fatukasi out of the draft, but his tape at Rutgers warranted a draft pick. He's always been a tremendous tackler, and against the Dolphins he made seven tackles — including four stops — without a miss. In coverage, he added a pass breakup and allowed only one first down on six targets. But with Fatukasi having no chance of cracking into playing time amid a loaded Bucs linebacker room, his path to a roster spot begins and ends on special teams.
Twenty-two snaps and not a single downgrade. That's not something you see every day from a rookie. Empey's performance is even more impressive when you realize he did it all at right guard after he played all 2,633 snaps of his collegiate career at center for BYU. He was one of the best pass-protecting centers in the country over his four years with the Cougars and looked great in that regard — albeit against other fringe roster players — in preseason Week 1 against the Broncos. 
Ross earned this spot on the back of a fantastic day in coverage. He was targeted three times and didn't surrender a first down while recording a pass breakup, a stop and only 10 yards allowed. To make his day a little sweeter, that pass breakup led to an interception by Geno Stone.
It's a bit of a crowded off-ball linebacker group in Baltimore, and the fact that Ross didn't see the field until the second half tells you all you need to know about where he falls in the hierarchy. But one can't do much more to earn a roster spot than what he did against the Titans.
As if the Bengals need any more receiving help, Pryor led all players in Week 1 of the preseason with 89 receiving yards. And, shockingly, those 89 yards were more than he ever had in a single game in his six-year career at Wisconsin. Those yards weren't picked up in traditional fashion, either. He made multiple spectacular plays to haul them in.
#Bengals WR Kendric Pryor had an impressive showing last night. Three of his receptions were highlight reel-worthy plays.

*7 Targets
*4 Catches
*89 Yards
*1 TD

The UDFA out of Wisconsin led the Bengals in all receiving categories. pic.twitter.com/R9xZ8Hr37Z

— Steve Frederick (@SteveFrederick_) August 13, 2022
Even with the best starting three in the league, the Bengals are still undeniably thin at the position. Pryor's competition for the final two receiver spots is Stanley Morgan Jr., Mike Thomas, Trent Taylor, Trenton Irwin and Jaivon Heiligh — not exactly a murderers' row. The rookie UDFA has a great chance of making the roster should he keep it up.
The former Badgers duo takes the top spots. For starters, Sanborn never should have gone undrafted. He was simply too productive at Wisconsin and more than athletic enough to fill a role on an NFL roster to fall that far. And as a related point, he's making this Bears roster with performances like Week 1's.
Sanborn finished with four defensive stops, a pick and a pass breakup on only 26 snaps. Matt Eberflus' scheme is famous for giving linebackers freedom to play fast with their reads, and Sanborn was doing just that against the Chiefs
Reminder

Jack Sanborn went undrafted.#Badgers pic.twitter.com/tJ0wbYzhLn

— Evan Flood (@Evan_Flood) August 13, 2022