Twelve weeks of NFL action are officially in the books, so let's dive into the PFF data to check in on all the first-round rookies.
Thanksgiving has come and gone, and the first-rounders are officially heading into the unknown territory of the longer professional season that often brings about a "rookie wall."
[Editor's Note: PFF's advanced statistics and player grades are powered by AWS machine learning capabilities.]
2020 overall grade: 75.1
The sad and seemingly inevitable conclusion of Joe Burrow's woeful offensive line was realized last week after a knee injury prematurely ended his season. He will now have to rehab and hope to come back 100% next season while the Bengals desperately focus on upgrading his pass protection.
What we saw from Burrow this season was tremendously encouraging despite circumstances that were not terribly conducive to high-end quarterback play.
2020 overall grade: 75.3
On Thanksgiving, Chase Young had the benefit of going up against a depleted Dallas offensive line that grew even weaker as the game went on. Young ended the game with just two total pressures from 35 pass-rushing snaps, but that included a dominant sack in which he destroyed Brandon Knight to take down quarterback Andy Dalton. Young posted his best single-game grade since Week 6 and one of the better games of his rookie season despite the relative lack of pressure.
Young has still not quite hit the heights we expected to see early in the season before injury caused him to miss some time, but the signs are there for all to see that he can be special.
2020 overall grade: 41.8
Jeffrey Okudah didn't play on Thanksgiving; here's what we said after Week 11:
Jeffrey Okudah isn't an every-down starter anymore, but that can't hide him from opposing offenses when he does see the field. Against Carolina this week, he saw 24 snaps of action and was targeted six times, allowing a catch in each instance. Those receptions went for 79 yards and a 118.8 passer rating. The good news for Okudah is that his run defense and tackling were solid, and this is a season in which coverage is a struggle for most cornerbacks and virtually all rookies.
It's been a tough season for the No. 3 pick, and it would be difficult to pick out many positives, but he can at least take comfort in the schadenfreude of knowing that he's not alone. The Lions will be hoping that this season is laying the groundwork for better play in the future.
2020 overall grade: 60.3
After an ugly start to his rookie season — especially when compared to the other first-round tackles — Andrew Thomas has begun to turn a corner; he's performed pretty well as of late. Against favorable opposition in the form of the Bengals in Week 12, Thomas was again solid in pass protection, allowing no pressure from 44 pass-blocking snaps.
Despite the clean sheet, he wasn't perfect in terms of stats. He had four pass protection rep losses, two of which were decisive and came against Carl Lawson. Given how many snaps he was pass blocking for, however, it still amounted to a good day at the office.
Thomas now hasn't had a bad pass-blocking day since Week 7 against the Eagles, and his past four games represent his best four single-game pass-blocking grades of the season.
2020 overall grade: 57.6
Tua Tagovailoa missed this week due to injury; here's what we said after Week 11:
Tua Tagovailoa had a rough day against a Denver defense that still has a lot of juice under Vic Fangio. Tagovailoa earned a mere 51.9 overall PFF grade and was struggling throughout the game in pretty much every aspect. Ryan Fitzpatrick took over in what looked initially like a swap forced by a hit Tagovailoa took from Bradley Chubb, but his head coach later confirmed it was purely a performance-driven call. Fitzpatrick — as if to highlight the issues — performed no better, offsetting any uptick in production with more carelessness with the football.
Tagovailoa's rookie season is likely to come with some growing pains, and the situation could be complicated if he doesn't have the runway to clear those issues before being pulled from the game for Fitzpatrick. Overall, he has clearly been the third-best rookie quarterback from the first round so far, but he's also had the least playing time of the three who have seen NFL action.
2020 overall grade: 76.0
At times, Justin Herbert has lived through some ugly plays that have hurt his PFF grade while offsetting them with special throws and impressive big-play ability. Against Buffalo, he had more of those negatives than he could overcome. There was a bad interception to Tre'Davious White and another poor throw that could easily have been picked off, but he was also at fault for a couple of fumbles, both of which he managed to get on top of to prevent a turnover.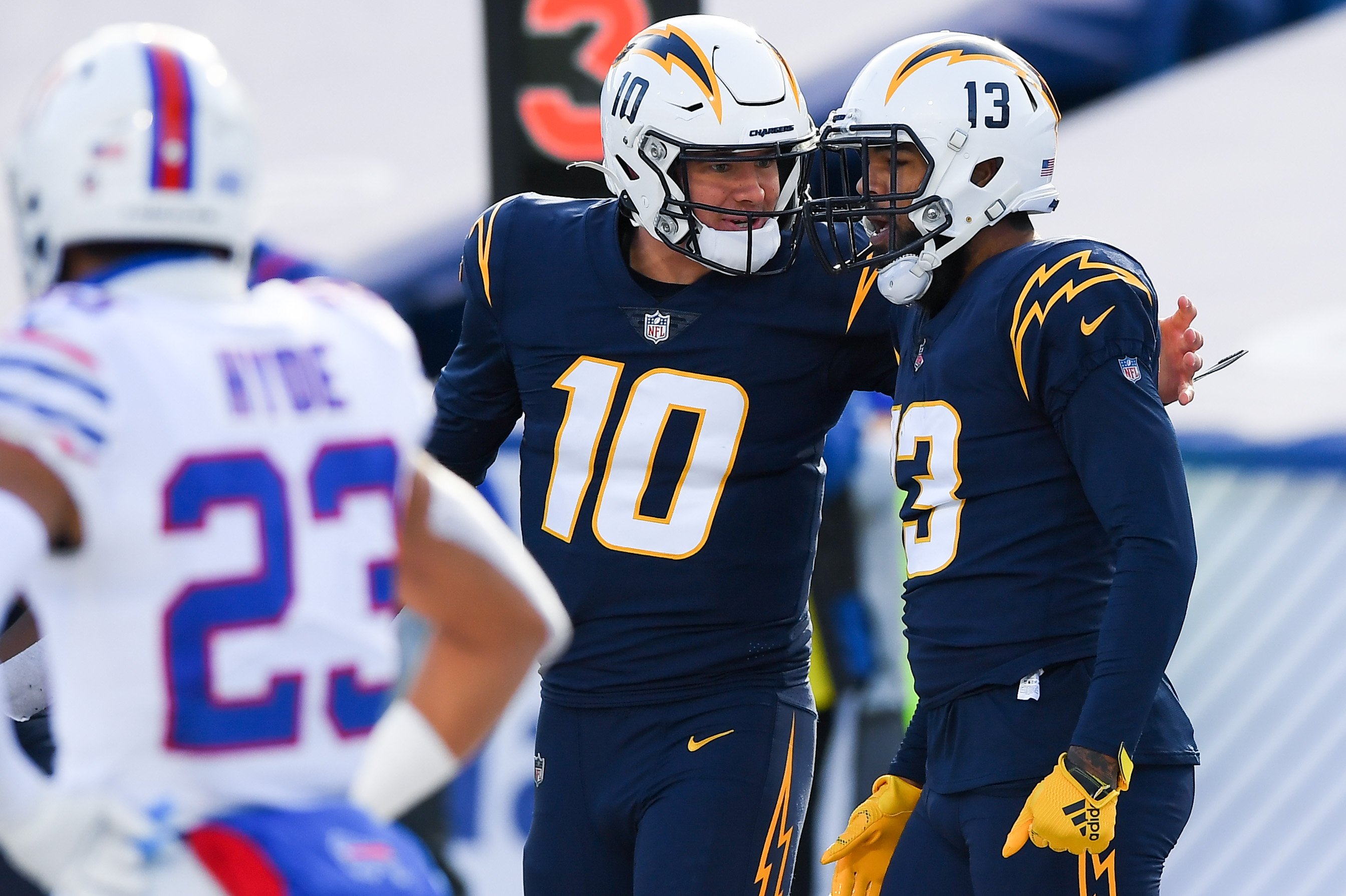 Herbert's stats were also a little inflated by late-game desperation heaves downfield that were somehow completed into a sea of bodies, turning a more modest day into a 300-yard passing performance. Overall, Herbert has vastly outperformed expectations of his rookie season, and he's shown immense upside for the future.
2020 overall grade: 56.3
The Panthers as a team read the game plan that the Minnesota Vikings wanted to execute with no Adam Thielen available to them and did a very good job of stuffing the run. Derrick Brown was a part of that effort, even if he still had some plays where he failed to maintain his gap adequately.
Brown also added four total pressures as a pass-rusher. As the season has gone on, he has become more of a factor in that area than he has been against the run — the reverse of what people expected given his traits as a prospect at draft time.
2020 overall grade: 63.2
After a few weeks with a much bigger workload on defense, the unique offense that is the New England Patriots forced Isaiah Simmons back into a bit-part player. He finished with a poor grade (29.7 overall) thanks to some big mistakes on those limited snaps.
Simmons was flagged twice for unnecessary roughness, once early in the game on Jakobi Meyers and once to tack 15 yards on to a Cam Newton run on the final drive that handed the Patriots the chance to win the game. On top of that, Simmons also lost badly to a lead block by Jakob Johnson and missed a tackle on Damien Harris.
He just didn't have the playing time to find positive plays to offset all of those negatives.
Free for 7-days. Subscribe to continue reading and unlock
All premium content with the best insights + analysis in the game
NFL Draft Guide, Big Board + Mock Draft Sim
Fantasy Draft Kit and Nathan Jahnke's award winning rankings
Bet smarter with PFF player mismatches and expert betting insights
NFL and CFB player grades and premium stats
Unlock all PFF data trusted by all 32 NFL teams
Already have a subscription? Log In