Thirteen weeks of the 2019 NFL season have been completed, giving us almost a full-season sample size on each of the 32 first-round rookies. Some have shined on the field while others have disappointed, and some have barely seen the field either because of injury, poor performance or both. Through 13 weeks of action, here is how each of the 32 first-round picks has graded so far.

2019 overall grade: 67.0
Week 13 will almost certainly go down as a game to forget for quarterback Kyler Murray. After doing such a fantastic job of taking care of the ball for the majority of the 2019 season, Murray let slip three turnover-worthy plays against the Rams in Week 13, and he was lucky to leave the game with just one interception next to his name. Still, he rightfully left the game with a PFF grade of just 27.7 — the second-worst single-game mark for a rookie quarterback this year.
2019 overall grade: 86.0
After nearly a full season's worth of dominance, Nick Bosa was rendered merely human in Week 13. He managed just one quarterback hurry across 19 pass-rush snaps and won just 10.5% of his matchups in the contest — the latter mark being the second-lowest of his career to date. Bosa ended the game with an overall grade of 45.4 and a pass-rush grade of 49.5, both of which are career-lows.
2019 overall grade: 69.5
Williams put forth the highest-graded effort of his career in Week 13 against the Bengals, though he was ultimately unable to help his team to victory. He rushed the passer 26 times in the contest and registered two quarterback hurries and an additional pass-rush win, tying a career-high in pass-rush win rate (11.5%) in the process. He capped off his day with two additional defensive stops against the run and left the field having earned a career-high 75.5 PFF grade.
2019 overall grade: 55.3
Ferrell provided his second consecutive 70.0-plus graded performance in Week 13 thanks to a productive showing against the run. Across 23 run-defense snaps, Ferrell secured both of his tackling attempts, one of which was made behind the line of scrimmage. He wasn't perfect — he failed to record a single pressure across 14 pass-rush snaps — but he still ended the game with a PFF grade of 71.9, the best mark of his career so far.
2019 overall grade: 45.8
White had one of the best games of his career to date in Week 13, especially in the passing game, where he produced a QB hit and a hurry from 10 pass-rush snaps and an interception and a pass breakup on six targets in coverage. He left the game with a PFF coverage grade of 79.5, more than 18.0 points higher than his previous single-game best.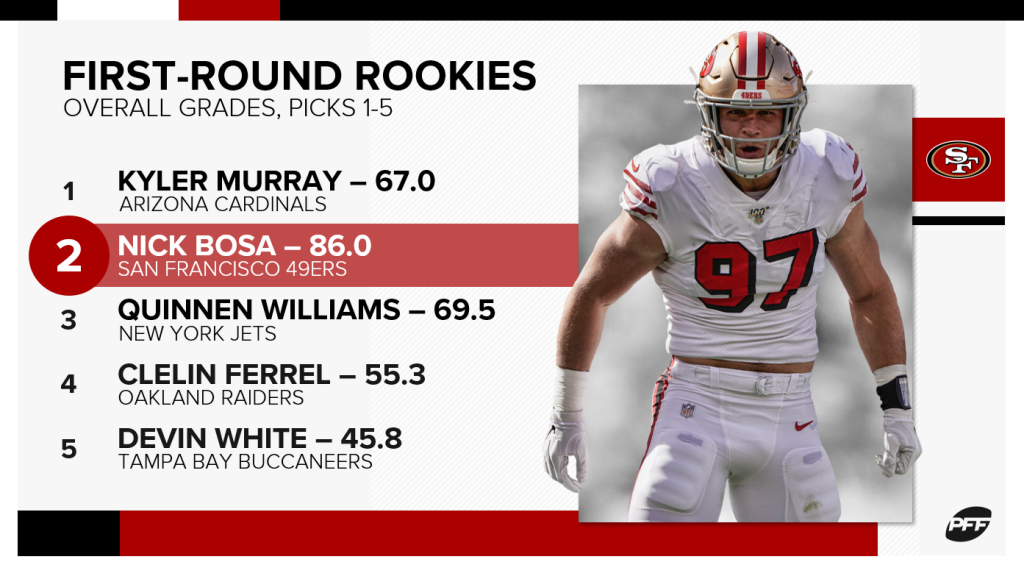 2019 overall grade: 64.3
Jones' volatility was put on display again this week, this time against Green Bay in the snow. The first-round quarterback completed 20 of his 37 attempts in the game for 240 yards, one touchdown and three interceptions, to go along with three big-time throws and another three turnover-worthy plays. Through 13 weeks, Jones' 27 turnover-worthy plays are the second-most in the entire NFL, and an undermentioned aspect of those plays has been his fumbling issue: he fumbled again in Week 13, his 12th fumble in six games, and he needs just one more to tie the record for the most fumbles by a quarterback over a single season … he still has four games left to play.
2019 overall grade: 66.4
Allen had a relatively productive day against the Buccaneers' offensive line, recording a sack, a hit, a hurry and an additional pass-rush win across his 26 pass-rush snaps. Capping off a good day at the office, the Jags' first-round edge defender also produced three defensive stops and a tackle for loss against the run.
2019 overall grade: 60.7
Hockenson was targeted a career-high 11 times during his team's Thanksgiving Day matchup against the Chicago Bears. Only six were deemed catchable, but he still came down with all six of those targets for 18 yards and two first downs. He forced two missed tackles and put up 11 yards after the catch, with his longest reception of the day going for nine yards. Unfortunately, the first-round tight end sustained an ankle injury in the game and has since been placed on injured reserve. He will end his season with 32 catches from 56 targets for 367 yards, 17 first downs and two touchdowns, and his astonishing 131-yard outing in Week 1 will serve as a glowing reminder of what he can achieve when he's at 100%.
Subscribe to PFF Edge to continue reading
Already have a subscription? Sign In