• Kayvon Thibodeaux, George Karlaftis impress: Thibodeaux recorded a career-high nine pressures, while Karlaftis earned above-average grades in every facet.
• Garrett Wilson shines with Mike White at QB: Wilson caught five passes for 95 yards and two touchdowns. His stock is very much on the rise moving forward.
• While Thibodeaux excels, Tyler Smith struggles: Smith was tasked with blocking Thibodeaux and allowed seven pressures during his outing.
Estimated Reading Time: 12 mins
---
We'll be checking in on the first-round rookies throughout the 2022 NFL season, grading their performances and highlighting their principal individual opponents in each game.
Here's how the group fared in Week 12, as well as their overall PFF grades for the season.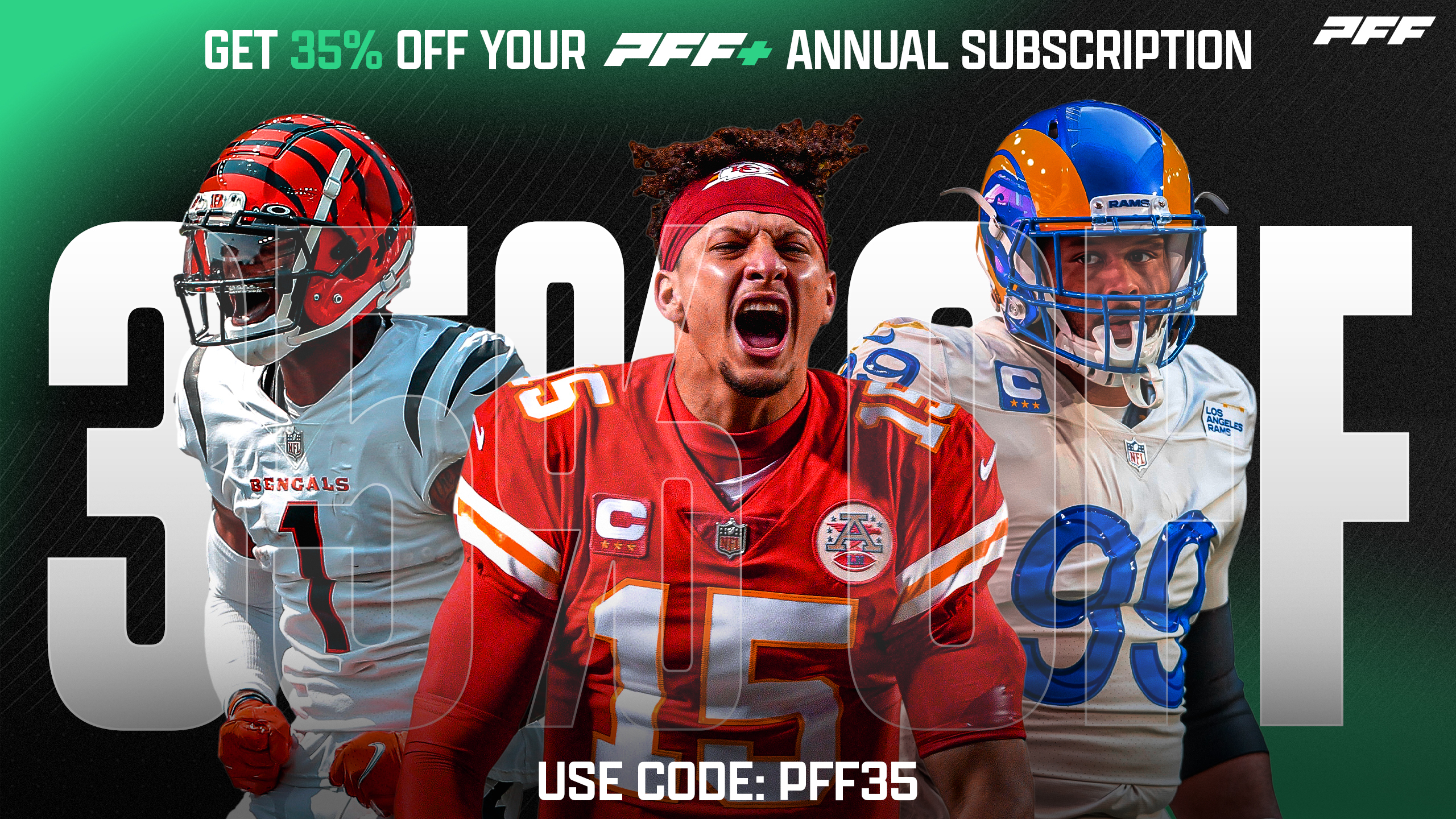 Overall Rookie Grade: 58.2 (Rank: 14/32)
Principal Opponent: Patrick Mekari
Week 12 Snaps: 54
Walker seems to have a bad habit of committing poorly timed penalties. He had another one against Baltimore this week in the Jaguars' upset win. On 29 pass-rushing snaps, Walker failed to register any pressure. He didn't make much of an impact in the run game, either, in an assignment that he will have been familiar with from his college career at Georgia. Walker now sports a sub-60.0 overall PFF grade for the season.
Overall Rookie Grade: 69.8 (Rank: 3/32)
Principal Opponent: Spencer Brown
Week 12 Snaps: 61
Back on Thanksgiving, Hutchinson was relatively quiet for Detroit while less-heralded pass-rushers made plays around him. He ended up with just two hurries from 43 pass-rushing snaps while sixth-round rookie James Houston IV had two sacks from four rushes. Hutchinson has been Detroit's best pass-rusher this season overall, but he now has a below-average PFF pass-rushing grade (57.6) on the season.
Overall Rookie Grade: 49.1 (Rank: 28/39)
Principal Opponent: N/A
Week 12 Snaps: 0
Stingley missed this week's game against Miami with a hamstring injury. He has allowed a catch on 67.3% of passes thrown his way this season for an 84.9 passer rating. He has yet to surrender a touchdown.
Overall Rookie Grade: 86.7 (Rank: 1/39)
Principal Opponent: Chase Claypool
Week 12 Snaps: 57
Gardner had a good game overall against a Bears offense without quarterback Justin Fields. He was targeted three times and gave up only one catch for 31 yards, but on that play he was outmuscled at the catch point by Chase Claypool in a rare downfield defeat for the rookie. Gardner has been one of the best cornerbacks in the NFL this year and looks like one of the best players from the entire draft.
Overall Rookie Grade: 68.6 (Rank: 10/32)
Principal Opponent: Tyler Smith
Week 12 Snaps: 55
Thibodeaux notched nine total pressures on Thanksgiving against the Cowboys, more than doubling his previous single-game high. He did the majority of his damage against fellow first-round rookie Tyler Smith. This was the first game of his career with a PFF pass-rushing grade above 80.0, and it was by far the best overall grade of his season.
Overall Rookie Grade: 62.8 (Rank: 5/13)
Principal Opponent: Baron Browning
Week 12 Snaps: 66
Ekwonu had another excellent day in pass protection against a formidable Denver pass rush. He allowed just one hurry across only 20 pass-blocking snaps as Carolina's offense avoided passing the ball much in the game. He was less stout across 46 run-blocking snaps, a facet of his game that has been feast or famine in his rookie season.