There is nothing fluky about how Geno Smith and Russell Wilson have started the 2022 NFL season.
Smith ranks in the top five in most major statistical categories. Meanwhile, Wilson can't even sniff the top half of the league in those same categories.
The quarterback who just signed a five-year, $242 million contract extension to be the new face of the Denver Broncos can't find open receivers and can't even hit them accurately when he does. In Seattle, Smith — playing on a one-year, $3.5 million contract — simply cannot miss. Are we living in an upside-down world, or was this always going to be the outcome after the blockbuster offseason trade that vaulted Smith into a starting role and sent Wilson to Denver for a hefty haul of players and draft picks?

WHAT'S WRONG WITH RUSSELL WILSON?
With Wilson, he was always playing from behind. Standing at 5-foot-11 and not being Drew Brees — no matter how badly he thought he was — meant that as his career went on, his targets to the middle of the field became increasingly rare. By the end of Wilson's time in Seattle, he would just not throw there. There is no point in speculating too much on that — the height probably played the biggest factor — but his coordinators in Seattle realized this and started building the offense out of his strengths.
By doing this, they eliminated a number of route concepts within their offense. This was true of Darrell Bevell, Brian Schottenheimer and Shane Waldron. The results were still good. Even with one strike on Wilson's record — not being able to run the full gamut of NFL pass concepts — he still had two elite arrows in his quiver. First, his ability to extend plays, escape pressure and make magic happen outside of structure was among the best in the game. Second, his accuracy — especially on deep throws — was stunning.
NFL offenses 2012-2021: EPA per play on deep pass attempts

This led to, even as Wilson turned 30 years old, some unbelievable play from the quarterback position. Between 2018 and 2020, he was the third-highest-graded quarterback in the NFL, coming in just behind Patrick Mahomes and Aaron Rodgers with a 94.0 grade.
The lack of options in the playbook for Bevell, Schottenheimer and Waldron was always the issue with the "Let Russ Cook" era. The push to increase the Seahawks' pass rate was destined to lead to Wilson living in a world that he wasn't comfortable with. Only so many times can a coordinator call "stick" before the defense catches on (although Joe Lombardi and the Los Angeles Chargers are putting this theory to the test). Letting Russ cook meant more passes in the categories he wasn't very good at. It also meant seeing more coverages that required him to attack places on the field he wasn't comfortable with.
An increase in pass rate was not going to stem from under-center play-action attempts and shot plays down the field. The people wanted Wilson to take straight dropbacks in shotgun. But again, it's not easy to just increase the volume.
He just wasn't the same quarterback throwing from the pocket against Cover 2 as he was against every other coverage in during the 2018-2020 years.
On shotgun dropbacks without play action, screens and RPOs where the quarterback didn't leave the pocket, the numbers suggest a drop-off against Cover 2:
Russell Wilson: Passing metrics vs. different coverages (2018-2020)
| | | |
| --- | --- | --- |
| | vs. Cover 2 | vs. Any Other Coverage |
| Passing Grade | 75.9 (12th) | 88.7 (3rd) |
| Big-Time Throw Rate | 6.2% (9th) | 8.9% (1st) |
| Passing Yards Per Attempt | 7.5 (22nd) | 7.6 (7th) |
| Completion % | 69.1% (27th) | 64% (6th) |
| Passer Rating | 73.4 (33rd) | 103.7 (2nd) |
It's almost startling. Of course, if we look at the plays where the quarterback left the pocket against Cover 2, Wilson is in the top five in passing grade, big-time throw rate, passing yards per attempt and passer rating (while ranking seventh in completion rate).
Between 2018-2021 — his last four seasons as a Seahawk — and the 2022 season, Wilson has faced far more two-high safety coverages.
| | | | |
| --- | --- | --- | --- |
| Russell Wilson vs. Coverages | Cover 2 | Cover 4 | Cover 6 |
| 2022 | 14.2% | 12.8% | 12.2% |
| 2018-2021 | 7.4% | 10.8% | 6.5% |
In those peak Seahawks years, he was still partly getting the job done against these coverages because he was being Russ the Magician. This leads us to strike No. 2: He's not a magician any more. Wilson is not using his legs as much, and he's not getting out of pressure as easily. Although his age-30-32 seasons corresponded with elite play per PFF grade, his pressure-to-sack numbers were getting worse and are now at critically high levels to start 2022.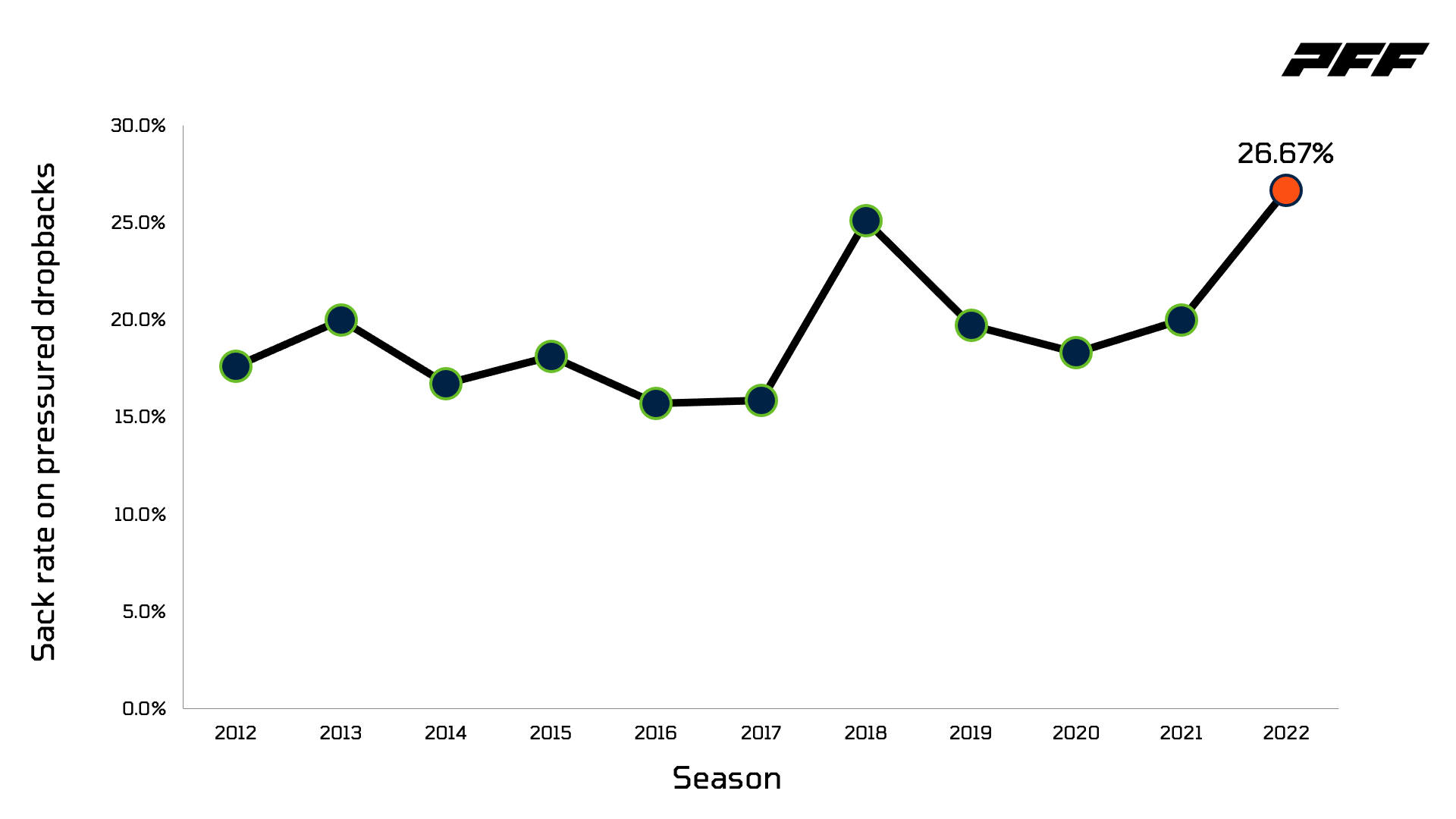 In 2019 and 2020 combined, Wilson recorded the second-most scrambles. His yards per carry average on those plays ranked fourth in the league, at 8.0. He's outside the top 10 so far this year, crossing the line on scrambles just twice a game. Whether his athleticism is waning in his age-34 season or he is just choosing not to scramble, those magic plays do not exist in the Broncos' 2022 offense.
When he has left the pocket to run or throw, the results have not been very good since 2021. He ranks 13th in passing grade outside of the pocket, down from third in the 2018-2020 period. In yards per attempt, he's down to 14th from seventh.
We're left with one more arrow in Wilson's quiver: his accuracy. He put up very good accuracy numbers each season from 2018 until his finger injury early in 2021. He was generally top-10 in two separate categories: rate of accurate throws (higher is better) and rate of uncatchable throws (lower is better).
| | | |
| --- | --- | --- |
| | Accurate Throw Rate | Uncatchable Throw Rate |
| Week 10 2021- Week 5 2022 | 55.5% (24th) | 24% (32nd) |
| Week 1-5 2021 | 64.1% (4th) | 14.5% (4th) |
| 2020 | 62% (7th) | 15.7% (4th) |
| 2019 | 58.8% (19th) | 18.5% (12th) |
| 2018 | 62.6% (8th) | 15.5% (8th) |
He isn't hitting receivers accurately. That decline lining up perfectly with his finger injury makes a lot of sense. Making matters worse, Wilson was listed on the Broncos' injury report with a shoulder problem apparently suffered in Denver's Week 4 loss to the Las Vegas Raiders.
What's really left for Wilson at this point? If he can't throw over the middle of the field, can't escape pressure and can't throw the ball accurately, it's going to be hard to play quarterback at a high level. The outlook is not rosy.
GENO SMITH'S DREAM START
Back in the Pacific Northwest, Geno Smith is playing like the best quarterback in the NFL. It could not get any more poetic. He can do it all. Offensive coordinator Shane Waldron was brought in during the 2021 offseason to help "Ram-ify" the Seahawks' offense, which could not happen under Wilson. With Smith now being the full-time starter throughout the offseason, it was thought that Waldron and Seahawks could run the "Goffense" that helped the Rams move the ball with a middling quarterback under center in, you guessed it, Jared Goff.
This thought process made sense. Smith had never really announced himself as anything more than a middling quarterback, with most observers putting him way below that mark. A funny thing has happened throughout the first few weeks of this season. The Seahawks don't even need to run the "Goffense."
Smith has allowed the Seahawks to be better in the dropback passing game from shotgun because of his access to the middle of the field. He has been great throwing vertically in the seams on concepts that aren't necessarily in the Goff offense or the Russell Wilson offense. He's also connecting deep with wide receivers Tyler Lockett and D.K. Metcalf, something Wilson had done previously.
Smith currently sits at 28th in the number of dropbacks that have led to either a sack or scramble, at just 7.5%. Of the 40 quarterbacks with at least 25 dropbacks, Smith is 27th and Wilson is seventh. He's willing to take the concept as given on time. Especially with a young tackle group, one that has fared well, he needs to play on time. And he has.
There still is a lot of the outside zone play-action game that the Rams were famous for. Smith has the second-most play-action attempts of outside zone action. Where they've adapted is including more pistol alignments. The Seahawks are third this season in overall rate of pistol, trailing two teams — the Atlanta Falcons and Baltimore Ravens — who use this alignment for quarterback option plays and not to find a middle ground between shotgun dropback game and under-center play action. Just over one-fifth of the Seahawks' first-down plays have been from the pistol formation.
At the end of the day, Smith is finding all the open receivers and throwing to them accurately while his offensive coordinator can put anything he wants on his quarterback's plate. With the way Smith is playing, the conceptual idea of the offense is almost irrelevant.
The ironic part of this is that both teams sit at 2-3 because of their defenses. The Seahawks can't stop anyone, and the Broncos' defense is keeping the team in every game. Given the state of play from the quarterbacks, the Seahawks' outlook probably looks more promising. One can only hope Wilson finds the magic from earlier in his career, but it is not looking likely.