Ask any offensive coach to draw you a pass play, and there is a very good chance that they would draw a defensive coverage with four pass-rushers and seven coverage defenders. Regardless of where the four pass-rushers are lined up and which specific coverage the seven remaining players form, this is the "normal" distribution of pass-rushers to coverage players. It is how we've understood football for years.
In 2006, when PFF first started charting NFL games, defenses rushed four players on 62% of all pass plays. By 2020, teams were still rushing four players more than anything else, with defenses opting to rush four men on 65% of their opponents' dropbacks.
Creating offensive concepts, whether on a chalkboard, notepad or napkin, has always meant finding ways to manipulate those seven coverage defenders.
Subscribe to
This is how we all view coverage, and it makes sense because that's what defenses are running as a base tactic. The football mind is conditioned to see open space around those seven defenders. And should a blitz occur, it's all the better — it means more space.
Three-man rushes toiled in obscurity in the days of the early 2000s. Rushes of three or fewer players made up 6% of all defensive snaps and accounted for only 4.5% of first-down snaps. If teams weren't sending just four, they were sending pressure, as five-plus-man pass rushes made up a little over 31% of passing snaps.
All of this is fine for offensive-minded people. Once you've been around football long enough, there is almost an innate understanding of how to manipulate the time and space of seven coverage defenders; coaches have long known how to best protect against the incoming pressure to throw the ball into even more space.
The one thing these coaches don't want to see is more defenders dropping into coverage, but unfortunately, that is what the future of football looks like. Taking our cues from college football ideas that are slowly making their way into the NFL, our crystal ball tells us to expect more and more so-called drop-eight coverages.
It's always hard to pinpoint whether specific football ideas flow up from the lower levels to the NFL or down from the NFL to the college game. But the idea of dropping more people in coverage is undoubtedly an idea that is flowing up.
In 2015, our first year of tracking defensive alignment at the college level, three or fewer rushers were utilized in the pass rush on 13.5% of all passing snaps, and 59.5% of snaps faced a four-man rush. Since then, the rate at which three or fewer men have been sent after the quarterback has climbed slowly, while the rate of four-man, five-man and six-plus-man rushes has fallen. The trend also reveals itself on first down.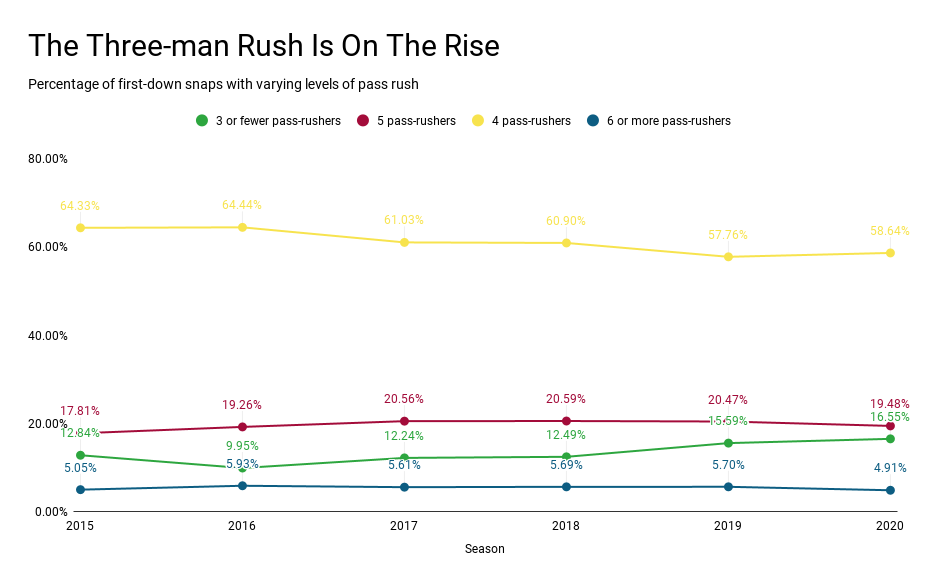 These first-down snaps are incredibly significant, as it means defenses are installing three-man rushes as a base defense. In 2019, 18 FBS teams rushed three or fewer players over 30% of the time on first-down passes. Another 20 teams did it in 2020. Seven teams in 2019 and 10 teams in 2020 rushed three or fewer men on at least 50% of their first-down defense.
Baylor, the team that led the charge with the trend in 2019, lost its defensive coordinator to the Carolina Panthers ahead of the 2020 campaign. And guess what? The Panthers went on to lead the NFL in the number of defensive snaps that used three or fewer players in the pass rush.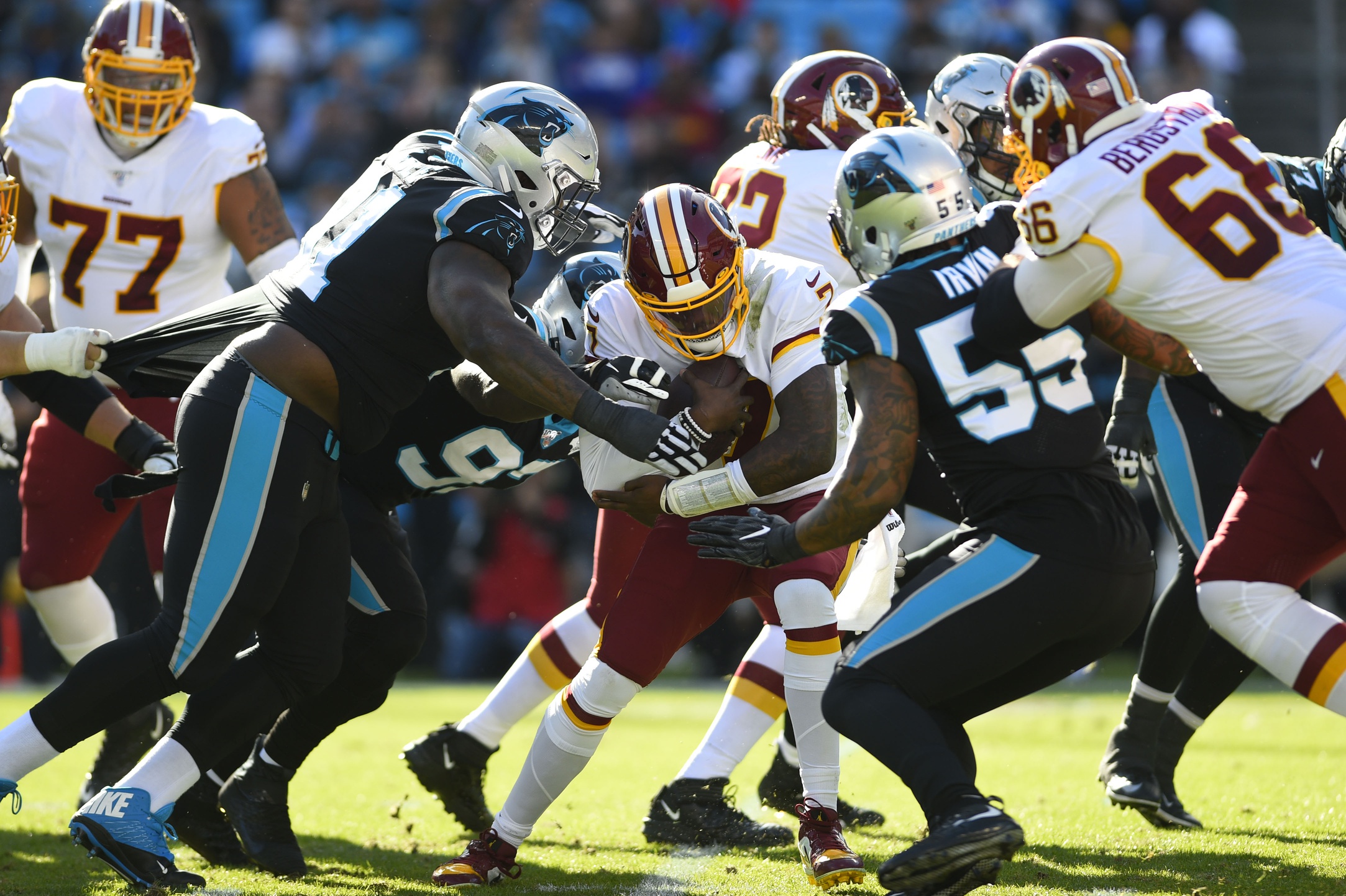 We're still not at the point where even most college football programs are basing out of this, but more teams base out of a defense that suits these three-man rushes every year.
Let's look at one of the most common pass concepts at any level of football to see how dropping eight people into coverage changes everything about how to find open receivers.
Subscribe to PFF Edge to continue reading
Already have a subscription? Sign In