NFL free agency is the first opportunity in the offseason for teams to rebuild and attack the following season in a better position than they ended the previous one. It's often a bidding war for the top players who get to hit the open market, and typically the best business is actually done in the second wave — after the dust has settled.
There are exceptions, however. Sometimes, teams have a glaring weakness that needs to be addressed and their window of opportunity is such that they can't necessarily take the gamble that the NFL Draft represents. 
Click here for more PFF tools:
Draft Guide & Big Board | Mock Draft Simulator
Dynasty Rankings & Projections | Free Agent Rankings | 2022 QB Annual
Player Grades
---
The most obvious candidates to spend big are those that have an answer at quarterback and a lot of salary cap space, but cap space can be more complicated than it seems. The amount of space a team has right now is not an irrelevant number, but more important is the space they can easily create with simple restructures of contracts already in place. 
As such, there are teams that appear on this list without any obvious cap space to spend, but with the ability to free up plenty without much difficulty. 
So let's run through the teams that should open up the checkbook during 2022 NFL free agency.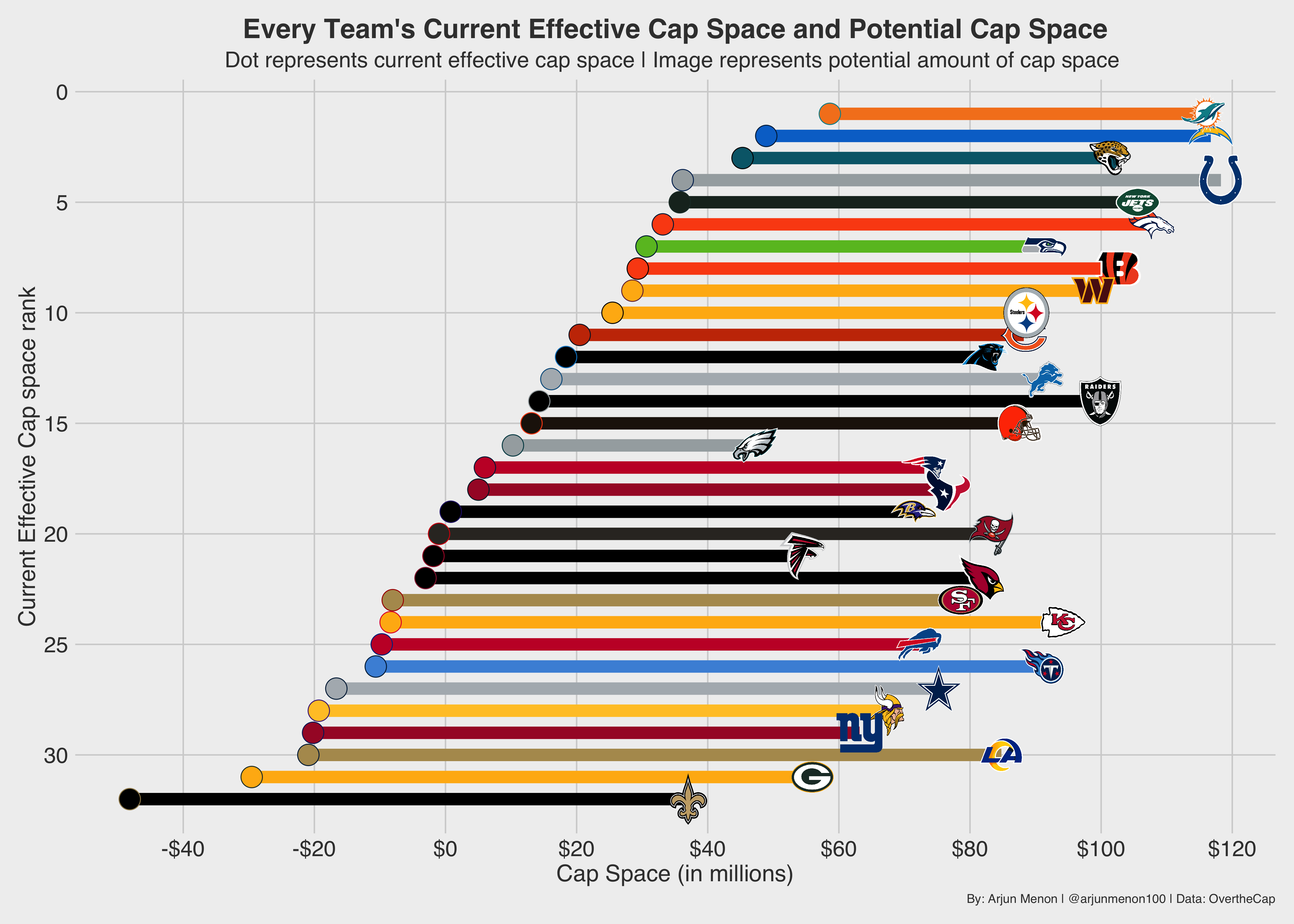 Salary Cap Space: $48.4 million
Potential Cap Space: $102.6 million
The Bengals are one of the most obvious teams to spend big this offseason as Super Bowl team with an obvious area of need and an acute desire to fix it quickly. Cincinnati has the motivation and resources to attack their offensive line deficiencies and improve the protection for Joe Burrow to give him the platform to take this team back to a Super Bowl.
Cincinnati has a little under $50 million in cap space right now, but they can more than double that with restructures, giving them room to acquire multiple offensive linemen even factoring in a franchise tag on Jessie Bates III.
The offensive line wasn't horrendous last season. ranking ranked 20th in pass-blocking efficiency in the regular season, but things unspooled in the playoffs. Going into next year, there is only one starter you would be confident in producing above average play. 
This isn't a great free agent group of elite linemen, but there are capable starters available everywhere, particularly on the interior. Cincinnati would be wise to target more than one of them, guaranteeing an upgrade on the inside and leaving tackle to the draft where they would have a little more flexibility. 
Burrow was phenomenal under pressure this season, leading the league in yards per attempt (8.3) and passer rating (92.7) under duress, but that isn't sustainable. Cincinnati needs to take the approach the Chargers did a season ago and not just bank on their incredible quarterback outperforming an ugly situation every season.
Salary Cap Space: $63.3 million
Potential Cap Space: $115.6 million
The Dolphins offensive line might experience a jump in play just by changing the scheme, but this was a historically bad line last season — to the point they need to attack it from all areas this offseason, beginning with free agency.
Miami has plenty of money to spend and even more that can be created, and there isn't a spot along the line that couldn't use an upgrade.
Robert Hunt has been the one starter who looks like he can put together consistently average play, and even his overall PFF grade was just 67.4 last year.
Miami has a lot of young linemen under contract, but that was the logic the team used a year ago for not investing heavily in the group, and it proved costly. At this point, those young players are a bonus if any of them take surprising leaps forward, but the primary task should be overhauling the group so they don't surrender a league-leading volume of pressure once again.
Miami's line allowed 228 total pressures last season despite being pretty well protected by the volume of quick-game and RPOs the team employed. Unless their line improves dramatically, they simply aren't getting a fair and accurate evaluation of Tua Tagovailoa at quarterback, unfairly tainting the analysis of the most important player on the roster.
Related content for you:
2022 NFL Free Agent Rankings: Top 200 players expected to enter free agency via PFF.com
Salary Cap Space: $17.7 million
Potential Cap Space: $99.9 million
Derek Carr is an interesting inflection point in quarterback rankings in today's NFL. He ranked 12th in overall PFF grade in 2021 and generally ranks somewhere around 10th overall in most categories over the past couple of years. It remains unclear, however, whether he is good enough that you can win with him on a big-money contract given the pressure that puts on the rest of the salary cap.
With Carr looking for an extension to his deal, the Raiders have a small window of opportunity to use that money and attack the rest of the roster to give Carr the kind of team he needs around him.
Las Vegas has just $17.7 million in cap space but can free up another $80 million and get to just a fraction under $100 million of space. Even if a chunk of that money ends up being used on a Carr extension, they have space to attack the areas of weakness on this roster, adding defensive talent, receivers, offensive linemen or a combination of all three. 
The Raiders were a playoff team this past season despite multiple catastrophic incidents along the way, including the loss of their head coach and primary deep threat at receiver.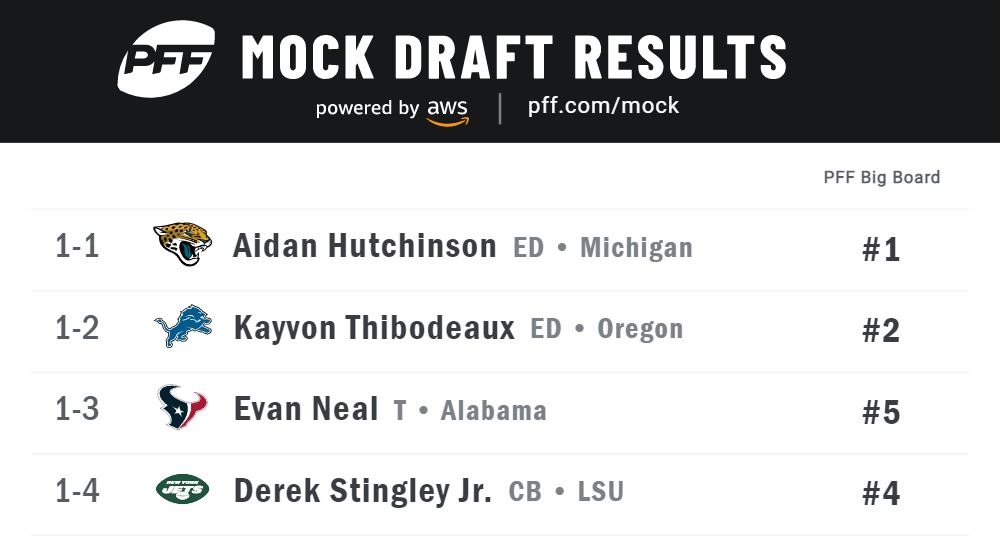 Salary Cap Space: $0.002 million
Potential Cap Space: $81.8 million
The Cardinals have the biggest gap between current salary cap space available and the ability to create cap space. The team has a little over $2,000 in cap space right now, but they can create over $80 million in space with simple restructures of deals already on the books.
Quarterback Kyler Murray is angling for his big-money extension, but the decision-makers likely want that financial golden goose for at least one more year before they give it to him. Arizona as a franchise is obviously moving in the right direction, having gone from 3-13 a couple years ago to a playoff side this time around, but there is no escaping that these seasons are ending badly for them. That's a trend they need to correct if they want to actually win in the playoffs rather than simply appear in them.
Spending could help. The team's secondary overachieved its talent level on paper last season, but it was still one of the weakest groups of cornerbacks in the league. The Patriots are reportedly not going to franchise tag J.C. Jackson and will let him hit the open market. Arizona should be one of the teams looking to land that kind of whale. For his career, Jackson has allowed a passer rating of 50.5 and has 25 interceptions and 28 pass breakups including the playoffs over that time. Every corner to play significant snaps for Arizona last season allowed a passer rating of at least 90.0.
Salary Cap Space: $40.0 million
Potential Cap Space: $91.4 million
If Russell Wilson is going to stay in Seattle, the team needs to make some drastic changes, not merely rearrange the deckchairs on the Titanic as the once-great leviathan sinks to the bottom of the ocean. Wilson voiced some displeasure with protection a year ago, so the team traded a mid-round pick for Gabe Jackson as if that would wave a magic wand and fix everything. 
Jackson ended with a 63.6 PFF grade, the line was below average at best and Wilson suffered the first significant injury of his NFL career. The Seahawks were never in a position to challenge and looked a far cry from a team that could do so.
Things have deteriorated to the point where they need more than a nice draft to catapult back into contention. Even within the NFC West, they are lagging behind a collection of teams that expect to challenge for the playoffs and beyond.
For the first time, Wilson alone isn't capable of dragging this roster to success, so Seattle needs to deploy some spending to help him out. The offensive line remains a constant problem, and Duane Brown — the one good player they have had in the last half a decade — is hitting free agency. If Wilson is traded away, the whole roster is likely being blown up, but if he stays and this team wants to get back to a Super Bowl, they need to attack free agency with money.