After the Cincinnati Bengals and Cleveland Browns both suffered crushing Week 1 defeats, each was vying for a bounce-back win in Week 2. 
Joe Burrow got off to a slow start in his Week 1 rookie debut, but LSU Joe came out in the final drive and gave the Bengals a shot to win the game. However, an offensive pass interference and a missed field goal handed Burrow his first loss since 2018. 
Baker Mayfield has been looking for this bounce-back for quite some time now. His 2019 sophomore campaign did not go as anticipated, but Mayfield seemed to be trending back up this year with Kevin Stefanski now running the show. Then, Week 1 happened — he and the Browns were obliterated by the Baltimore Ravens.
Ultimately, it was the veteran who came out on top on Thursday Night Football in Week 2. Here are the five big takeaways from the Cleveland Browns' 35-30 victory over the Cincinnati Bengals.
Subscribe to
This was the Kevin Stefanski offense we were all expecting
The Stefanski era in Cleveland got off to a rocky start in Week 1, as I alluded to above. It was the fourth-worst offense of the week from an expected points added (EPA) per play standpoint, and as my colleague Seth Galina wrote, Stefanski didn't give Mayfield the easy concepts he needs to succeed. This week, it was entirely different.
Stefanski gave Mayfield more play-action concepts, with a few outside-zone bootlegs being among the best plays of the game. Within Cleveland's first 15 plays of the game, Mayfield attempted seven passes — three of which were an outside-zone bootleg. Mayfield went 3-for-3 for 78 yards, one touchdown and two big-time throws on those plays. That helped the Browns produce 0.48 EPA on those 15 "scripted" plays. For perspective, the Bengals were at 0.06 on their first 15 plays, and Cleveland's mark would have ranked third in Week 1.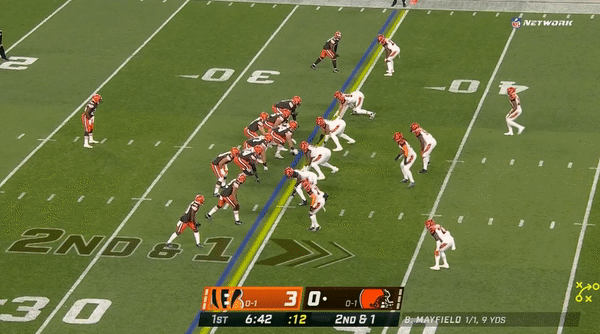 Stefanski called a heck of a game, helping lead the Browns to 0.46 EPA per pass play for the night, which is a mark Cleveland didn't touch in any game in 2019. Not to mention, he made a couple of great decisions to go for it on fourth down in the third quarter. The Browns were stuffed on one attempt at the 2-yard line while up 21-13, which caused an uproar among some fans wanting to just kick the field goal. But according to my colleague Eric Eager, it was the right call:
the #Browns would have lost about 0.5% win probability if they would have kicked a field goal.

good decision

— Eric Eager ???????? (@PFF_Eric) September 18, 2020
This Browns' passing attack is bound to become strong with Stefanski at the helm as he maximizes the Mayfield's potential.
Burrow's offensive line makes it hard for him to get anything cooking, but considering the circumstances, he played well
Burrow had to play from behind for most of the game and was put to work as a result — he tripled Mayfield's dropbacks in the game. That means he also saw a substantial amount of pressure due to his lowly offensive line.
While he did invite some pressure in himself and should've seen the Myles Garrett strip-sack coming, the offensive line had Burrow under pressure on 32% of his dropbacks. And when he wasn't under pressure, he got the ball out extremely quickly. Of his 45 attempts from a clean pocket, Burrow had a time-to-throw of under 2.0 seconds on 19. And overall, he had an average time-to-throw of 2.3 seconds on those passes. Altogether, the Bengals' offensive line combined for 40 losses on the night (pressures plus plays when the defender wins but doesn't obtain pressure). 
That would be hard for any quarterback to overcome, but Burrow still wasn't terrible, finishing with a 67.2 passing grade. It could have been better, but it also could have been much worse, and I would guess a good chunk of NFL quarterbacks would struggle significantly behind that line.
He did have an underthrown ball that should have been picked on his end-zone shot to A.J. Green before the end of the first half, but Burrow notched three big-time throws in the game. His best throw happened to be his first career touchdown pass. Cincinnati ran four verticals against Cleveland's Cover 6 defense and hit the weakside Cover 2 hole perfectly: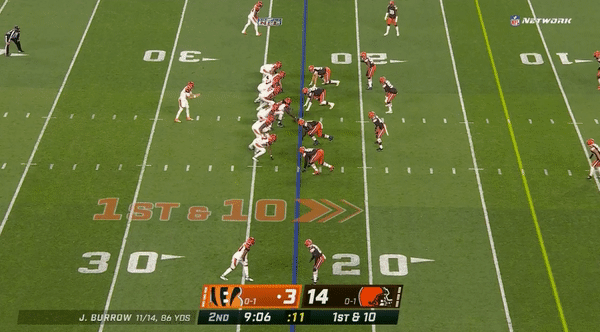 That was the only downfield shot he hit all game. The others he attempted weren't so great. Still, Burrow once again was able to routinely deliver catchable targets to his receivers at the short and intermediate levels, which helped him earn an 80.7 passing grade on those throws. Those empty formations work — even with a bad offensive line.
In addition, it's impressive how much he shows up in big moments as a rookie — his final drive in Week 1 and the fourth downs against Cleveland where he went five for five are a testament to that. But if we want to see this Cincinnati offense start successfully attacking downfield, the offensive line has to give him more time and be better overall.
Cleveland's offensive line paved holes for Nick Chubb and Kareem Hunt, and the duo took full advantage
Cleveland's offensive line, on the other hand, was pretty dang good on the night. The unit didn't see a lot of true dropback scenarios, but it held its own in pass protection. In the run game, the group deserves as much credit as running backs Nick Chubb and Kareem Hunt are getting. 
Chubb and Hunt combined to produce an 84.5 rushing grade, nine carries resulting in a 10-plus yard gain and 0.21 EPA per rush play. While it's easy to point to Chubb and Hunt and laud them for a stellar performance, we should be doing the same with Cleveland's offensive linemen. The unit produced a 78.5 run-block grade, which would have been a top-10 mark in Week 1 and will likely be among the 10 best of Week 2.
Of those nine gains of 10 or more yards on the ground, Chubb or Hunt had at least 3 yards before contact on seven of them. For perspective, that's two more than any offense in Week 1. While each sheds tackles and was a monster after contact, remember that most of the production is a result of the big men up front.
A.J. Green and Tee Higgins fell short of expectations
Prior to the 2020 season, I felt the Cincinnati Bengals' wide receiver unit could finish in the top 10 or bottom 10. In other words, it's a boom-or-bust unit, and last night didn't give us much hope it'll be the former in 2020.
AJ Green has, without question, been one of the NFL's best wide receivers when healthy since coming into the league. It's the health part that was obviously the concern for Green this year, as he hadn't played a down since the middle of the 2018 season. He did not look like his same old self Thursday night.
Green saw 13 targets on 45 routes but managed to haul in just three for 29 yards (0.64 yards per route). He did have a few targets that he had no chance at snagging, but the fact that he caught just half of his catchable targets and went one of four in contested scenarios is a concern. Denzel Ward stuck to him like glue for most of the game, and Green couldn't handle it. In all, Green had a 54.1 receiving grade on the night.
Tee Higgins, the 33rd overall pick of the 2020 Draft, didn't see a target in his debut in Week 1. He finally got some action in Week 2, but it didn't go all that well, as he earned just a 55.4 receiving grade on the night. Higgins went 0-for-3 on contested targets and was not physical enough at times.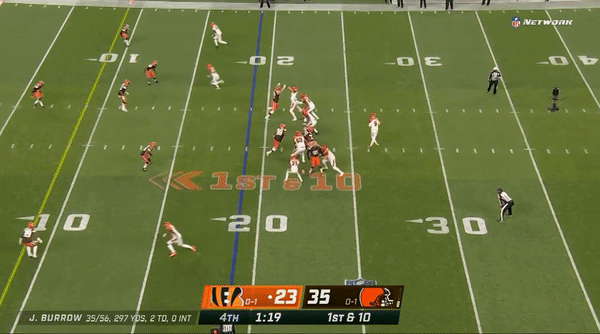 I wouldn't put much stock into Higgins' Week 2 performance, considering he made a killing against bodying defensive backs in tight coverage at Clemson and had several incredible catches. NFL corners are, of course, far more physical than those in college, but like with any rookie this year, we have to be patient.
Denzel Ward is getting closer to top-tier status at the position
Remember when the Browns took Denzel Ward fourth overall in the 2018 NFL Draft, prompting nearly everyone to say it was crazy to select him over edge rusher Bradley Chubb? Well, Cleveland was very much correct in doing so, as Ward is on the path to becoming a premier NFL corner in the NFL. And last night verified that.
Ward was our 16th-ranked cornerback entering the 2020 season after playing at a high level in his first two years in the NFL. In that span, he produced the ninth-best coverage grade in the league when lined up at outside corner. Against Cincinnati, Ward and the rest of the Browns' defensive backs had a tough test with the bevy of passes Burrow threw, but the third-year corner held his own and effectively shut down the two wide receivers I mentioned above.
Ward saw ample reps in single coverage throughout the game, and he won far more often than he lost. On such plays, Ward recorded an 86.5 coverage grade, allowing just three of nine targets to be caught for 19 yards (one was a score) while forcing four incompletions. And of those nine, Ward had his man in tight coverage on seven (only one was caught).
His ball production was off the charts last night, and it has been all throughout his career. It's time to start recognizing Ward as one of the NFL's best cornerbacks.