The Houston Texans' 27-24 win over the visiting Oakland Raiders in Week 8 didn't come without a significant loss.
Texans star edge defender J.J. Watt suffered a torn pectoral in the team's win over Oakland and announced shortly after the contest that he'd miss the remainder of the 2019 NFL season. The 30-year-old phenom will finish three of the last four seasons on the Injured Reserve.
[Editor's Note: All of PFF's advanced stats and grades for every NFL player are made available in PFF's ELITE subscription. Subscribe today to gain access!]

Losing Watt is a deafening blow for a Texans team in a position to make a playoff run at 5-3 through Week 8. Among the 95 NFL defenders with 160 or more pass-rush snaps through Week 8, Watt ranked fourth in pass-rush grade (90.3) and second in pass-rush win rate (25.3%). He was on pace for 100-plus pressures and likely his fifth single-season pass-rush grade of 90.0 or higher.
Houston enters Week 9 ranked 10th in pressure percentage (36.8%). With Watt sidelined, however, the Texans are all but guaranteed to drop in the ranks if the team's brass doesn't act fast and add pass-rushing talent via trade before Tuesday's 4:00 p.m. ET trade deadline.
Though no team has an elite pass-rushing talent like Watt on the block, Houston can replace at least some of his production if the team chooses to target any of the names below.
With their loss to Indianapolis in Week 8, Denver is ranked fourth in the AFC West at 2-6 with no positives to lean on outside of second-year receiver Courtland Sutton's improved play. The team already moved on from Emmanuel Sanders before Week 8 and could go back to the trading block to offload other veterans like Von Miller.
Though he's had a slow start to the 2019 season with just a 68.6 pass-rush grade through eight weeks, Miller is still an elite pass-rushing talent in the league today. He has earned 85.0-plus single-season pass-rush grades every year of his career prior to this season. Miller won't come cheap, but he's well worth a high investment if Houston is indeed interested in throwing resources at Watt's replacement.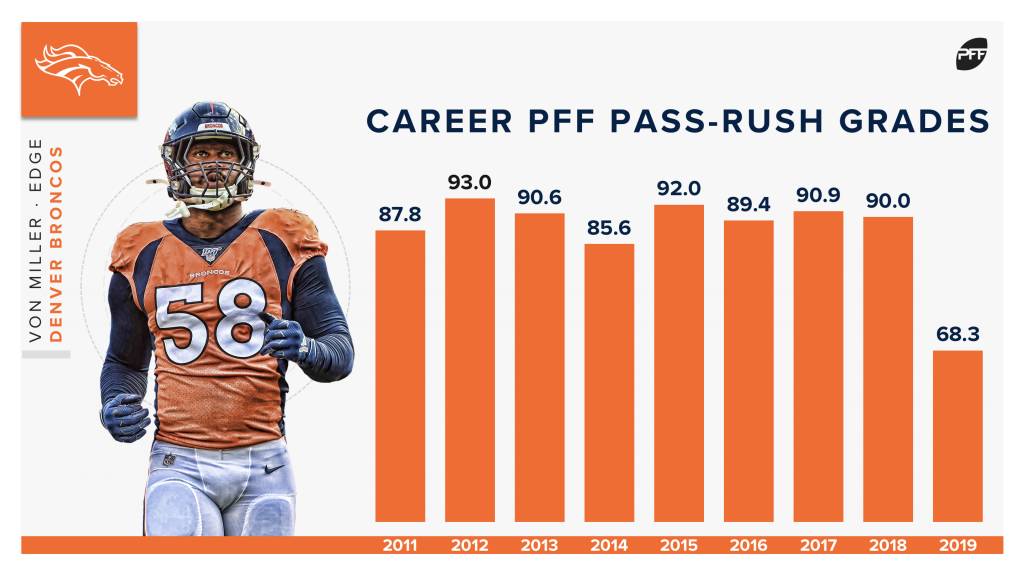 Per CBS Sports' Jason La Canfora, Cincinnati's brass received "repeated calls" regarding both Geno Atkins and Carlos Dunlap among other veterans but have yet to pull the trigger on any trades involving their players. Houston would likely have to make a hard push to pull Dunlap and/or Atkins away from Cincinnati considering the team's current disinterest in trading any of their players right now, but it'd be a worthwhile endeavor for the Watt-less Texans in 2019.
Though both Atkins and Dunlap are moving past their prime, the two veterans still offer value as pass-rushers and should come at a significant discount considering how much they're due on their current contracts over the next few years. Per Over the Cap, Atkins and Dunlap will combine for more than $20 million against the cap over the next two seasons, money Cincinnati desperately needs if they're going to truly rebuild from the ground up following the 2019 season. Atkins and Dunlap have both earned 73.0-plus overall grades through Week 8, with Atkins leading the way at 75.4.
This isn't an ideal move for the Texans, but it's—at the very least—likely a low-risk endeavor if the two sides agree to a deal.
Vic Beasley, the No. 8 overall pick in the 2015 NFL Draft, has never quite lived up to high expectations in Atlanta; he's never been an elite pass-rusher. After earning a 79.9 pass-rush grade in 2016, Beasley has crashed back down to earth in the three years following, earning sub-60.0 pass-rush grades in every season since (2017-19). With that being said, Beasley is just a slight upgrade over the Texans' second- and third-string defenders set to replace Watt but well worth a flyer if Atlanta is willing to move on from him for a late Day 3 pick.
Whether the team's front office believes it or not, this Washington Redskins team is far from "close," and they likely need a significant rebuild to even get near to relevant again in the NFC. Moving established veteran Ryan Kerrigan in exchange for draft capital would no doubt be a hard pill to swallow for the franchise, but if they can get a significant return, it could be the right choice given the up-and-coming pass-rushing talent on their roster.
Kerrigan has long been one of the NFL's underappreciated pass-rushers. He's played over 750 snaps in every year of his career and earned pass-rush grades north of 70.0 in seven of his eight full seasons. Among the 110 edge rushers with at least 1,000 pass-rush snaps since 2011, Kerrigan ranks 18th in pressure rate (13.8%) and 19th in pass-rush grade (87.3), while his 533 total pressures are second to only Von Miller (611) among edge defenders in that span. Entering the 2019 season, he was one of only seven players at the position who had recorded at least 60 total pressures in at least four of the five seasons since 2014, and he's almost already halfway to that total again in 2019—he has 26 total pressures so far—which shows just how dependable he is as a pass-rusher.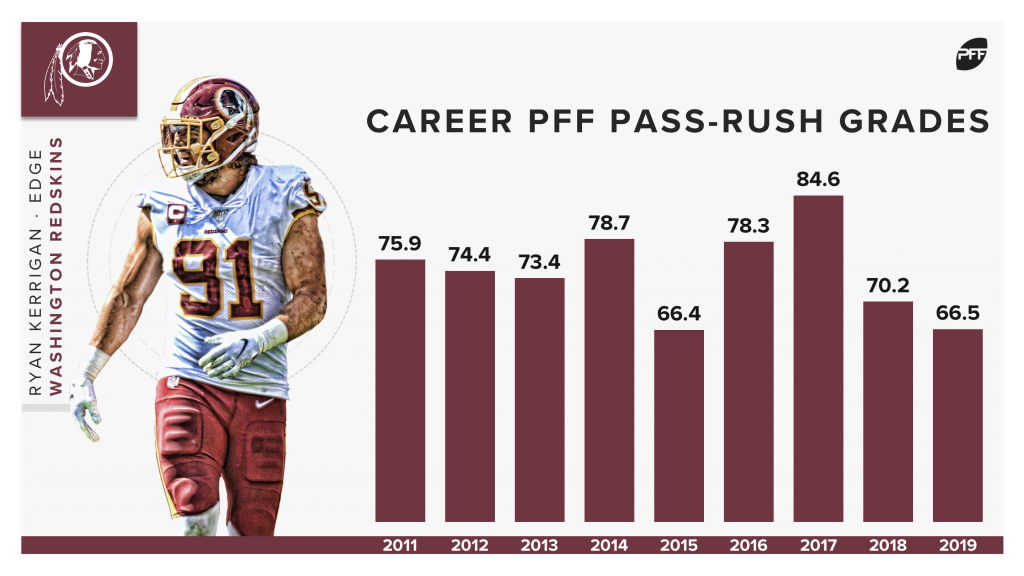 After holding out of training camp earlier in the offseason, Ngakoue later returned to the team after the front office refused to negotiate a new deal. And given the Jaguars' recent reluctance to bow to the contract demands of their defensive stars, the team may be inclined to let Ngakoue walk in the same direction as Jalen Ramsey if the Texans offered the right compensation in exchange for the pass-rusher's services.
As PFF's Austin Gayle wrote earlier in the year, Yannick Ngakoue is a premier pass-rushing talent worthy of a long-term extension, and the change in scenery could be just what he needs to recapture the 2017 form that saw him rack up 82 total pressures and earn an 88.2 pass-rush grade across 497 pass-rushing snaps. His grade has taken a little bit of a dive in the two years since, reaching 76.8 in 2018 and 63.5 so far this year, but the highs he's shown in previous years are well worth the price it will take to bring him in.