No NFL hopeful ever wants to go undrafted, but for many undrafted free agents, that hasn't precluded them from gaining entry to the league. Recently, however, the path to securing playing time for UDFAs appears to have become more difficult. As teams finalize their undrafted signings and minicamp invites, it's worth digging into the data.

For years, UDFAs were getting more and more snaps in regular-season games. However, over the past five seasons, this trend experienced a significant decline. The progression has been evident on both sides of the ball, with peak UDFA usage occurring in 2016-2017 before falling off. Last season, despite the NFL having moved to a 17-game schedule, UDFAs recorded the fewest snaps (117,639) in more than 10 years.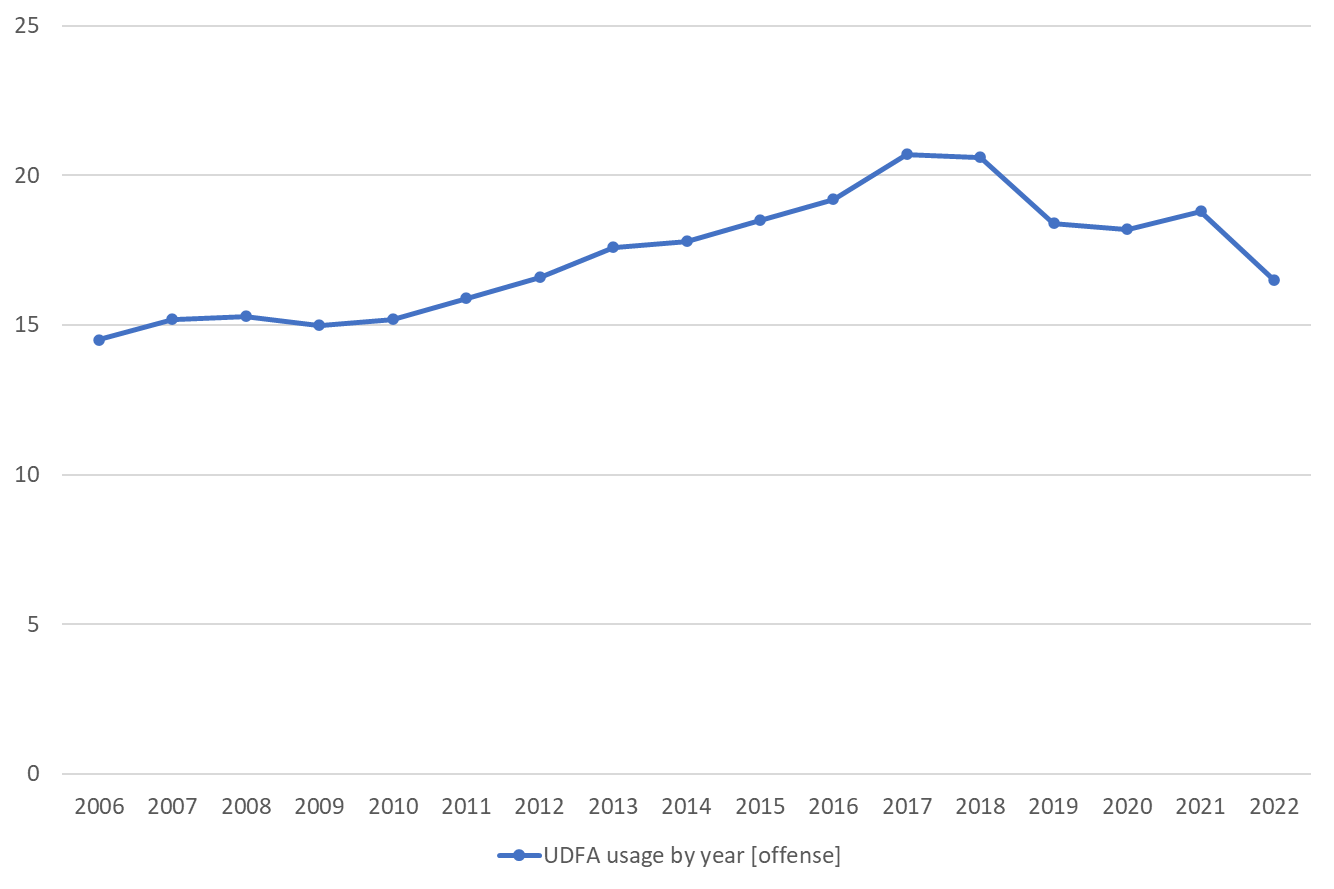 *Y-axis is percentage of overall snaps played by UDFAs
So what's going on here? It's important to first understand the route a UDFA needs to travel to earn playing time. Unless the player is an immediate standout in camp and makes the initial 53-player roster, the best way to eventually earn regular-season snaps is via the practice squad.
Practice squads date back to the 1940s with then-Cleveland Browns coach Paul Brown's "taxi squads." In the 1993 collective bargaining agreement, practice squads were limited to just five players. By 2004, the practice squad expanded to eight, and in 2014, it grew again to 10. That number is now up to 16. Notable players such as Shaquil Barrett (4,485 career regular season snaps), Mike Hilton (3,633) and Adam Thielen (6,040) all spent time on practice squads before making their mark in the NFL.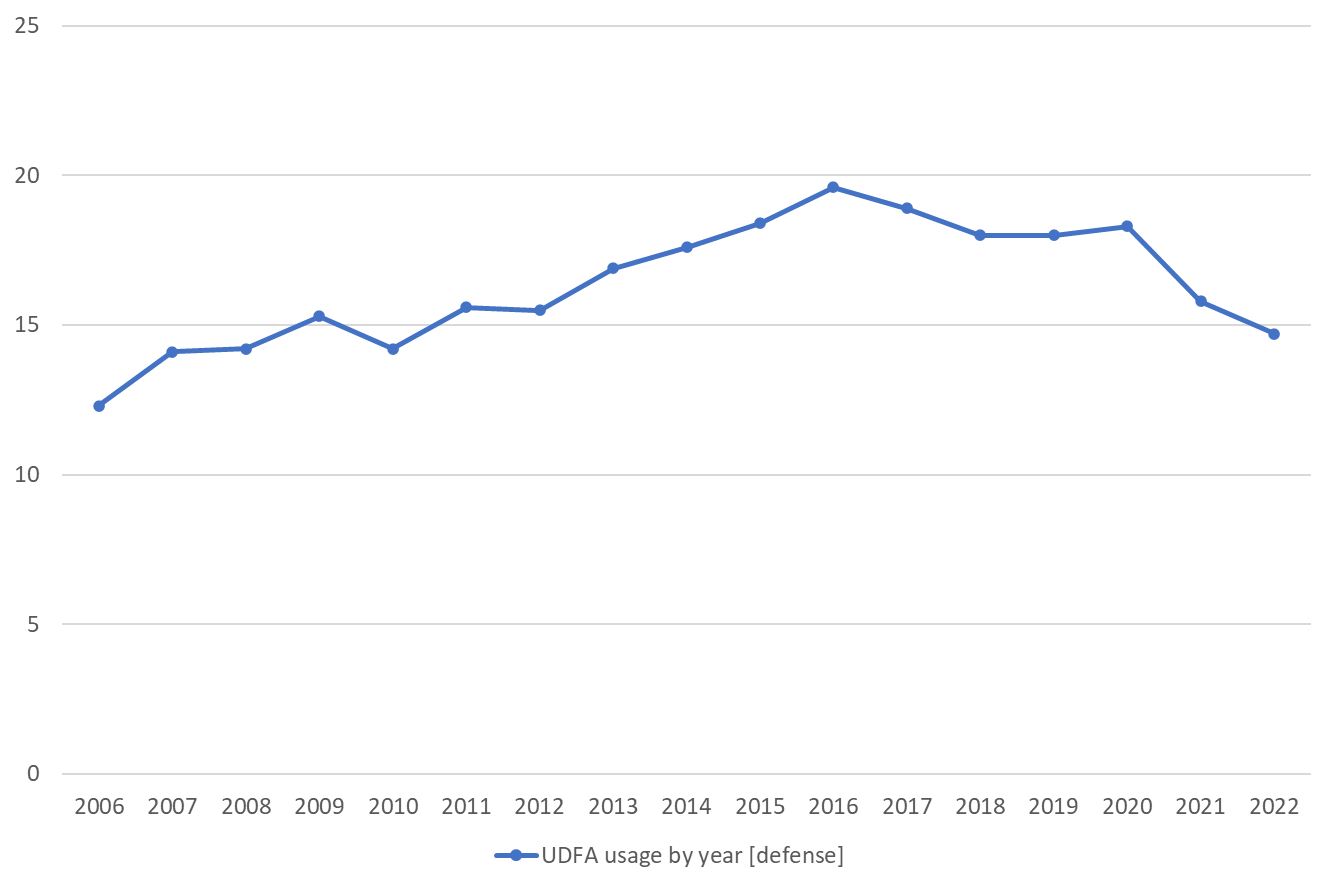 *Y-axis is percentage of overall snaps played by UDFAs
One reason for the current downtrend could be an increase in the quality of college scouting. Advanced analytics and technology arguably make the process of evaluating college prospects more seamless and efficient. UDFAs become less necessary when you're hitting on more of your actual draft picks. Another potential factor is the NFL salary cap, which has increased significantly over time. This has made it easier for teams to sign and retain top talent, which may be resulting in increased competition for those seeking entry into the NFL.
Furthermore, the league has implemented significant changes to the regulations governing practice squads, especially in recent seasons. 
Starting in 2016, the NFL allowed up to four veteran players on the practice squad, increasing from two players, with exceptions, in previous years. These additional spots on the practice squad act as a virtual extension of the 53-man roster and don't have to be utilized for the development of talent. Fast-forward to 2022, and now up to six veteran players with two or more accrued seasons are allowed on a team's practice squad. So while practice squads are larger than ever (16 players) now, teams have greater flexibility and depth, likely reducing the need to rely on UDFAs as heavily as they did in the past.
On top of all this, the idea of the NFL potentially expanding the draft creates questions about the acceleration of this trend moving forward. The addition of more rounds to the draft could alleviate some of the disorder that currently surrounds the UDFA signing process. While this would limit players' freedom to sign with any team, it could also increase their chances of securing a roster spot. It's difficult to envision a scenario where UDFA usage doesn't decrease further in this scenario.
Regardless, the NFL and its players association will continue to fine-tune the process in a perpetual attempt to create the best opportunities for aspiring players to make an impact on Sundays.